May 11, 2011
975
566
Name

Gary Graham
Boat

Watercloset
Apr 23, 2019 by
That Baja Guy-Gary Graham
Northern Baja bluefin bite dominates as most everything else takes a breather!
Que Pasa
Questions abound about the actual weight of the 814-pound blue marlin that we reported last week at Cabo.
The huge fish weighed only 814-pounds. However, it measured 167.5 inches long and 66 inches around — that is, almost 15 feet long and almost 6 feet around! The scale that was used to weigh the fish was not "certified," and it "burned out" while the fish was being lifted, so one cannot claim this weight as official.
When using the measurement calculations, the monster blue marlin's weight should be 1,072-pounds (dividing by 650, the number that is normally used for calculating the weight of the Pacific blue marlin), and when divided by the number 800, (the number used for Atlantic blue marlin), its weight would still calculate out to 871 pounds.
Either way, no one will ever really know the 'official' weight of the monster blue marlin; suffice it to say that the tremendous effort by anglers and crew to capture the beast will be remembered for many years to come.
Tijuana Bull Ring
There are a few yellowtail and legal white sea bass in this area. Try trolling Rapalas or slow-troll sardines. Sandbass and halibut action is another option to explore. Lots of little junk rockfish are also in the flats
…fishdope.com
Coronado Islands / Rockpile
The private boat fleet suffered due to wind and lumpy seas while big sport boats put together quite a good day with not quite the 100 yellowtail per rod that it has been, but a very respectable one to three yellows per rod.
In addition to the yellowtail, there are quite a few bonito in addition to some barracuda around. The big story with these bonito is the size. While there are some little guys in the one to three-pound class around, many are up in the 8- to 10-pound class. There are also some true monsters from 12 to over 15 pounds — big enough to win the jackpots on the "Sporties." There was even a gigantic 20-pounder caught on the "San Diego" this week.
The barracuda are from just legal-sized, up to 7- or 8-pounds, and were found at the Rockpile area under birds.
Wind has been a major issue for the small boaters. It has been coming up in the late morning/early afternoon like clockwork making for very tough sloppy rides back to San Diego. It is springtime, and this is likely to continue happening for the next month or so…
fishdope.com
Outside Ensenada / East of the Hidden Bank
Great Trip on "
Oceanside 95
" …Went two for four on the Nice Grade bluefin… Mike Millard…My fish pictured on the left was the Jackpot at 75#plus…. 36 BFT Boat Total up to 75#…
Sunday was a VERY good day! Most of the 10 or so boats down in the area scored limits of mainly 50- to 90-pound bluefin. There were some of the little 20- to 30-pound units too though and some of the big ones that could not be stopped on the light gear. A couple of boats also found a kelp or two with lots of five-pound grade yellowtail on them and at least one boat got a jig stop on 10- to 12-pound bonito.
Today there were very few boats in the area due to the Easter Holiday, but they were having a good day today just like yesterday. It was a little bit on the lumpy/bumpy side but not bad for a big sport boat.
Ninety percent of the bluefin are coming off sonar stops with the rest coming from finding spots of puddlers.
They are responding very well to chum and holding to the boats. Some stops have been all-day deals. Find them early in the morning, and they stick with the drifting boat for many hours, in some cases all day long.
A hot sardine fished on 30- to 40-pound fluorocarbon with a small hook is the only thing working for these daytime fish. They refuse to bite heavier line and are ignoring the flat fall jigs.
These tuna are only moving a few miles each day.
Ensenada
Despite the wind, great bottom fishing kept clients happy. While other local boats scored on a tanker white seabass and firecracker-sized yellow as well…
Mara's Sportfishing Ensenada


San Quintin
Yellows on the chew!!!
Luke Nora and his dad fished with Capt Cristian Catian aboard K&Ms 25′ Parker Offshore III. The guys got into the yellowtail out on the high-spots dragging Rapalas and throwing iron…
K&M Sportfishing

Gonzaga Bay
The internet has been difficult at times in Gonzaga Bay. So, I saved the reports, for now.
The weather has been cool, sometimes as much as 10 to 14 degrees cooler than last season. We just had to fish a little harder.
We had lots of great days and only got blown off the water a couple trips; here is a few photos of our fishing in Gonzaga Bay…
Captain Juan Cook
https://www.bdoutdoors.com/forums/threads/gonzaga-bay-late-march-early-april.714083/
Bahía Asunción
Some of these are in the surf in front of the house. The crew all likes to eat'em, so we kept a few…
Daniel Powell
Loreto
Easter Day sure gave me a surprise with most returning boats arriving with yellowtail close to 30-pounds!
I had been thinking that this annual "spawning" thing would take more than a week or so! I had even set up my repair table ready to jump into a "reel-rehab" event before the
summer fish arrived.
Already the daytime temperatures are mid-80s.
We still should be having one more "natural" fish event when the cabrilla start churning and boiling on sardina and surface iron after that will be the dorado days and maybe a thick return of billfish, too!
May is just around the corner, and the end of June is tournament time in the Loreto area…
Rick Hill
Magdalena Bay
The Baja adventure continues as Ali and Rush search for the bait balls that hold striped marlin in large numbers. Check out the epic footage of this billfish frenzy from above and below the water. The marlin fishery in these waters is a thing of legends, and only a lucky few can make the trek to experience it firsthand.
Magdalena Bay Adventures
"Leave it to BBC One to capture over and over the most epic three-way struggle between a dorado, frigate bird and the flying fish, an event that I have only seen a couple of times in the wild," said
Capt. Scott Goodwin
.
Gary Graham responded, "When I ran across the above video recently, I was reminded of a unique two-week-long trip I guided at Magdalena Bay years ago seeking striped marlin feeding on "bait balls" — not to catch them, no, the goal was to film them underwater!"
https://www.bdoutdoors.com/test-carousel/
La Paz
Mexican Minute Video Fishing Report from Tailhunter Sportfishing for Week of Apr. 14-21, 2019…
Tailhunter International – Jonathan Roldan
Rooster season begins with a few surprises! This is the first time we have landed wahoo on the fly here that I have witnessed and I am looking forward to it happening again. After all Mauro Mazzo and Rick Coe did it twice within a few minutes of each other! Hope fully the wind won't keep us off the water tomorrow. It looks to be another epic year in Baja for the great folks joining me and the captains in 2019!…
Gary Bulla Flyfishing
East Cape
Van Wormer Fishing Tournament 2019 Schedule – Save The Dates
https://www.bdoutdoors.com/van-wormer-fishing-tournament-2019-schedule-save-dates/
Don't miss out on what promises to be a great season on the East Cape. Book early with the professionals at Scorpion Sportfishing and get ready to pull on some fish! …
Matt at Scorpion Sportfishing
https://www.bdoutdoors.com/forums/t...ishing-east-cape-report-april-20-2019.714134/
Conditions are improving, and anglers are having a lot of fun out on the water. Scott McGuire, Matt Lytz, Nathan Webb & Keith Carnes, a group of friends from
Austin, Texas
, fished aboard the "
Calereste
" with crew members Julio Cota and Cristofer Avilés.
With sardines, mullet, and caballito for bait, they brought in a nice dorado and released four roosterfish outside the marina in La Ribera…
Axel at Hotel Buena Vista
https://www.bdoutdoors.com/forums/threads/weather-conditions-are-improving.714111/
Puerto Los Cabos
Not as many tourists have been arriving for the holiday as were expected — not sure why. The numbers seem to be much lighter than usual. Weather is back on a warming trend with highs of about 85 degrees. There were some squirrely winds, coming from various directions, and ocean water temperatures cooled down to 68 degrees; also, greenish current pushed in, all of which is not uncommon as winter exits and spring begins. Ocean conditions can vary greatly from week to week this time of year, but they should settle down in coming weeks as warm calmer weather prevails.
Some quality-sized sardina, along with some moonfish and caballito, showed up in the local marina channel area. They are the nicest that have been seen in a long time. Best action was found from Palmilla Point north to La Fortuna, Iman, and San Luis Banks by mainly working the bottom structure with yo-yo jigs and various baits. Good numbers of the eastern Pacific bonito, red snapper, cabrilla, pargo and almaco jacks rounded out the catches. The catches varied from day to day, of course, depending on the location of the fish and at times, the wind was a factor as well.
Spotty catches of yellowfin tuna in the 30- to 50-pound class were caught early in the month with even fewer dorado, wahoo or marlin. As conditions settle into the normal spring pattern, they will begin to appear more regularly in the daily fish counts.
Sierra counts improved as more sardina moved in along the beaches; sizes were also impressive, as many fish exceeded the 5-pound mark.
The Palmilla/Red Hill area was one of the better locations to find the schooling sierra. With the cooler water, it was hard to find any roosterfish, but this should improve as sea temps climb.
It's late in the season now, but whales are still seen daily; maybe the colder water is keeping them around longer because most of these mammals are now well on their way north — migrating to their summer feeding grounds off Alaska…
Eric Brictson, Gordo Banks Pangas
Cabo San Lucas
Numbers at a glance: Billfish 17%, Tuna 45%, Dorado 5%, other 33%.
Most fishing this week was somewhat inconsistent. April tends to have more inconsistencies in the fishing, compared to other months, and these past weeks have been hard to peg. The fish have been moving quite rapidly, and the bottom fishing and small game have gotten some pressure from all Cabo fleets because of it.
The tuna, on the other hand, have turned up again, even if far out and even if not the largest specimens. There still have been a few marlin releases, with one marlin released per boat on average, and a great day would be looking at five striped marlin released at Golden Gate, along with a few dorado sprinkled into the catches of sierra, roosterfish, ladyfish, jack crevalle and yellowtail…
Rebecca Ehrenberg, Pisces Sportfishing
Cabo Climate:
The forecast is for mostly sunny to partly sunny skies with zero chance of rain through late April. Winds are expected to continue a bit higher than normal from 11- to 17-mph range into late April, mostly out of the West and SW. Humidity is expected to run in the mid-60s.
Sea Conditions:
As the breezes increase, the Pacific side sea temps have stabilized considerably with average temperature range running from 72 to 74 degrees.
Best Fishing Areas:
The Golden Gate has been the hotspot for billfish, and yellowfin was found around the Golden Gate Bank, the San Jamie Bank and to the south at the Herradura. Los Arcos and Migrino were the choices for inshore fishing with some nice catches of sierra coming off Migrino along with some quality yellowtail.
Favorite Bait:
The favorite method of catching the billfish has been slow-trolling live mackerel; cedar plugs were the favorite for tuna. Hoochies were by far the preferred and most productive lures for the sierra. Poppers near the surf were the most successful bait for the jack crevalle and roosterfish. Dead bait was the ticket for the red snapper and grouper. Live caballito were the best for the yellowtail.

Bait Supply:
Live bait is available at the $3.00 per bait upon exit from the harbor; mackerel, when available, are popular with the captains.
Mainland Mexico​
San Carlos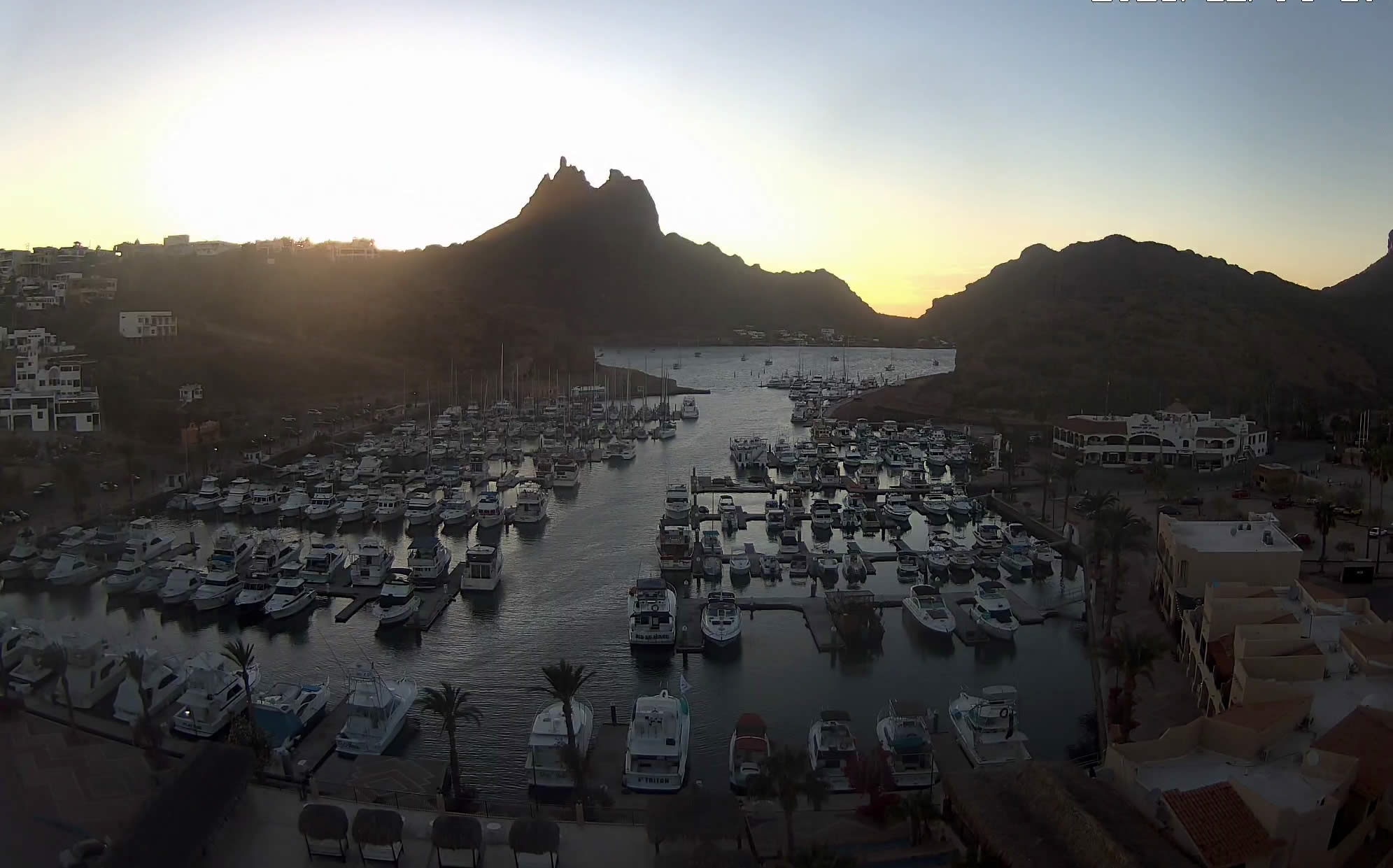 Mazatlán
The offshore boats reported a mix of striped marlin, sailfish, and yellowfin tuna that were found a bit farther out than the prime marlin billfish bite.
The inshore boats had another big week and reported excellent action on snapper, seabass, Queen triggerfish and corbina.
Climate: Forecast through late April is for mostly sunny and partly cloudy skies with breezes in a modest 9-to 12-mph range primarily out of the West trending toward the SW later in April. Humidity is predicted to be in the mid-60s going into late April for very pleasant fishing conditions.
Sea Conditions:
The water has been warming a bit and is now in the 74- to 75-degree range. The future outlook is for relatively calm seas in the mornings with some afternoon swells and chop as the winds pick up in the afternoons.
Best Fishing Area:
The offshore bite for the billfish is starting about 12- to 15-miles out with best results to the west and southwest of the
Marina El Cid
. The yellowfin are being found a bit farther out toward the 20- to 25-mile mark. Inshore, the Super Pangas are finding success all along the coast, especially around the rocks. The water is very clear from the shore out to the offshore breaks.
Best Bait & Lures:
Freshly caught, rigged trolling bait and smoke trail lures produced best results for the billfish. The tuna are being caught on feathers and cedar plugs.
Bait Supply:
Freshly caught bait are readily available from the bait boats.
Ixtapa-Zihuatanejo
Very few anglers are around to take advantage of the abundance of billfish! The independent fleet reported a spotty and picky bite on the plentiful striped marlin with most boats raising six to eight fish per day but only hooking two to three. As always, there was the normal sailfish mix, and a few smaller blue marlin reported. The yellowfin were again found way out at the 30- to 35- to 40-mile mark for those willing to go the extra distance. The dorado were very spotty this past week.
Fly-fishing and spinning rigs for jack crevalle, chula (false albacore), and bonito inshore has continued to be steady. Rooster action this past week was spotty-to-slow and mostly to the south.
Capt. Temo reports the inshore fishing for jack crevalle remained very positive. Fishing activity was slow as few anglers showed at the docks to take advantage of the plentiful billfish.
Climate: The two-week outlook is for even warmer temps and mostly sunny to partly cloudy skies. Daily temps are predicted in the upper 80s and nighttime temps in the low to mid-70s. The winds are expected to be relatively mild in the 8- to 10-mph range primarily from the West and WSW.
Sea Conditions:
The spring offshore water temperature stabilized and is now in the 83-degree range from the 5- to 6-mile mark at the 100-Fathom line out to the 1,000-Fathom line at 30-32 miles and beyond. With breezes in the upper single digits, the seas are very calm, particularly in the mornings.
Best Baits & Lures:
Rigged trolling bait and smoke trail lures continue to produce for the billfish and dorado with most boats preferring a mix of rigged bait for the billfish and smaller lures and feathers for the dorado. Inshore topwater poppers are the favorite for the roosterfish, bonito, and jacks. Cedar plugs and feathers are working best on the yellowfin when found.
Bait Supply:
The bait supply remains good and freshly caught bait are provided gratis with most charters. Live bait are readily available at this time and are $5.00/dozen paid directly to the bait vendors.
Costa Rica​
Costa Rica Fishing Report from Crocodile Bay Resort
https://www.bdoutdoors.com/costa-rica-fishing-report-crocodile-bay-resort-march/
Guatemala​
March has been quite favorable for us as the states are still being blanketed in snow, while we are maintaining ice cold beverages, consistent fishing, and smiling faces all around. Lucky, green mahi-mahi are in abundance and turn into fresh caught, grilled, mouth-watering sandwiches on-board when you get a chance for lunch between fighting sailfish!
https://www.bdoutdoors.com/forums/threads/feelin-lucky-with-marlin-at-casa-vieja-lodge.711378/
Last Minute Openings — call NOW to reserve:
(305) 854-4665 /
[email protected]