Oct 16, 2008
795
342
Name

Alex
Boat

dos por favor
all parts are already ordered and just waiting for them, before I started interested on rod building I was just thinking to change all the guides and follow the same guide set up of a 9ft surf fishing rod wrapped with spiral guides and made the same configuration on my musky rod.
but I have seen many pictures of acid wrapped rods and most of them the transition guides are spaced as normal just the offset degrees nesessary 0, 60, 120, 180 to made the transition to the bottom but in mine the transition guides are really close to each other.
this is a common acid / spiral wrapped rod, with a normal spacing between guides as used on a casting rod
this is mine, its factory made fenwick 9ft 15-30 line M-action, 2 sections HMX IM7 salmon rod
check the transition guides, all transition is made in 14" by 4 guides, stripping guide is on 8" mark and last transition guide is on 22" all of them separated by 4.5" and then a normal guide spacing is used 12", 11", 9.5", etc. etc

this is how the line goes on the guides with just 1 lb as weight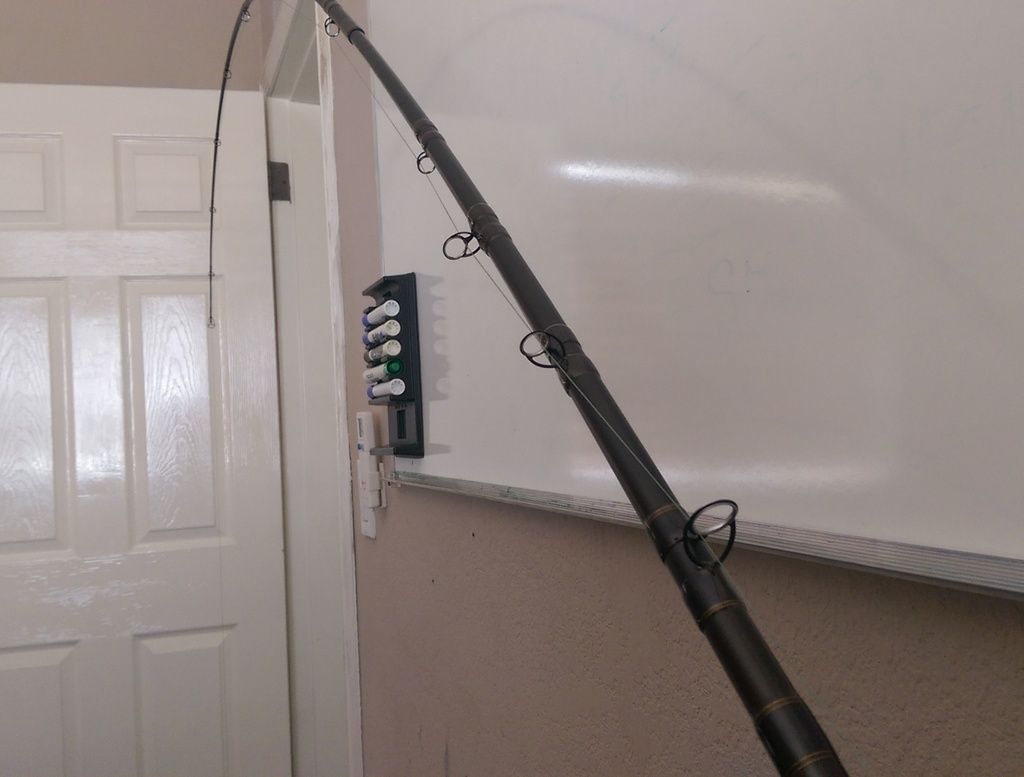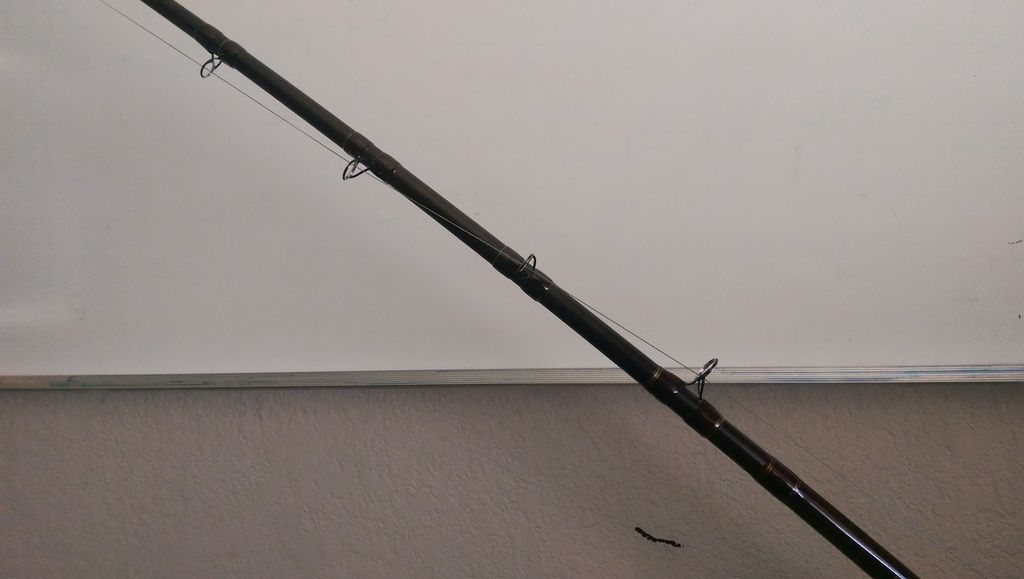 doesnt look that bad, although I think they could've be arranged better
well this is the same rod and my musky rod at the top
the musky rod which is way stiffer that the surf rod, has 2 guides in the same spacing on which the spiral guides on the surf rod has 4 guides fitted there.
this is how the musky rod bends with the same 1 LB weight
the musky rod specs are 20-50line 2-6oz lure XH M8 graphite.
the pictures where just ilustrative to help you guys to now the facts and help me on my next question.
on my musky rod should I follow the same spacing on the guides than stock factory guides spacing just turning the new guides few degrees to make the transition or its ok the copy cat the same spacing used on the salmon rod and fit 4 transition guides on the same spacing of the 1-2 guides ?
I will use the musky rod on saltwater to cast 2 and 3oz Kroc spoons, 3-4oz jigs and such to spanish macks, cabrillas and everything that our local inshore fisheries have to offer.