May 11, 2011
968
560
93
Name

Gary Graham
Boat

Watercloset
Baja Bytes Weekly Overview
Friday, August 28, 2015
Gary Graham
Que Pasa
Coronado Islands
Plenty of yellowtail are in the lee of South Island and at South Kelp/SKR areas. Sea lions are brutal at the Islands when you are alone, so best advice is to slow-troll sardines or mackerel on heavy gear and horse those yellows to the boat quick before the sea lions figure it out.
If you go to the Islands, plan on being stopped by the Mexican Navy. They are inspecting
every
boat that stops in the area.
Make sure you have all the required paperwork, permits and Passports for
everybody
on your boat.
You DON'T want to get towed to Ensenada and then deported. It will cost you a small fortune to straighten everything out. …
www.fishdope.com
Ensenada
Reel Adventure
found limits on yellowtail and yellowfin tuna at Salsipuedes Bank using all types of lures … sea temp - 72 degrees, blue skies, decent seas … great days for fishing. They also fished northwest of the Banda Bank where they found a huge kelp patty full of dorado from 20- to 28-pounds. …
Edgar Sanchez, Coral Marine Store
San Quintín
Lorenzo took first place in Surface Species in the big San Quintin Fishing Tournament (Pesca La Baja 2015) landing a 61.9-pound white seabass.
http://www.bdoutdoors.com/forums/th...intin-fishing-tournament.599552/#post-3886941
In the bottom category, Ernesto Emmanuel Carrillo Zepeda, with a 62.8-pound mero (black seabass) captured top honors.


Lots and lots of yellowtail this week --all up top – taken on Surface Iron and bait. It's been a slow pick on the tanker white seabass but they're for sure around. No tuna this week; did a "look see" and found paddy's with dink yellows but not much more.
Plenty to pull on at the 240 and 6 Fathom with big schools of hungry jacks. Inshore has been great with yellows and seabass at the mouth of the bay -- calicos and sandbass out front as well. …Captain Kelly

Bahia of Los Angeles



Richard Gillett at Villabahia Hotel getting the job done. …Catalina Gillett

Cedros Island



Yellows, calico's and a few dorado kept the week interesting.

Bahia Ascension



We found this very odd animal on the beach today just north of Bahia Asuncion...seems like a dolphin but it was much longer than any dolphin carcasses I have ever seen around here. Any ideas what it might be? The teeth had a lot of wear on them, too.

Jose Angel Looks like bottlenose dolphin (Tursiops) to me....an old one!…



Our guest Mark went fishing on his longboard this morning from our little beach next to La Bufadora Inn and brought home the bacon … errrr, the calico bass! He caught several but threw them all back! Now that is low tech fishing….Shari Bondy

La Bocana



Fishing's good for yellowfin tuna; in estero grouper and corvina as well. ...Juanchy Angular

Loreto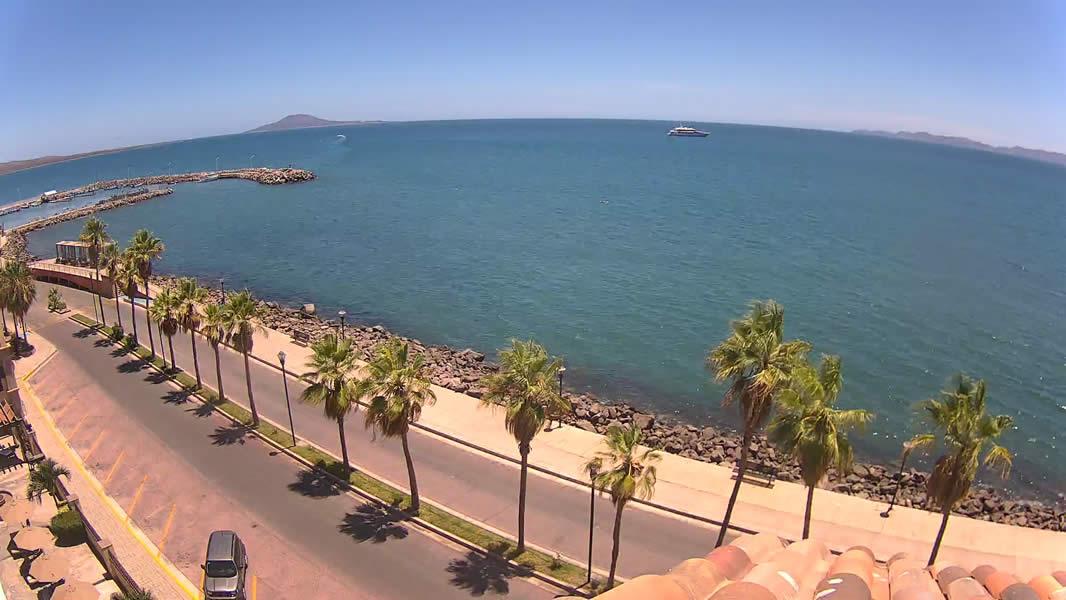 I think we should start off this week's fishing scene with a look at the abundance of green desert plants and the annual butterfly migration.

That's the kind of week we have had and it's pretty much been the same all summer!

The sport fishing has petered off with the only sure bet being the stand-by bread and butter fishing.

One of the Escondido boats is way out at the "28 spot" north of Loreto, today and so far has come up empty.

Yesterday we trolled the Escondido-Juncalito area and got only one blind strike from fish unknown. It's unusual to troll these waters for a few hours and not even come up with a bonita or two!
The day started with a three hour attempt at making bait with only triggerfish to show for the effort.

Our last stop was off the old lighthouse on the northeast corner of Danzante Island. Typically a productive spot for pinto bass and medium yellowtail it was back to being all about "trigger action".

(Trigger limits are not much to brag about unless you are aiming at filling in the gaps at your neighbor's dinner table, which we did!)

Throw in a couple of sculpin and a tiny flag cabrilla and you have a good picture of the Loreto scene.

At least one boat per day has brought back a few dorado so it isn't a total zero!

The action off the rocks at the marina is still happening for the morning crowd. Small cabrilla and pargo mixed in with an occasional toro with most fish caught on live sardinas.

The recent rains have made the local landscape so green that it will last until the cold January north winds crank through our corner of Baja!…Rick Hill, Pinchy Sportfishing

La Paz



Large roosterfish for Vong Mekdara while fishing with the Tailhunter Fleet in La Paz. He got this big one on a live bait while fishing out've Bahia de Los Muertos. The fish was released. Vong lives in Monterey Park, Calif., and was on his first trip fishing to La Paz. …Jonathan Roldan, Tailhunter International.
East Cape

Inshore and bottom fishing was very good. Can you believe that we even had yellowtail to the cleaning table? Barred pargo, pompano, cabrilla, brown sea bass and all the other reef fish were providing great entertainment for anglers. …Rancho Leonero.

http://www.bdoutdoors.com/forums/threads/what-a-difference-a-week-makes.599469/


Tuna action has started to improve, with larger fish up to 60 pounds starting to show and our boats are finding them within 30 miles of Hotel Buena Vista Beach Resort.

http://www.bdoutdoors.com/forums/threads/east-cape-hotel-buenavista-marlin-tuna-and-wahoo's.599171/



Matt Clifton with a nice wahoo in a not-so-secret spot…Scorpion Sportfishing

San José del Cabo



Bait supplies near the Marina consisted of sardina and caballito. Fishing offshore grounds there have been chihuil, bolito, skipjack and small-sized yellowfin tuna, all of which can be used for targeting larger gamefish. Strips of giant squid found in some of the local super markets also remained an option.

Yellowfin tuna have been found in a wide range of sizes, from 5 pounds to over 300 pounds. Best chances for the largest yellowfin tuna have been mainly around the Gordo Banks -- no big numbers, but this is the best it has been so far this summer, while Iman Bank has produced greater numbers of fish in the football- to 60-pound size. This is also where dorado action came alive recently -- mostly small to 15 pounds.

Wahoo action has lit up with a hot spot just to the north of Punta Gorda. Several anglers reported having up to a half-dozen solid wahoo strikes while trolling Rapalas and other favored lures -- sizes were in the 20- to 40-pound class. The bite was not only early in the morning, but some days the best action was encountered late in the morning as well.

Anglers found mixed success off the bottom where there were dogtooth up to 55 pounds landed, amberjack to 50 pounds, a few yellowtail to 35 pounds, grouper to 40 pounds, barred pargo to 15 pounds, along with quality yellow snapper, surgeonfish and rainbow runner as well … a nice option if the surface isn't producing.

Chances for an offshore grand slam are good now with sailfish, striped, blue and black marlin all being hooked into on any given day…Eric Brictson, Gordo Banks Pangas.

Los Cabos

Thank you very much for an excellent day of fishing Jesus Bañaga. … Stephen Jansen



Marlin was the main focus this week so most anglers targeted the big game; however there were some nice tuna catches. Bill Collector had two nice fish up to 105 pounds.

What a week we've had – lots of nice catches but as is normal for this time of year we still had a little over twenty percent of the boats that drew a blank. When booking in summer, especially August and September, it is a good idea to book more than one day. When it's good, it's really good, but you can have one great day followed by a blank, so by booking a couple of days you cover yourself and can be pretty sure of catching something. Blue marlin catches continue unabated and they were almost our number one catch this week. …Pisces Sportfishing.



Guys found an area with a bunch of feeding stripe marlin late in the day … got a triple hook up. Then a double -- then a single. Six marlin released and one small tuna. Heard reports of several areas offshore with big tuna on them. Great news! …Renegade Mike Tumbeiro

Last edited: