I Should Upgrade My Account
Mar 18, 2012
1,258
1,042
Name

Harbison
Boat

Florida Fisherman
LADY ANGLERS
For many men and women fishing is more than a hobby; it's a passion. Yes women! These women, these Angleretts, love fishing every bit as much as the men. And they are very good at it:
Love to fish? We who call Florida home are very fortunate. With a huge variety, and often overflowing ice chests stuffed with fish, the Sunshine State is the place to be.
One of the very best places to be is the fabulous Florida Middle Grounds. The Grounds, 100+ miles off shore, offers catches that often exceed the imagination. Problem is the distance involved. Hubbard's Marina, Madeira Beach, Florida, has been running over-night Middle Grounds trips for decades. Women are always welcome and treated with uppermost respect.
Estelle is extremely serious about her fishing and likes nothing better than sharing her vast knowledge.
In this video, entitle 'LADY ANGLERS', she shows us what to bring and what to expect on an overnight trip to the fabulous Florida Middle Grounds on the Florida Fisherman ll:
Captain Dylan Hubbard is very proud of Estelle:
The man himself, Captain Mark Hubbard:
Ever wonder that the control center on a well equipped headboat looks like? Estelle shows us:
Master Chef, Tammy, brings a special home-touch to everyone she serves:
Estelle shares her tricks of the trade:
After a hard night/day of serious fishing, a hot shower and home cooked meal are dreams come true:
Want to see firsthand what the Middle Grounds has to offer on these overnight trips?
Behind the camera two of the best, Estelle & Tammy.
March 5, 2021:
Estelle know that Lionfish will go great on the dinner table:
Omar has been fishing with Hubbard's for decades, never-the-less, a shark attack is impossible to forget:
Like to catch Kingfish? This just posted on the Florida Sportsman Forum:
The Grounds are loaded with huge Kings: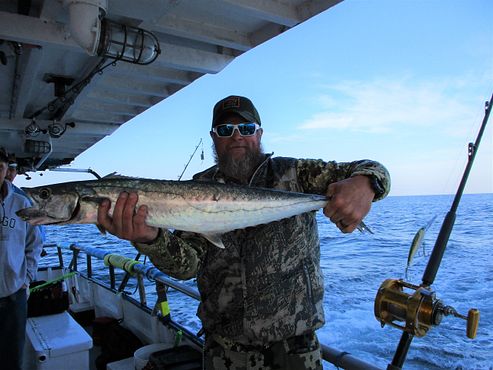 Saturday evening; we have been battling the creatures of the deep for over 20 hours.
Let's go home:
LADY ANGLERS
These women, these Angleretts, love fishing every bit as much as the men. And they are very good at it!