Nov 8, 2007
25
27
Name

Kent
Boat

none
18 anglers left the day after Thanksgiving for an 11-day journey to the lower banks off Baja California aboard the sportfisher Intrepid. Preparation is key to a successful venture, and it looked like we would be ready.
The "red shirts" at the landing hustled to load the gear into carts for the trip down the ramp to the boat.
Several resident felines had already begun a lazy day at the docks. Life is good here!
And here comes our conveyance around the corner, now filled with fuel and bait.
After a year of planning and waiting, it was finally time to board.
We shoved off and made it past the point, but an honest mistake led to some missing medication, and we headed back to the bait receiver to await its arrival. It was a nice day for sailing.
Downtown San Diego was resplendent in the distance.
A submarine was docked near the bait receiver.
As we approached the receiver, it was apparent a party was already in progress!
But the guests didn't appreciate us crashing their party.
I hadn't realized it, but there's a thriving seal tourism industry.
All necks were craned aboard the harbor cruise ship towards the seals as well.
I guess they are sorta cute (when they're not mangling fish at the end of my line).
A little gap in the wood covering the bait receiver was a fertile hunting ground for the resident birds.
A snowy egret got in on the action.
A gull wheeling overhead was looking for his chance to swipe a sardine.
Yup, life is good in San Diego Bay.
Finally the needed medicine arrived (and we're still going to beat the Red Rooster away from the docks).
We enjoyed the first of many glorious sunsets we'd see on the journey.
A couple days later we reached the Uncle Sam bank, where Bob had the chance to put a bend in his rod.
It was a fish, but not the quality we were looking for, so it was released and we continued to head south.
We awoke at 3:00 am the next morning in Magdalena Bay to catch mackerel for bait. They bit well, and we filled the tank in an hour.
The water temp was up to 70 degrees now, and it was time to troll for wahoo.
But the pickings on the wahoo were slim (meaning non-existent), so anglers just relaxed and enjoyed the view.
We located a dead seal, which held a few dorado. Here's Anthony pulling on one…
…and Mike watching his come over the rail.
The action dried up fairly quickly, so we continued on our way, until we found….THE ROPE. It was an old tow rope, and held no less than a bazillion dorado. As soon as a bait hit the water, multiple dorado would fight over it, trying to be the first to inhale the sardine. It was as wide open as fishing gets! Note the free swimmers – there were everywhere.
A nice bull came to gaff.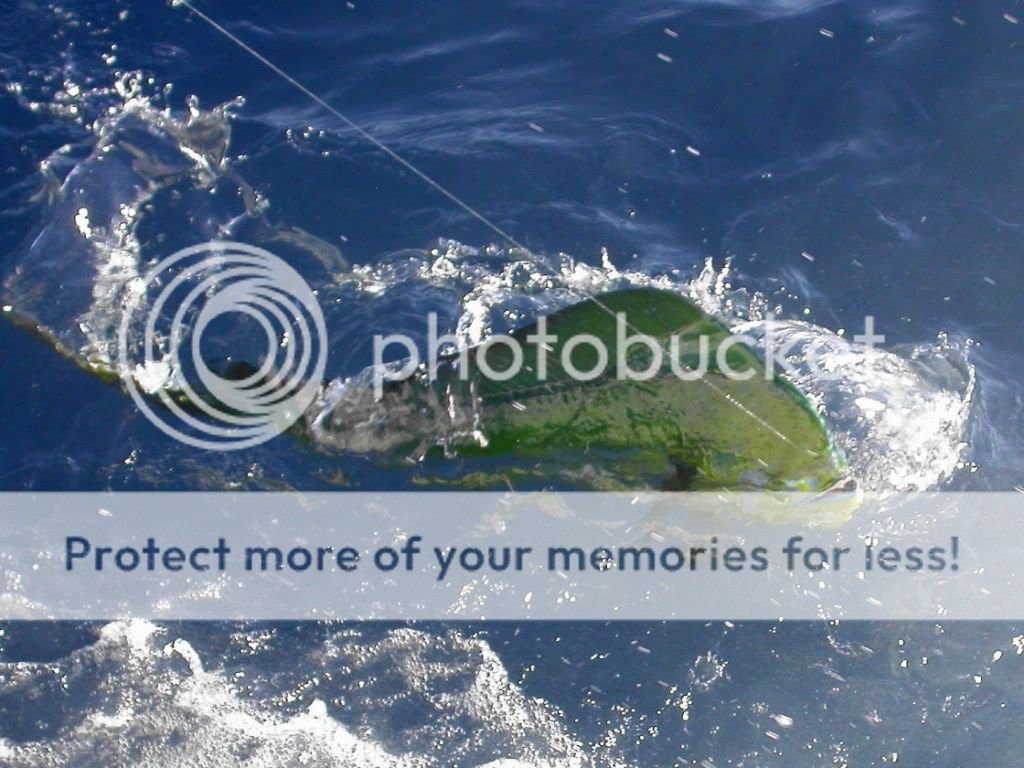 It took maybe 30 minutes to reach our boat limits. After the success, Kona Mike hams it up for the camera.
The rope presented a navigation hazard, so Captain Mike Pritchard wanted to tie it into a tighter bunch.
The amount of life in and around it was incredible – a sea turtle initially was resting in the middle.
Deckhand Dave went over the side to begin the work of securing the rope.
It was a beautiful object, with lovely shades of turquoise and emerald.
This job is going to take two!
Deckhands definitely know their knots.
It was marked with a flag so other boats could share in our good fortune.
Chartermaster Mark caught the only wahoo of the trip by casting a jig. I lost two jigs tied to mono on the sink; the 'hoo then refused to bite a wired jig (of course).
The sunsets were just spectacular. Going…
Going….
Gone.
And sunrise the next morning was every bit as scenic.
We were a long ways south now, and not too far off the beach.
We dropped anchor and had the good fortune of catching lots of Pargo, which put up a decent fight and make fabulous table fare.
There were nice yellowtail on the bottom too, but it typically took one of our mackerel to hook them.
Here's T pulling on a big yellow…
….and his reward for getting it away from the rocks.
A few grouper also came over the rail.
This photo of deckhand Jason shows life aboard the Intrepid reflected in his sunglasses.
We moved to a different bank, and finally begin to catch what we had come all this way for – tuna! Here's Mark using the rail on one of the first ones to be hooked.
He eventually did subdue the fish.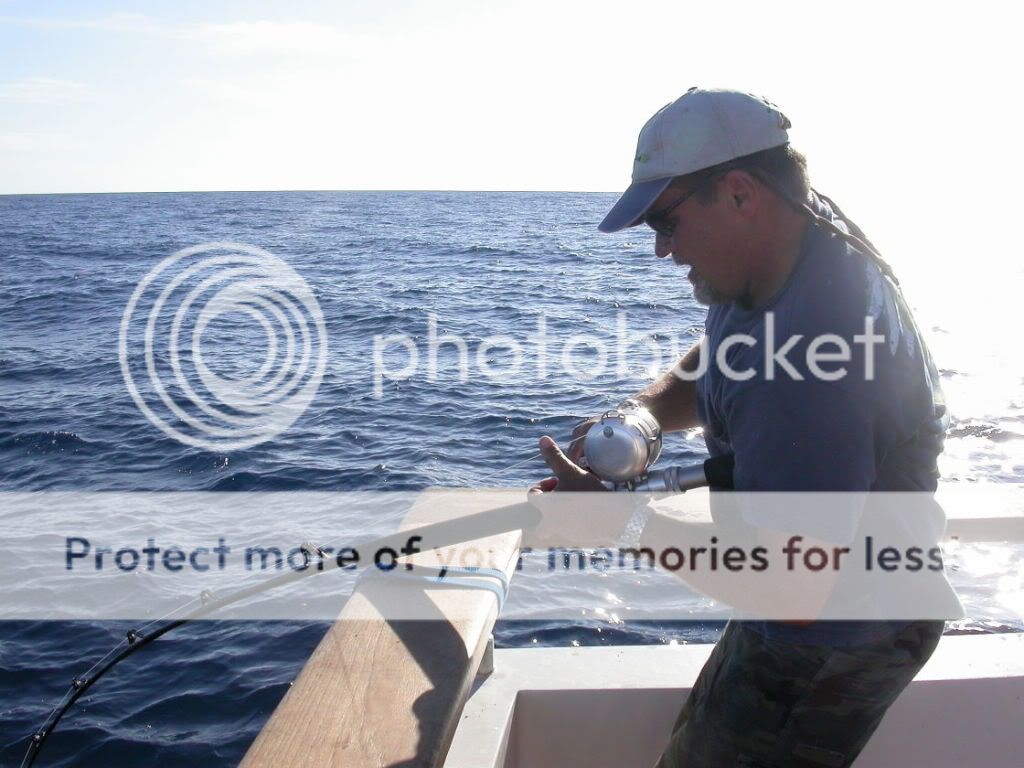 Our one lady angler Victoria captured an exceptionally attractive tuna.
The fishing was scratchy, with periods of decent action, and times of no action.
Fred hooked a nice one, which took him up to the bow.
I held the camera over the side to try to catch the action, but Jason directed Fred's attention to a UFO.
OK, we're settled down now.
Fred's fish is finally starting to get close…
Closer…
Got him!
A blood-red sunrise greeted us the next day.
Here's Bob and Mike, working hard to get a bite.
And Bob succeeded!
With what turned out to be a striped marlin. It soon broke off.
Skipjack were on the bank with the tuna, and ranged from a mild annoyance to making it impossible to fish – a bait wouldn't make it past them. I thought I could get a big PL68 through them, but they grabbed that as well. We left for less infested waters.
Looks like this Marauder has been bitten a time or two.
Frigates always look so prehistoric.
We caught a few yellowtail snapper on the reef, which was a fish I had never encountered. Even the crew said they had only seen a few over the years.
Orange spectra makes it easy to see your line, but do something dumb, and you're a marked man!
Another beautiful yellowfin coming to gaff.
Towards the end of the day, Mike and I both hooked what seemed to be nicer fish, but we got badly tangled in the corner, with another line wrapped around ours and holding the fish together. I was expecting to lose one or both, but the crew did an incredible job, and both made it aboard. Here's mine…
…and now Mike's, which went 135# and turned out to be the jackpot fish.
One of the tuna had this little puffer fish in its belly.
Our last day of fishing was Friday, so I got up at 0:dark thirty to try some bottom fishing. It had been a decade since I caught a grouper, so I guess I was due! Captain Mike took this shot at sunrise.
It was warm and calm – just a glorious morning.
Bob subdued a really nice amberjack that morning.
As we began out last tuna day, Herman finally got his first one on the line. He didn't want to lose it, so was fighting it slowly and carefully.
In the meantime, Bob hooked a tuna.
Here's Bob in a couple more of those hold-the-camera-over-the-rail shots.
And over the rail it comes.
Herman's fish had taken him up the side, but now he was back in the corner.
In the meantime, Mike hooked a good tuna.
And over the rail it comes.
Once again Herman's fish had taken him up the side, and once again he was back at the corner. The deckhand is holding a gaff, he must be getting close!
GOT HIM !!
Believe it or not, this is the first fish that Jim had ever caught in his life. He would later get another on the kite.
We finished the day, and ended up with about 50 of these nice tuna for the trip. Since it was time to start heading north, we were able to meet the Apollo the next morning and share our remaining bait.
We had hoped for a yellowtail bite at Cedros Island…
….but it didn't materialize. We did however anchor in the lee and enjoyed Javier's incredible seafood buffet.
It's an éclair highway! All roads lead to carrot cake.
It was a long ride home, but we finally awoke to see the lights of San Diego Bay.
What started out as a big-tuna trip turned into a wonderful variety trip.
Up until this trip, Anthony's best tuna was around 30#. Looks like he beat it!
Dear viewer, if you made it this far, I'll leave you with one final sunrise. I hope you enjoyed sharing our trip!