"The Roving Angler"
BD Writer
Jun 1, 2006
2,737
453
Name

Tony Pena
Boat

n/a
It's no secret that the owner of Cebaco Bay Sportfishing Lodge, Capt. Jim Wiese, is a marlin fanatic and his private state-of-the-art 60' Viking is a testimony to his dedication to the sport. I was invited to fish with Wiese for four days after my group departed but on second thought he had room for two more guests and those spots filled quickly as Kevin Green and Todd K. re-scheduled their COPA flight to join us. They were excited to say the least. "Even if we don't catch a fish just being on this boat is a once in a lifetime opportunity for me," said Green. We were joined by Wiese's son Kyle, Don Rogers, Evon Ortiz and crew Ariel Medina and Martin Calles.
Our first stop the next morning was at one of Wiese's private FADs (Fish Aggregating Devices) positioned in over 1000' of water near the Cebaco Bank. Nothing showed here so we moved over to Isla Jicarita where some birds were working over dolphin and Todd picked up a 42 lb. yellowfin tuna on a popper. Wrong kind of fish so we ran up to the Hannibal Bank which had just a few sport boats working it which is unusual for this popular spot. There were very few birds and even less baitfish (black skipjack) to be seen. At 4:30 p.m. just at high tide we had a black marlin strike the skipjack (called "bonito" locally) but we missed the hook-up using a Mustad 20/0 circle hook. Wiese has found that the gap on this hook fits the jaw of big marlin very well and he is after big marlin. We anchored for the night (and ensuing two nights) at Bahia Hermosa at Isla Coiba. Night fishing just turned up large sting rays while we were hoping for cubera snapper. Fresh sashimi and drinks were served on the fighting chair "bar" and there were plenty of ribs, steaks, chops, and fish to last two weeks not including all the ice cream and snacks you could eat.
We spent the next three days mostly at the Hannibal Bank, but checked out Isla Montuosa and Jicaron, as well. Several marlin were raised with a big 700 lb'er almost hitting the transom chasing down one of our live skippies before tossing it in the air like a toy. We were all stunned that it could avoid getting hooked. That was our closest encounter with marlin. Even so, in-between "marlin time" there was some pretty good popping and jigging for yellowfin tuna, black jack, sierra mackerel, amberjack, Peruvian jack and jack crevalle. Wiese was disappointed with the marlin action but we all had a great time telling our best jokes and stories, enjoying the boat and its air-conditioned cabin, among its many amenities, and the great tropical scenery that Panama has to offer. Thanks again to Capt. Jim Wiese and crew, until we fish again.
SUMMARY
Fish Caught: 47 Species: 7
Sea: Calm Water: 81-85.6 degrees Air: 92-94 degrees
"Aguja" alongside the "Journey Bay"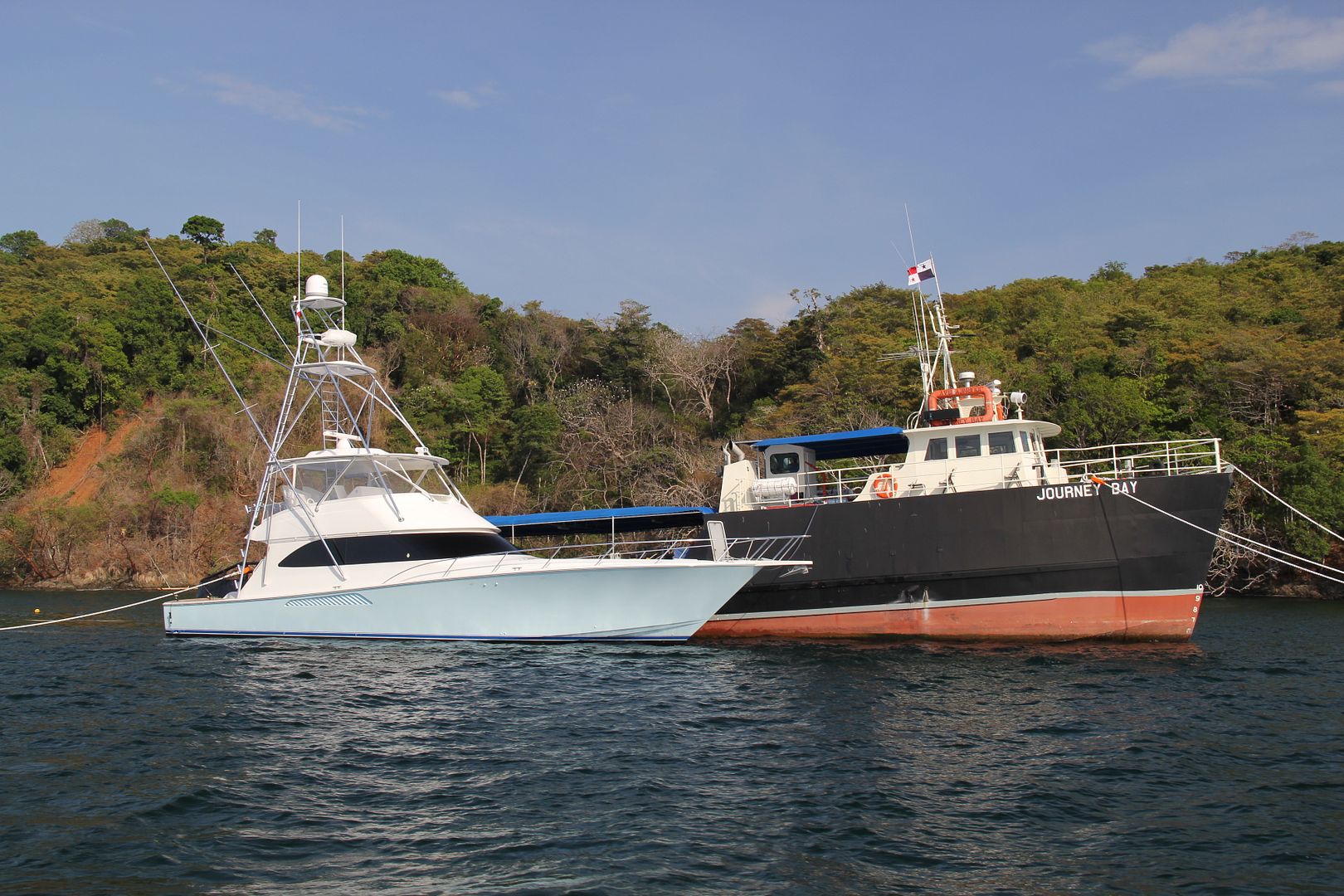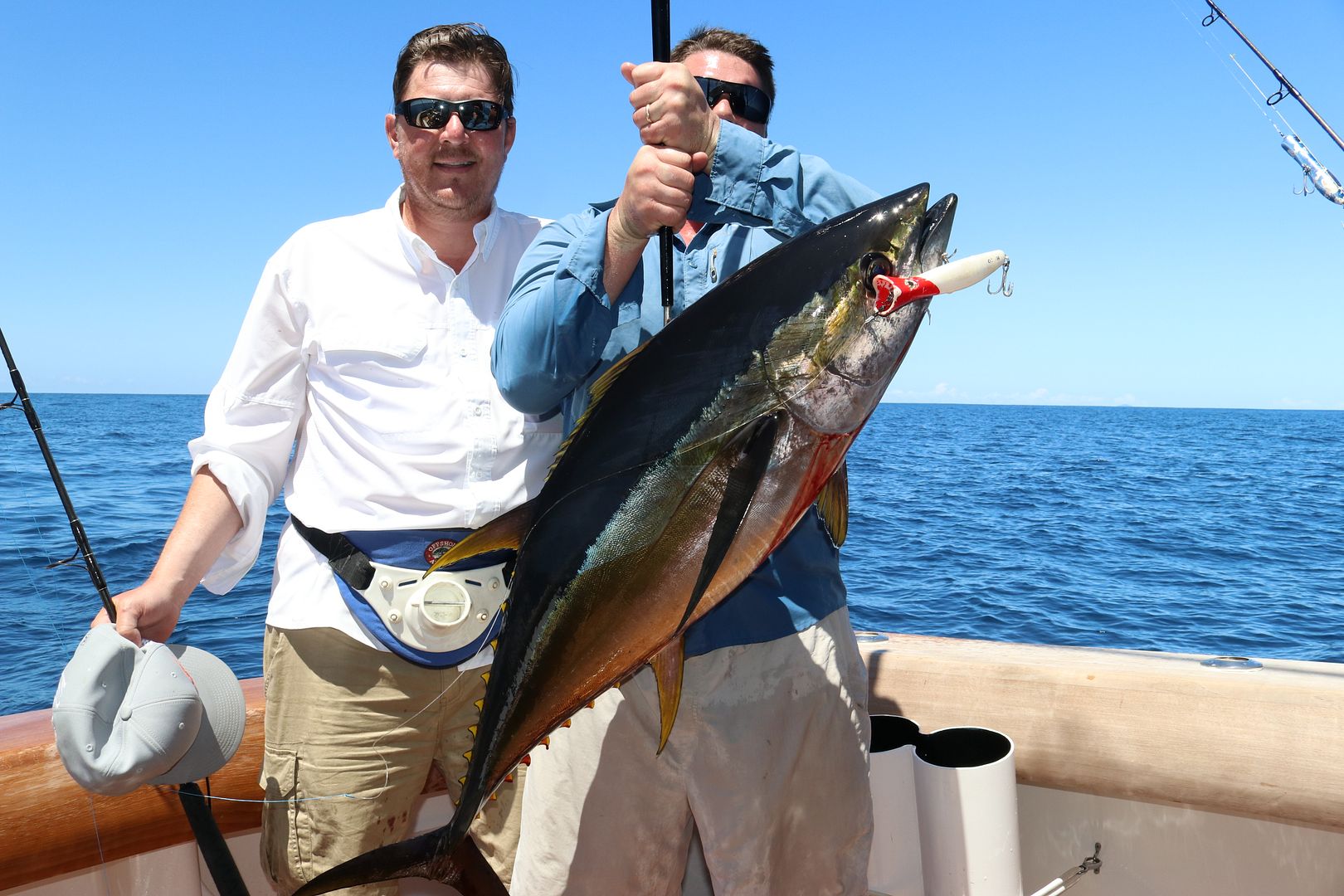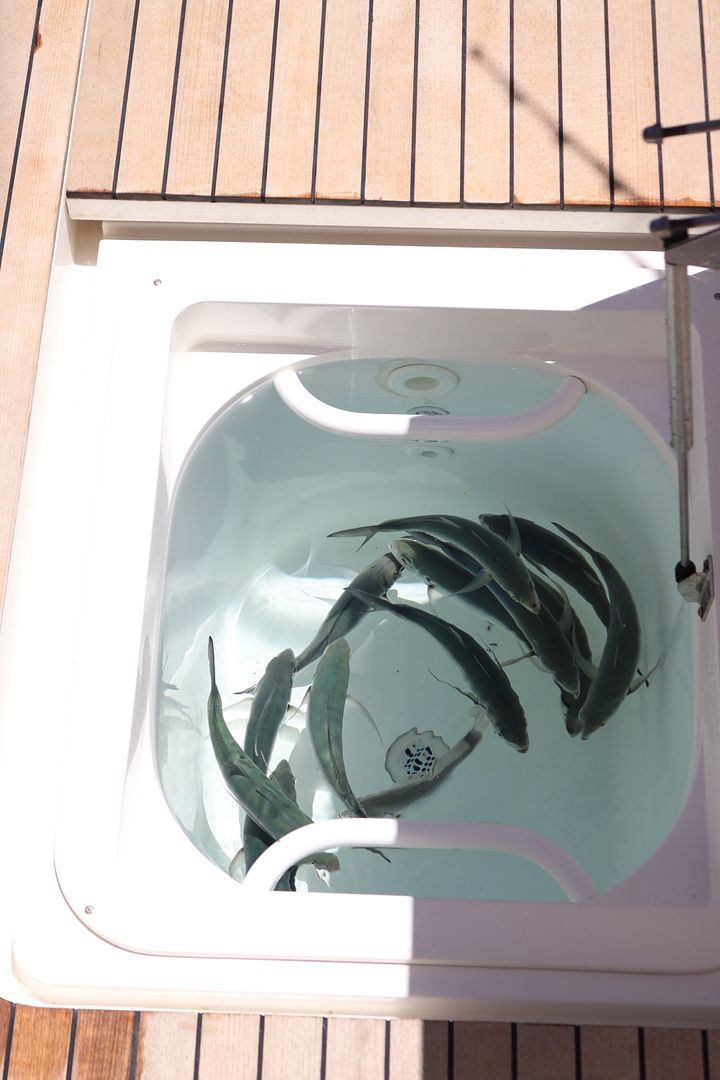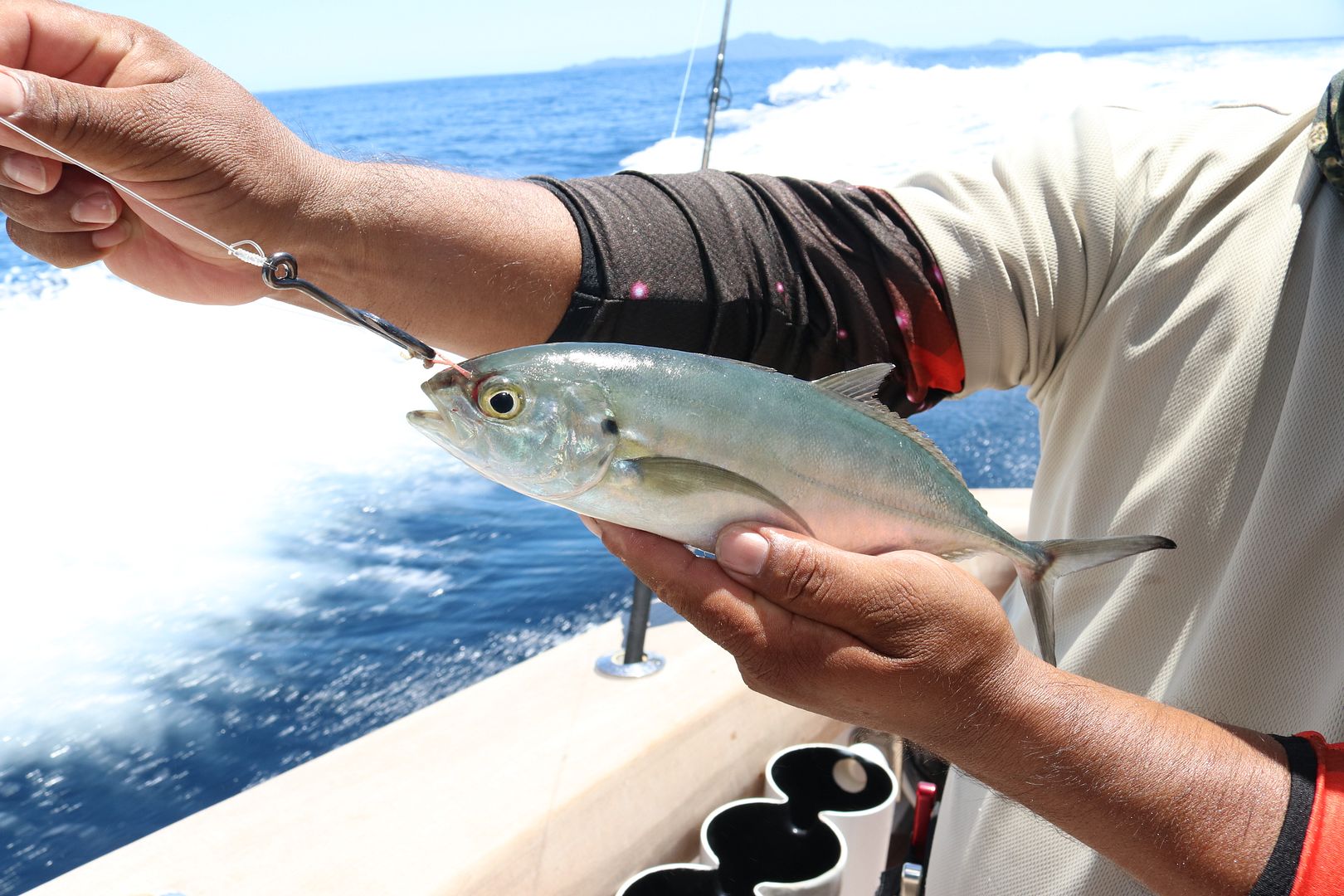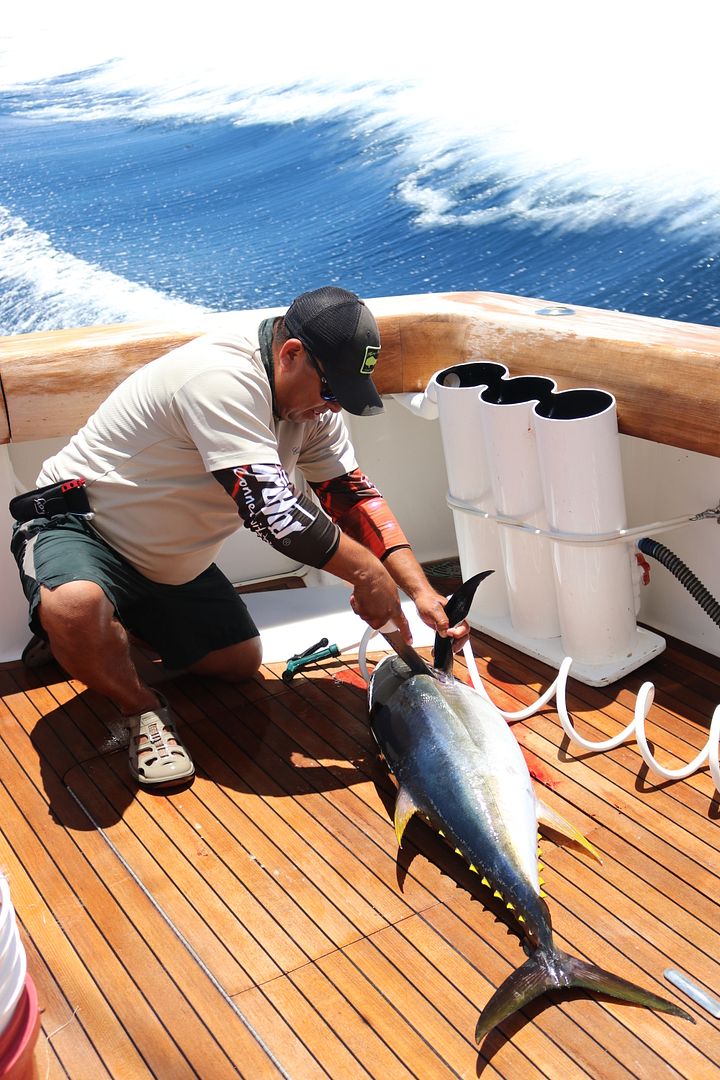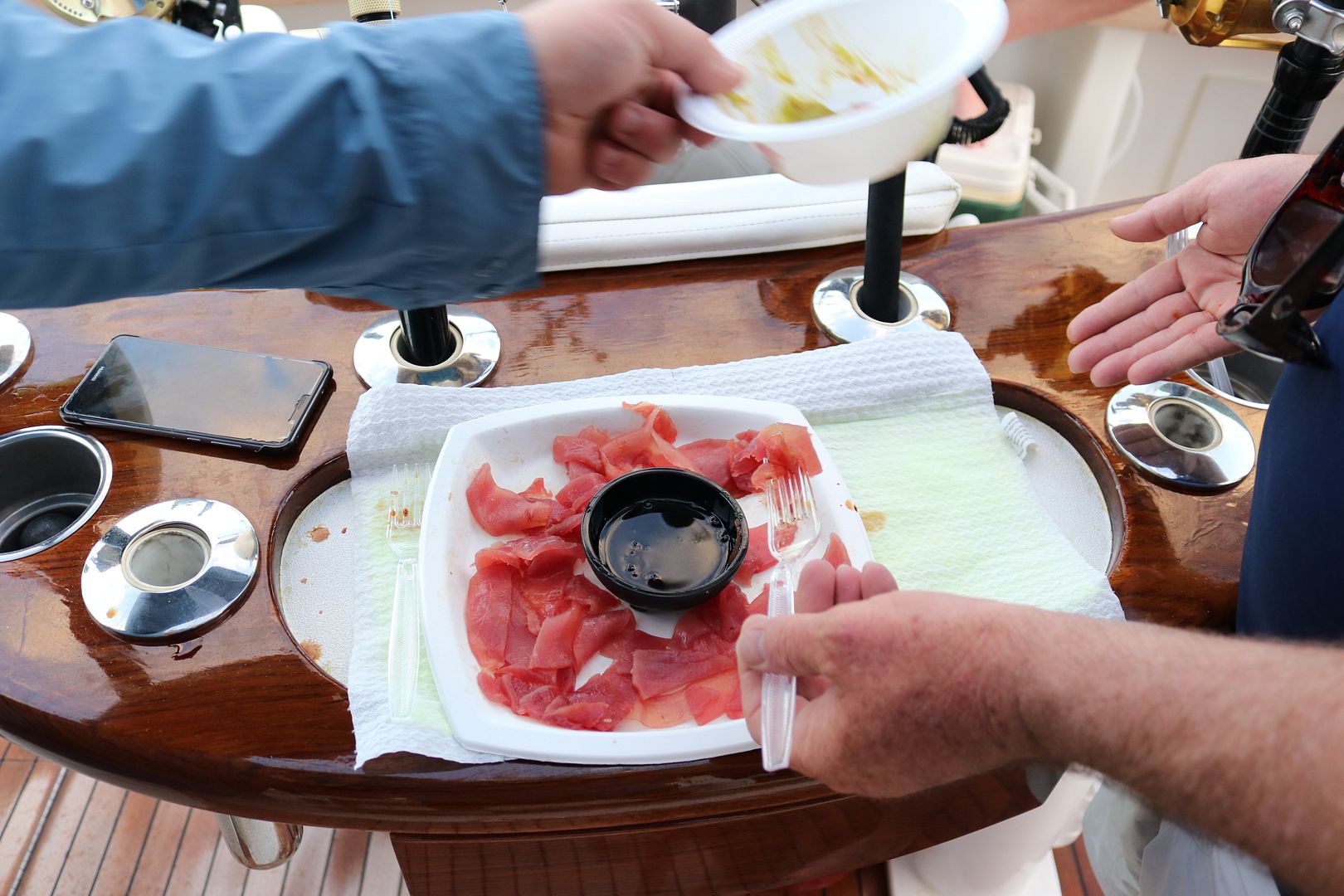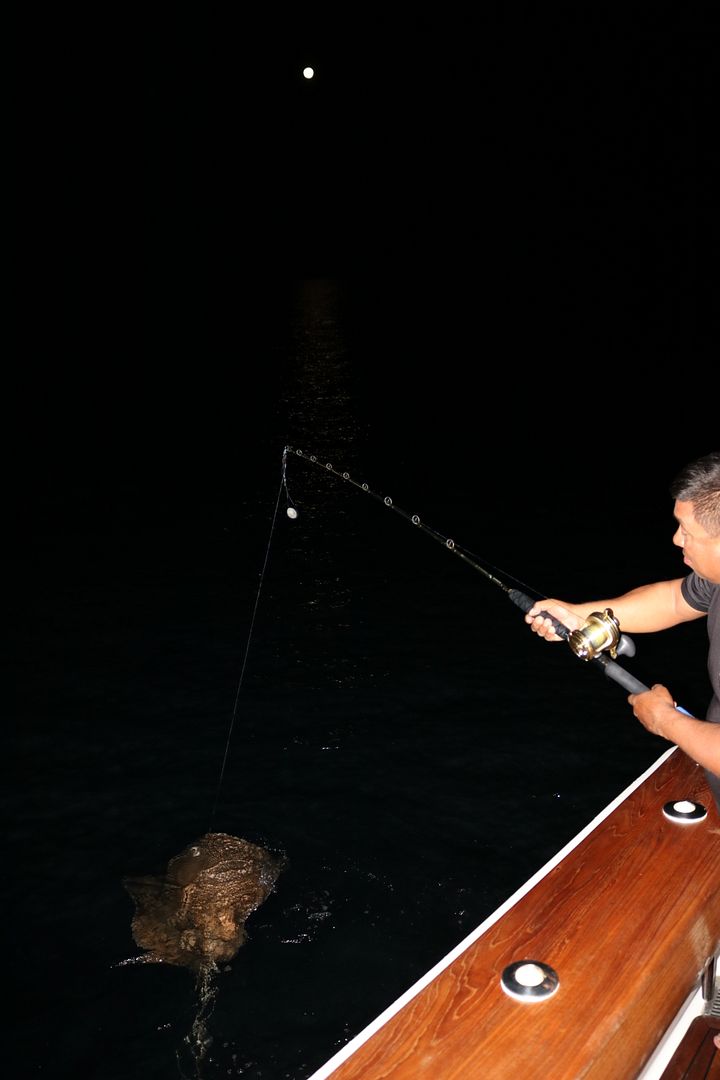 Hannibal Bank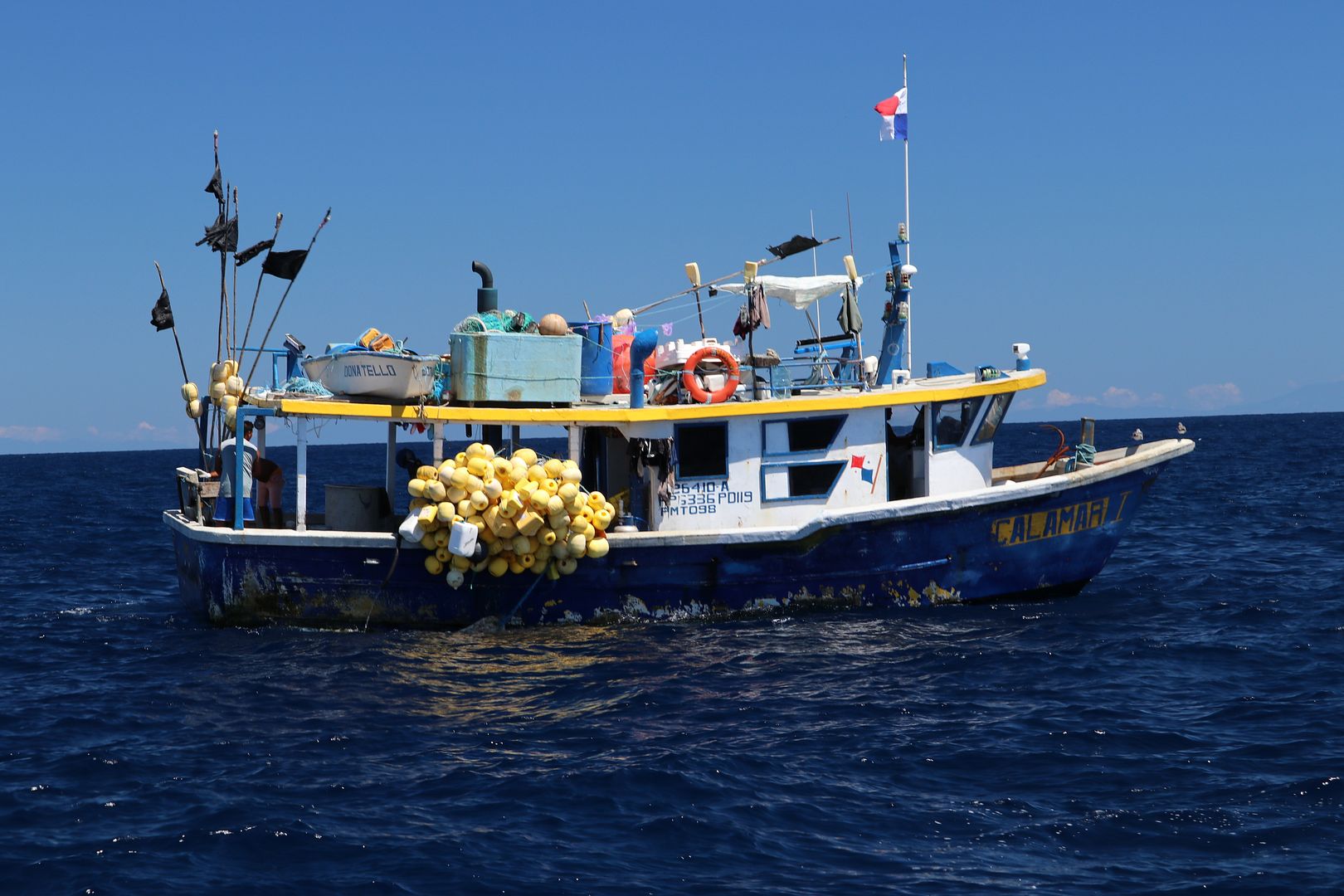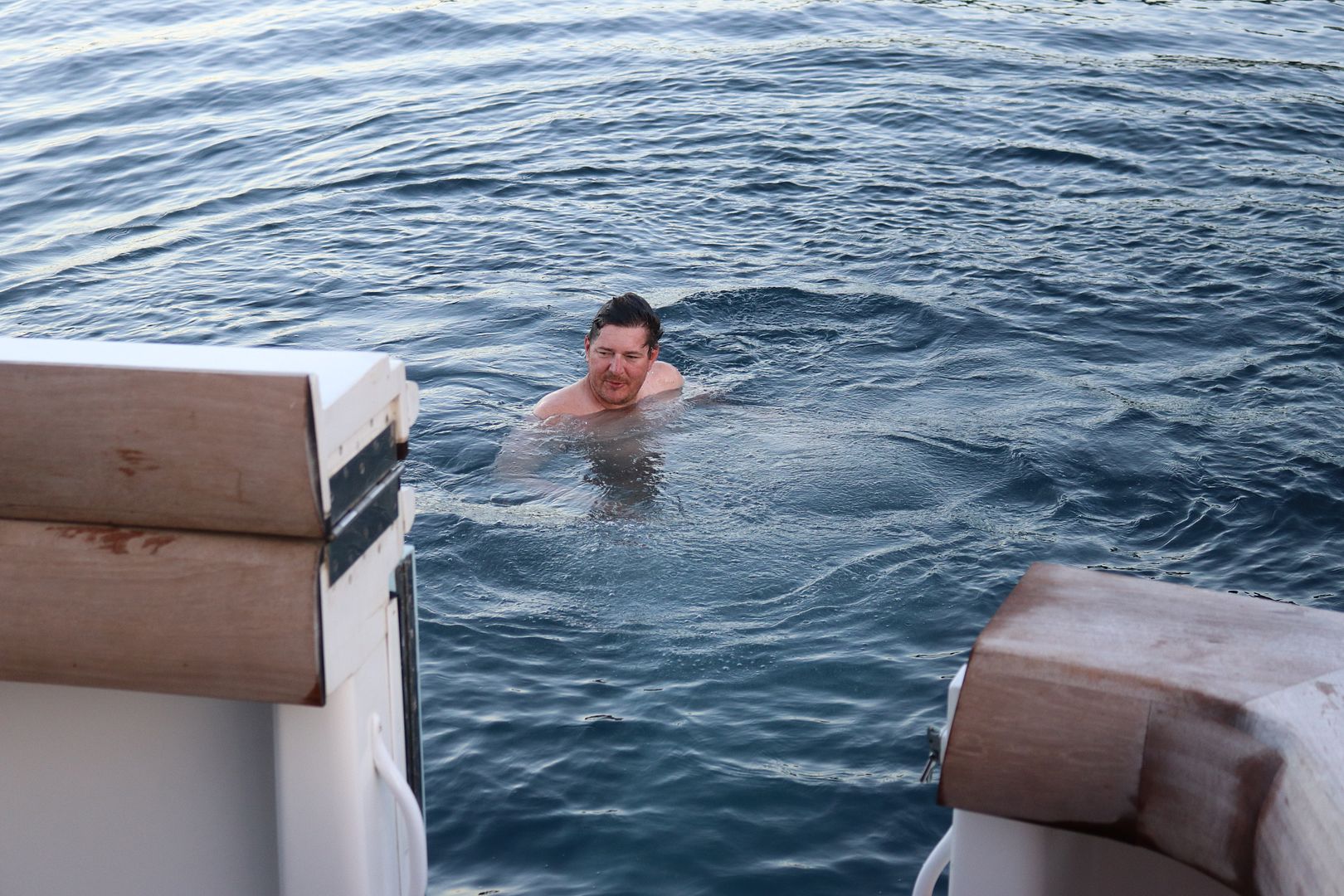 Isla Montuosa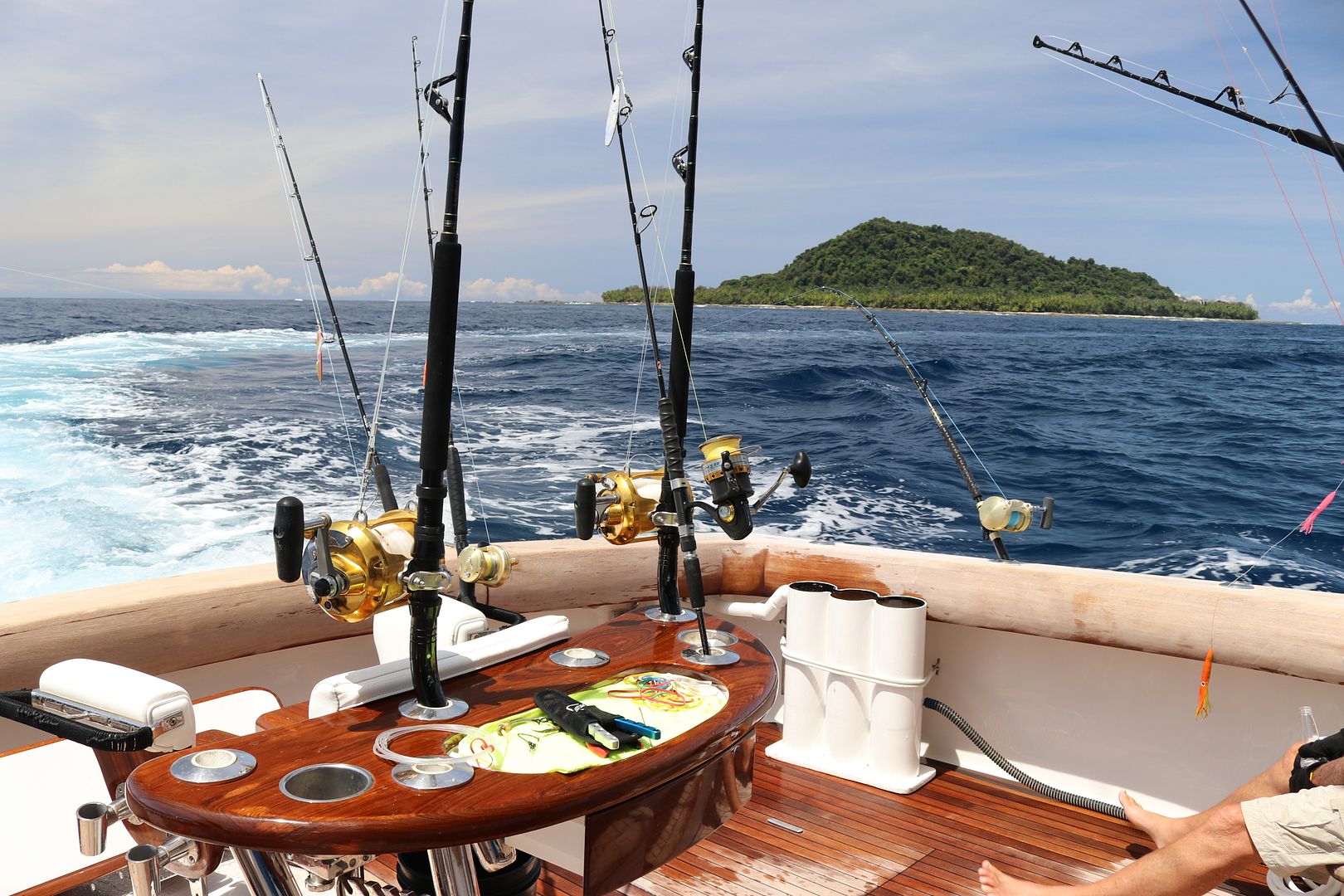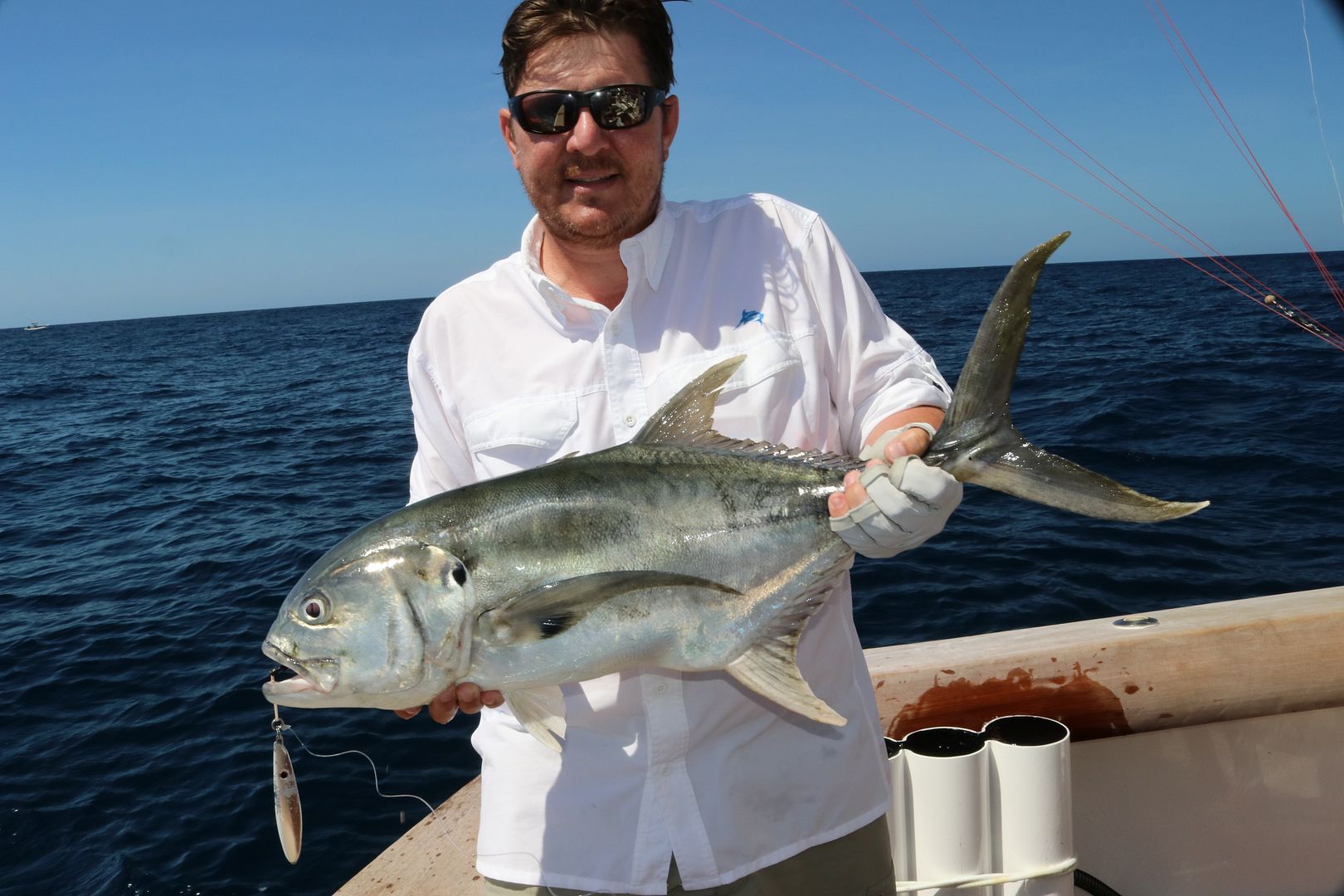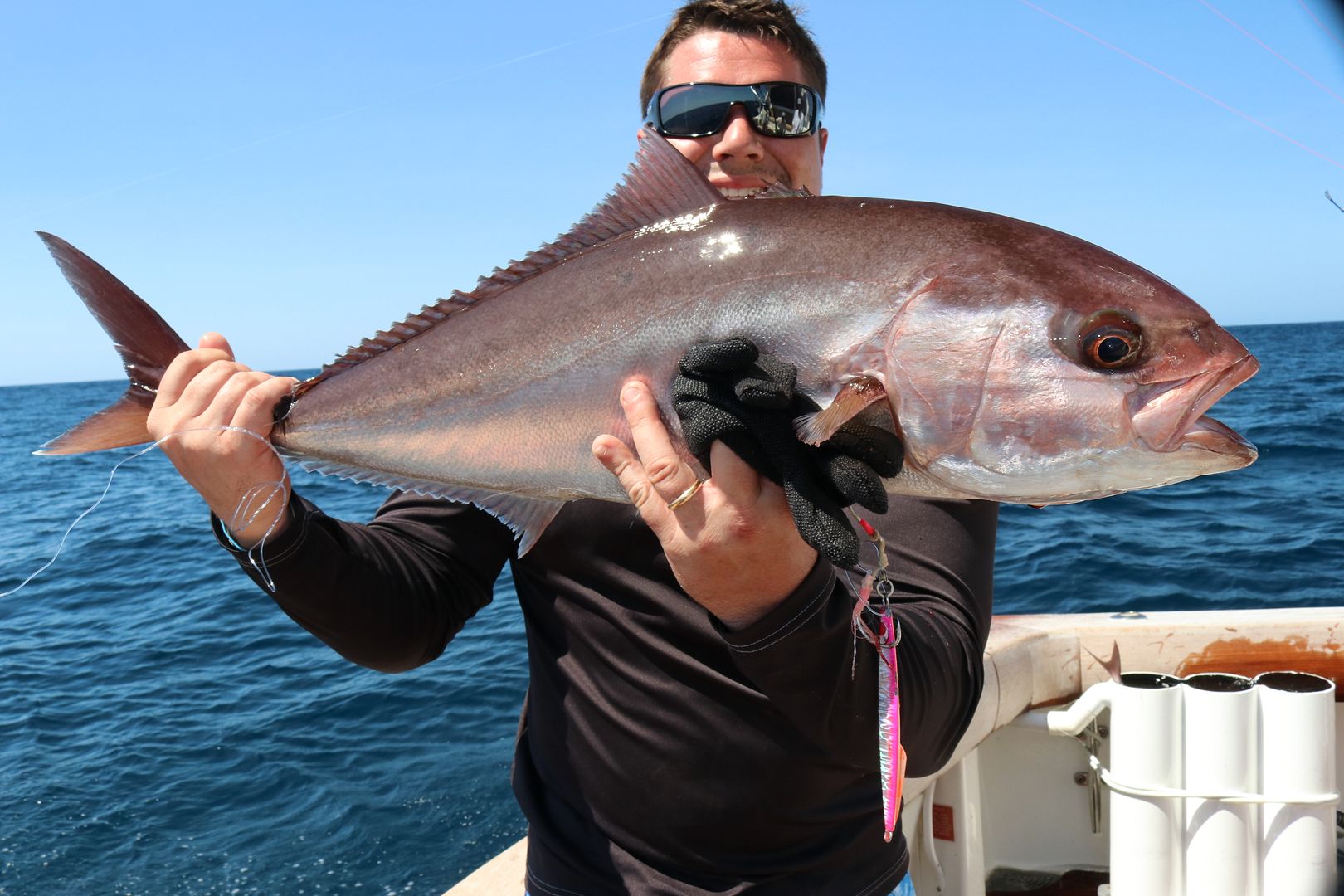 Nomad Lure