Feb 16, 2012
1,249
1,080
Name

Connor
Boat

Intrepid, New Del Mar
Intrepid - Okuma/Soft Steel 15 Day – March 19th –April 3rd
Day One
After checking in at the Dolphin and meeting up with a few of the guys the night before, I was ready for my first 15-day trip. I have fished the Intrepid many times before, but those were 7 or 8-day trips. This was to be a different ball game. Our target was big tuna and I came prepared. Freshly loaded with a couple of United Composites CX 76 Vipers (one loaned) and a CX 76 Invictus all matched to Okuma Makaira SEa reels, I felt ready, but was still filled with trepidation as we embarked on what would be a true fishing challenge.
Getting to the dock early, I saw some of the crew filtering in. Joining and guiding us on this adventure would be Capt. Kevin Osbourn, with Capt. Jesus Campanioni as the Number 2. On the deck we had Capt. Bill, along with Capt. Sam, Tyler, and Jack. In the galley would be Chef Jeff and Art, a newcomer to the boat, but one who proved to fit right in, both in the kitchen and on the deck. We finished the day with the give-away, no raffle on this trip. We all came home with a brand new Large Nomad Reel bag filled with Soft Steel goodies. Nobody was left out, and we were all very appreciative of our charter master Tony Garza. He put together a great trip and we were never at a loss for Soft Steel line for any application. Tony is a generous charter master who knows the value of building relationships and produces a great product on top of it. I'll have more to say on that later. The destination from the start was Hurricane Bank and as we made our way south we all went to bed dreaming of big YFT.
Jerry, Ken, and Phil waiting around by the Bait Barge.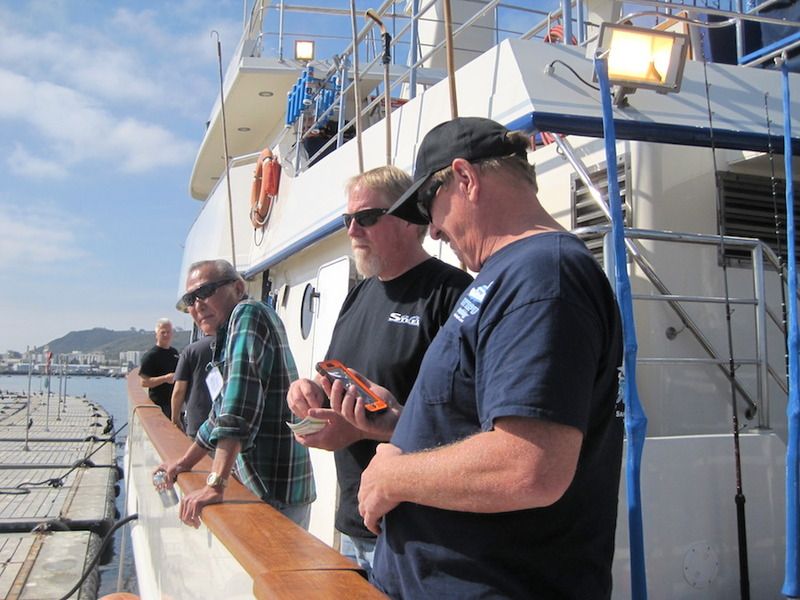 Reel Bags for everyone, our fearless leader Tony Garza is on the far right.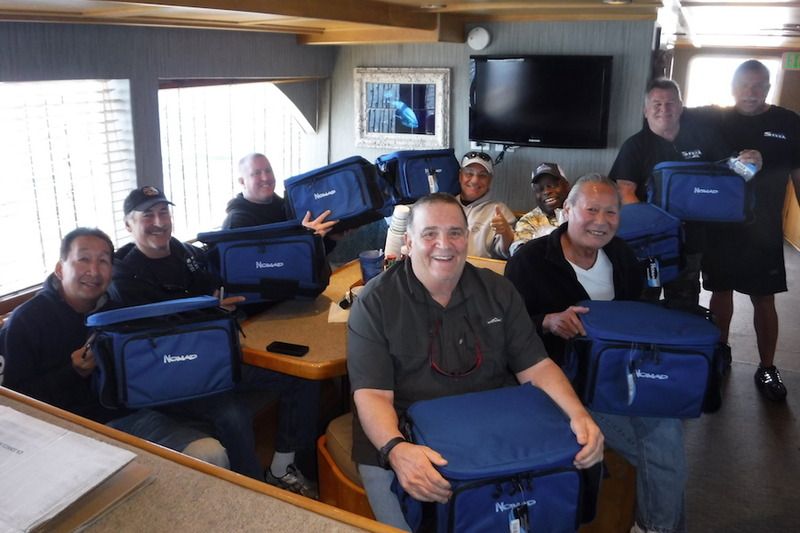 Day 2-4, Travel
This was a different experience for me. Normally, at least the last couple of years on the other trips I've taken, we have a chance of fishing on day one. I am used to summer trips, and when the Bluefin are biting, you have to take advantage. This was not the case on this trip. We all settled in for travel and started getting to know each other. This trip has a lot of regulars and it showed in the cohesiveness of the group. I was happy to see that we had a great group of fishermen and women, to share the rail with over the next 15 days. I was the youngest guy on the boat, but not the most inexperienced. We had a couple of first timers along for the ride, but support was there to ensure their success. Gradually we began to gear up for what was ahead. Instinctively, I built out my light gear first, even rigging a surface iron rig complete with a JRI-4 Surface Iron that would never be used. I did have the wherewithal to put together some Wahoo rigs including a brand new Pep 9 jig in brass, and a JRI Bomb.
Along the way, Fishybuzz taught me how to crimp titanium wire for my jigs and bait, so much of day two was spent making leaders for him and myself. I also made a note to get a Nicopress crimper once I got home. It is a great tool, and vastly superior to my $25 crimping pliers for this application. I think I ended up making about 20 leaders for jigs and bait, but that is all part of putting the time we have on our travel days to good use.
Titanium Wire Leader for the toothy critters.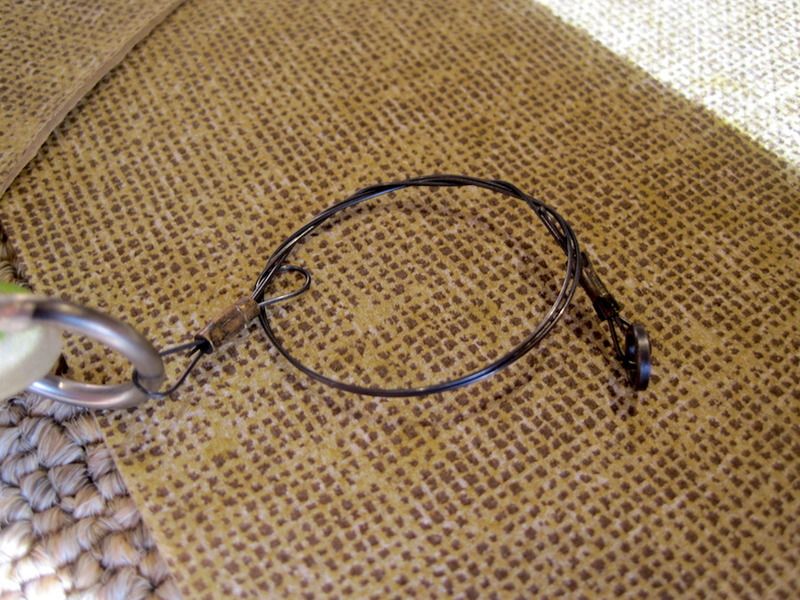 I eventually made my way to rigging up my heavy gear and found that I had the bases covered. My Moon built White Tiger 2x4 was matched with a Mak 20IISEa and finished with Soft Steel 100lb Mono. My UC CX 76 Viper was matched with a Mak 30IISEa and Seaguar 100lb Flourocarbon, but later in the trip I switched to Soft Steel Mono once I ran out of that size of Flouro. I had another CX 76 Viper, generously loaned to my by Fishdoggary, along with his Mak 20IISEa and for that rig I selected Seaguar 130 FC for my leader. Finally, my UC CX 76 Invictus (also built by Moon) was set up as a big bait rig. Tony was generous enough to give me a 300 lb Soft Steel wind-on and Bruce, "the Professor," ($norkle) gave me a couple of large Mustad circle hooks, which we crimped on. I was as ready as I could be, and the anticipation was building. I've got to say that I am always impressed by the generosity of my fellow anglers on any trip I've taken. I definitely packed a lot of tackle, but there were a few key items that I didn't have for specific applications, and they were happy to help a newbie like me out.
The rest of travel was taken up with playing cards, reading books, eating good food, and trading fish stories. We also had a chance to play around with Tony's line tester, messing around with different knots and seeing what worked best. By the time we got down to the Shimada Sea Mount, we were ready for action.
The Soft Steel Line Tester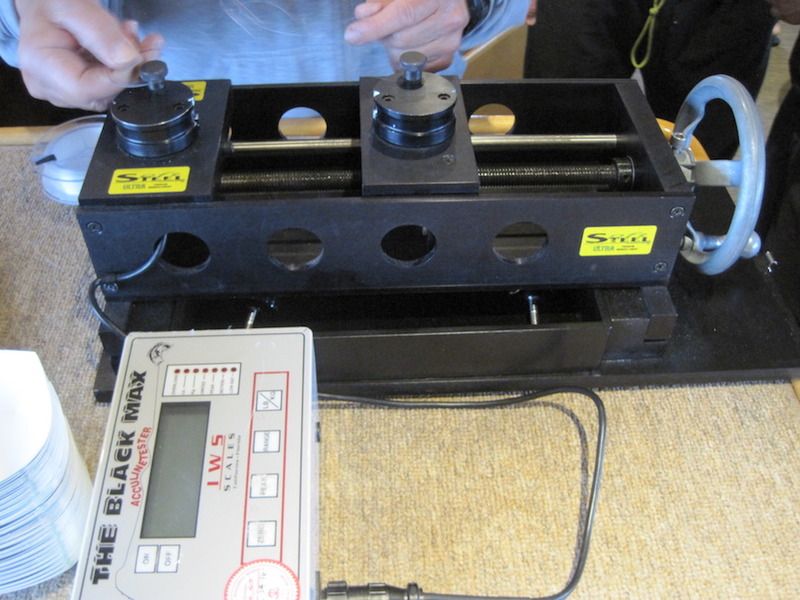 Day 5-8, Hurricane Bank
Arriving at the bank, we saw the RP had already spotted up. They had the advantage of a long trip, and had already visited the buffer zone by Clarion Island. The island showed little sign, so we were both working the bank. After a bit of semi-successful Wahoo trolling, we found a good spot and anchored up for the afternoon. Immediately, we knew we were in the right spot as Tuna started coming over the rail. The fish ranged from 60-180lbs and the kite was the place to be. Though we had some nice baitfish, the kite made almost a full rotation in that one afternoon/evening. This would is where I got my big fish of the trip. I was on the kite, and soaking my own bait, when I got the call that the kite was bit. Handing my rod to the nearest deckhand, I moved over to the corner where the kite fish had settled in. This fish was pulling harder than I had ever experienced and I knew that it would be the challenge of my fishing career thus far. Remembering the advice of the many experienced anglers on the trip, I paid close attention to the rod tip and every time it lifted I gave the reel as many winds as I could. I found myself shifting back and forth between high and low gear, and at times it seemed that every turn of the spool I gained was taken back again. Then I heard that magical word "Lift!" and they sunk not one, but two gaffs into the fish. It turned out to be an estimated 150lb YFT but weighed in at 140 at the dock. I knew then that my trip had already been made, but was determined to add more tags.
Fishing that afternoon/evening was good, but not spectacular, and we knew it would be a pick bite throughout most of the trip. That said, we set out to make the best of it, knowing full well that it is the people that make the trip and the fish are a bonus. One other note from our time at the bank, early on it was apparent that we had a hot stick on board. James was on his third year with this group, and seemed to be hooked up just about all the time. He may not have landed the biggest fish of the trip, but I know he had the most, all running from 60-170lbs.
Donna with a Troll Hoo at the Bank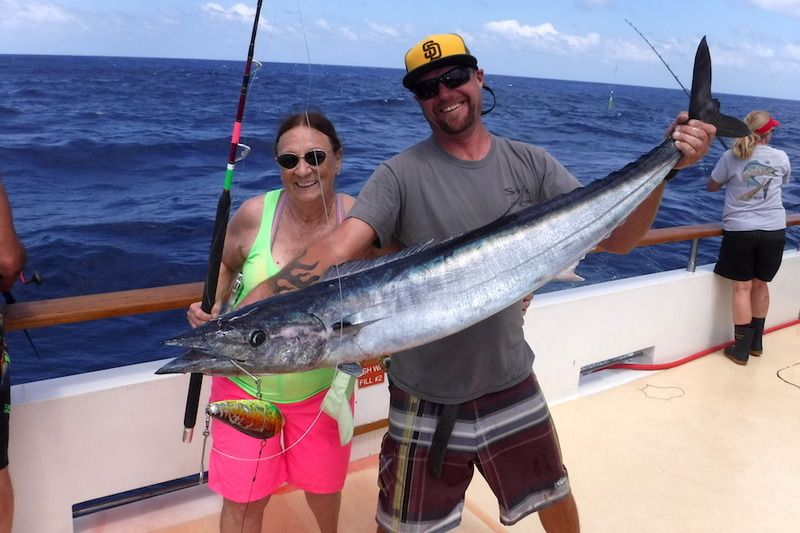 James with one of the first nice fish of the trip.
Me with my new personal best, a 140lb YFT on the kite.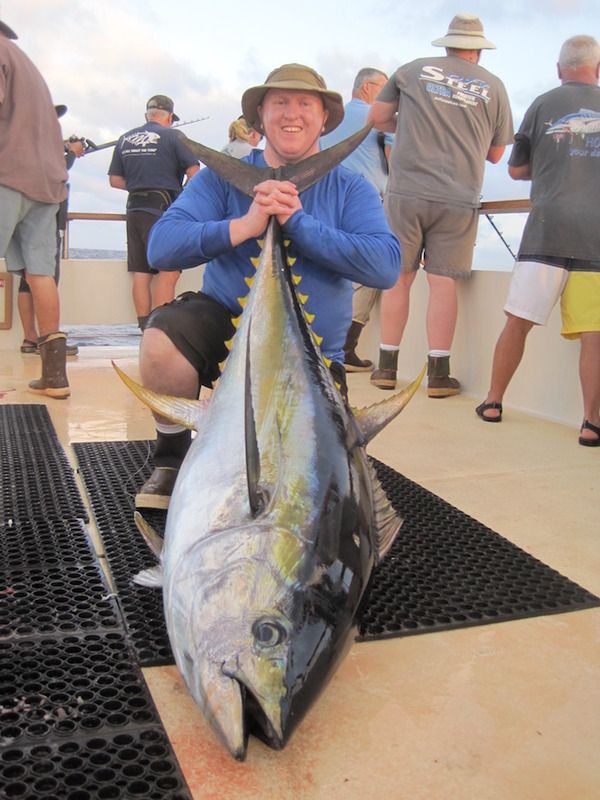 On our first morning at the bank, I decided to give the glow jig a try. On literally my first drop with a JRI 8 heavy jig, I was bit. I did, however, quickly realize that it was a small fish. Bringing it up, it turned out to be a 6lb YFT, perfect for big bait. Once I ran down to get my big bait rig, Bill threw it out and I was fishing "Man Bait" for the first time. Keeping in touch with this one wasn't difficult, but before long, I realized that I had almost half of my Mak 50's spool in the water. As I started a slow reel back I got hooked up. With maybe 300 yds of line out it was hard to tell at first, but it turned out to be a shark. I tell you, reeling in that much line knowing that the wrong kind is on the other end was definitely a pain. On the bright side, I know that my Spectra is now packed on nicely without any under wraps. The next chance I get to fish big bait, I will know better.
The next few days found us with the odd troll fish, and spots of good tuna. The fishing was scratchy, but they were there. The toughest part was finding a school of tuna or Wahoo that wanted to bite. However, some good fish did make it on board.
One funny moment came as Fishy hooked a good one on his recently Cal Serviced ATD 12 and he rolled up the drag too high in the initial run. Realizing his mistake, he went to roll it back a bit sending it instantly into free spool and getting a huge birds nest. The result was the expected snap of his 100 lb spectra from the resulting under wrap that sounded like a gunshot. Some good-hearted ribbing was in order as others shared having the same experience on previous trips. Also, while at the bank, Al "The Mayor" Murray found himself hooked up on lighter gear. Bringing the fish up with a Mak 16 mounted on a 1x3 made it tough, but he ended up with a 170ish fish in the end. Many others boated nice fish, though nothing over the 200 mark.
Bruce with a Troll fish on Fishy's Hooker Intruder XL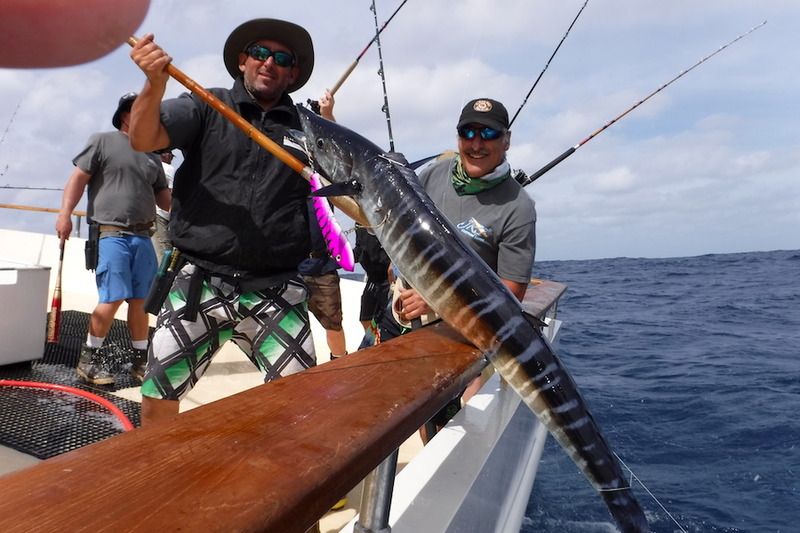 Charlie with a nice one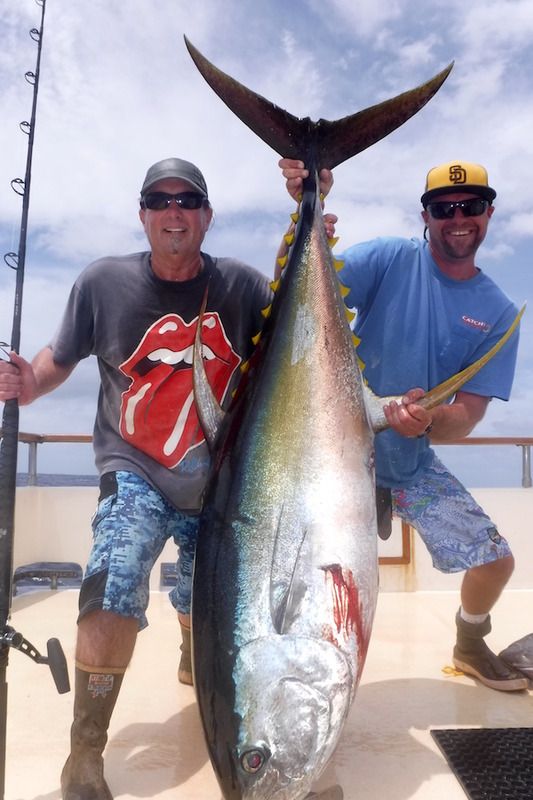 Soda Pop with another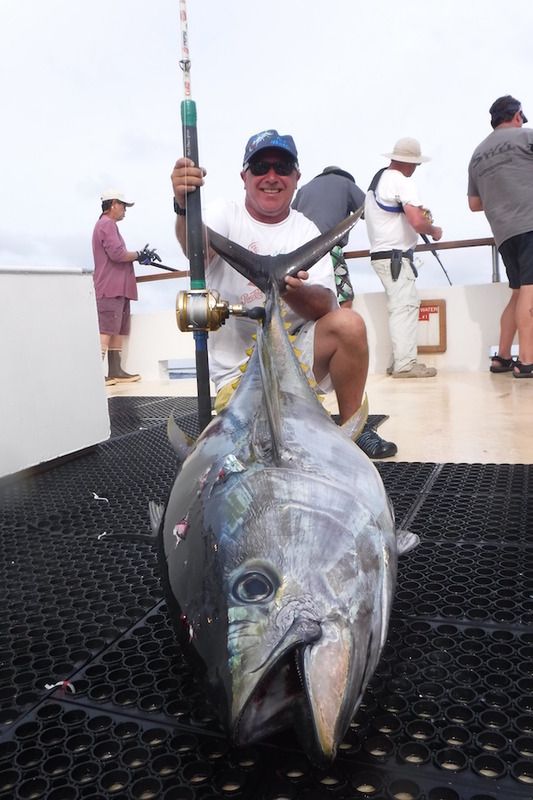 My Room Mate, Rick, bendo on a nice fish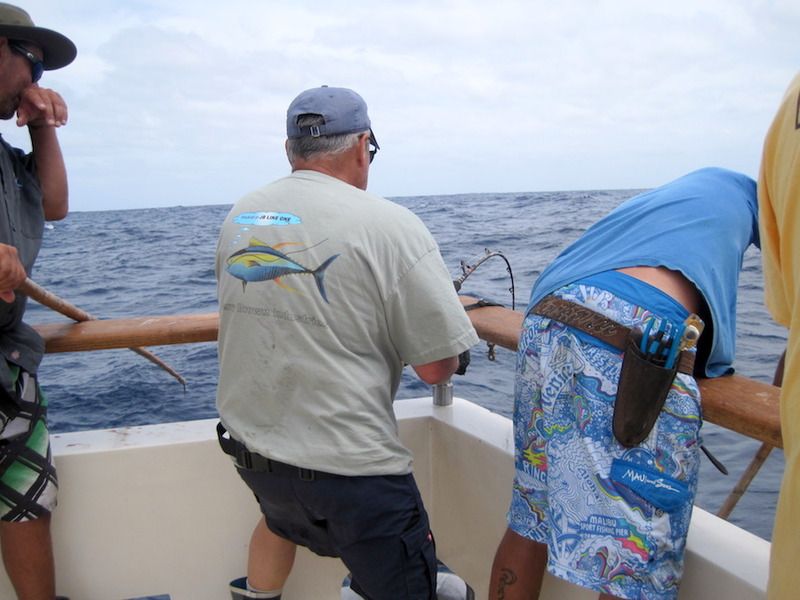 Fishy's epic birdsnest.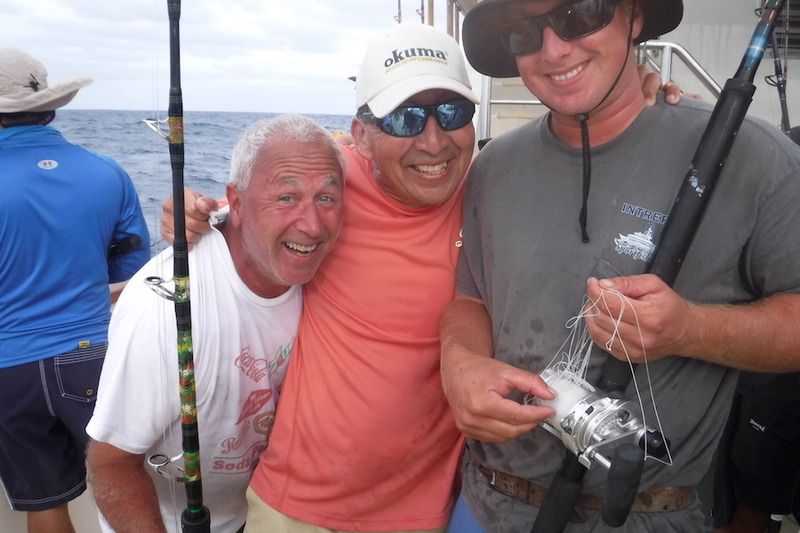 Fishy with a decent one caught on his very next bait.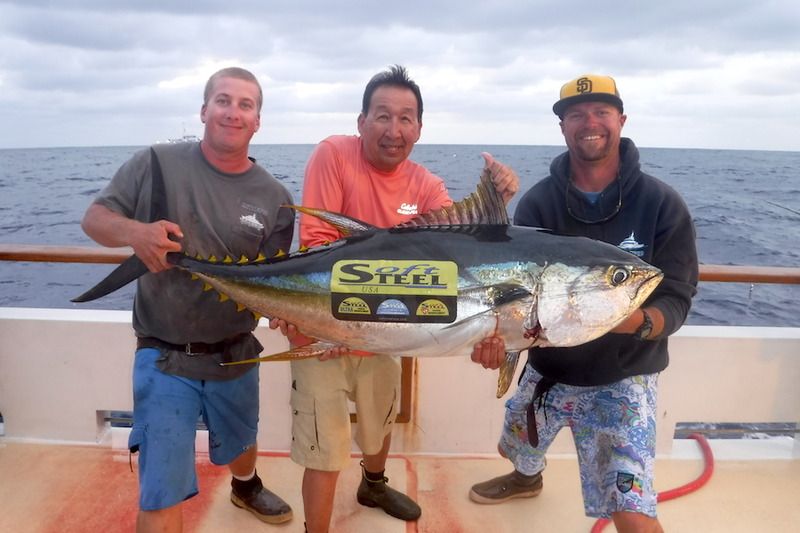 Ken with a nice bait fish.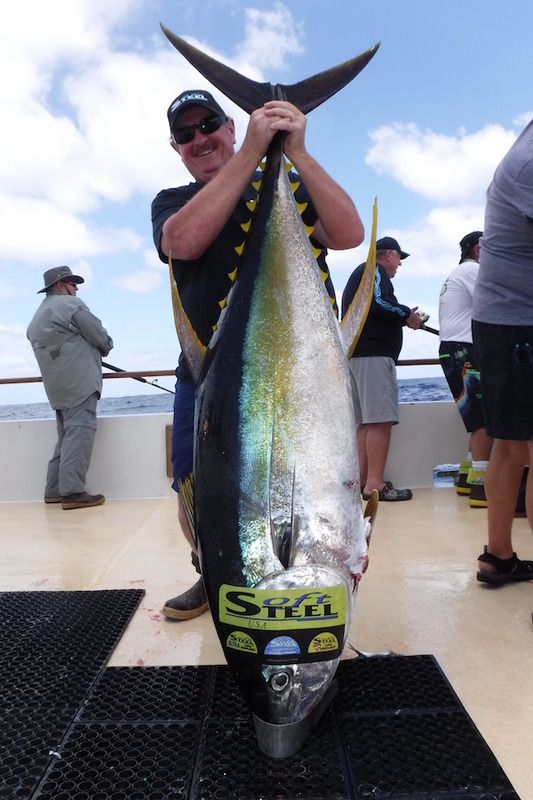 Mitch with a good one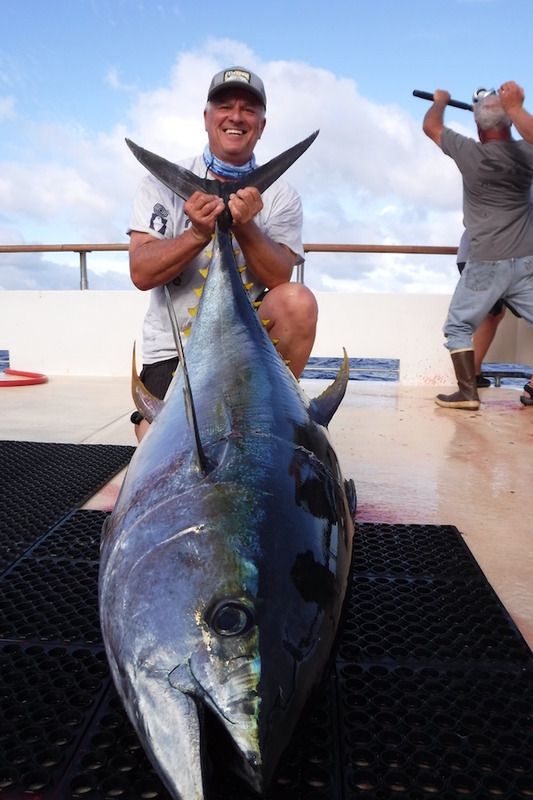 Bruce with a second place jackpot 194.8lb YFT
Seung with his first ever Wahoo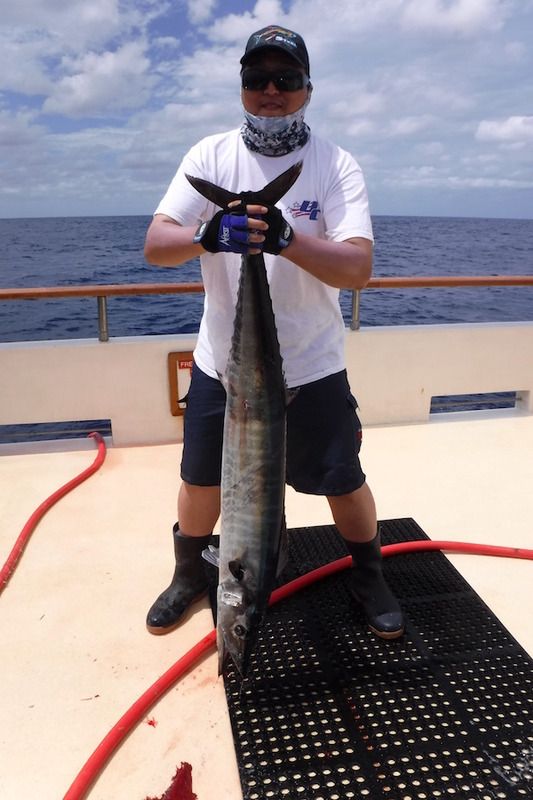 Al "The Mayor" with a hard fought fish.
After some moderately productive, but tough days at the bank, the decision was made to make our way over to the buffer zone by Clarion Island and see what was happening over there. The RP had left the evening before to check things out, and hopes were high that conditions had changed and big fish would be biting.
Day 9-11, Clarion Buffer Zone
As we approached Clarion Island I found myself getting really excited. Having never seen it before, I recalled the first time I saw Alijos Rocks and the awe I experienced as they appeared over the horizon. The island was just the same, and as we drew near and the details became clear it was just as breathtaking. Monument Rock appeared on the left and we saw the camp and a Mexican Navy supply ship pulled in close to the beach. After check-in we headed out with our neighbor, the RP, trolling for Wahoo and searching for tuna. We didn't find much the first day as the moon cycle wasn't in our favor.
Clarion Island as we made our way in for check-in.
Jeff and Art did a great job in the galley.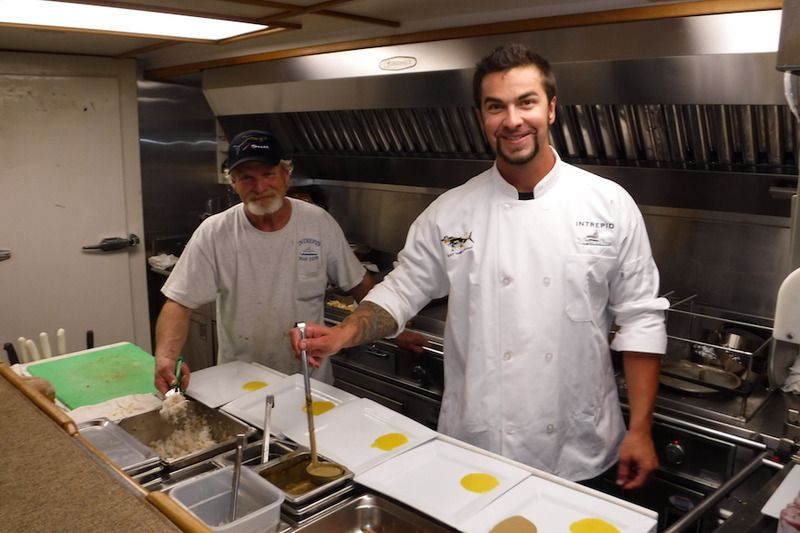 The next morning, we came across a great bite of tuna from 60-185lbs. We also found some sharks, and a lot of bait was lost to frayed leaders and missing hooks. In the gray light, I did hook up with a pretty good one bringing it in with my UC 76 Viper and Mak 30IISEa combo. The lifting power of this rod is incredible. Each time it recoiled, I was able to make several winds and found an 85 lb tuna at the other end. I didn't get a chance to really test the rod, but know that it is a fantastic tool for bringing in these big fish. Just turn the handle and they come right up. James was also in his regular form, armed with his Cosmo wrapped CX 76 Viper, and I think he got a couple in that morning as well.
This was a good morning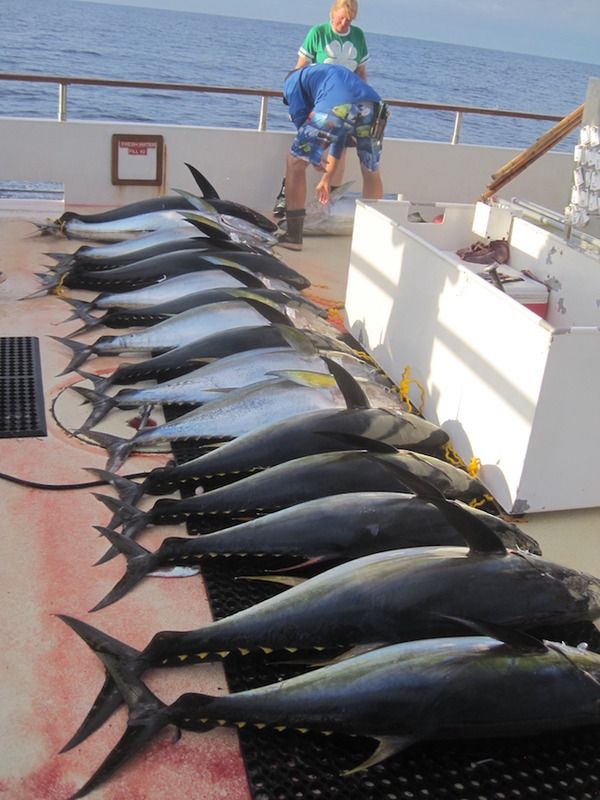 Once the bite died down, we set out trolling for Hoo, and had our first decent bite on the skinnies. Before long just about everyone aboard had at least one skin in the RSW and as is tradition on the Intrepid the "Wahoo Virgins" got full time troll duty. With a Hooker Intruder XL and Donna's (Reel Lady) hot Marauder in the spread it wasn't long before we were down to one person without a Hoo. As it happens it was one of the more experienced anglers on our trip, the indefatigable Fishybuzz. He took it all in stride and after another long trolling run, finally bagged his first skinny. He made up for it later by bagging four more Hoo on the slide with his Stella and short jigging rod using a black and purple bomb. Going from zero to hero, or in this case, zero to five in short succession showed the importance of patience on these long trips. Another standout on the Hoo was Brian who caught several on bait on various stops.
Our charter master, Tony with a Wahoo on bait, Soft Steel gets bit!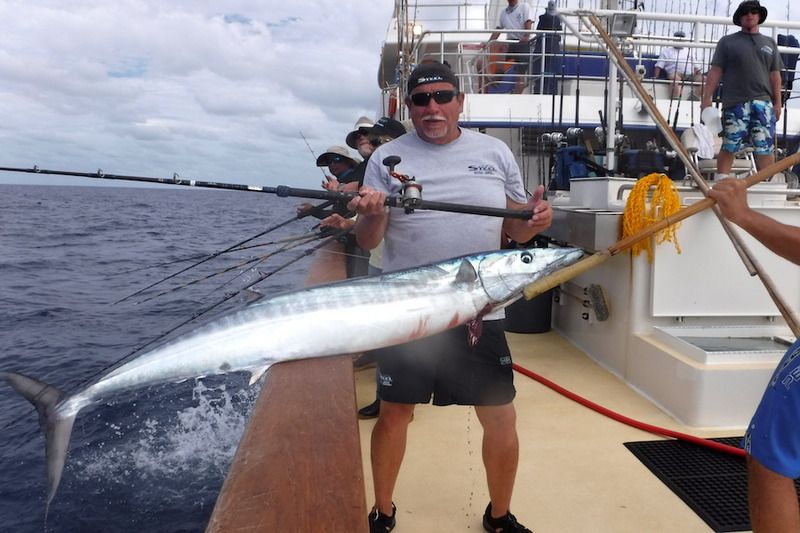 On another note, I decided to try some new gear when Wahoo fishing various troll stops. Using a loaner United Composites Challenger Platinum RCP 80H-CT with a boat loaned Avet HX loaded with 50lb Soft Steel Ultra, I elected to use a Pep 9 Jig in Brass painted by Gary at Fishdog Custom Lure Painting. All I can say is that it definitely got bit, though I did have trouble getting them to stick. Four bites, and four misses, some coming off after a few turns of the handle. Oh well, that's Wahoo fishing.
Pep 9 Jig in Brass, Custom painted by Fishdoggary. It got bit!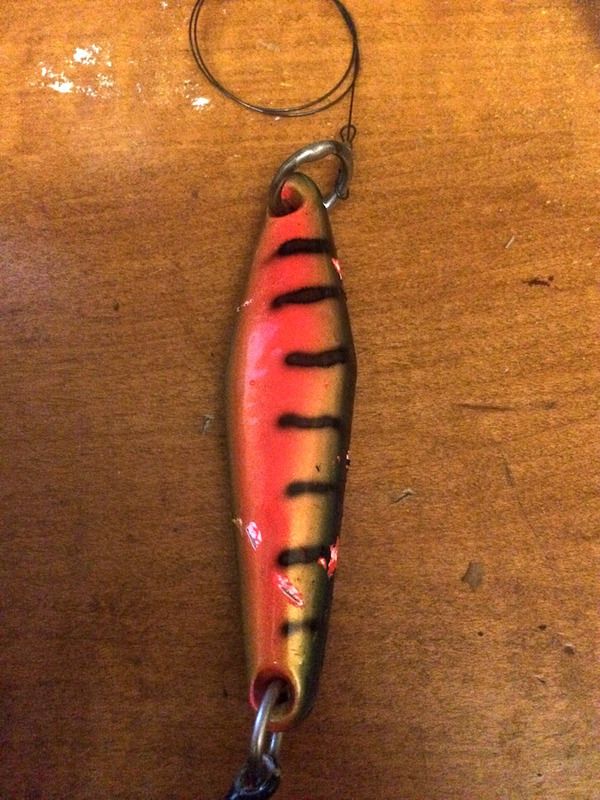 The tuna fishing was again scratchy, with some good fish making it over the rail and many hooks lost to sharks and skinnies on the long soak. It was at this point that we got some of the biggest fish of the trip despite the picky bite. Rick found one on his second kite rotation that went to 195.3lbs. Another fish of note was taken by Phil. He had already lost at least two fish to saw offs and sharks, but was hanging a good one. After about an hour of fighting and one missed gaff shot, it finally came over the rail, a solid 185. Ken had another that he counted losing four times due to going under the boat, getting stuck on a barnacle on the bulb of the bow, one re-splice of the line and a few wraps from other anglers that ended up at 170+. Phil and Ken were using 100lb Soft Steel and the line held up admirably despite the tough conditions. Also of note, a dark horse throughout the trip was our charter master, Tony Garza. Fishing only his product, Soft Steel Ultra Monofilament, he ended up with a haul any of us would be proud of. Flourocarbon isn't always necessary to get a good fish.
Phil with a well deserved baitfish.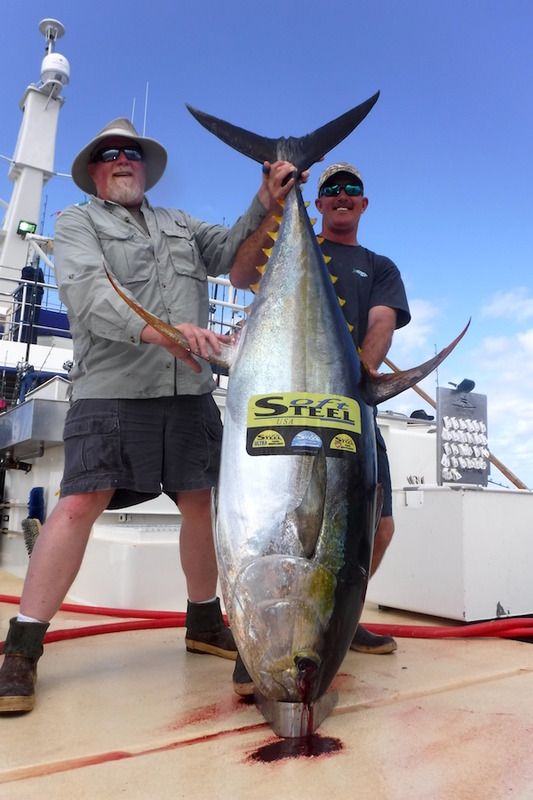 Rick with his Jackpot fish, 195.3lbs
Me with a Wahoo caught on bait that took me right around the boat in a blink of an eye.
On our final day in the buffer zone, we met our nemesis, sharks! In a good mid-morning bite, we got one decent fish on board but then just started feeding the grinners. It was impossible to get one past them and once a few fish were lost Capt. Kevin made the call to head back north.
The sunrise as we made our way to get inside away from the weather before turning North.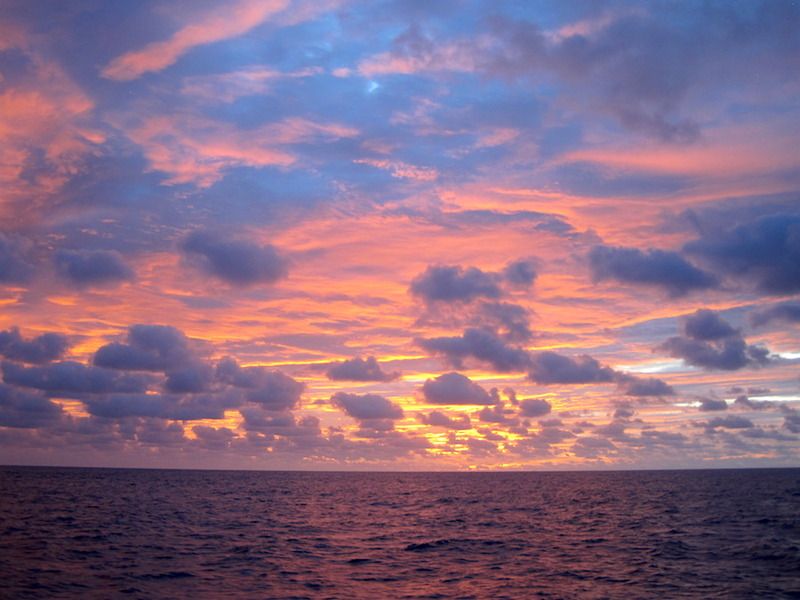 Day 12-15, Travel
Travel back to the dock was relatively uneventful. We had all had a chance to pull on some big fish, and were hoping to make good time to fill out our bags with some Yellows or other fare on the way back up. However, battling big swells and 20 knot winds took that possibility away. We took our time, breaking down our gear in the flat periods and assessing our trip. There weren't any cows taken on this one, but many personal bests were met and good times had. Poker and testing knots on Tony's line testing machine made for some good times, along with some games of LRC for some low stakes fun.
When all was said and done, the jackpot went to Rick with his 195.3, with Bruce close behind with a 194.8. Phil followed up in third place with a 187.3. As we settled up with our choice of processors (Five Star Rocks!) and I drove home Sunday morning, I couldn't help but reflect on what I count as a successful trip. The fishing was scratchy, but we stayed at it. I also learned more than I ever had in my previous four years of summer trips. I think that we all left satisfied and I look forward to my next chance to step on board the Intrepid in July. If you are still reading, thanks for hanging in for my report. I hope to do more of these big fish trips in the future, work schedule, and money allowing.
The final Jackpot: Bruce with a 194.8, Phil with a 187.3 and Rick with a 195.3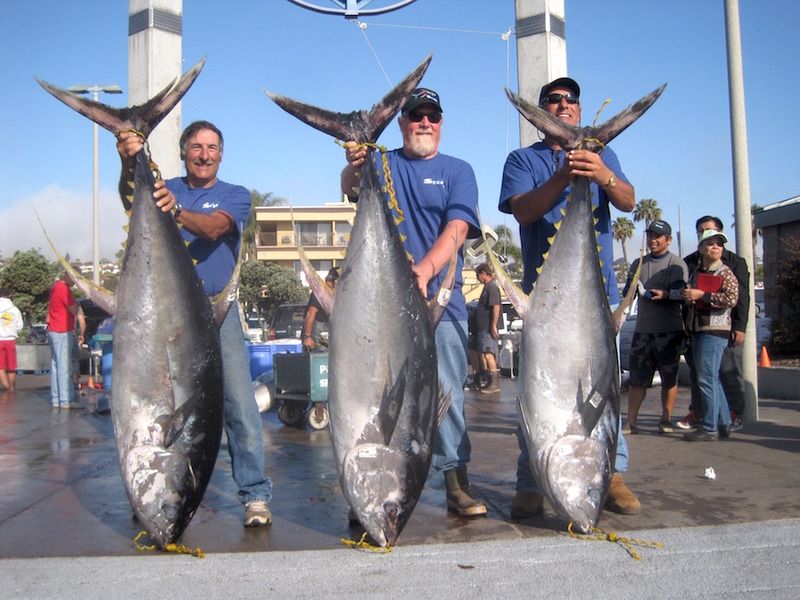 -Connor
Last edited: