I Should Upgrade My Account
Mar 18, 2012
1,297
1,092
Name

Harbison
Boat

Florida Fisherman
First hog hunt of the new year
For a Florida native who has been hunting hogs for well over half a century there is no better way to welcome 2021 than harvesting a trophy wild Florida boar hog.
First let's take a look back. My first serious hog hunting club was Crystal River's Southwood hunting club. The hunting was absolutely fantastic. At Southwood I learned how to use corn feeders. Many established game trails ran along fence lines. Southwood was cross-fenced; that's where I set up my stands and feeders. I hunted Southwood for two years. I saw every tree in the entire 6,000 acres. Decided I had to have more land to hunt. Buck & Boar offered 16,000 acres, a shaded camp ground, walk-in cooler, a bath house, electricity, and more hogs than you could ever imagine. Fantastic!
One of our many stands. It was a great one.
Serious hunting requires a great deal of time and effort. My wife, Thelma, and I were a team, we shared the work load at Buck and Boar for twenty years. Shortly after our twentieth year cancer took her. With age catching up with me and being alone I could no longer do the work required to be successful; my hunting was over. Or was it?
Enter Perry Florida's Two Guys And A Hog. They do all the work; we have all the fun.
We were married December 24, 1970. On December 24, 2020, I harvested, in her honor, his & her hogs: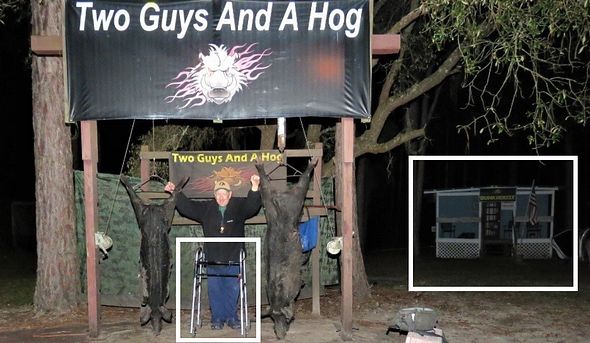 Like Buck and Boar I found Two Guys to be the best of the best. Six years later I am still hunting with Two Guys. The hunting is very good and my guide, Francisco, is fantastic. This man from Guatemala gives 110% on every hunt, and it shows.
Like Southwood I have a well used game trail running next to a long fence line. Been hunting the same stand for six years.
As we approach my home away from home for the remainder of the day, Francisco is on guard: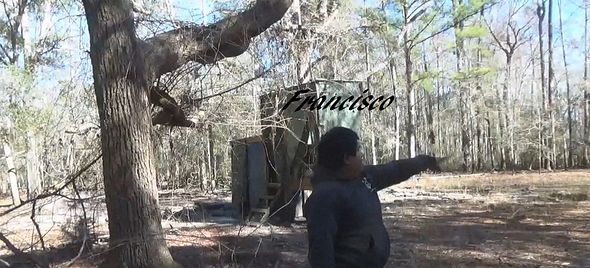 Feed them and they will come. We hope!
Looks like they are hungry:
To me sharing is every bit as important as the hunt.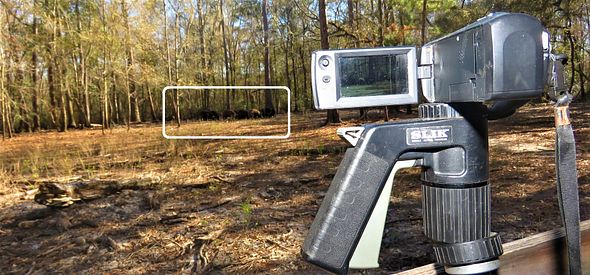 That BIG boy has my name on him. But he is tricky. After posing for a couple of seconds he takes off like a bullet. I'm not too sure he thinks too much of the idea of being shot.
Now this is getting personal. Before running off again he looks at me and smiles:
"I am better than you; you can't get me."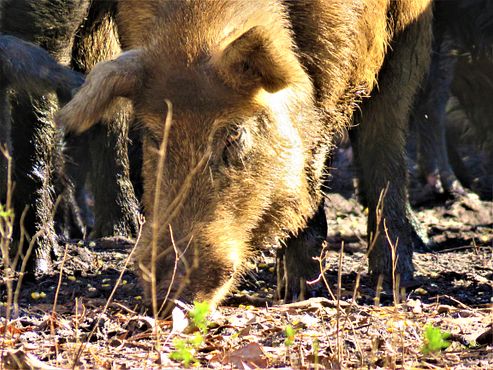 Want to bet?
The next time he gives me that big smile before he has a chance to take-off I release the awesome power of that 1895 Marlin Stainless Guide Gun. With a mighty blast, and the kick of a mule my 300 gr jacketed hollow point does its thing: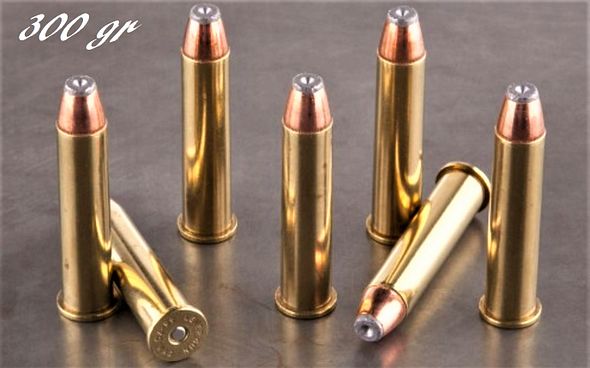 Hog down; down and out:
At one time Thelma and did this by ourselves:
Wish we still could.
Now this is getting personal. Before running off again he looks at me and smiles.
Never Again!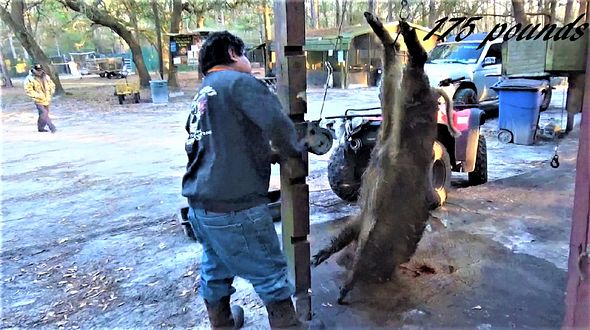 Talk about roughing it...
Now there is something to smile about...
The best burrito an a fanatic roast beef sub.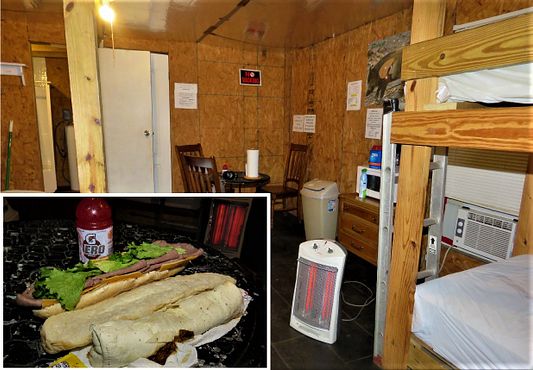 Check out the in-the-woods video of this very exciting hunt. If you listen closely you can hear me pull back the hammer before the shot: