Jun 9, 2010
708
788
Name

John
Boat Name

Wilderness Systems T-160...and just sold the boat!!!
THE FULL MEAL DEAL -- EXCEL 2016 PHENIX RODS 10 DAY TRIP -- "GRAZIE DIO"
Cliff Notes version, we had great wahoo fishing, both at Alijos and the ridge. After putting on a great load of smaller but super healthy sardines we started heading south, opting for Alijos as the entire fleet was at, or heading towards the Ridge. Arriving in the afternoon we quickly got to work on the wahoo, putting 70 in the hatch in near glassy weather. We spent the night, and got at it again, ultimately tagging another 100 wahoo, with an additional 107 caught on the ridge. These fish ate bait, jigs, bombs, surface jigs for buddy Ed, Marauders and the Cowbell on the troll, and even the popper for me. We also caught trip near limits of school grade tuna, a good whack on the grouper, around 75 yellowtail, and the stray amberjack--read the full report for the details. Interestingly what was hot last year was not hot this year. Last year pink and black 6X jrs were the ticket...this year raiders and bombs were the hotter choice. Unfortunately the yellows continued to be hard to find, though reading reports on trips leaving after ours, there seemed to be a few more on the chew. Two years for us without any long-rod yellows to play with…hoping next year has the "normal" yellowtail fishing, though the last two years of wahoo madness have been fun!!!
Well, let's get this story on the road! Grab a good supply of your beverage of choice…this report is a long one! No trip begins on departure day, and really they start the moment you book the next trip. From then on the run-up begins. In this case the wait was 377 days, as the countdown clock began. So what made this countdown any different?
This year's countdown included a renewal of vows for my Wife Donata and I's 25th anniversary, I became Catholic, which for those in the know, means quite the journey, a decision to retire two years early at the end of the year, and celebrating my wife's retirement...yup been busy.
So with three weeks to go before departure, my back goes out. Not overly worried, it goes south once a year, and seldom really has much effect. A visit to the chiropractor, and a week or so later...good as new. This time not so lucky, as week two passes, and it really goes out...taking me to my knees!! I had planned on flying out on the 19th, waking on the 18th to check-in for my Southwest flight. Not going to happen, so I reschedule my departure until the 23rd. Planning worst case scenario, I start reaching out to find someone who would want a steeply discounted trip. Next morning, I get an appointment with Doc Steve...our Port Aransas chiropractor, acupuncturist and by all accounts, a miracle worker. He adjusts my back, and tells me if it was his back he would add 40 acupuncture needles and a few well-placed magnets in my ears. Though somewhat skeptical I opt in for the full meal deal...and go from seemingly crippled to upright and nearly pain free. I am now cautiously optimistic! For those that read this far, Google "ear acupuncture". Note to self as I begin to ever-so-gracefully age...consider trip insurance for next year...
I am writing this on the plane westbound...so at this point...life is good.
Of course, this scene setter left out all of the other prep and minutiae that leads up to a longrange trip booked 377 days in advance.
Pre-trip purchases were pretty minimal, though I added a new Shimano Tranx that will be paired with the Phenix 809XHJ that I won on this trip in 2014. I also added a new Avet reel bag, as the old bag had become a bit cramped; not an issue of too many reels, simply not enough space for future growth. Also in light of the aforementioned back issue I bought a light weight luggage dolly that really makes airport transit with the reel bag a breeze. Work smarter not harder!
Spent a few hours getting a head start on wahoo bait leaders, and came up with a new to me storage strategy, utilizing the vacuum sealer to create a four pocket bag, with each leader coiled neatly in a pocket and sealed.
Pre Departure Day One (9/23/16)
In a bow to last year, where I only remembered my passport the night before, I totally forgot it this year. Once again, I was saved by my wife, as she remembered it, maybe in a dream and reminded me at 0430 as we were getting ready for the 45 minute drive to the airport. As I type this on a westbound SWA 737, I am pretty sure I didn't forget anything critical. Last year I did forget my reel bag...though had an epiphany half way to the airport, and quickly turned around for a high speed dash back to recover the offending reels. No harm no foul.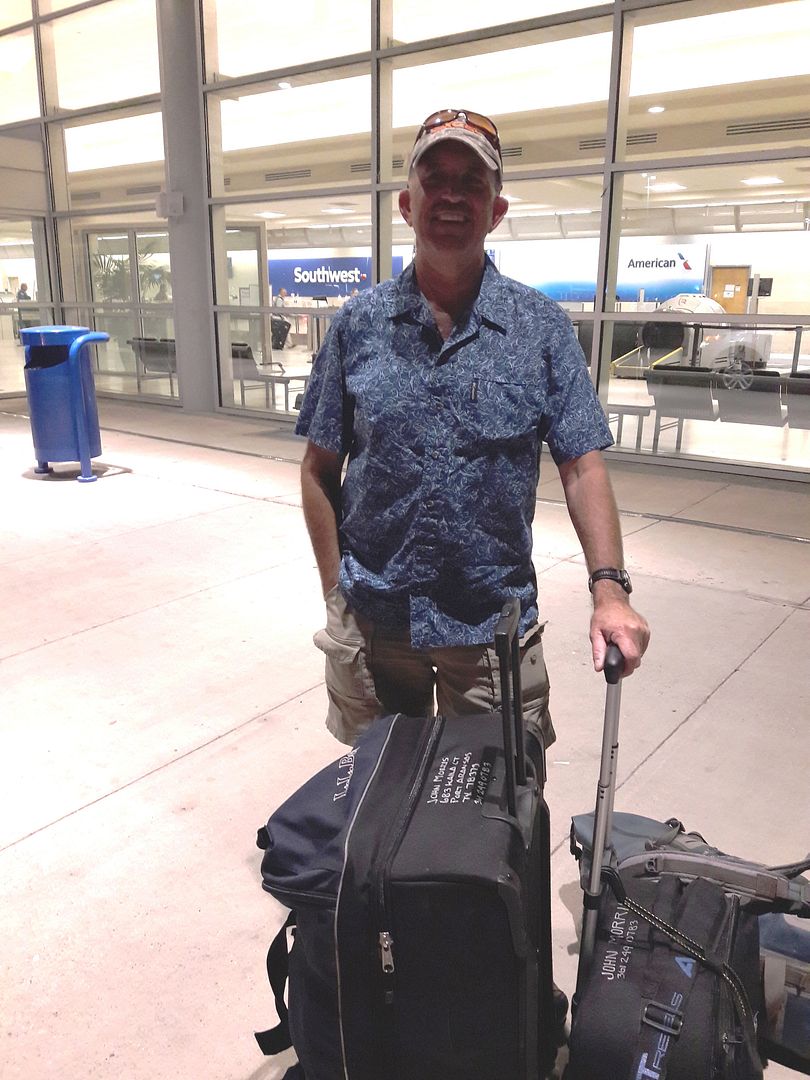 Having used Mike Morris of Big Fish Transport last year, he is part of the equation again this year. For those that travel, he is the perfect solution to our unique challenges, ensuring that our gear makes it to San Diego prior to arrival, and is given the once over, checking for broken guides or other issues that could be resolved prior to departure...stress reduction. By the way, when I talked to him, he is also doing reel repair, as well as long term gear storage.
Well, I am now an hour out from San Diego, and the meet up with Mike and the short drive from the airport to the hotel. Hopefully I can get checked in to the luxurious suite at the Dolphin, and get linked up with Ed, and any of the other early arrivals. No doubt we will be last minute shopping, and eating the next couple days. Let the fun begin.
With on-time flights and smooth traveling, it was probably too much to ask for continued perfection. As I arrived in San Diego, I heard my name called…never a good thing. One lost piece of luggage. Gave them the needed info for delivery, and met Mike out front for a quick load of gear and off to the hotel. Mike makes this so easy, and even gave me a back brace, which I used throughout the trip. Talked fishing for an hour until Ed arrived having driven down from Ventura. Got him unloaded and overwhelmed the room with 10 days x 2 people piles of rods, tackle, clothing, and other important stuff.
Ed is Ready!
The "Dolphin" Base Camp
Following that, it was off to Point Loma Seafood for lunch. Ran into the "Jersey Crew" led by Bart, Hermann, Michael, and Bill, though they had already had lunch they walked over with us. Lunch was fish tacos for me, and a smoked wahoo and albacore Caesar salad for Ed.
Wandered over to M&M Custom Rods, and saw Monte and his son who is taking over the business. From there we went back to the room, and then over to Squidco for some line and other critical stuff.
Following tradition, it was then over to Volare for a great Sicilian dinner. It is convenient that it is next door to Squidco! Seems like my back is doing pretty good...fingers crossed!
The two extra days prior to departure are critical to ease into the rigors of the three meals a day adventure.
Pre Departure Day Two (9/24/16) - I am stoked and incredibly thankful. Following a busy day, with travel, a lot of walking, I wake up and my back is still happy. Of course wake up was stupid early at 0345, which equates 0545 back home in Texas. I wander over and get a cup of coffee at Winchell's...and a stale donut.
Today started with breakfast at Mitches Seafood, for a killer plate of Huevos Rancheros, one of my favorite breakfasts. Happy for the local fleet, as every boat got off the dock the night before, as the summer season continues into the fall...with some good local tuna still happening. We spent the day stopping at tackle stores, picking up a bomb here, another jig...some 50lb...basically killing time until lunch. Lunch time rolled around and we went to the Luna Grill in Liberty Center and enjoyed a leisurely lunch. We are slowly easing into vacation mode, and ever so closer to retirement mode that is on the near horizon.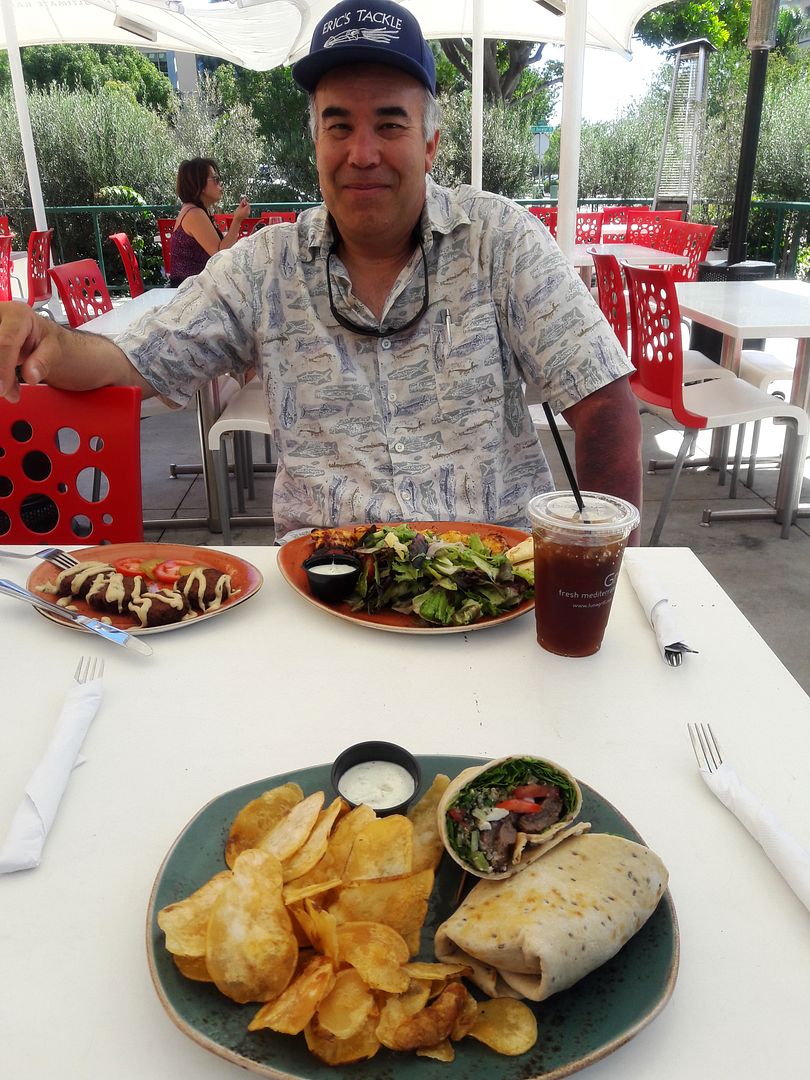 After lunch, it was time to get serious. Out came the wire, twisting up a couple handfulls of wahoo bait leaders, increasing the available inventory to 35 bait leaders in 44 and 38 single strand. Reports have been indicating "off the hook" wahoo fishing along the length of the ridge. Needless to say, we are chomping at the bit! Ed also re-wired a bunch of our respective cache of bombs, and flouro crimped a handful of jigs.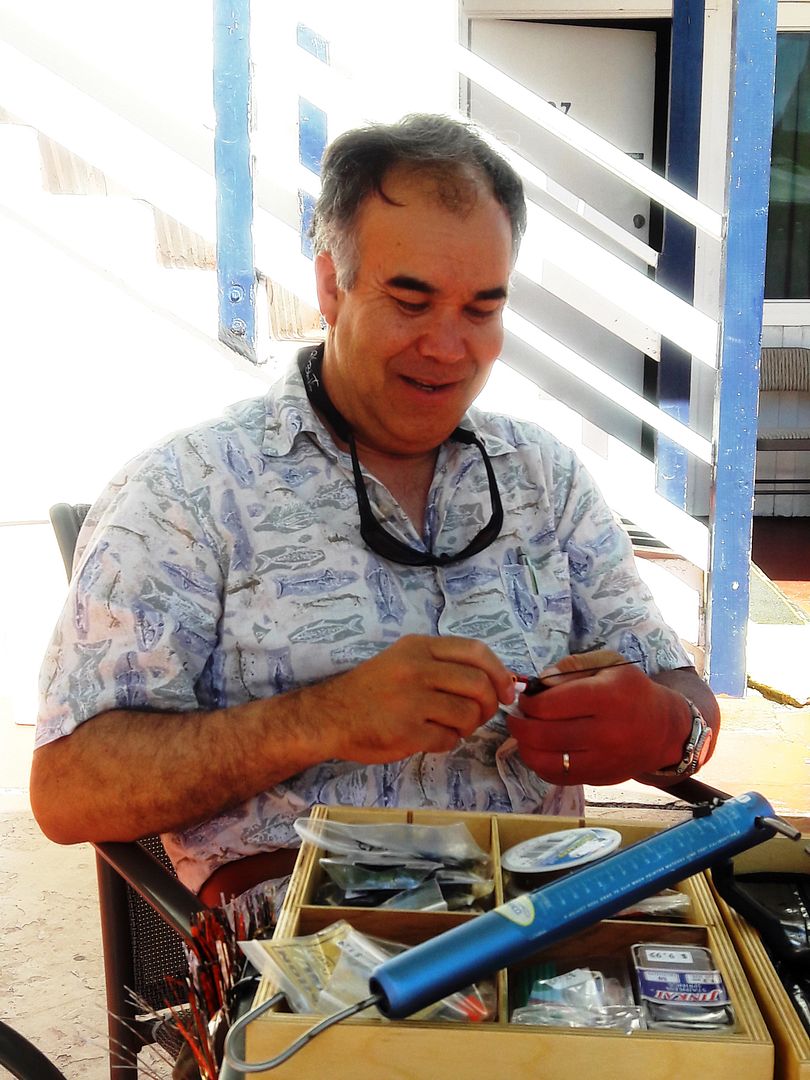 New for this trip, Danny and Bob invited me to a Saturday Catholic Mass at St Agnes in Point Loma. Got a laugh as the priest commented that if we didn't sing we were going to Hell. I guess I may be in trouble, as I proved long ago that I can neither sing, nor dance. Also cool was that after Mass, he said a blessing for our trip. Great way to start the trip, thanks again Danny and Bob! Spoiler alert...the blessing worked.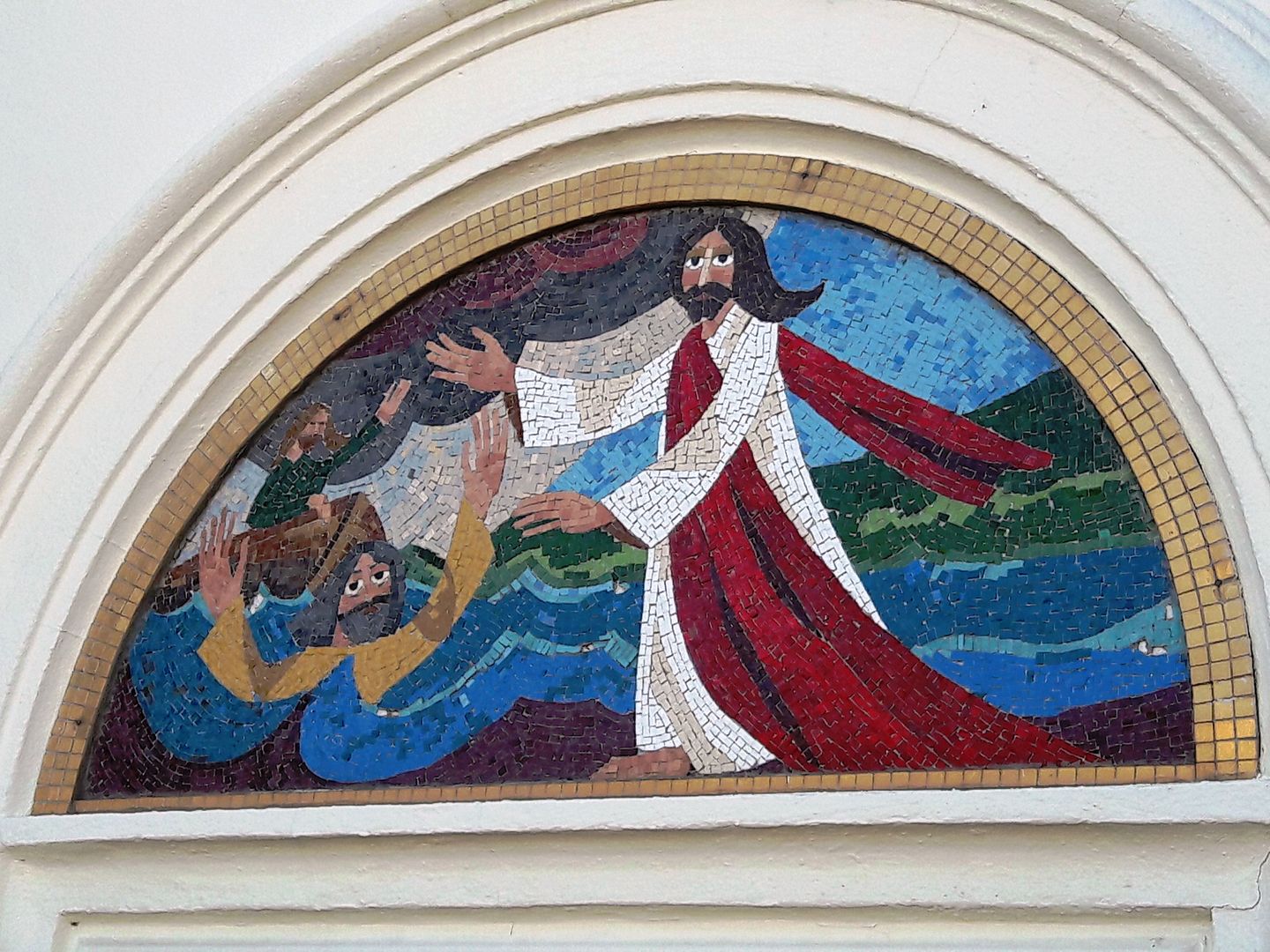 After Mass, it was again time to eat. As is our now six-year tradition, Ed and I went to Pizza Nuova. Sadly a bit disappointed as the normally reliable spot was off its mark. A pizza that obviously sat a while was not what I had experienced on numerous visits. Not to worry, we are sure to be well fed for the next 10 days!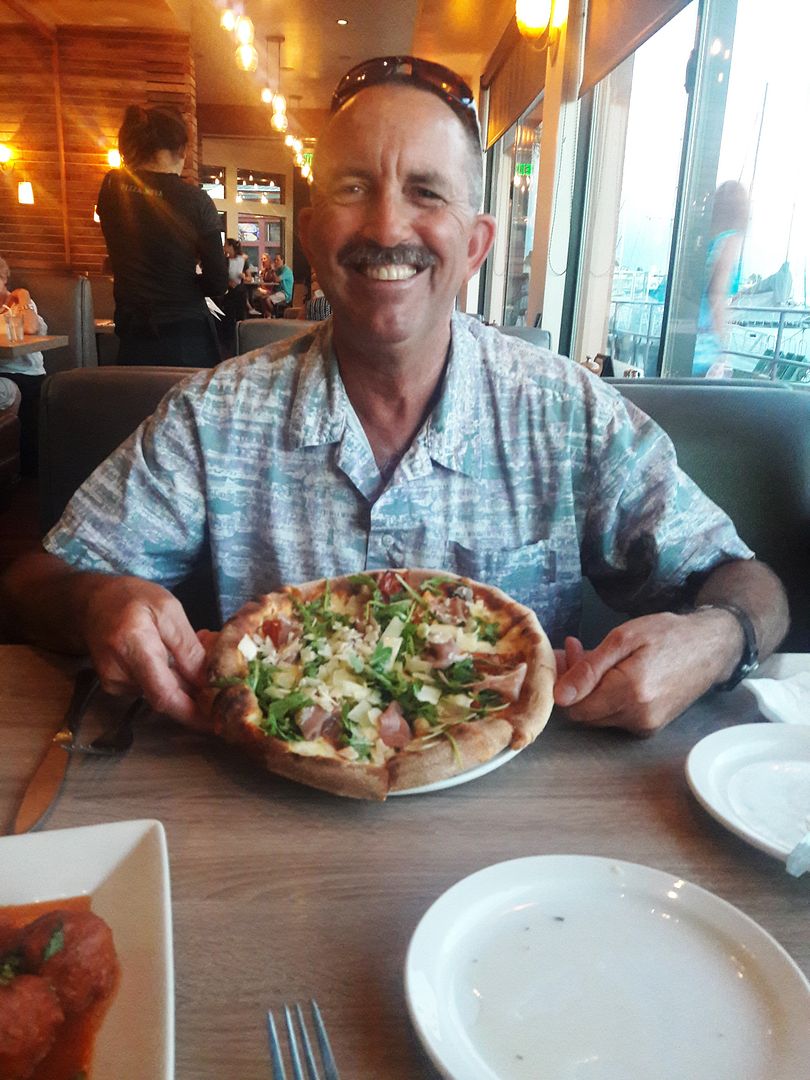 Got back to the room, and needed to repack a ton of stuff. Ed was seemingly overwhelmed with an unruly mountain of gear. Somehow though it was dock cart ready when he was done.
Early to bed, as there was no doubt that we would wake early with departure day anticipation!
Day 1 9/25/16 (departure) - No surprise, we were up early, though surprisingly after an initial 0245 wakeup, we both made it back to z-land, and got up about 0500. Had some coffee, got showered and wandered out to see the Royal Polaris, Indy, Intrepid and the Excel come in for their respective offloads and quick turnarounds. Trips were coming in with good catches; with our ride having 250+ wahoo, though no great variety to fill out the outstanding wahoo catch. Report was the group opted to really focus on the stellar wahoo fishing. Normal morning routine included an obligatory Denny's breakfast.
After breakfast and more coffee we went back to the Dolphin and loaded a dock cart with our seemingly endless supply of stuff. The rule is if you don't bring it...you will need it.
Rod and Reel Inventory:
Calstar 770 XXH Avet 30/2 100 lb --- never came out of the rack
Calstar 770XH Avet HX Raptor 80/60 --- 2 grouper and 3 yellows on dropper loop + plus one yellow offered up to the taxman.
Calstar Baby Boomer and Single Speed Shimano --- dedicated troller. 1 wahoo
Seeker Ulua - Daiwa Saltist 40H 50lb mono --- 1 wahoo, multiple tuna
Calstar 90J Shimano Torium 20 50 lb mono --- multiple tuna and several wahoo strikes on 7X
Phenix 809XHJ Shimano Tranx 65 braid --- 1 wahoo on the popper, lots of wahoo blowups, multiple tuna including trip best tuna
Phenix 809XHJ Torium 20...rigged for bait, never used
Phenix 809H Avet MXJ Raptor 50 lb with 40 top shot --- 1 wahoo bait fish
Calstar 800H Avet JX Raptor 65/40 --- 1 wahoo on a bomb
Calstar 6480 Avet HX 65/50 --- yoyo...caught nothing, rethinking future role for this setup, maybe a reel change.
Calstar 700H Avet LX Raptor 65/50 --- rigged for bait, never out of the rack
Calstar 700MH Avet LX 65/40 2 --- rigged for bait, not used, changed out to a raider..thinking I caught a couple on that set up.
Calstar 700M Shimano Torium 20HG 65/40---6 wahoo on raiders, ended up on my 90J when I grenaded my 533
Calstar 7460 Avet HXJ Raptor straight 65lb braid --- bomb, nothing caught. Thinking this set up is going to become more of a dedicated yoyo rig.
Old Lamiglass - Avet MX 50/30 most of my bait fish tuna. This rod was recently rewrapped, and is straight 80's vintage having caught countless mythical albacore.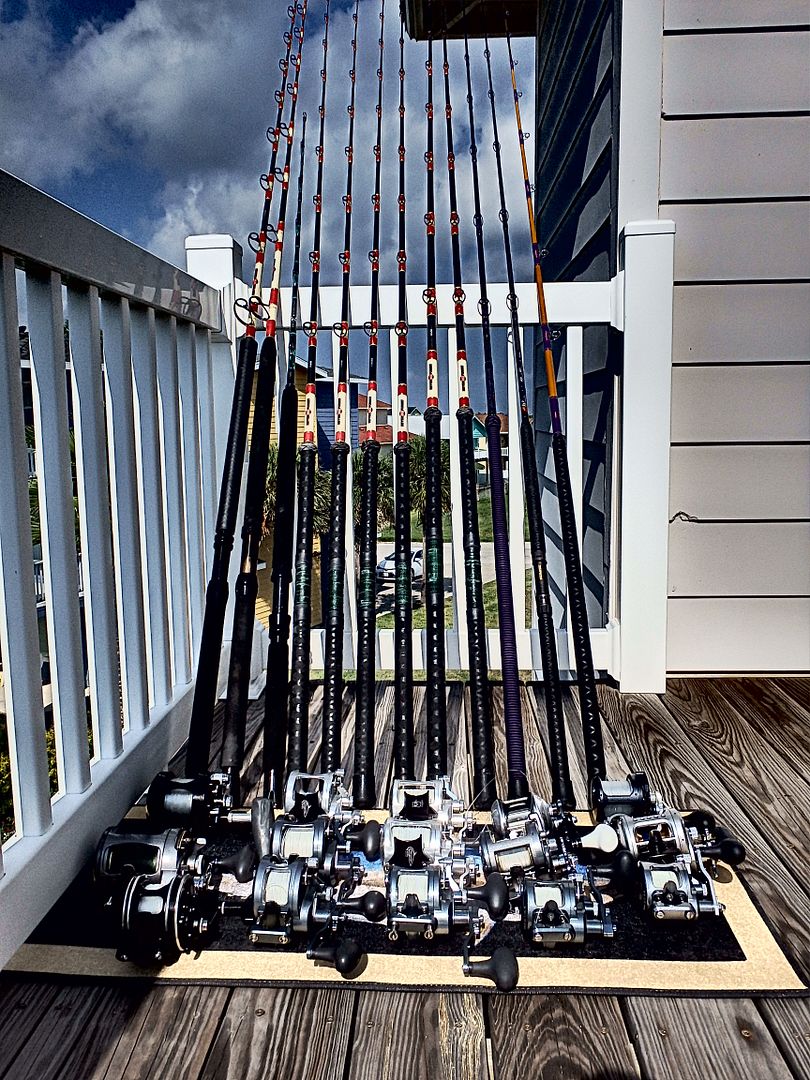 Get over to the landing and are stoked to see many of the regulars that makes this such a good trip. Watched part of the Excel unload…lots of wahoo!
Always fun seeing the regulars, as well as the new guys. Looks like we have a great group!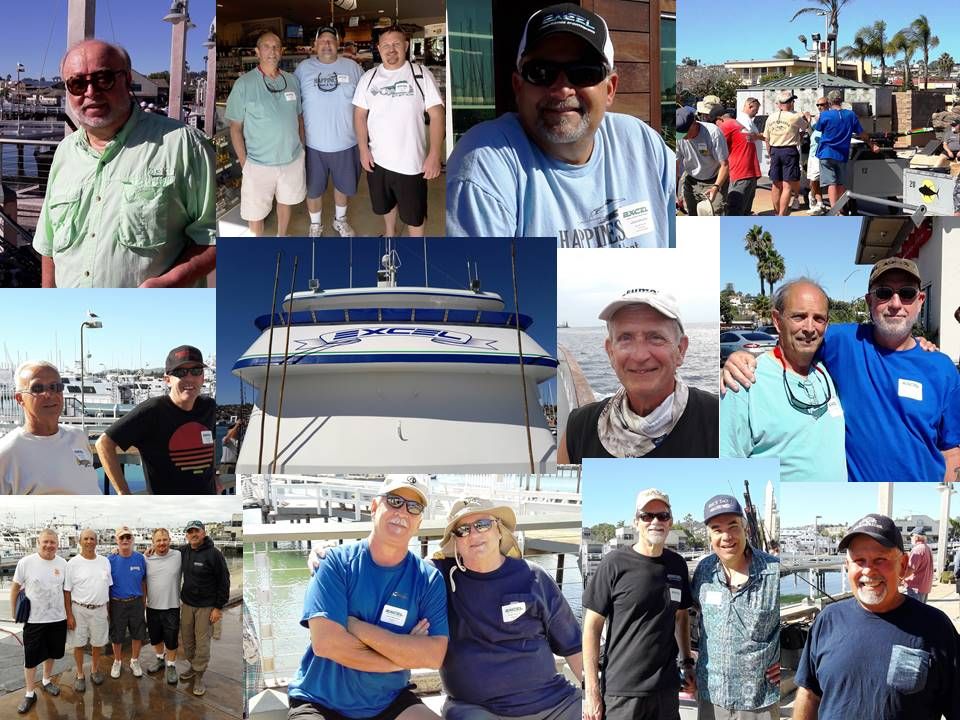 The Excel makes it back from the fuel dock, and in short order, the redshirt orchestrated onload begins. In no time the 32 passengers gear is loaded aboard, and we are on the way to the bait receivers where we load what appears to be a nice load of straight medium/small size sardines...2/0 hooks would prove to be the go to for bait fishing.
Crew for the trip:
Skipper Justin, 2nd Skipper Mike, Loust, Travis, Chowdah, Matt, and in the galley Jake and Nick.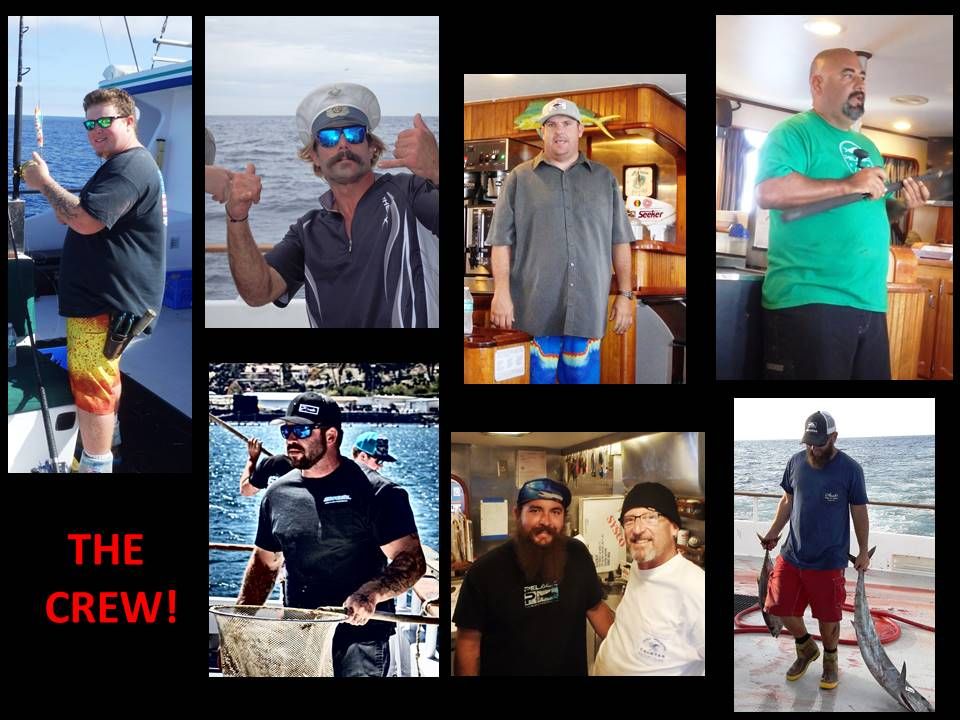 While the crew loaded bait, we loaded the first of many meals...today's lunch of beer battered white seabass tacos.
Ryan this year's Phenix rep, held the annual rod raffle, and amazingly drew #16... my number…again, and I am now the proud owner of another Phenix rod. Don't tell Alex, as I am probably banned for life from the raffle following a three trip winning streak!
After lunch put reels on a few rods, though will begin in earnest in the morning as we steam south towards a yet to be announced first destination. Despite the great reports from the ridge, I am hoping to start at the Rocks.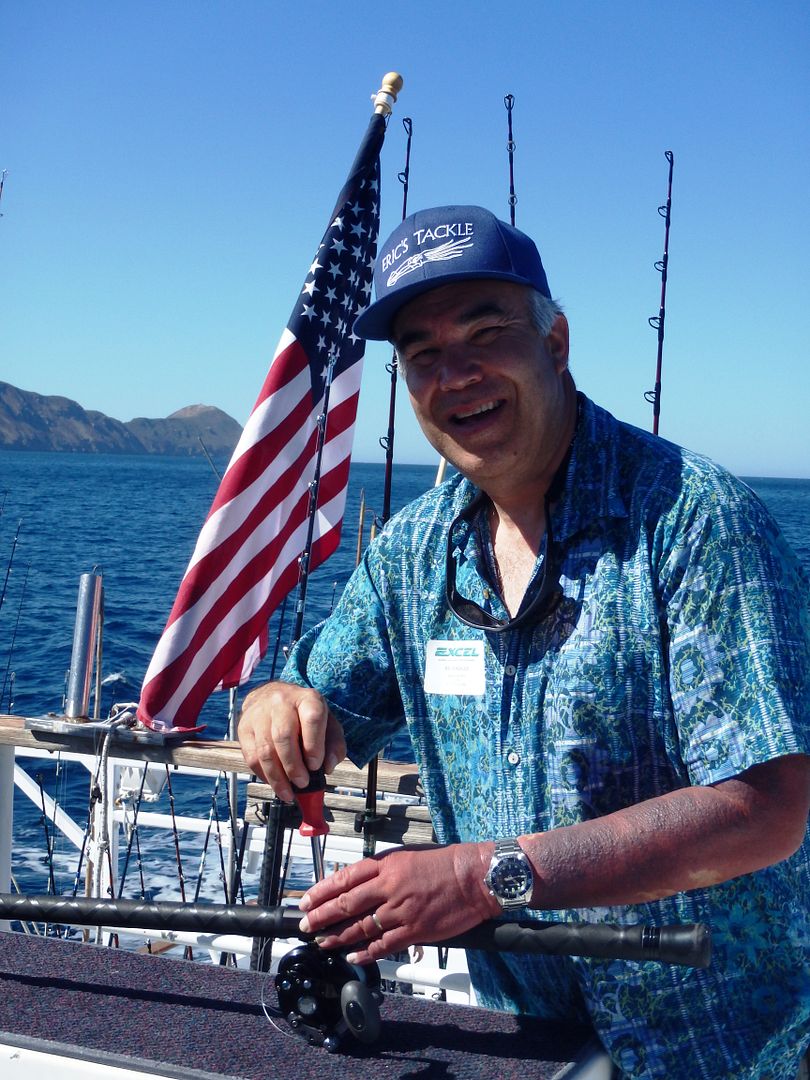 To break up the time between lunch and dinner Jake and Nick put out a nice smoked fish spread courtesy of Sportsmen's Seafood.
Well it is 1900 and time to eat again with Loust serving. Dinner is a half of a baked chicken with squash and stuffing, and of course the signature fresh baked bread and seemingly fresh from the garden salads. Topped it off with mixed berry shortcake with ice-cream and whipped cream.
No doubt, we will sleep great as we slide south in perfect travelling weather. See you in the morning...
Justin gave us the lowdown, with the Rooster experiencing a slowdown on the wahoo on the Ridge with 23 for the day, though they did find a couple hundred school size tuna for the day. With the Intrepid, Indy, the RP, the Shogun, and the Vagabond also southbound, it may be a bit crowded. We are also watching some tropical weather, though the current forecast indicates that it will be a non-event.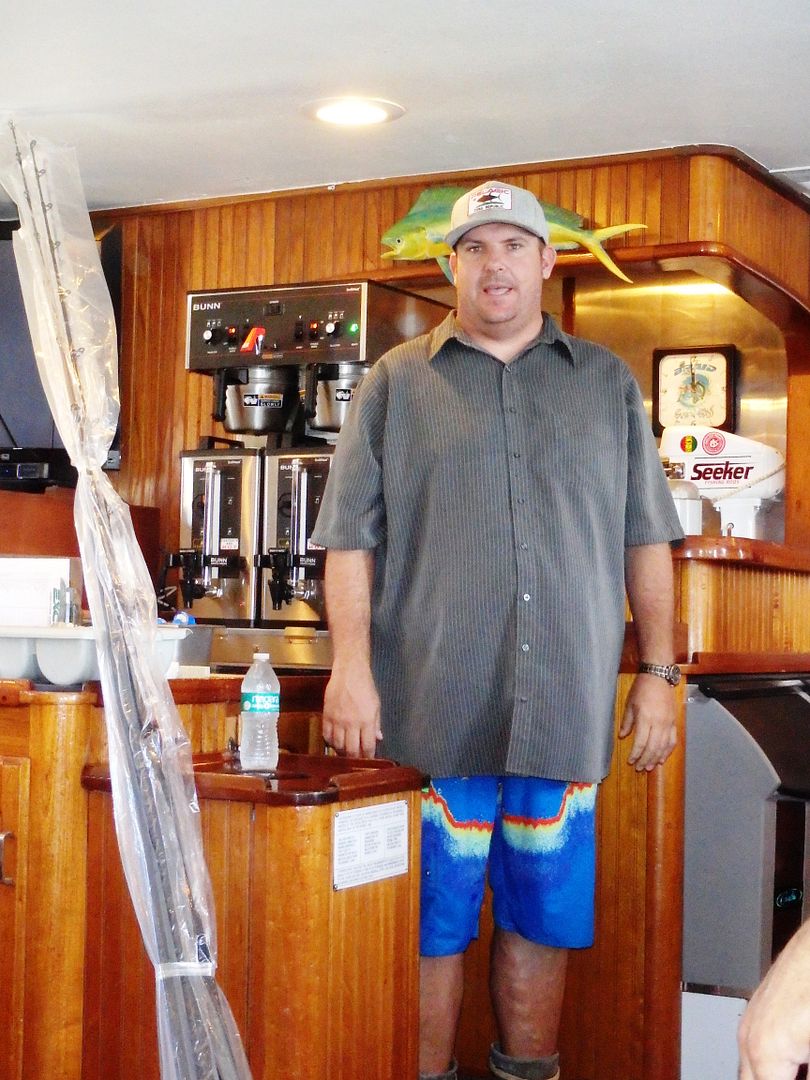 As more important things loom on the horizon, all trip "Food Porn" is up front, though the photos do not do it justice. Amazingly, as I finish the report, I am back down to my normal weight. "10 Days of Gluttony"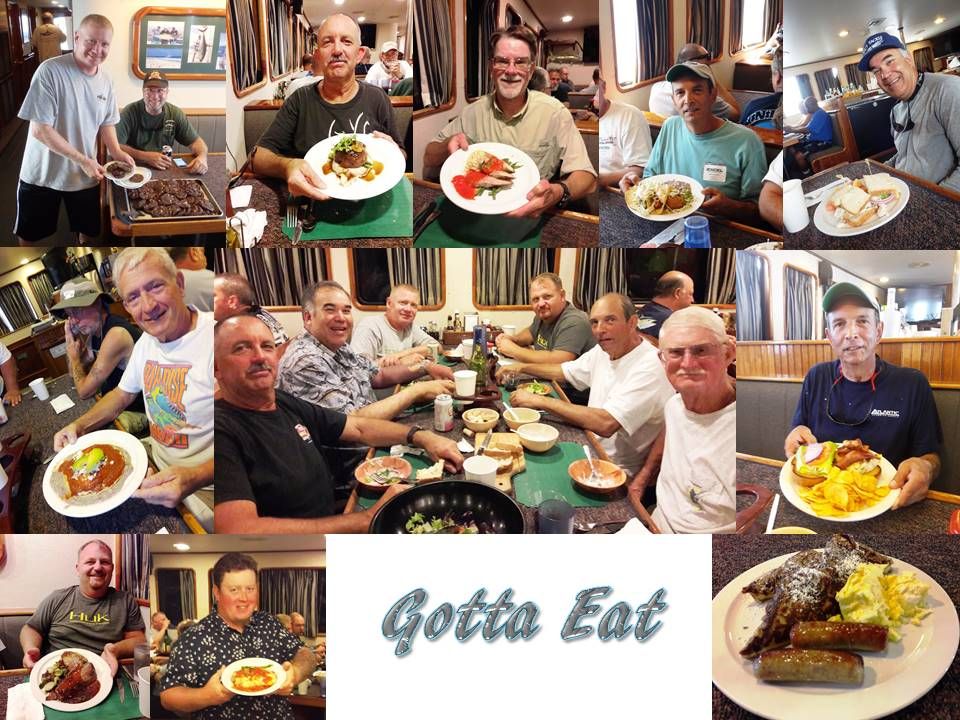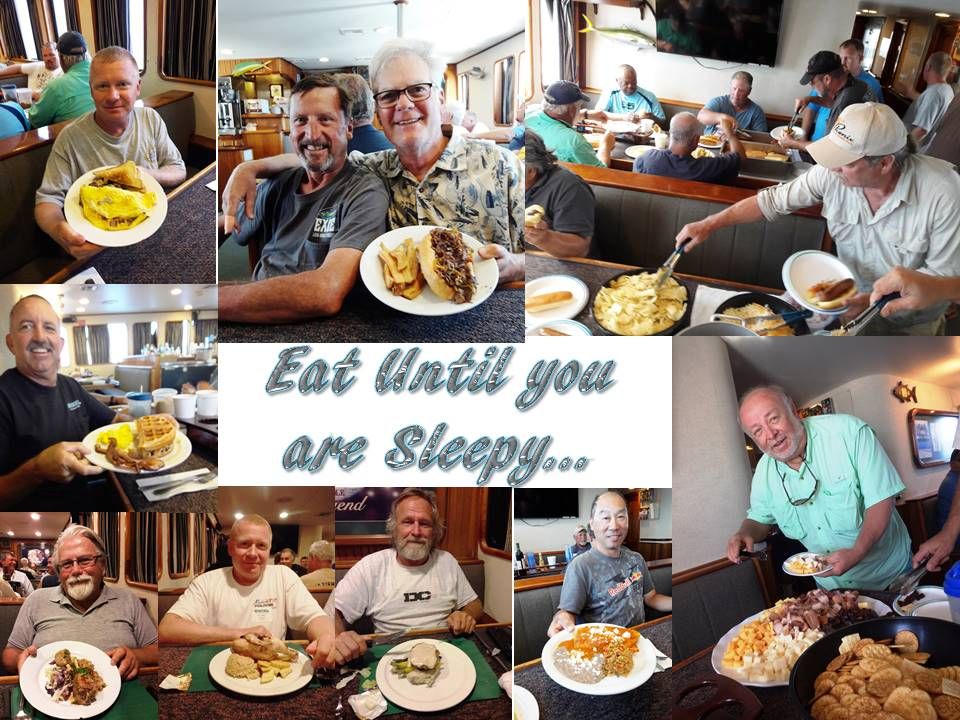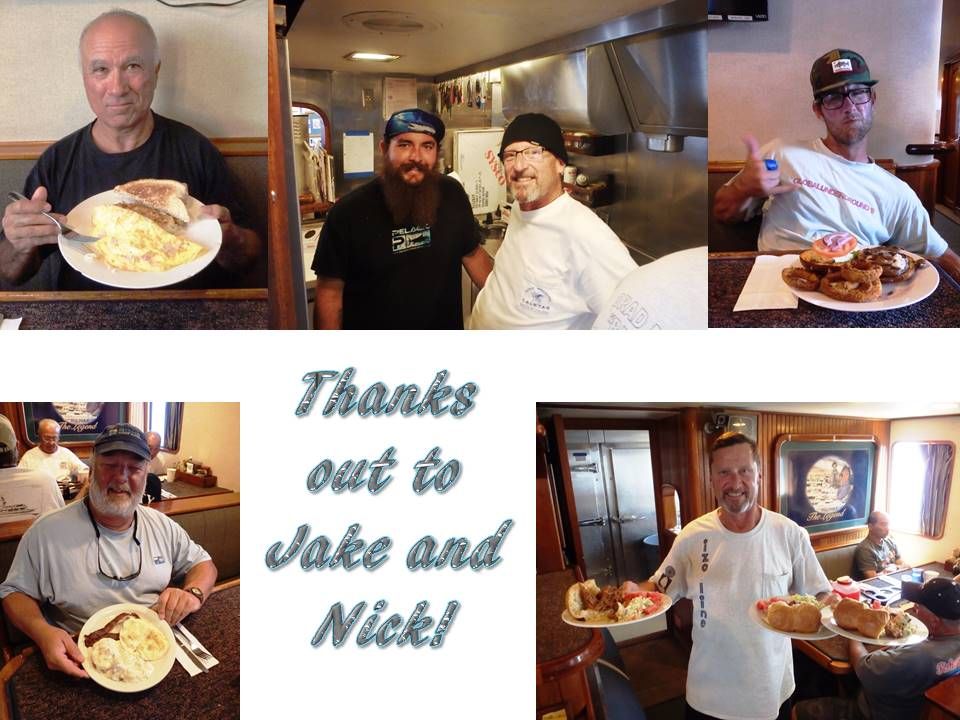 Day 2 - 9/26/16 - Following a great night of sleep in near glassy conditions, go on up for a cup of coffee, and enjoy the blessing of another day.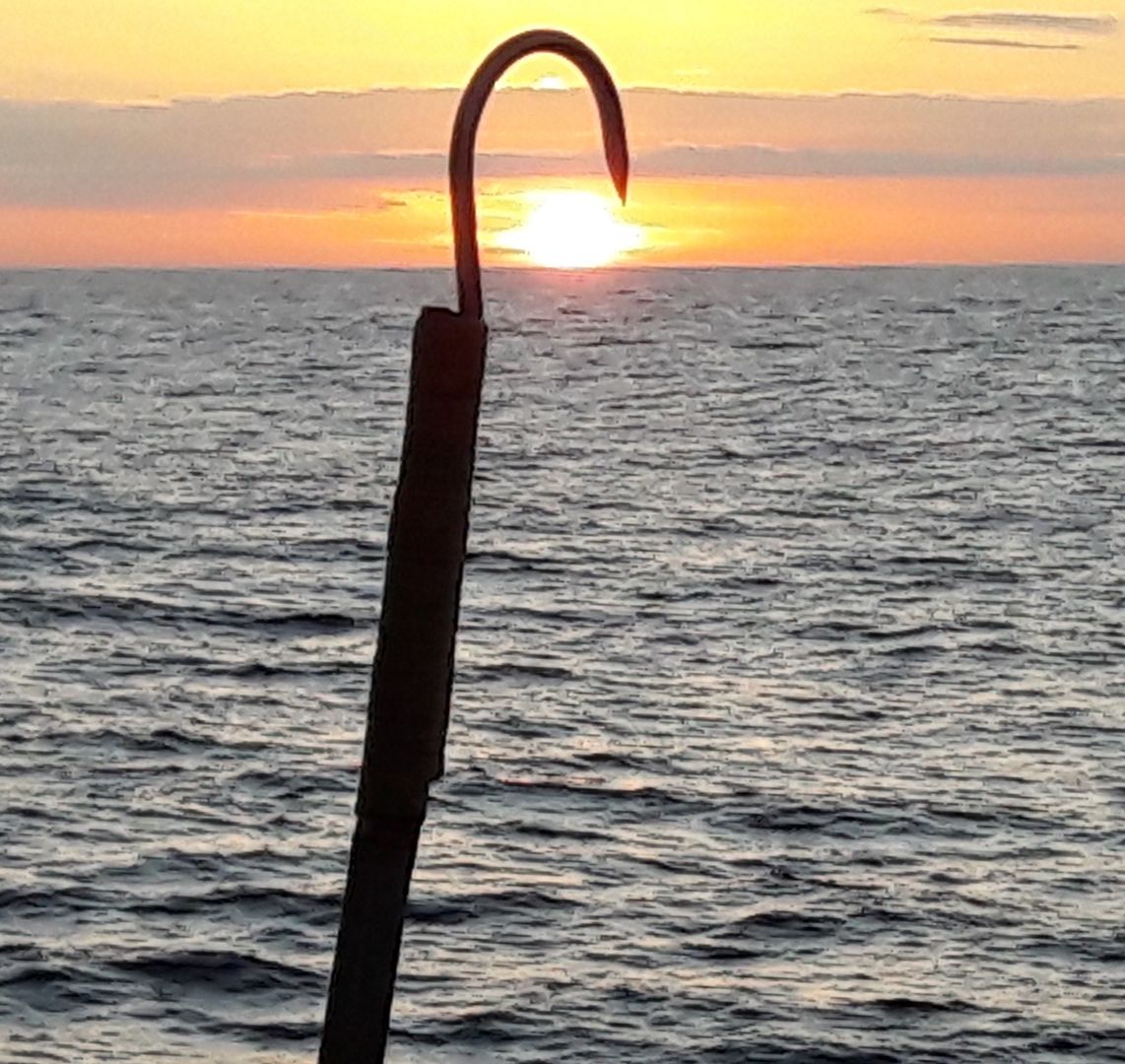 Catch 2nd call for breakfast, with banana pancakes, sausage and scrambled eggs. Insert photo
Following breakfast, it's time for a round of gear rigging until the start of seminars to ready us for what lies ahead. With 5 or 6 rods assembled, including a couple dynamic adjustments, it is time for a seminar. Justin announced that with the ungodly number of boats going to the ridge, we would take advantage of the lack of boats going to the rocks...in continuing sunny, warm and flat conditions we would travel all day, and arrive in the promised land around 1030 Tuesday morning.
Mark is busy at it!
I have my shiny new Marauder ready to go...
Loust truly nailed one of the most entertaining and informative wahoo seminars I have heard. Liberally sprinkled with colorful language, he nailed the safety issues..."getting hit in the dick by a wahoo isn't fun" as the lesson why it is important to stop winding on the retrieve as your jig/ bomb nears the boat. From there he covered the ins and outs of bait, jig, and trolling for wahoo which would be our first target.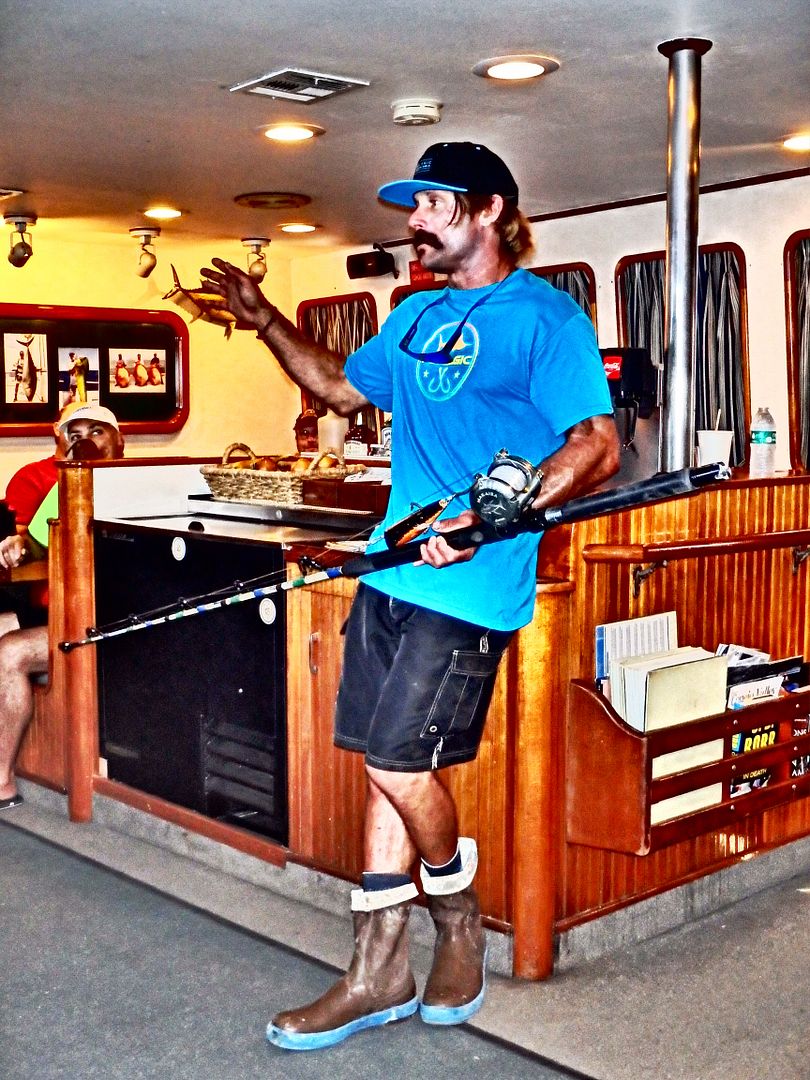 Rigging continued and I now have 2 wahoo bait rigs, 2 bomb, 3 jig, a yoyo, 2 flouro bait, and a troller ready before 2nd call for lunch. Answering the 2nd call for lunch Ed and I join Tex, Danny and Bob for a real nice lunch of beef and veggie stew and fresh hot bread.
The day's activities continued, as rigging and relaxing were the hot activities. We are hoping for red hot fishing to go along with the perfect weather. We did have a flurry on the jalapeno poppers for 2 or 3 around. I spent an hour tying some additional bait leaders in an act of positive attitude. If we go through half of them, it would have been amazing fishing...see what happens in about 16 hours!
The "Jersey Gang" is busy...
After a relaxing day, it was again time to eat again. Tonight was BBQ ribs and macaroni and cheese, and corn, followed up with ice-cream. Not looking forward to the weigh in upon return home...I guess I could practice restraint..."fat chance". I was surprised this year, when I returned I was only up 2 pounds!
It looks like we will be sharing the rocks with the Indy, with our ETA updated to about 1100 on Tuesday...
Day 3 - 9/27/16 - We wake to continued awesome weather, with a gentle swell serving to remind us of the fact that we are indeed actually on a boat several hundred miles offshore. Enjoy a leisurely cup coffee, and go up on deck to enjoy a reminder of what makes these trips special beyond the fishing opportunity as the sun creeps over the horizon...thankful for another day!
1st call for breakfast is underway, and we straggle in for 2nd call. Enjoy a delicious Excel Eggs Benedict, sharing a table with Ed, Stan, Bob, Luis, and Hermann who is this morning's breakfast star. Of note, he opted for a lighter portion, with his plate missing the English muffin as the base layer of the "EEB".
With Alijos not far off of our bow, we have a stop on freshly baked cookies, good for two around, though I am sure some capitalized on the opportunity, busting that average. Bart got in on this as he is caught boiling on the still hot cookies.
Here is what we have been waiting for...Alijos now visible on our bow. Always cool seeing these three amazing rock formations rising from the sea. Even cooler is we are seeing them in amazing weather!
First trollers went in around 1100, and it didn't take long to get busy. Most stops were for 3 to 5 nice grade wahoo. Jigs, bombs and bait all seemed to produce equally. I started out hot, going 4 for 4 before lunch.
I'm on the board!
Number two for me, and Ed is on the board.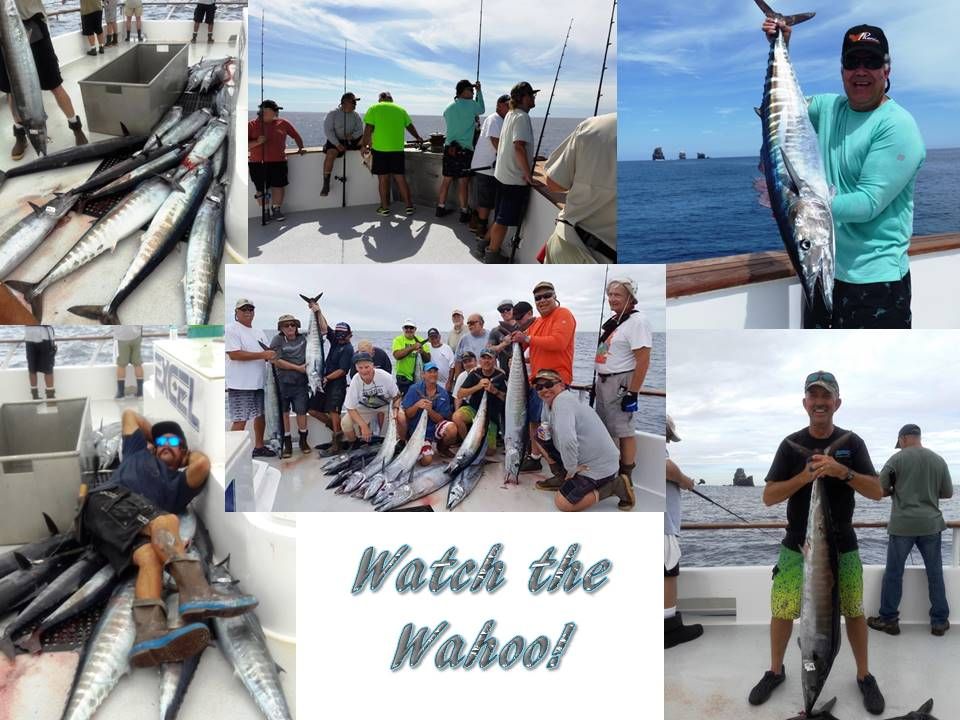 So with the pressure off we went in for lunch, Ed, Danny, Bart and I had a leisurely lunch, enjoying a monster crab cake sandwich on a Hawaiian bun.
Typical wahoo fishing today, as you could be hot one minute, and then go cold, or conversely go from cold to hot. I was the hot to cold, nailing 4 right out of the gate, all on raiders. I should have listened to crewmember Matt when he gaffed my 4th fish, and told me to go sit down, as I went from 4 for 4 to 4 for 8 at days end. Ryan the Phenix rep was hot all day, leveraging the energy that goes with being in your 30's and fit, enabling him to tirelessly throw jigs and bombs, ultimately putting 7 skin in the RSW as the day closed out. Several first time long rangers were hot, with 3 apiece. When the day was over there were only a few without a wahoo, though confidence is high that they will get one before it is over. Those that stuck to bait fishing, spending time at the rail, with a well selected bait in the water stop after stop in many cases out fished the jig and bomb guys. We did not make it through the entire troll rotation, with many stops on meter marks. We had some great visuals on fish blowing out on the chum. Good news was that the sharks that had been present on recent trips were not bad, though I did pay the tax collector on a bait fish that I had to deep color before it spooked, and was then eaten whole and converted to a shark...bummer. For the day we had 70 wahoo in the RSW.
Dinner was a little later, as we fished until dark. Today we had a really tender fillet, served on a base of fresh mashed potatoes and asparagus. Dessert was a perfect small piece of red velvet cake.
After dinner a few people tried the dropper loop, with no success. Maybe we will get a morning bite??
Day 4 - 9/28/16 - Holy Popper Batman! After a peaceful night on the anchor, we awoke in the dark, had a cup of coffee, and wandered out on deck. Justin was catching a few tubes, and several of us joined him, putting together 100+ pieces to hopefully be converted into grouper once we make it to the Ridge on Thursday. We shall see...
We stayed on the anchor until sunrise, thinking we may have caught a few wahoo. Took advantage of the slow period, and grabbed breakfast. As always Jason and Nick kept us well fed; with Bob, Ed and I grabbing Huevos Rancheros as the morning fuel load.
Bart and his "Jersey Crew" made for good times, both while fishing, traveling, and eating. Still a little disappointed that he did not deliver on his promised "Sheepshead Seminar", I will still dedicate a few photos to "Da' Jersey Crew", as they produced, clearly having translated their east coat fishing experience to the west coast long range environment.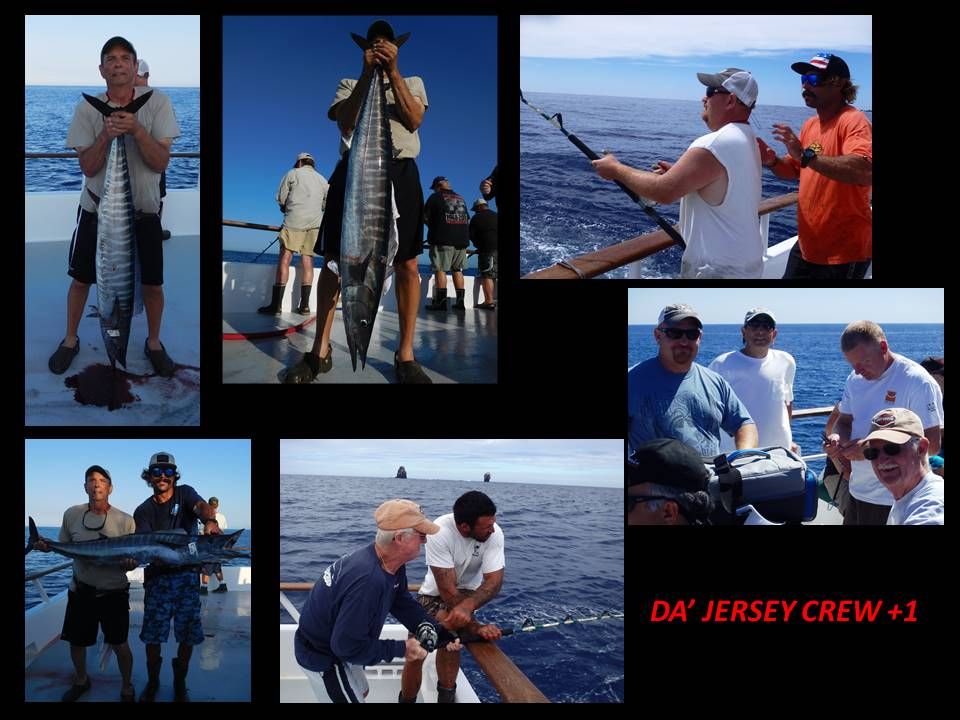 It did not take long once we got the anchor up to start finding scattered skin, with steady troll fish moving the troll rotation pretty quick...no long instances of troll jail! Got bit on my rotation, leaving new battle scars on my mahi flavored Marauder. Mostly fish were being added just a few at a time, with a few good hits all serving to add more skinnies to the RSW.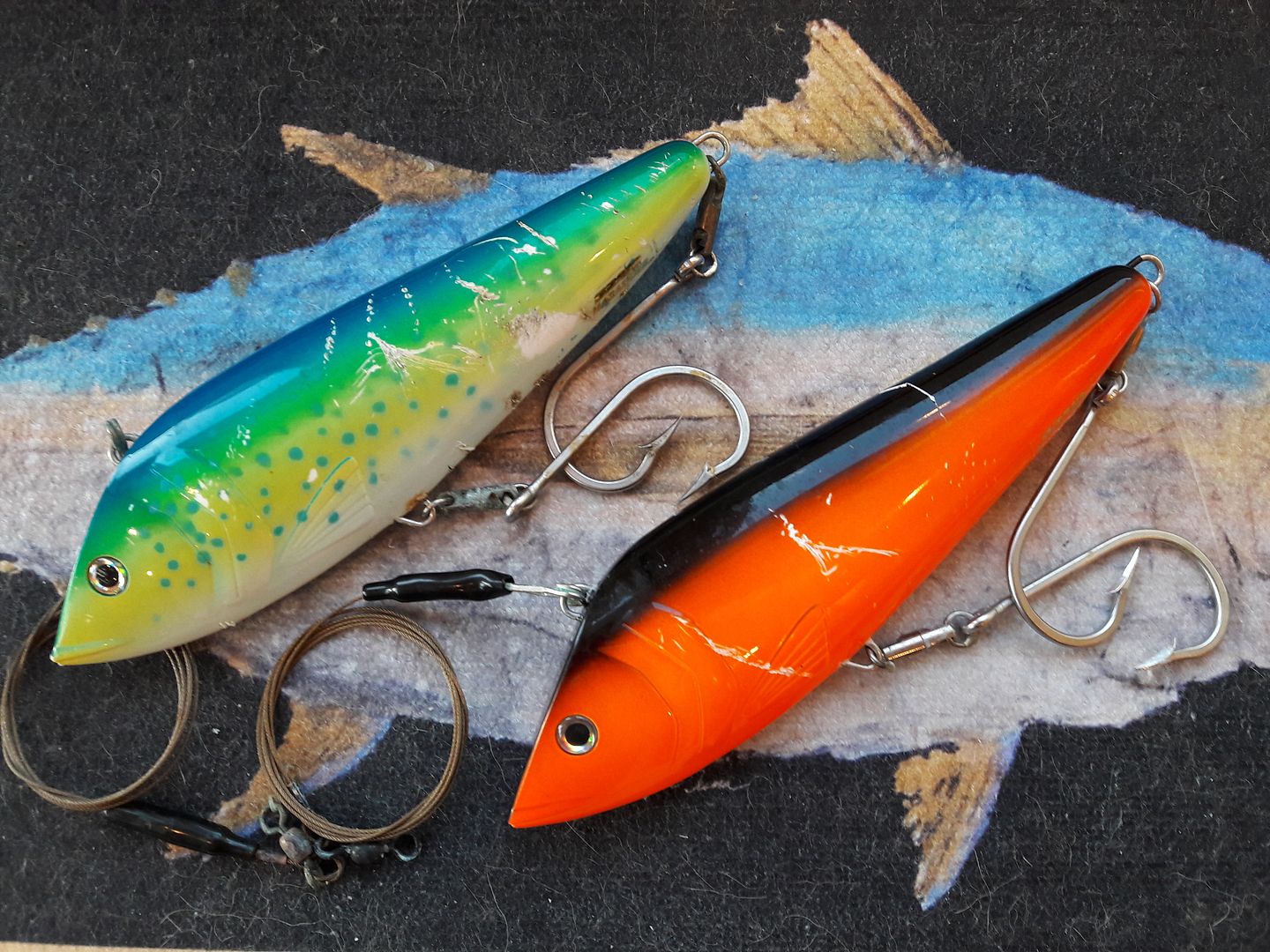 After a real good hit, it was time for a group shot with 15+ wahoo...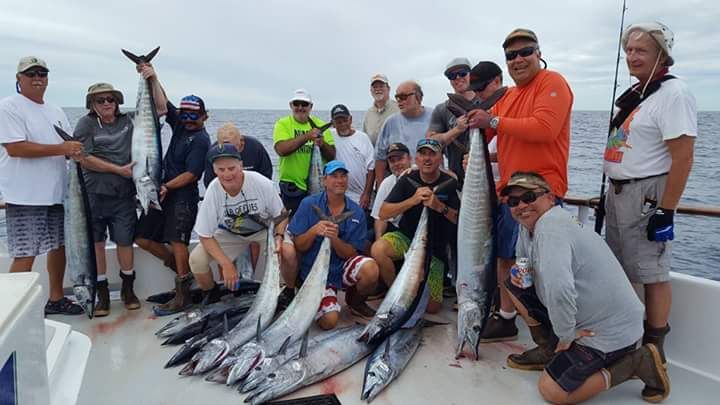 Steady fishing!!!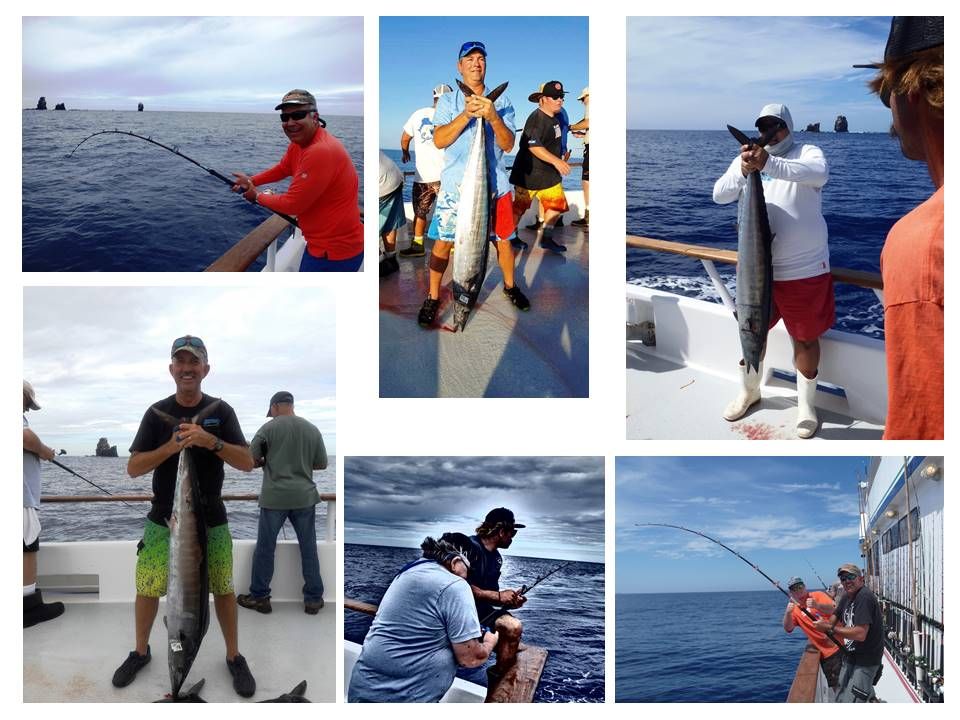 Milton and Loust with a great rail shot wahoo...seems he really got in the groove after a slow start he was seemingly always bent after that!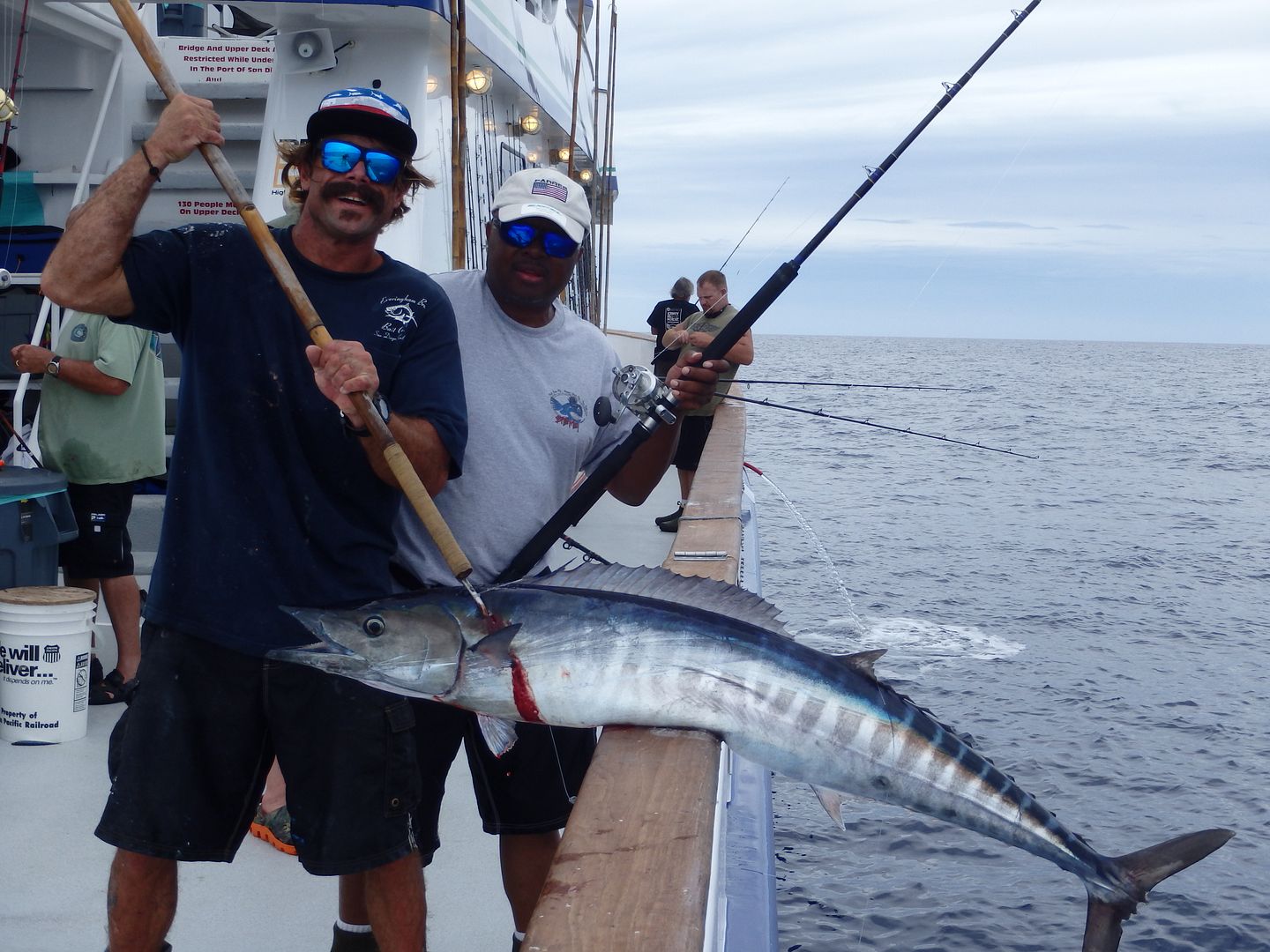 Today, I wanted to catch fish in a few different ways, so explaining the reference to poppers. Holy Shit Batman, though not totally successful, I had three amazing visuals, that culminated in a destroyed OTI popper...well worth the price of admission. Ate it within 20 feet of the boat, and went bat shit crazy until the popper exploded, with the through wire remaining intact, but the heavy duty ball bearing swivel that is attached through the through wire holding the center treble shearing off...guess they don't like twisting. Way cool! I couldn't resist, so I wired another popper, in this case a Braid product, which also got chewed by a wahoo, actually two blowups. I will now add wahoo success on my bucket list.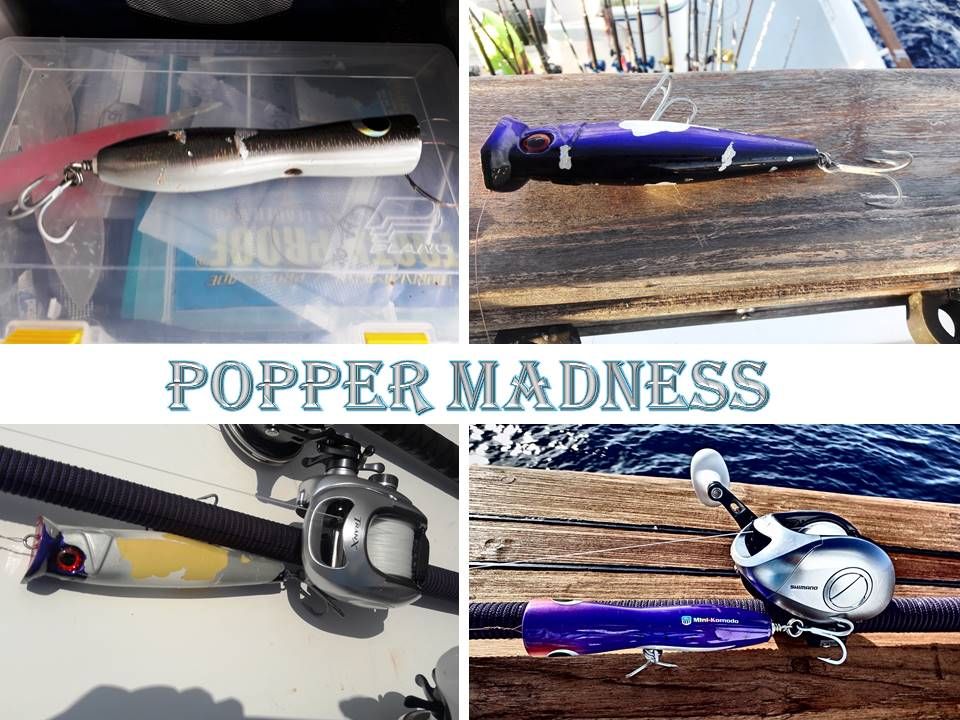 .
All in all, an amazing two days at the rocks with a bunch of photos to "tell the story".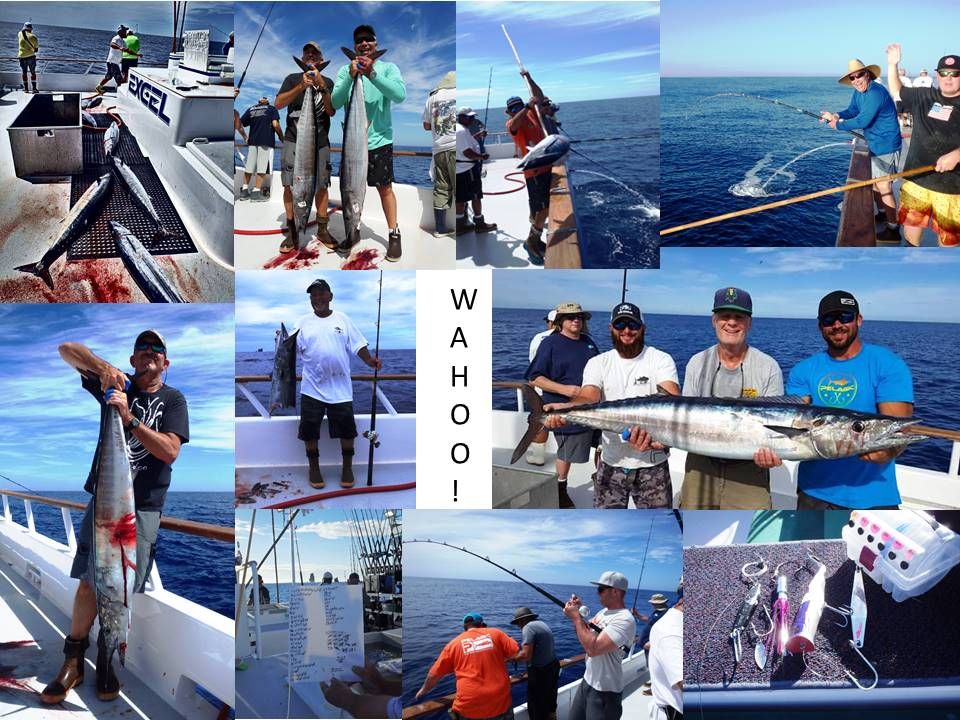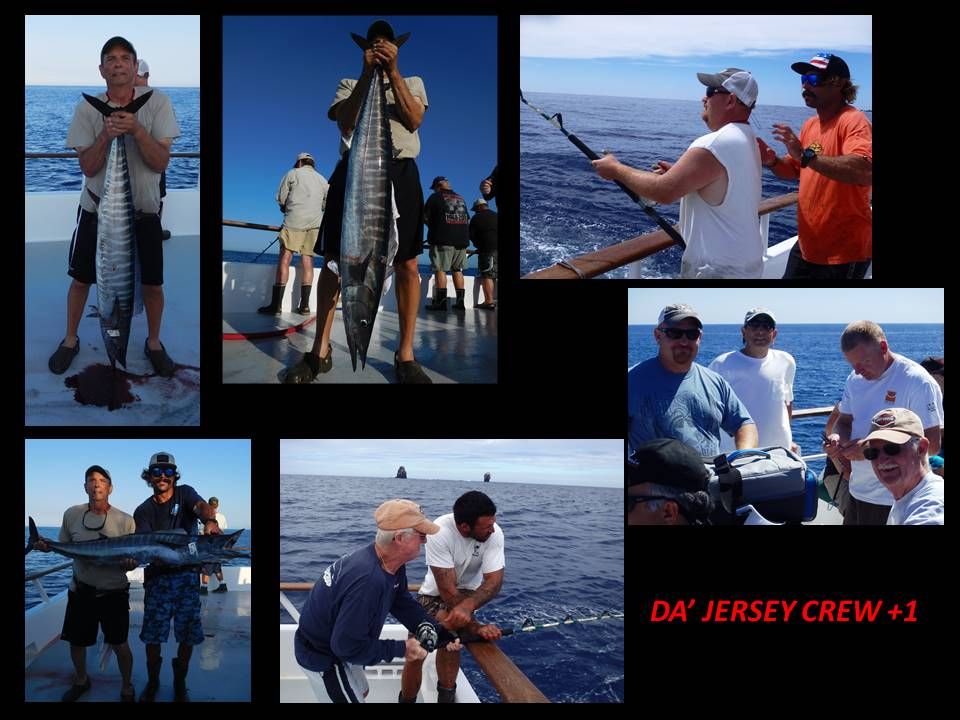 Though sharks were not as abundant as feared…we did suffer casualties, both at the rocks and the Ridge
Always like having Chowdah nearby!
So as I draft this installment, I have tagged three wahoo, and donated one to the galley for the day. I have caught fish on bait, yesterday's hot raider, and finally one on a bomb. Also came tight on a troll fish, and the epic popper fish...amazing day, and we have several more fishing days. Late in the day around sundown we had a final good shot or two, with some great blowouts on the chum circle. I came tight on two on the bomb but both came unglued, Ed grabbed a shower, and came out and nailed another wahoo...on the surface jig on his Ulua. Yesterday's reports from the fleet at the Ridge were talking decent school tuna. We left the rocks with about 100 wahoo for the day, and are now running to the ridge, with an ETA of 1300.
Of note, Ed totally capitalized on the end of the evening deal, grabbing an early shower...and then coming out on deck and made one cast with a surface jig...and converting for a total tally of four, including one slob of a skin in the 50lb range which only made honorable mention on jackpot weigh-in...nice day!
Great dinner of pork loin, accompanied with Far East rice pilaf, and fresh green beans. Dessert was a hot brownie with ice cream.
Day 5 - 9/29/16 - Once again we traveled all night in outstanding weather, making the passage more like a river cruise than what on some trips can be a less than comfortable 16 hour roll-fest in the trough. Up early, shared good conversation and coffee in the galley with fellow early risers Milton and Herman until sunrise. Meandered topside for some quiet reflection, realizing how absolutely blessed we are on this trip...and in this life. I thought about how close I was to cancelling this trip, as my back had completely gone out just a week before departure, and now here I am enjoying longrange fishing "epicness"...
First call for breakfast, and sharing a table with Stan, Ed, Tony, and Brett we enjoy omelets and hash browns to ready for a morning of rigging.
Following the last two days of wahoo madness, we are all retooling gear for what is hoped to be good tuna fishing, with reports of "limit style" fishing on 12 to 25 pound fish. I am ready to roll with bait rigs from 30 to 40, a flatfall, a popper rod, and two long-rods...hope to put it all to work! And I did leave one bomb rod rigged...just in case.
Rich busy rebuilding his depleted bait leader supply following our first two days of fishing...good problem to have!
At 0930 Mike Ramirez gave a "basic tuna 101" seminar to ready us for a 1300ish arrival to the Ridge. We were able to sneak in lunch prior to arrival, with pulled pork sliders, coleslaw, and watermelon, ensuring we were fueled for the day's action.
Tuna "101" --- seems like you always pick up some useful tidbit each time..
Not long after our arrival we got set up on some huge bait balls and got the anchor down. From 1300 until sunset we had steady fishing on stock-grade ridge tuna, ultimately tagging 166 tuna, mostly smaller grade 10 to 15 lbs, with a few standouts in the mid to high 20's...maybe a few larger. Also as the year of the wahoo continues we managed to catch 5 wahoo when we were not trying to catch them!
In the cool stuff that happens category, I had two standout memory makers involving jumbo hammerheads, tuna, wahoo, poppers, jigs, and my Ulua. Though only a few hours have passed since the cool stuff occurred, the order is already lost, albeit unimportant.
The "Mutual of Omaha's Wild Kingdom moment started with my desire to catch a few on the popper. Made a few casts with an OTI popper, had a couple blowups, connected and came unzipped. Keep throwing, and finally connect, with the Phenix 809XHJ and Tranx combo sweet on the cast, retrieve, and now on a fish. Then comes the holy crap moment...from nowhere the ocean opens up as the unseen hammerhead shark makes its presence known in a big way...simply inhaling the tuna, and managing to apparently get hooked. With line rapidly disappearing I hammer the drag, and ultimately break the 65 lb JB braid. Shark one and me zero. No photographic evidence...but Bart will vouch for me!
Round two I win, assuming I have the order right. See some breaking fish within casting distance, so grab my Ulua that has an unwired chrome Tady 9 tied on. Make a few casts, and get hammered, and quickly realize that I am connected to a pissed off wahoo. I go from where I started, port side bow to starboard bow via the long route, somehow making the dash unassisted all the way down the port side, across the congested stern, and back up the starboard side at wahoo warp speed! Things were chaotic and the crew was busy running that show with multiple fish being gaffed, tangles, and tagging going on. Chowdah arrives with perfect timing, as the fish decides anchor line ballet would be fun. He makes a couple back and forth passes, and I settle in to finish this fish off.
Very cool...first wahoo for me on the long rod...fun in a painful way.
Dinner tonight was wahoo, one of which I donated. You know wahoo fishing is off the hook, when providing a galley fish is a really easy decision. Jason in the galley nailed it with a panko encrusted piece of fish, served on a bed of wild rice, broccolini and topped with a mango salsa.
Justin gives us the plan for the tomorrow, with the morning to be spent hunting for wahoo, and the afternoon focused on the tuna. Sadly, today marks the half way mark for this trip. Amazingly the weather remains great, though it was SWEATY HOT down on the Ridge!
Day 6 - 9/30/16. Again...really! The amazing weather continues, as we awoke this morning to flat seas, and light breeze. No doubt this is payback for sloppy weather on other trips, and we will ultimately have to pay for this, either later on this trip, or on a future adventure. Always take time to appreciate that each day is a gift, with no promises of a tomorrow. Also totally stoked that the magic worked by my chiropractor, Port A's own "Doc Steve" less than a week before the trip has held up, despite the beating I have given it.
Joined the Jersey Crew for first call for breakfast, and nailed a nice French toast, scrambled eggs, and sausage trifecta. I am ready for a leisurely morning of selective wahoo fishing.
Quantity is nailed down, with fish caught in almost every manner; though I have a few methods that need to happen for wahoo perfection. Still "need" to catch a fish on the troll, a popper fish following yesterday's "popper-wahoo- hammerhead" extravaganza, and a surface jig (Salas 7X) fish.
With popper and surface jig fishing my purpose in life on Day 6 of this adventure, I am rigged and ready with the Braid Popper rigged on the Phenix 809XHJ and Tranx combo and a 7X on my 90J and an old school Newell 533 with narrow Tiburon conversion.
YES!!!!!! Success...nailed a wahoo on the popper...though ended up as my 2nd galley contribution, as it lost its tail section to a hungry shark after another epic fight. Again, a full speed dash around the boat, a full 360 degree tour, managed to only pick up two slack lines coming across a well populated stern, and once again Chowdah was there for the detail work. Finishing up the fight on the bow, where it began, it fell victim to the taxman, paying a small price, which again was well worth the price of admission. I know that from a pure production standpoint, a popper is not the most effective fish killing method, but seeing a wahoo go full airborne, with or without coming tight is truly epic! For those others that suffer from the popper addiction, have you noticed that the fight is more visual and violent? Both fish that I hooked have been crazy, surface head shakes, multiple direction changes, frothing madness...just all out different than bomb, jig, or bait fish further feeding the addiction! I'll be popper shopping when I get home! I now have 2 battle scarred poppers, and have a new one wired, hoping to abuse it too.
Phenix 809XHJ and a Tranx..shortly before the prop was chewed off the popper wahoo. Fish came a bit easier after that "trim job".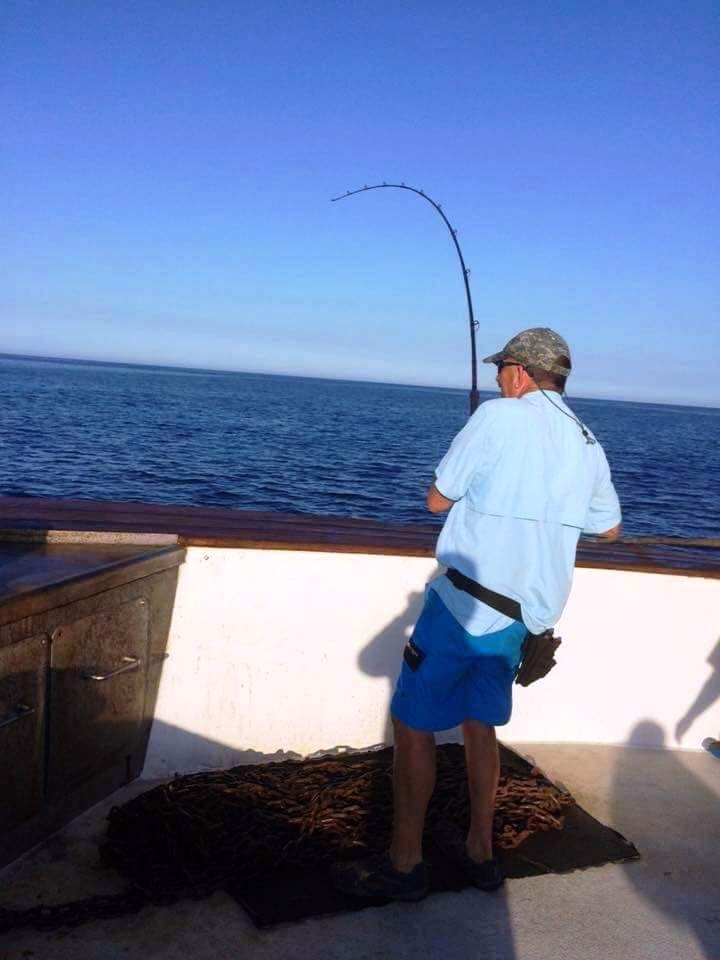 The aforementioned Newell 533 has been removed from life support due the presence of a DNR (do not resuscitate order)...time of death 0945. I bought it used a few years ago, choosing to prolongs its life, with a Tiburon bionic narrowing procedure. It lived out its remaining years catching numerous yellows on both the Intrepid and the Excel...I had hoped for a miracle, to catch a wahoo on the surface iron today. Though it didn't end on a wahoo, it was cut down instead by a 15 lb tuna, on one of Rich's baitwrap 7X's. Gone, but not forgotten, it will be replaced by a Torium 30HG. Choosing to keep the 90J in action, I pulled the Torium 20HG from its early duties on my 700MH where it caught several wahoo on Raiders, and put it in-service on the 90J. RIP 533...Footnote - A miracle may have happened after trips end, Mike Morris took possession of my overstuffed reel bag for some needed post-trip reel maintenance. Seems the death announcement may have been premature, with some basic life support performed on the not-dead-after-all reel. He also put in a new upgraded drag stack...it lives!
It is 1030 and we are currently busting a move to the south to another Ridge high spot after a morning of scratchy wahoo fishing along with a few tuna added to the RSW. Hopefully we will find the right school of larger model tuna this afternoon. By the way Bart, Herman, and Doug both caught a couple wahoo this morning. Ed opted for straight surface iron fishing...his passion, and got bit several times, hung one, though ultimately it was eaten whole, along with his jig by a jumbo shark...double taxation!
Yup, been busy...bloody decks fun!
Time for a lunch break, scratchy fishing this morning. Jumbo Excel mushroom Swiss burgers and onion rings.
Ending the first half of the day on the wahoo, adding 20 or so wahoo, including "they grow em bigger in Texas" wahoo caught by none other than Tex himself on the troll. Not taking today too seriously, totally stoked with my one bucket list popper fish, though hoping for the afternoon hit on tuna to round out the day. Somehow Bart "Jersey" managed to be in proximity to a camera, and shares the next phot spread with Tex....Brothers from another Mother no doubt!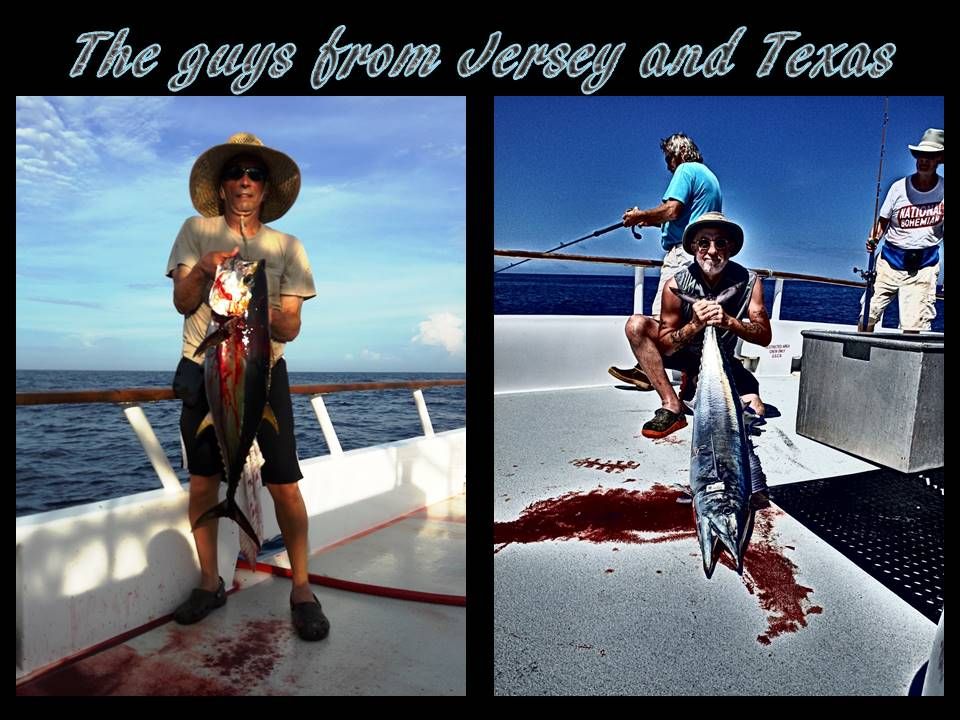 We are southbound to hopefully finish up on the tuna, ETA 1400...wish us luck! With two years in a row offering great wahoo fishing, I am still hopeful that we can find some yellows and dorado...but they have been scarce. We still have two or three days left depending on what we do...we shall see!
Well....yup the plan worked as hoped, as we put 158 nicer grade tuna as well as a handful of wahoo on between 1400 and 1700...BLOODY DECKS baby!! Today's fish averaged 15-25, with a few smaller and a few bigger. Fish seemed to come in waves, with the middle two hours yielding the nicer grade fish. Fish were mostly caught on bait on 30 and 40 lb. For me cool, as I brought an old Lamiglass rod out of retirement...fun fishing a nearly 40 year old rod...that old stick caught many an albacore in the 80's. Back then it had a newelled out 99, now a single speed Avet MXJ with 50lb JB, and a 25 yard 30 lb topshot...which reminds me, I need to change out some 30lb, and tighten a reel clamp.
Dinner was Flank steak, roasted potatoes, and brussel sprouts, with a spinach salad with candied walnuts. Desert was a really nice raspberry sorbet.
We are now running down to hopefully find some yellows and pargo on the dropper loop. Will report back later...
Pretty fun bite on same grade tuna at Thetis in the dark. After the first hour most went to bed, and three or four of the hardy ones enjoyed catching and gaffing a few fish. Fished Flatfalls on 50 on a 700MH, kind of fun reefing on a few after fishing 30lb earlier in the day...tagged a few decent grade fish and released a bunch more. This brought back memories of my stint in the business in the mid 70's and 80's. Nope, I am not jumping on the current job opportunity on the Excel. Guessing we had 15 or 18 in the kill box, when we called it a night. Not sure I will wake up for the hoped for yellowtail bite 4 to 5 hours from now.
Day 7 - 10/1/16 We opted to sleep through the 0300 "start" having reefed on enough fish, and getting in the rack late. The yellows never came out to play which would have been a nice addition to the 10 day variety pack. Things did blow wide open for about 15 or 20 minutes, with wolf packs of wahoo eating anything and everything in sight. The morning started out with a quick hit for 10 skin destined for the RSW before the sun had risen.
Having missed the bite, I opted to nail first call for breakfast after throwing the popper for a bit...after the smoke cleared. Cool thing is that with the insane wahoo fishing we have experienced this trip, missing an opportunity was not a big deal! Breakfast was biscuits and gravy, fried eggs and bacon.
Goodwill to the local panga fleet, hooking them up with a few scoops of bait, and other necessities. It is amazing seeing these guys offshore, working in all kinds of weather, simply trying to make a living. Once again, take stock on how lucky we are to be able to participate in this fishery from an incredible fleet of LR boats to choose from.
We are back on the hunt, and will see what the day offers, with things having slowed down after the morning hit, and the previous four days of pure longrange "epic-ness". No matter what happens over the remaining days of this trip, 32 lucky fishermen, pulled from across the United States will have shared an unequaled experience. We have had simply amazing weather, great fishing, amazing crew, way too much 5-star food....no room for valid complaints. Though we still have a couple days of fishing left, only thing "missing in action" are the yellows and mahi. Note: That is an observation, not a valid complaint. I just really love to fish the long-rod for yellows, as does Ed. Once the cycles revert back to normal, we will hammer the yellows, and scratch away at the wahoo...it's all good!
Well, the day ultimately was pretty good. We ran up the Ridge and scratched away at the wahoo, maybe adding another 20, and finishing up on the tuna, adding another 100 by days end. There were a couple seiners working the area, with one making a set with the aid of a helicopter.
Standout stuff for the day, after a long stay in troll jail, seemingly instigated by Bruce who stopped the boat in our first 10 minutes, though lost the troll fish, landing us back in jail. Finally after a two hour stint I get short bit, Gerry goes off, I drop my marauder back...get slammed, Ed gets bit, Bruce gets bit...and Bruce loses his troll fish...again.
Ed continued his streak on long-rod surface iron nailing another one immediately after our bingo stop. Ed is a long rod freak, always opting to fish the Ulua or 90J, putting tags on three on the surface iron.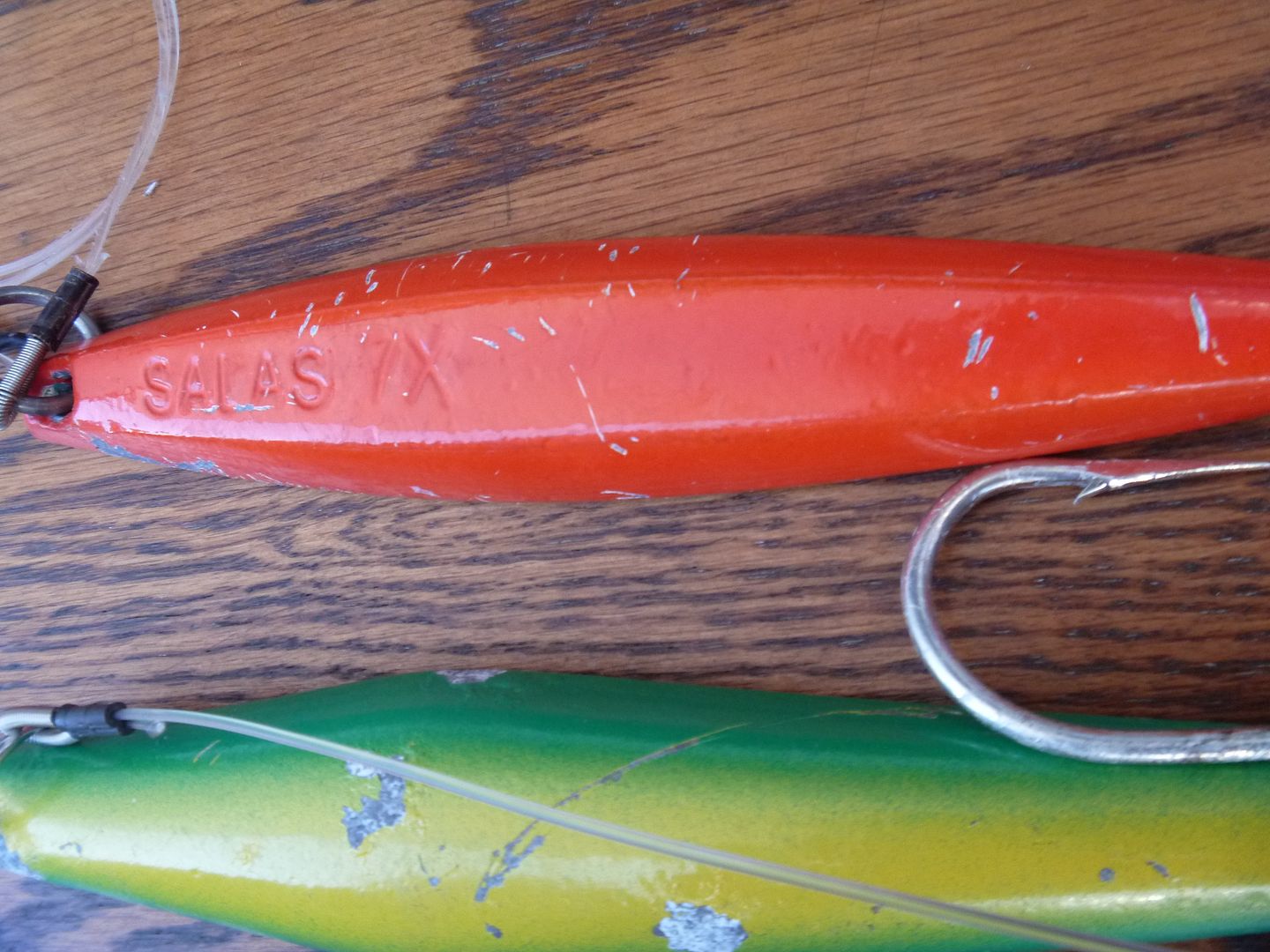 Tex nailed a jumbo "ball slapper" dorado. Always fun when he gets a good one, as there are always some great Tex'isms to go along with the fun.
I was stoked, when I hung what I thought was another wahoo on the popper, head shakes and screaming run that turned into a 30 lb yft...nice surprise!
Dinner was tasty as always, with a sausage lasagna, salad, and garlic bread. Desert was cherry pie ala mode. Chowdah got the dinner photo for the night. I am still amazed at the always fresh salads throughout the trip.
After dinner we were anchored up on a high spot where we managed to put 47 real nice grade yellows, with standouts Doug and Ed both konking them, Ed with 5, and Doug with 7. I worked hard for three, plus a sacrifice to the taxman. All were nice grade fish.
We finished up around 0200, with Gerry as the lone survivor. He got in the groove after a tough first half, and put the wood to them after the last few of us called it before midnight. Way to tough it out Gerry! With the anchor up, we began working our way up to gain some altitude as the weather forecast appears to be getting sloppy over the next few days. With good weather, forecast for the 2nd, the plan is some deep-water grouper drifts in 400 feet of water, and then run back inside to terrorize some more wahoo. We will wait and see how the plan comes together, but it has been following the script since day one.
Day 8 - 10/2/16. Following six hours of the sleep of the dead, first call for breakfast came, and gave us just enough time to rebuild the dropper loop rigs used the previous night. Breakfast of champions, with omelets, homefries and toast...fuel the machine
We begin our deep-water drifts, with the first few fish caught being big grumpy homeguard yellows, and then the grouper began climbing on. No doubt many personal bests on these mixed grade grouper, from 10 to 50 pounds, with a sprinkling of some additional jumbo yellowtail.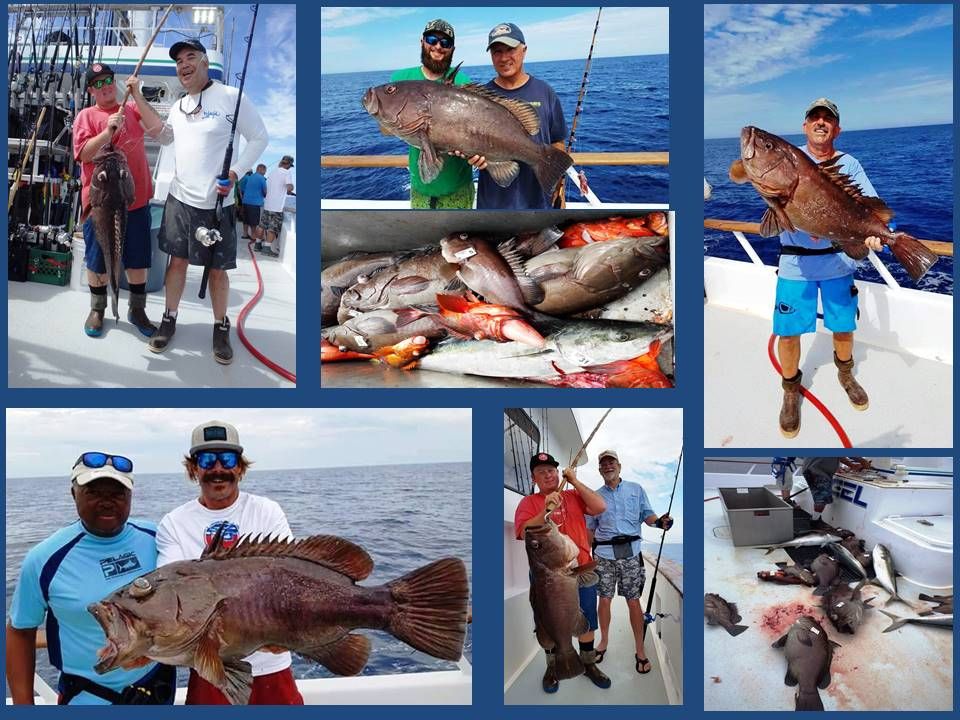 So with more variety added, this trip is clearly one for the storybooks! Sets the bar crazy high, with amazing weather, awesome boat and crew, food to die for....oh and 250+ wahoo, near limits of yellowfin, the big yellows of the past two days....and now some really good grouper fishing. The good thing is that every trip has its high points, that serve to feed the addiction that we develop for this amazing opportunity, it is so much more than pure production, but WOW, when it all comes together like this trip has it is all the more special, and truly unforgettable! A trip like this should make you a believer in more than just coincidence...for me I see it as just another way that God is at the center of it...Grazie Dio!
So now what to do? We are running in to another spot and see if we can go play with some more wahoo...insane trip!!!
On the way in we had time for a tailgate chilidog heartburn fest..
So we spent from about 1330 until 1500 with the final installment of the wahoopolooza 2016, putting a final 6 or 8 in the 3rd RSW well. Yup, that is right...we have the port and starboard wells plugged, and a good start on third well on a 10 day!!! I only had one goal today, and that was to get a wahoo on the surface jig; on this trip I caught wahoo on the popper (1), the troll (1), bomb (1), bait (1), raider (7) and one on a Tady 9 on the Ulua... I had (note past tense) a battle scarred bait wraps 7X that got bit 5 or 6 times, one of those bites today....and lost it to a shark (Rich...even the sharks like your jigs), I had success with zero losses with a spider hitch to raider jig, catching 7 wahoo without losing a jig, so had tied the 7X the same way. After a couple small tuna false alarms, I came tight on my "goal", though close to the boat, the doubled line apparently found wahoo teeth. I know have a goal for the next trip...or the next.
The weather forecast is indicating that our eight consecutive days of flat seas and light wind is likely coming to an end, so we are gaining altitude, and may have the opportunity to spend a little time at Cedros tomorrow. I will dream of wide open calico bass tonight...maybe a yellow on the surface iron as we are now bumping up the line. Due to limited remaining fishing opportunity laying ahead on our way north, some tackle breakdown has already begun. Ed and I broke down about two thirds of our gear, opting to keep a few "just-in-case". Regardless of what happens over the next couple days this has been an amazing trip!!
Dinner was a pork shank, wild rice, and a nice cooked cabbage shared with Stan, Ryan, Bart, Mark, and Rich.
Day 9 - 10/3/16 - We awoke after our first night with a noticeable bump in the uphill ride, with an 1100 ETA to Cedros, where we hope to find a few calico bass for some catch and release action, as well as a calm lee to finish the chore of breaking down our gear, and readying it for our Wednesday offload.
Breakfast with Bart, Hermann, Ed, Mike, and Bill. Waffles, bacon, and scrambled eggs.
Well we arrived at Cedros, and with lobster season open it was corroded with trap buoys even on the outside, and Justin made the call to simply give us two hours travelling up in the lee to break down tackle as the bass spots would have been impossible to fish effectively with the mass of traps. We found the wind not far up the island, and the sea to go with it not much farther up...what lee?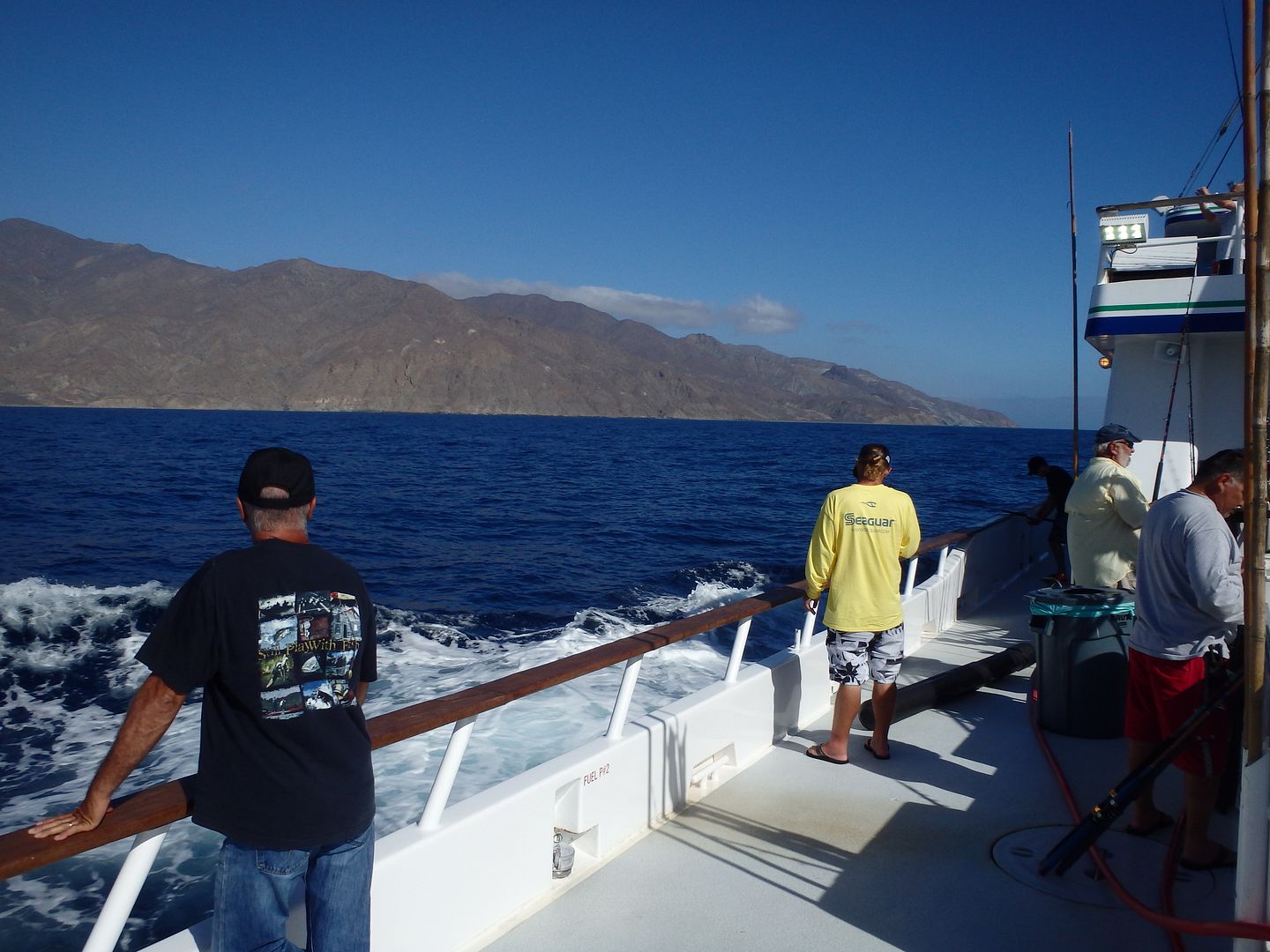 After eight days of "perfect" weather, it was time for a little payback. Travelling up all day has been sloppy, though bearable, especially on the big boat. People opted for a combination of naps and b-movies to break things up.
High point of the day was lunch; a jumbo philly cheese steak sandwich and fries.
Jake and Nick still managed to put together another great meal of chicken marsala, served over mashed potatoes, and multi-colored baby carrots. Paul was our guest diner. Not long after dinner we made it into the beach, and were greeted with a much improved ride.
Though the forecast is calling for a 12 hour period of really snotty weather from 2100 through 0900, hopefully the run up the beach will continue to moderate the ride.
Day 10 - 10/4/16: Woke up around 0545, with much improved weather. Enjoyed chatting with Loust, and then it was time to eat, with the signature bacon fried rice and fried eggs.
Today is simply a travel day, with the only diversions being our last three meals, and more b-movies. All gear was broken down yesterday, so not much to do besides read and relax, and watch the Baja coast slide by as we work towards home.
Did a lot of nothing until lunch, and then ate pork enchiladas, Spanish rice, and refried beans as we slid by Ensenada.
Made it San Diego before dark, and anchored out, enjoying a fantastic prime rib dinner, with twice baked potatoes, and asparagus. Final night dinner with Ryan our Phenix Rods rep.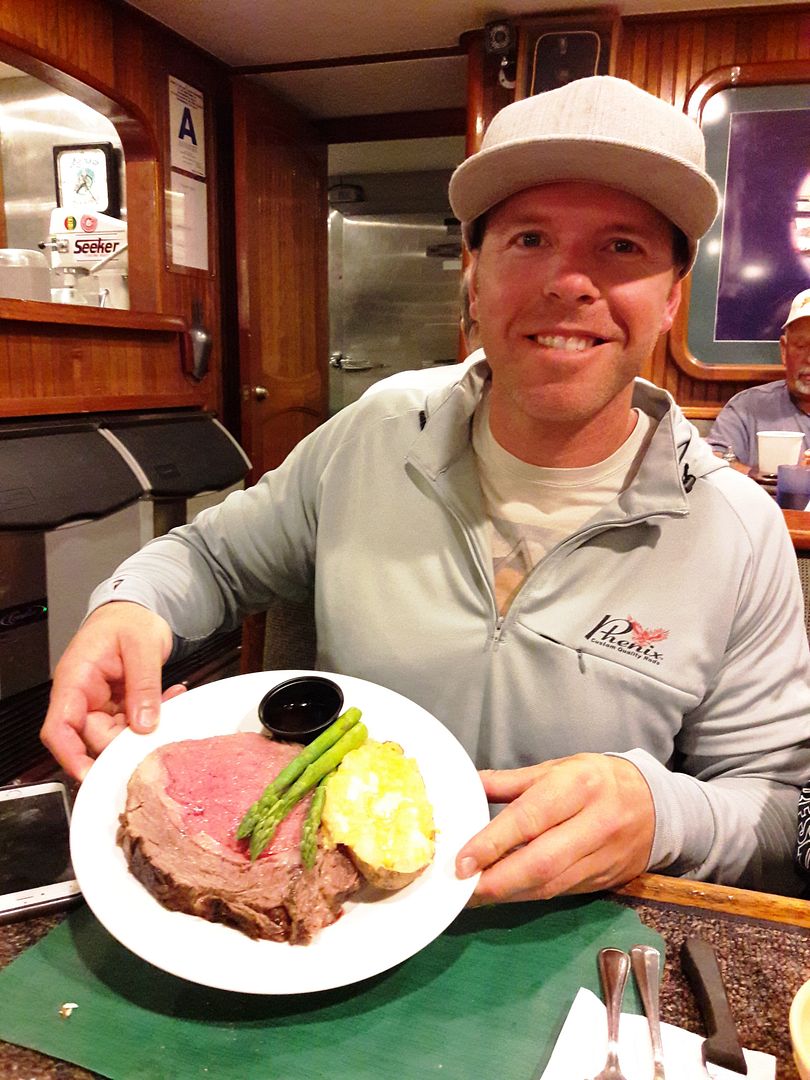 Crew made a few pieces of bait, as the report from the bait receivers was that bait had gotten smaller.
Return 10/5/16. All things must come to an end. We arrived back at the dock at 0530 for our offload after a restful night spent anchored in San Diego harbor.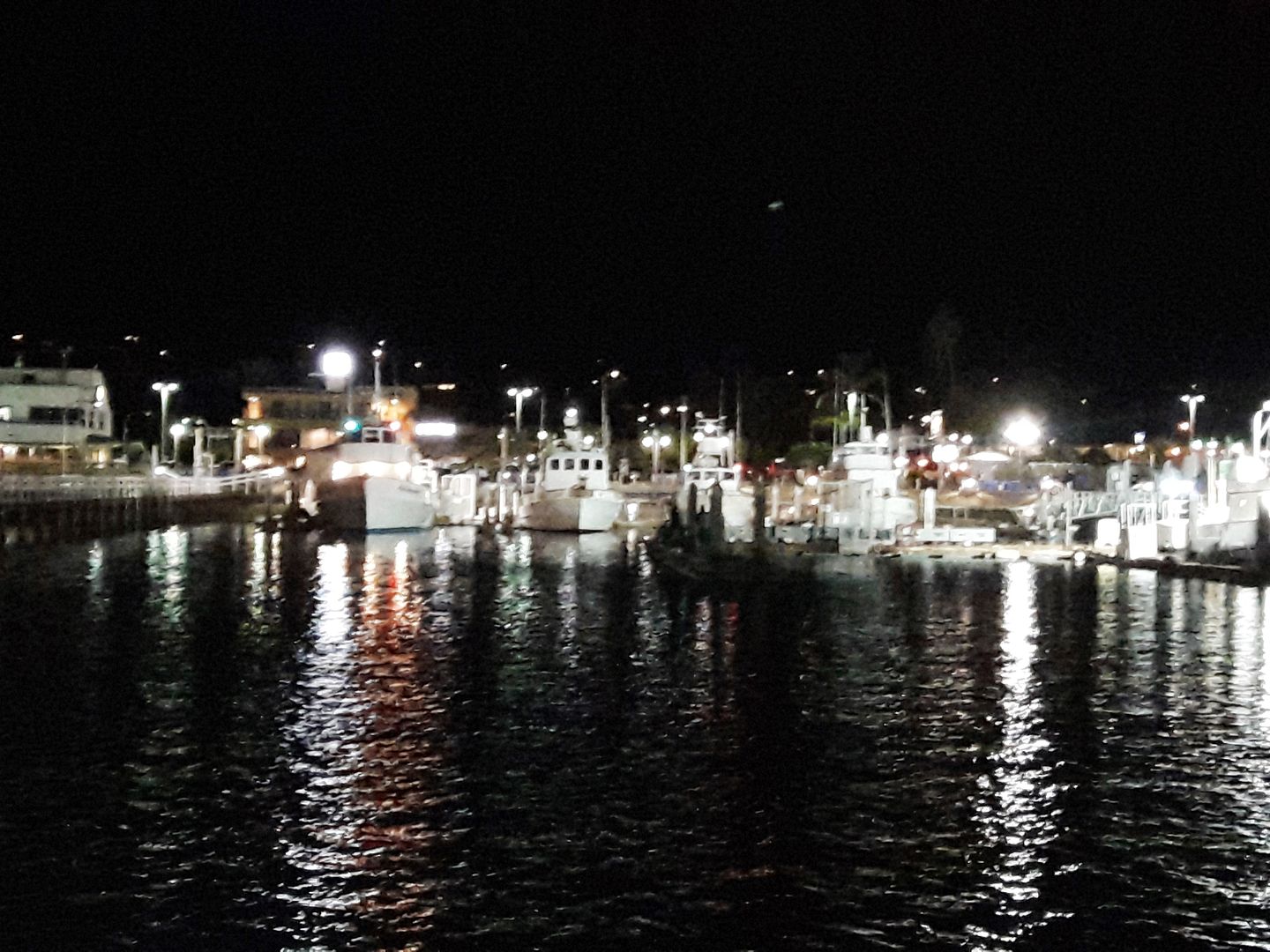 Mike Morris of Big Fish Transport was there, further simplifying the process, as he took possession of gear that would be shipped, and my reels as he has added reel maintenance to his menu of what can be best described as a longrange concierge service. If you are an out of state guy and fly in, this is a great service! Thanks Mike!
The fish offload went smooth, with an amazing catch of RSW wahoo, tuna, yellowtail, grouper, and a few ball-slapper grade mahi making it to the top of the dock.
Ed and I opted for fish cart pushing duty, as it always feels good to do a little work after a couple travel days.
With so many nice grade wahoo the jackpot weigh-in was a chore for many. Though I caught 12 wahoo, none were contenders, so I was spared that last bit of work.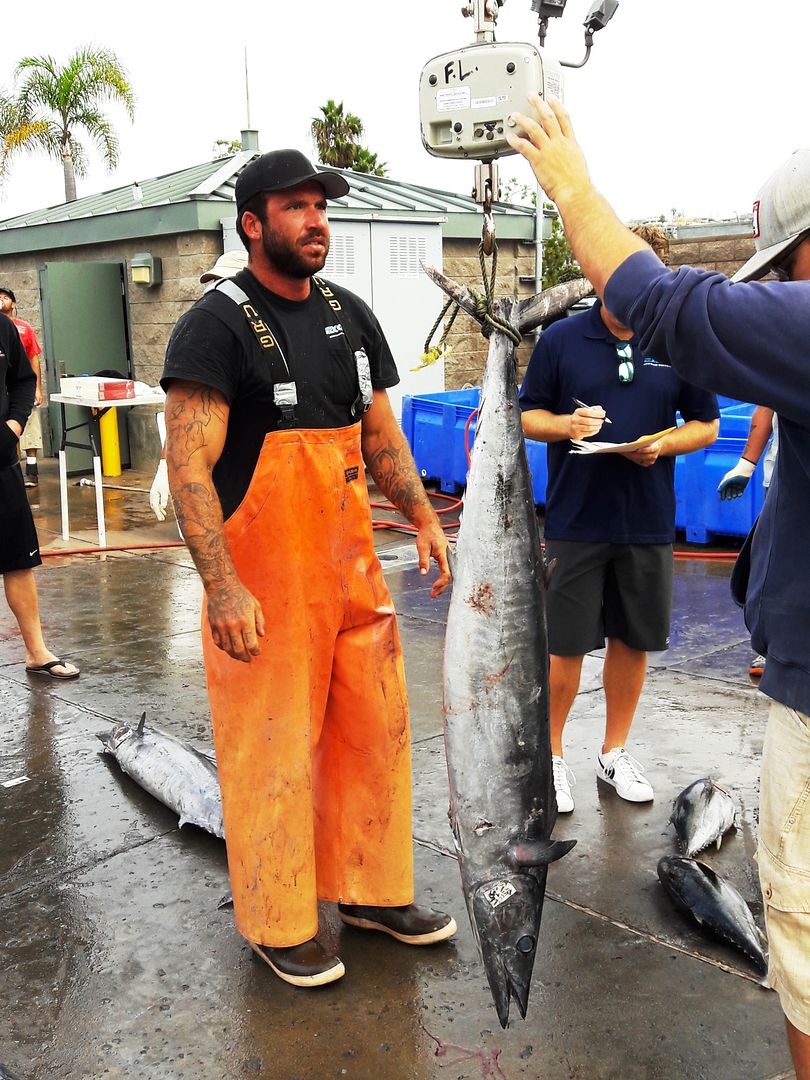 We gave Five Star a try, and the jury is still out. First trip I have had where all wahoo was processed skin on. Sara's explanation to my buddy was short (curt) saying that is how they always did it, and it kept it from falling apart, this in answer to his initial inquiry. Customer service satisfaction would likely have been much improved had an offer to skin and repackage the order been made. Just me, but it would seem that the option of skin on vice skin off should be discussed upfront vice default. On multiple other trips, with fish processed by the other processors the skin was off with a few exceptions. Assuming they determine on a fillet by fillet basis whether the skin needed to be left intact. I would be interested in hearing what others have to say about this practice. Based on previous product/experience I was very happy with skin off. Also looking for Bart's take on the "new" post Mario Sportsman's experience...been hearing it has experienced somewhat of a re-imaging. The great thing is we have multiple options, with each of us finding our favorite.
Random post trip thoughts:
So the day before we left, three of us went to mass, and after mass the Priest blessed our trip. If you read this far, you know we had an off the hook trip, by any measure, a trip that has unfairly set the bar for future trips especially in regards to weather and wahoo. These trips should not be judged by production alone; they are best judged holistically -- by friendships, both old and new, weather, food, the dynamics of the crew, and our individual perceptions of so many other variables that collectively determine how good or great a trip is. So think about how many things had to line up just right to make this trip the epic adventure that it was. In my case, I was ready to cancel and hope to be able to sell my spot because of my back...I could barely walk, and I sure couldn't have fished as hard as I did had it not healed so fully. Do you chalk it up to blind luck, a cosmic coincidence...or maybe something much greater? I will opt to believe that the Priest's blessing of our trip played a part. Grazie Dio for a great trip!
In closing, I hope that if you read this report you enjoyed it as much as I did by both living it, and writing about it. On multiple occasions it seemed as if it wrote itself. I only have one regret, after a three year run on the Phenix rods 10 day trip, I will miss the 2017 adventure, though I will be following the reports from the boat. My retirement strategy has me committed during that time slot; and as is oft noted, it is best to pick a trip when it fits your schedule...Ed and I will be on the RP with several other friends in July. The upside is that our next trip is only 10 months away! We plan to be on the 2018 Phenix 10 dayer....see you then.
Much thanks to the finest crew!!
One last note, we will be losing Loust, as he is embarking on a new adventure in life. We will lose a friend, as well as an integral member of a great crew. We wish him the greatest success and happiness in his future endeavors!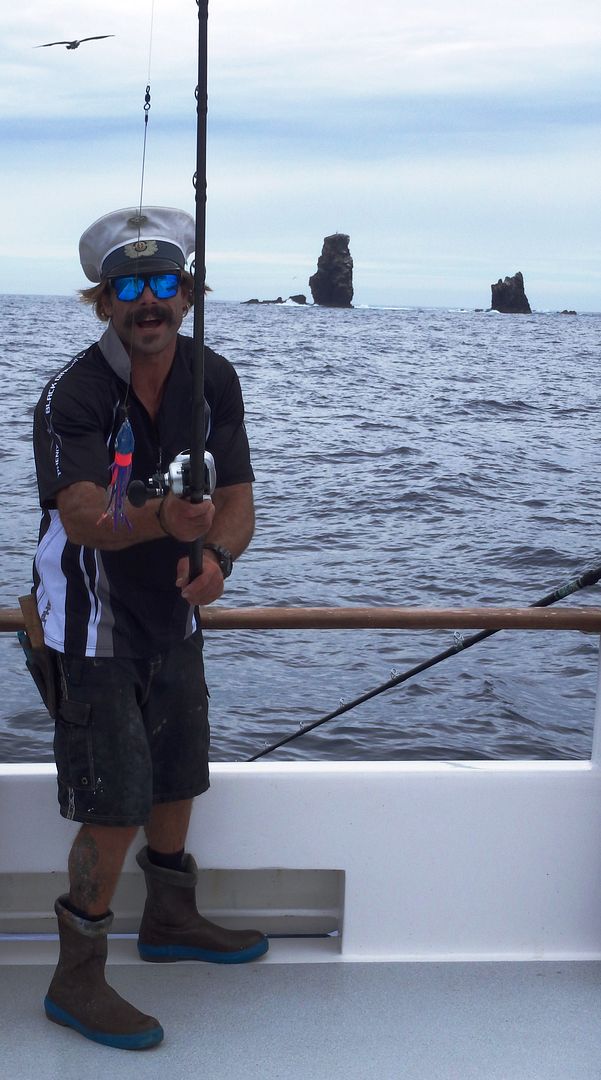 Last edited: