I've posted enough I should edit this section
Jul 7, 2011
171
246
Name

KG
Boat

none
Tuesday was another fishing day for me Tallon. He's 5 and loves everything about the fishing day from making PBJ's, pushing the cart to the slip, getting bait, checking the seals outside the harbor, going fast in the boat, and fishing of course.........
Our day started pretty normally. We cleared the harbor around 7:30 and made a wide line towards outside the Domes. Never made it that far. We pretty quickly came across the ponies and birds and began trolling with about 10 other boats. Too much traffic for us, so we just trolled our way south a bit. Within about 20 minutes, we were 8.3 miles from DP and we came across a patty and decided to fish it. As we were drifting, I looked around and noticed that there were lots of patties all around us. Pretty quickly, we pull in a very nice YT and go for another drift.
This is where it got good. As we were drifting, I notice some birds to the south of us doing their thing. They kept getting closer and closer and before you knew it, you could see breaking fish. The birds and fish pretty much marched right through us with no regard for the boat. Tallon and I both hook up and it's game on! We are certainly outmatched on this double and sort of luckily, Tallon's fish spit the hook. The Fat Guy below landed this fatty after a good 45 minutes.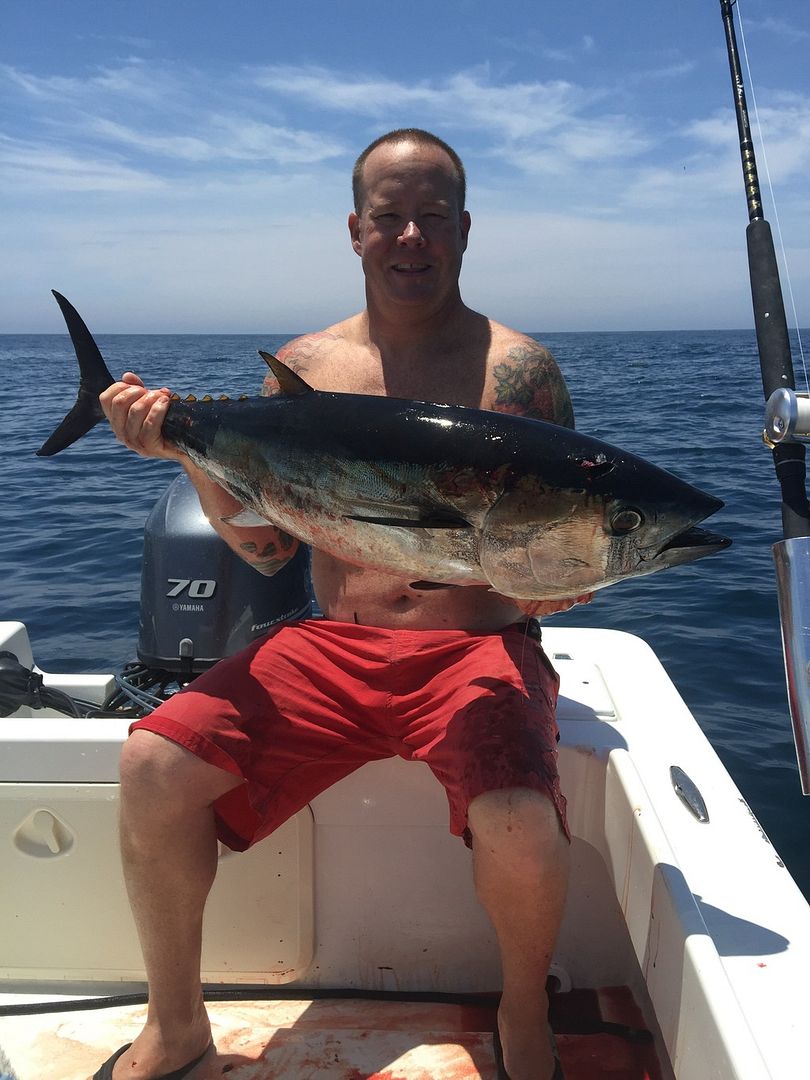 The birds never got more than 100yds away and we went for another shot. We pulled up to the side of them and dumped a pile of bait. The whole mess of breaking fish came to us again. This time I was the only angler. I hooked up and proceeded to get spooled to the knot on my Talica 8II. Break off....
Back we go again. Find the birds, dump a net full and here they come. Little man is quickly on and they passed me by, so I let him take his licks.
30 minutes later, he's literally crying but doesn't want to hand it off.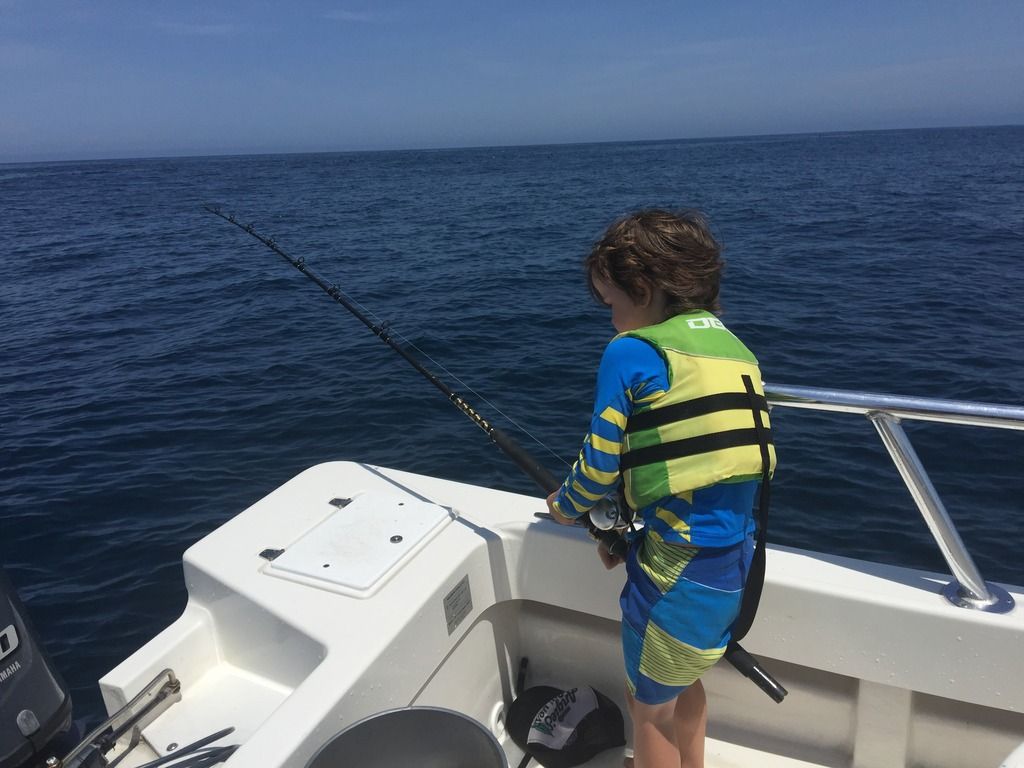 I plead with him a bit and he gives in. This fish would not get closer than 10 feet to the boat. As we are 2 stepping around the boat for all this time, he looks at me and says, "Dad, we're a good team!" Dad moment of the year, then we finally gaff that bastard.....
Did I mention not another boat around us all day???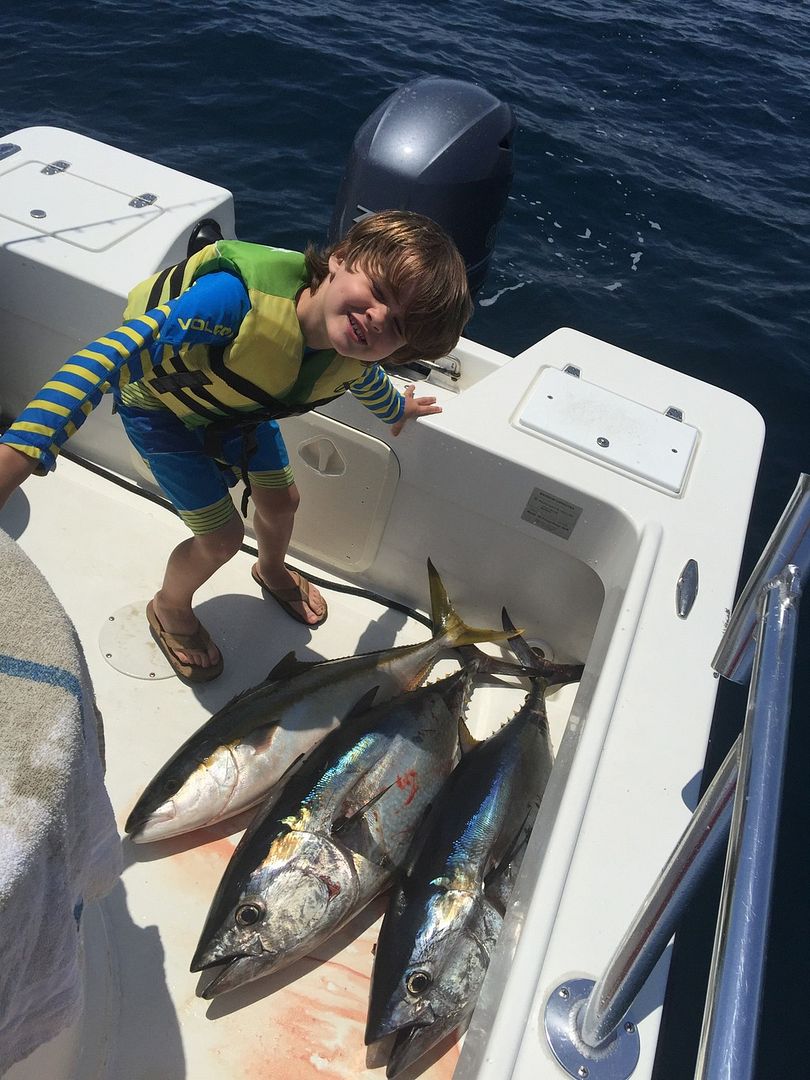 We told Mom that we'd be in early because Tallon has skateboard camp at 4, so we cleaned fish, we cleaned the boat and my personal chauffeur took us in. When he stands on the cooler, it's the perfect height!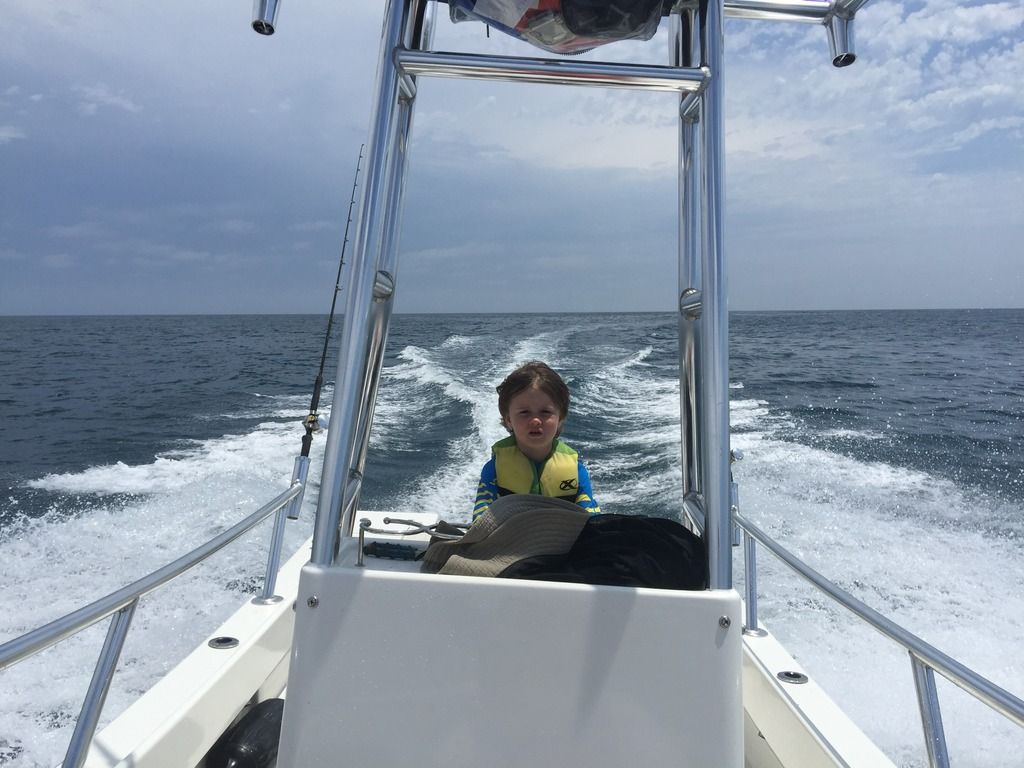 Stop at the fuel dock for gas and ice cream and we're in the slip around 2:30. That ended up being twice as cool as the tropical whatever came in and did the thunder, lightning and rain thing. Some things just work out that way!
Our HBR panga burnt 6 gallons for the day and ran like a champ as always!