He's going through some tough times and I don't know anyone who hasn't had rough times but it's no excuse to drink and drive, hit and run... I hope he can turn it around..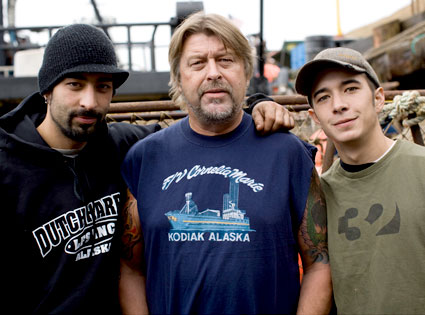 <TABLE border=0 cellSpacing=0 cellPadding=0 width="100%" itxtvisited="1"><TBODY itxtvisited="1"><TR itxtvisited="1"><TD width="57%" itxtvisited="1">Feb 20, 2010</TD><TD vAlign=top width="43%" align=right itxtvisited="1"><!-- AddThis Button BEGIN --><SCRIPT type=text/javascript>var addthis_pub="nationalledger";</SCRIPT><SCRIPT type=text/javascript src="http://s7.addthis.com/js/200/addthis_widget.js"></SCRIPT><!-- AddThis Button END --></TD></TR></TBODY></TABLE>
The son of the late Phil Harris, the well-known "Deadliest Catch" fishing boat captain who recently died, has been arrested in Seattle. According to a KOMO report, Jake Harris was arrested and charged with suspicion of DUI and hit-and-run.
<TABLE border=0 cellSpacing=10 cellPadding=0 width=201 align=right itxtvisited="1"><TBODY itxtvisited="1"><TR itxtvisited="1"><TD itxtvisited="1"></TD></TR><TR itxtvisited="1"><TD class=span_caption itxtvisited="1"></TD></TR></TBODY></TABLE>
Washington State Trooper Dan McDonald told the TV station a motorist called 911 to report an aggressive driver on the freeway and officers dispatched help from airborne troopers, who spotted the vehicle and guided highway-based troopers to the car for the traffic stop.
The
report adds
that "troopers identified the driver as Jake Harris and determined that he was impaired. Further investigation revealed that Harris was driving with a suspended license and that he was a suspect in a hit-and-run accident earlier in the evening."​
A family spokesman spoke with KIRO-TV and said that Jake Harris was booked into the King County Jail on Thursday night, but says Harris was not intoxicated and did not hit another car.​
<IFRAME style="Z-INDEX: 100000; BORDER-BOTTOM: 0px; POSITION: absolute; BORDER-LEFT: 0px; WIDTH: 1px; HEIGHT: 1px; BORDER-TOP: 0px; TOP: 0px; BORDER-RIGHT: 0px; LEFT: 0px" id=_atssh height=1 src="//s7.addthis.com/static/r07/sh10.html#swfp=0" frameBorder=0 width=1 name=_atssh></IFRAME>
<IFRAME style="Z-INDEX: 100000; BORDER-BOTTOM: 0px; POSITION: absolute; BORDER-LEFT: 0px; WIDTH: 1px; HEIGHT: 1px; BORDER-TOP: 0px; TOP: 0px; BORDER-RIGHT: 0px; LEFT: 0px" id=_atssh height=1 src="//s7.addthis.com/static/r07/sh10.html#swfp=0" frameBorder=0 width=1 name=_atssh></IFRAME>
<IFRAME style="Z-INDEX: 100000; BORDER-BOTTOM: 0px; POSITION: absolute; BORDER-LEFT: 0px; WIDTH: 1px; HEIGHT: 1px; BORDER-TOP: 0px; TOP: 0px; BORDER-RIGHT: 0px; LEFT: 0px" id=_atssh height=1 src="//s7.addthis.com/static/r07/sh10.html#swfp=0" frameBorder=0 width=1 name=_atssh></IFRAME>
<IFRAME style="Z-INDEX: 100000; BORDER-BOTTOM: 0px; POSITION: absolute; BORDER-LEFT: 0px; WIDTH: 1px; HEIGHT: 1px; BORDER-TOP: 0px; TOP: 0px; BORDER-RIGHT: 0px; LEFT: 0px" id=_atssh height=1 src="//s7.addthis.com/static/r07/sh10.html#swfp=0" frameBorder=0 width=1 name=_atssh></IFRAME>
<IFRAME style="Z-INDEX: 100000; BORDER-BOTTOM: 0px; POSITION: absolute; BORDER-LEFT: 0px; WIDTH: 1px; HEIGHT: 1px; BORDER-TOP: 0px; TOP: 0px; BORDER-RIGHT: 0px; LEFT: 0px" id=_atssh height=1 src="//s7.addthis.com/static/r07/sh10.html#swfp=0" frameBorder=0 width=1 name=_atssh></IFRAME>
<IFRAME style="Z-INDEX: 100000; BORDER-BOTTOM: 0px; POSITION: absolute; BORDER-LEFT: 0px; WIDTH: 1px; HEIGHT: 1px; BORDER-TOP: 0px; TOP: 0px; BORDER-RIGHT: 0px; LEFT: 0px" id=_atssh height=1 src="//s7.addthis.com/static/r07/sh10.html#swfp=0" frameBorder=0 width=1 name=_atssh></IFRAME>
<IFRAME style="Z-INDEX: 100000; BORDER-BOTTOM: 0px; POSITION: absolute; BORDER-LEFT: 0px; WIDTH: 1px; HEIGHT: 1px; BORDER-TOP: 0px; TOP: 0px; BORDER-RIGHT: 0px; LEFT: 0px" id=_atssh height=1 src="//s7.addthis.com/static/r07/sh10.html#swfp=0" frameBorder=0 width=1 name=_atssh></IFRAME>
<IFRAME style="Z-INDEX: 100000; BORDER-BOTTOM: 0px; POSITION: absolute; BORDER-LEFT: 0px; WIDTH: 1px; HEIGHT: 1px; BORDER-TOP: 0px; TOP: 0px; BORDER-RIGHT: 0px; LEFT: 0px" id=_atssh height=1 src="//s7.addthis.com/static/r07/sh10.html#swfp=0" width=1 name=_atssh frameborder="0"></IFRAME>