Apr 26, 2007
589
101
Name

Dave
Boat

Prefer Long Range or skiffs (great if combined!)
(Heheheh, It wasnt my intention of posting this big ass photo of me...but photobucket has a mind of its own...)
We just got back from the Royal Star 15 Day BraidTrip. The fishing was excellent as we spent 7 days in the lower zone andclobbered the Tuna. Being my first Cow trip, I had previously posted a requestfor help thread titled "Cow Fishing for Noobs" and I wanted to thank everyonefor providing tips and advice (listed are just some of the great BD folks whohelped me out: SactoTuna,

RubberHook, WahooDad, Garabaldi, screamingreel, JSR, Fishbone24,Starman, Bill W, fishholc, fishordie, riceman1011).
SactoTuna and a bunch of folks on the trip and of course theRoyal Star crew were of great help to me on this lifelong dream. A roll up ofthe action goes as follows.
After 3 days of travel, we set up near the Red Rooster IIIand American Angler and hooked up fish immediately. A few 60-100lbers are landed and Jan gets ourfirst cow on the Kite at 213lbs. (NOTE:Names, Fish Weights, etc may not be exact, as it's all a big haze when you havethis much fun). Trip Cow Total: 1.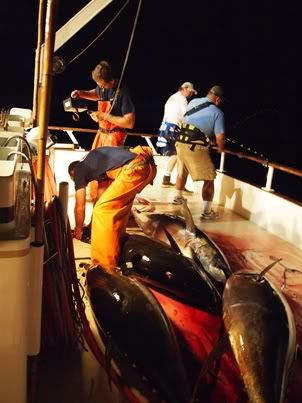 After making salami baitafter dinner, we woke up at 3am with Tuna underneath us and proceeded hookinggood fish. Our first morning was a great hit, a bunch of 100lbers and 4 Cowswere landed for a 17 fish total. Salamis were the ticket, but lobbing them outlike horseshoes took patience as they often swam right back under the boat.Kohei gets one at 218lbs fish. By 530 am, the bite had stalled. SactoTuna walkson deck and I greet him with "Dude, are you just waking up?" He had decided tosleep in and his face showed the classic Homer Simpson look of "Doooooooooh!"(love yah man!) With fishing this good, our Captain Tim Ekstrom sets a 100lbcut off to make save room for our remaining fishing days, and we proceed to catchand release dozens of dozens tuna between 40-80lbs. The 8am-11am was a goodsteady fishing on tuna ranging from schoolies 40-80lbers with 15-20 fish from130-180lbs. A shot at a Cow occurred every few hours. The sundowner bite was nearlynon-existent. This sets the tone for the rest of the trip. Trip Cow Total: 5.
Day 3: Had the fish biting at 345am-530am. Kohei getshis 2<sup>nd</sup> Cow of the trip at 252lbs. Today had the fish biting steady all day, with1-3 going at all times. Larry fished the chunk and got the biggest cow of thetrip at 285.4lbs.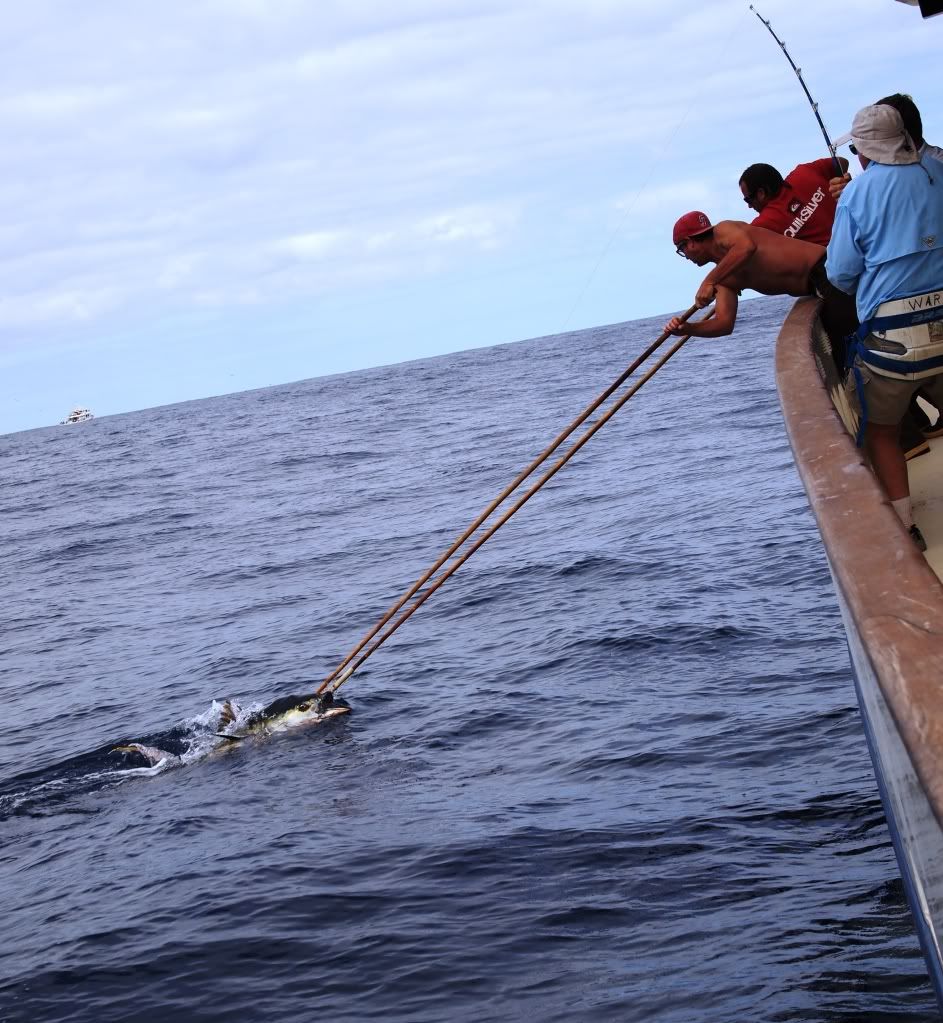 Larry has fished and hunted with Bill Poole during the goldendays of long range, and he showed his skill in kicking that big fish's butt.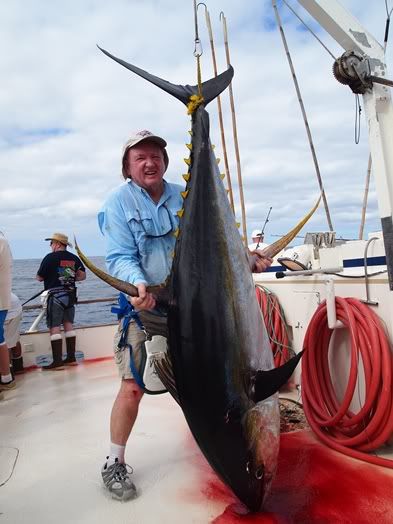 <font size="3"><font face="Calibri">
Wahoo started showing upand sawed off our baits, hooks, with the occasional one hooked. We checked inwith the Mexican Navy in the afternoon. Long Range new comer Marc fromWashington State had spent his first day in Kite Jail, but makes up for it bycatching his 1<sup>st</sup> and 2<sup>nd</sup> Yellowfintuna EVER: 25 lbs AND239 lbs. He then catches his first wahoo. I get a 'hoo on the 7X in bird poo color and then a 42lber on bait. Trip Cow Total: 9.<?xml:namespace prefix = o ns = "urn:schemas-microsoft-com
Day 4: More and MORE fish! The tuna were eating up ourleaders as we released so many. Where else in the world would you consider an85lb Yellowfin a "small fish?" Larry keeps his streak going, landing a 272lberin addition to his 285 the previous day. Talk about skill! The sharks got on ustoday, eating the chunk especially. SactoTuna redeems his 2<sup>nd</sup> dayignonimity, getting a 207lb cow on the sardine.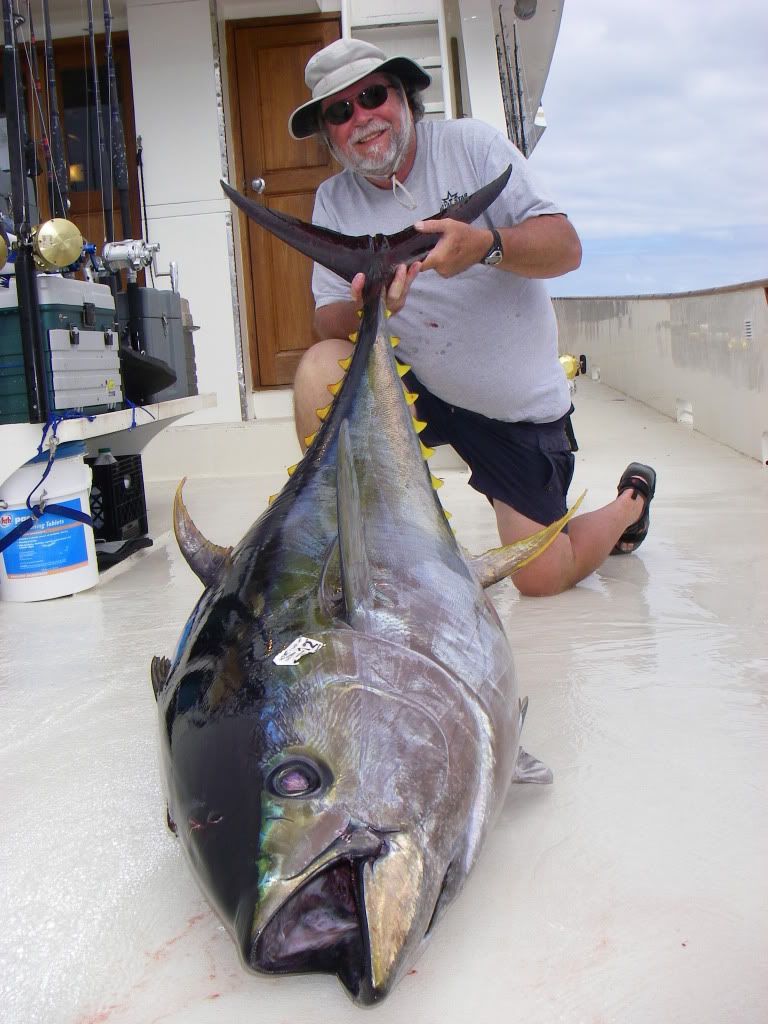 Floyd, catches up to his wifeJan with a 219lber. Todd from Oregon on his 2<sup>nd</sup> ever long range triplands his first cow at 205lbs. Again, at sundown, the bite slowed to a halt. Wemake bait and get ready for the morning bite.

Trip Cow Total: 13.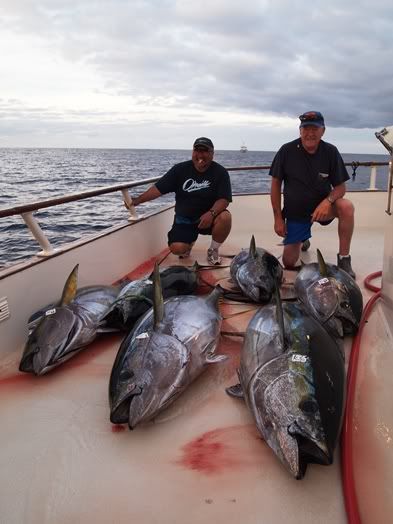 Day 5: The big morning hit comes as usual but therewere only 3 more cows this round, with a couple 180lbers for the day. SactoTuna,satisfied with his cow, takes the time to jig his PL68 and lands a fewschoolies to 80lbs. The morning is a pick bite. Kohei, who has been fishing LRboats since the 70s, gets his THIRD Cow of the trip. Captain Tim sets the cutoff

to 120lbs. Trip Cow Total: 16.
Day 6: The bite slows down considerably. We hook plenty ofschoolies and released those, but fish over 100lbs were hard to come by. SactoTuna keeps his PL68 streak going and lands a few more schoolies. I copy him andget a few on the PL68. This day I started to screw around more than I usuallydid and fished my 16 VSX with 80lb. Fun to fish after carrying a 50 and a 30all day. The Xcel arrives as the Red Rooster III and American Angler departs. Mariusfrom South Africa is on his 2<sup>nd</sup> Braid 15 day and gets one of the twoCows that hit the deck that day at 209lbs. Trip Cow Total: 18.<o
></o
>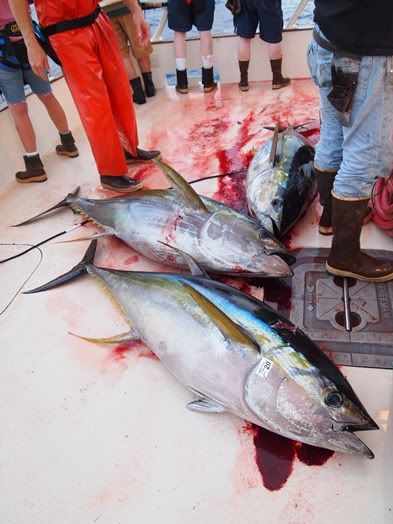 Day 7: This fishing picks back up with a short morninghit but lots more biters throughout the day. The anglers are getting tired, 6days of great fishing wears you down eventually! However, the Tuna were notthere to appease our weary muscles. I proceed to hook a belligerent Yellowfinthat just HANDS ME MY A**. Up and down and around the rails on 100lb with my brand new ATD-30 on the setting of "M".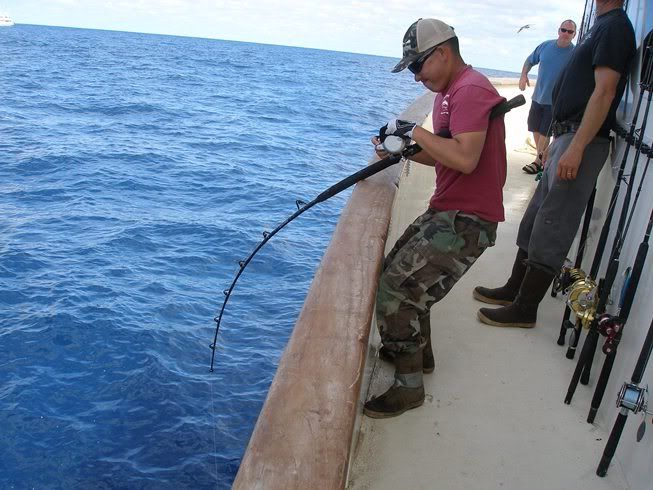 I get to the bowwhere it's a Mexican standoff for about 20 minutes. Finally, I put my hand onthe spool to keep it from slipping and bring in the fish. Man! I've read aboutthe demon 150-190lbers, and this one proved it! Ironically, I was asking myselfthat morning for a demon fish to work me over, and as they say, be careful whatyou wish for.
No cows are landed today. Tim decides to stay the final morning.With the fish hitting most of the mornings, it made sense to give it one moretry. The previous two Braid Trips had last morning big hits, so it was naturalto attempt to carry on the tradition. Trip Cow Total: 18 (again).<o
></o
>
Day8: 9<sup>th</sup> inning. 4<sup>th</sup> Qtr. At the buzzer, the 18<sup>th</sup>round, whatever you want to call it, the end of the trip had arrived and wewere chomping at the bit for the last hit to break our 20<sup>th</sup> cowmark. We were hoping for the morning bite trend to last one more day. The bighits were absent the past 2 days, and like the previous trips, we wanted to maintain the roll on morning hits. Salamis were out, the chunkline going, and we were fishing. Except me. My 180lbr had left my handsstrained and sore, so I was content to watch. But certain things trigger yourfishing instinct quickly, for instance, a Captain's voice over the PAannouncing "There's fish underneath the boat…"
Heck, I may be feeling sore fromfishing, but heck if I didn't feel the need try out a new stick for my nextrail rod, specifically a 770XXH. I wanted to hang a fish on it to get a feelfor the way it handled. So, with small schoolies being the usual fish landed onJigs all the past 7 mornings, I burrowed a passenger's rod (Jeff) that had100lb and a PL68 tied to it. We were slowly starting to hook fish while Idropped the jig and ticked off the feet in my head…50 ft…100ft…150ft…STOP.Crank! Crank! Crank! Crank!
YEEEEEEEEEEEEEEEEEEEEEEEAAAAAARRRHHHH!
HAHAHAHAHHAAAAAAAAAAAH! The jig jolted and jerked and pulled!
I maintain thepressure and thought to myself, it's about an 80 pounder. Just what I wanted!The fish dove and took line. A lot of line. And then MORE line. It thenproceeded to drag me up the bow. I got a haul back and felt the weight. Irealized at that point that this was a lot bigger than an 80pounder and thought"Awww….Sh*t."
<o
></o
>
I fought and pulled and cranked and gritted my teethto gain line. Other anglers were hooked up but I paid them little attention, Iwas getting worked over by this dang fish and it was letting me know who hadwho. I attempted to pump and gain line, but it was turning into a game ofinches. After 20 minutes, I made it to the stern, around the stern, and back upto the bow. Gripping the spool like I did the previous 180lb fish, I started togain a few feet. But just like yesterday, everything I gained, the fish wouldtake back within seconds. After 30 mins, we bumped up the drag setting to maxand I was back at the stern and continuing to crank hard, but to no avail. DeckhandSteve placed his hand on the spool so I can concentrate on keeping the rod fromslipping on the rail. A few more agonizing minutes passed as the fish roundedin wide 30 ft. circles. Anglers held their rods high to avoid the tuna as itpassed their lines. The last 50 ft was near, the Tuna nearly beaten and Iplaced my hand on the spool with Steve's to apply maximum pressure. 50 feet…circle pass…40 feet…circle pass…30feet…Gaffs surrounded me, and "LIFT! LIFT! LIFT!"
GOT HIM! The fish was vanquished, a prize fighter on thefloor and I was the victor. It wasn't elation that came over me, nor joy, butstraight relief. The elation came over me as the fish came over the rail, itwas a COW! On the PL68 JIG!!!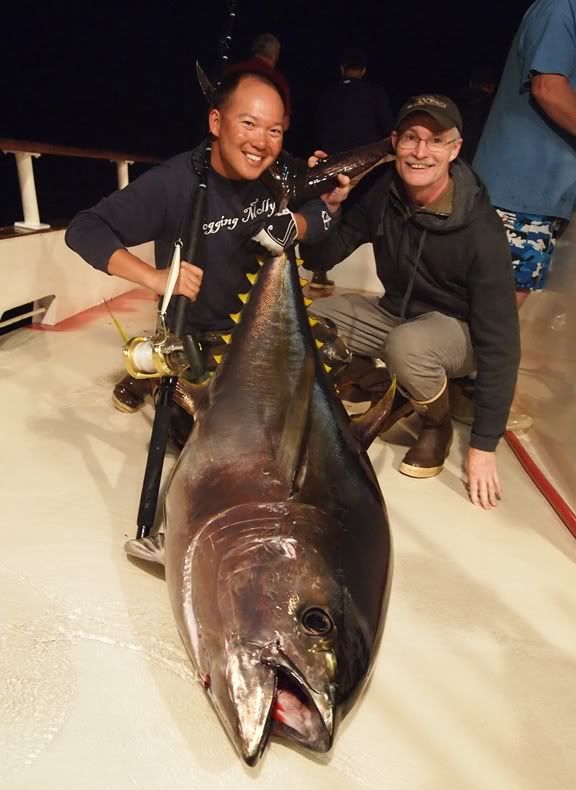 We weighed it in at 225lbs and I sat back and put Jeff's rigaway and thanked him for letting me borrow it. The other anglers continue tohook up and fight their fish and it was clear that these were nice ones. Waynefrom Washington was on his first long range trip and held on for dear lifewhile cranking on his 3
<sup>rd</sup>
hooked big fish. He had his hook pull on acow at the beginning of the trip, been sawed off on the anchor in the middle ofthe trip on another cow, and caught schoolies in-between. The cow came up, andthe gaffs went down once again.
<o
></o
>
Wayne,who had only caught 20-35lb albacore in Washington before this, lands a 280lbcow. Freddy, who had not landed a cow that trip, gets his big'un at the lastbell at 285lbs even. Jeff, on his 4<sup>th</sup> or 5<sup>th</sup> long rangetrip, finally gets his first cow at 215lbs. And we did it! The boat breaks its20<sup>th</sup> cow by landing its 22<sup>nd</sup> Cow of the trip.

The last cow hits the deck and it's just before 8am.Captain Tim fires up the engines and we take off for home.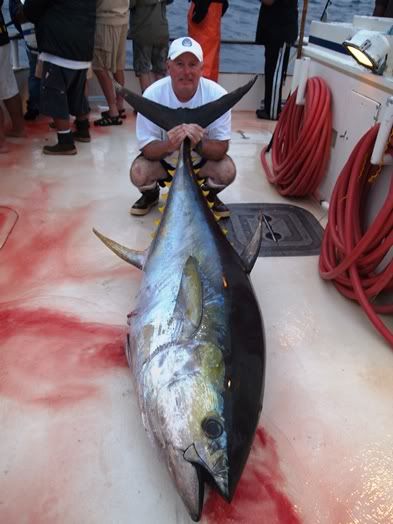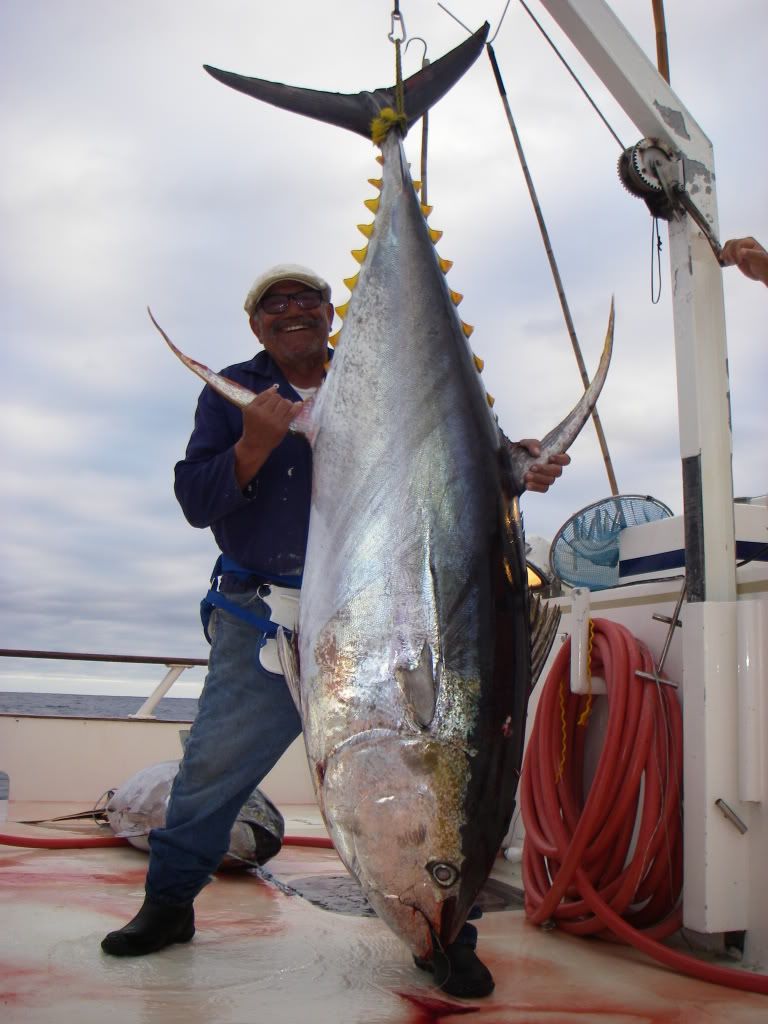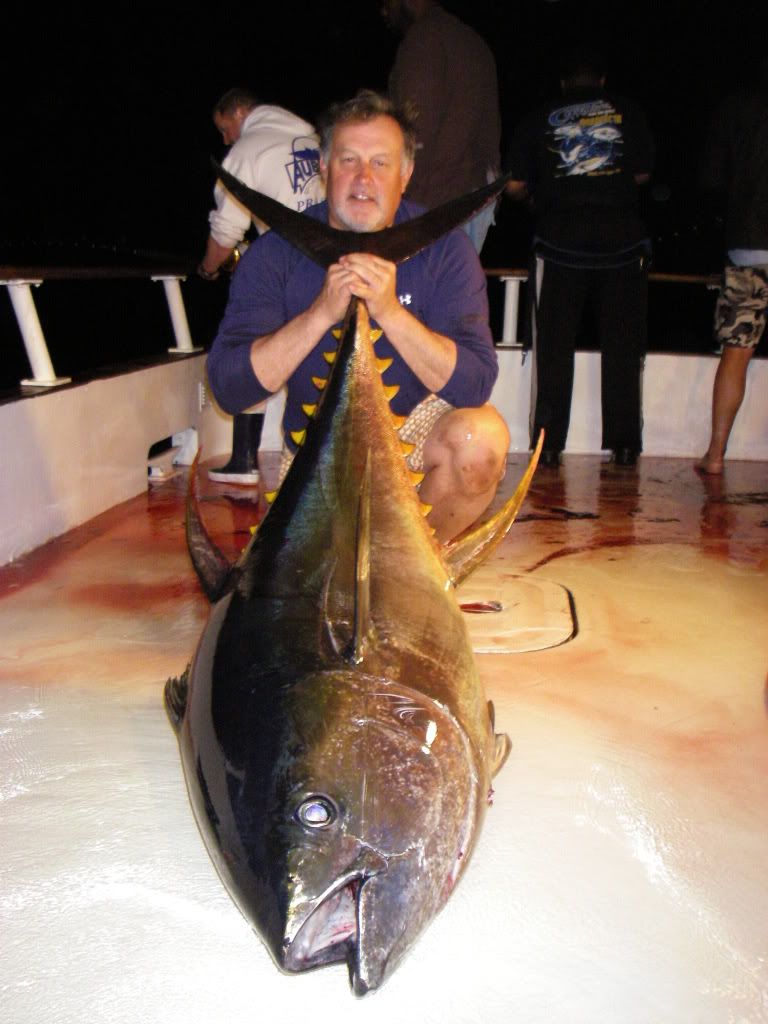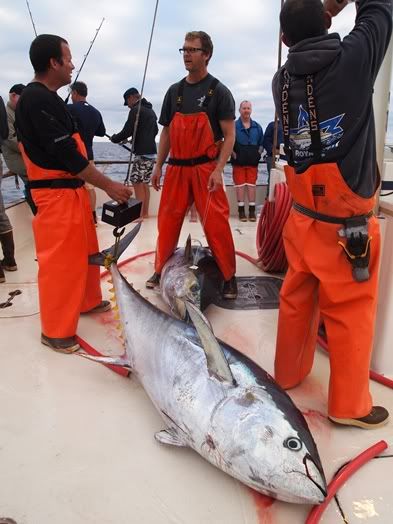 What an incredible trip. The Long Range Standard ofexcellence was met and exceeded on the Royal Star and damn if we got 'em good! Thefellow fishermen and lady were first class to fish with and made daily fishinga smile filled affair. Four other anglers along with me landed our first cowfish and possibly the fish of a lifetime. My previous big fish was a Yellowfin of only 80 pounds. For 15 years, I pursued a fish that would weigh more than me (a150lb goal), and this trip delivered on that with the help of fellow BDer'sadvice. A great many thanks to you all. <o
></o
>
I got 3 tuna over 100lbs: 130lb (est), 140lb (est), 180lb, and3 tuna over 200lbs: 211lbs, 220lbs, 225lbs. Damn fine results for a 1<sup>st</sup>Cow trip.
'TILL THE NEXT CAST!
"Fishing is free in Heaven, spend your money now!" ~ Todd Stephens