Oct 19, 2004
1,066
730
113
Name

Jim Salazar
Boat

18' Welcraft CC, Hobie PA 14 and Hobie Outback
It's not a fish report...but...I wanted to get those guys that don't look at the Chit Chat board...
It's Monday and you have plenty of time to clear your schedule (there's no NFL on TV) to attend the CCA CAL Los Angeles Chapter's first open meeting on Wednesday night at 6:30pm.
The LA Chapter is the first to form in California and we want to show the state and national that we are here to stay and grow. PLEASE COME AND SUPPORT THE CCA CAL L.A.!
The list of participating supporters for the raffle at the L.A. Chapter OPEN meeting on November 11th is looking pretty good...Add some tacos and beer...how can you go wrong on a Wednesday night?
The meeting is open to all, you don't have to be a member to attend or buy raffle tickets...Please bring a friend. Pat Murray the National CCA President will be our guest speaker for the evening.
The meeting will be at the Long Beach Rod and Gun Club at 3333 Pacific in Long Beach CA 90807. The doors open at 5pm and the meeting will begin at 6:30pm.
Please RSVP at
[email protected]
if you can come.
The raffle is looking like some sure winners...If you are a new member joining the CCA at the meeting on Wednesday night you get free raffle tickets!
The raffle tickets will be distributed in this manner...
Everyone who signs in will get 5 free tickets.
A new member who signs up at the meeting gets an additional 25 free tickets for a total of 30 free tickets. No Tickets will be sold!
We will have 3 or 4 special items for a silent auction.
It looks like it's worth going just for the Raffle, the Beer, and the Fishing Friends!
Some of the raffle and silent auction prizes are....
$50 AFTCO gift certs...Diawa Rods and a Diawa Lexa 400...AHI Sabiki rod...Promar Halibut net...Engel Cooler...Izorline...Costa Sunglasses and hats...Fish Dope subscriptions...BD Outdoors shirts and hats...Salt Life visors...Bill Boyce print...Pierpoint Landing Gift Certs...De-Fishing Soap...Cousins Rods...Deep Apparel...Shimano...GLoomis...Power Pro...Gail Force Lobster trip passes...Redondo Beach Kayak rentals passes...Redondo Beach Marina Hoist passes...Redondo Beach Whale Watch passes...Redondo Beach Sportfishing "Indian" passes.
Brandon from Gooch juice has offered up...2 bottles of Gooch juice, 2 paks of Pads, and 2 King of the Crawl T-shirts for the raffle and he'll be there to talk lobster.
Bill Varney donated 2 surf fishing books...Amadeo Bachar donated a print to the raffle...Promar gave me a big Halibut net and a Sabiki Stick. Larry and David from the Indian at Redondo sportfishing donated two passes for the 3/4 day boat. Ryan from the Gail Force gave up 2 passes for the twilight lobster trips.
See You There...
Jim / Saba Slayer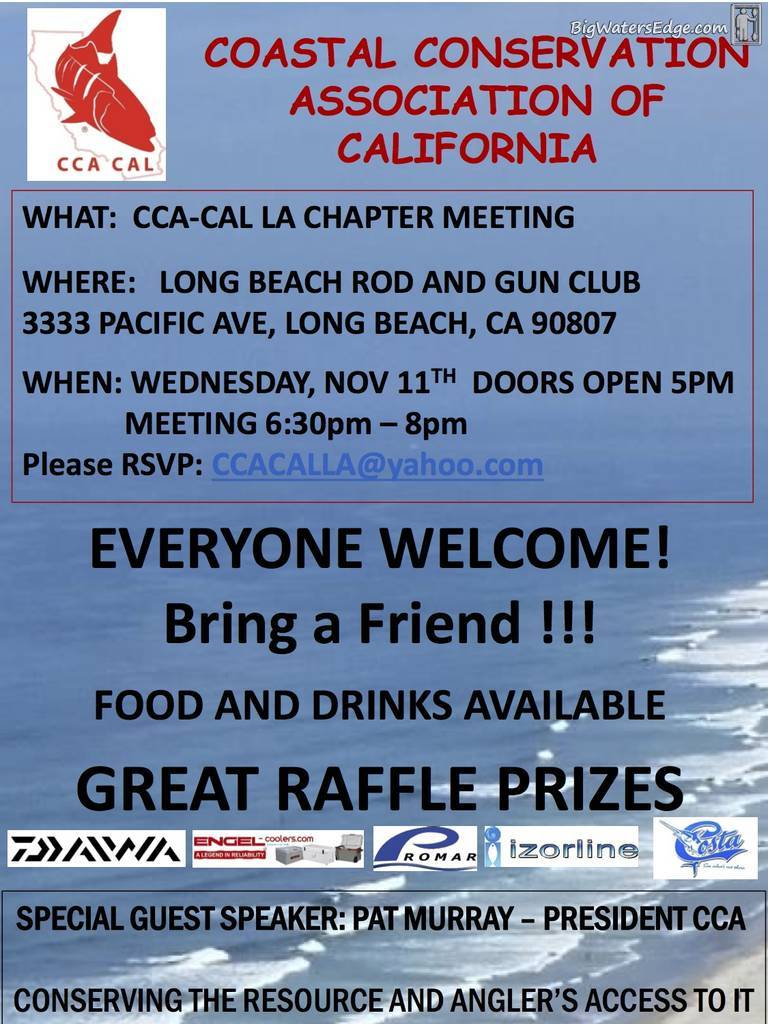 Last edited: