I've posted enough I should edit this section
Mar 17, 2011
1,202
600
Name

Wai Jung
Boat

Seahawk II
Went to Cabo 8/22-8/25 with the family as the end-of-summer finale before the little one started school again.
Stayed at Hotel Solmar which serendipitous-ly ended up being a brisk 5-min walk to the marina where Santi Sportfishing docks.
So, at 5:30AM-ish on 8/23, I took my 40-50lb travel rod and Daiwa 400H and treked down there in my deckboots, long pants, Columbia long-sleeved PFG, Aftco buff, and Costco sunhat. Ended up that I could have waited until 6:00AM--my bad... should've factored in "Mexican time."
Captain Victor outlined the game plan: 1) head over to San Jose Cabo to meet up with his preferred bait guy for sardines then 2) head back 1/2 ways towards CSL and start fishing. Okay. Picked up 4+ scoops of sardines for $30 USD that were the size of the large anchovies we get here in San Diego. That's when I realized that we were going to fish light lines.
When we stopped at the "spot," there where 3 other boats already in position and more coming, so, apparently, it was THE spot for the day for everyone as well.
As the lines went out, I watched Victor pull off line into the water in manner that would make him "that guy" on a SD sportboat; he showed almost no concern when lines were crossed, and that's when I realized that private boat fishing is completely different from SD sportboats. I know no private boaters here in SD and have never chartered a four- or six-pack, so it was all new to me.
After Victor handed me the first hook-up, I then realized we were fishing very light drags as well--so much for my heavier rig.
He was conciliatory enough to set it up later in the morning on 40lb, and it hooked-up to a YFT, a pompano, and a needlefish. Called it a day at around noon when the bait ran out. Good thing, 'cause though my outfit provided me with complete UV protect w/o sunscreen, it was getting a tad too warm. Victor felt that it had been a slow morning but I was satisfied with the results though two had popped off:
3 YFT, 2 Bonita, 1 Pompano, 2 needlefish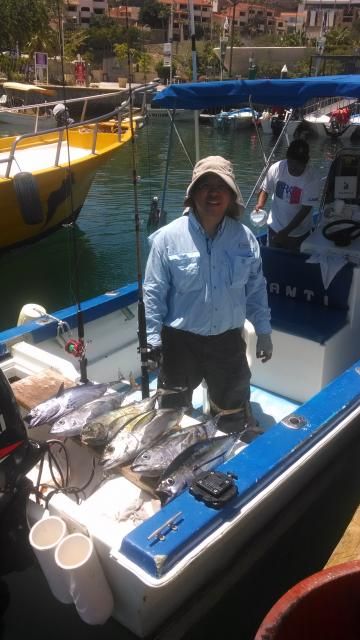 The pompano (my first):
I didn't keep any and just told Victor and Julio (the deckhand), "Por su familia."
How lucky was I to fish on 8/23?...well Hurricane Marie sent enough energy from several hundred miles away towards Cabo to close the port on 8/24 and 8/25. That's how fortunate I was.
Last edited: