May 11, 2011
949
536
93
Name

Gary Graham
Boat

Watercloset
Baja Bytes Weekly Overview
Friday, July 29, 2016
Gary Graham​
Que Pasa
Earlier this week, this estimated over 600-pound blue marlín was landed on the panga
"Rude Girl 2"
spiking the interest in the upcoming event -- the first in the series of three of Bisbee's 2016 tournaments.
Bisbee's East Cape Offshore Tournament kicks off with the late summer/fall big fish event which begins next Tuesday.
Then on Wednesday and continuing Thursday and Friday from 7:00 am to 4:00 pm, teams begin fishing, targeting blue, black and striped marlin, sailfish, spearfish, dolphin and yellowfin tuna, all of which count in different categories.
An awards banquet is then held on Saturday night on the beach in front of Hotel Buena Vista Beach Resort.
As of this morning, Friday the 29th, 44 teams had already signed up for this year's event. This seems to be on-track with last year's 61 teams that entered from East Cape, San Jose/Cabo San Lucas and other Mexican ports, who competed for a half a million dollar in prize money. The usual number of last-minute entries are expected to register between now and Tuesday afternoon and evening.
Coronado Islands
Around Middle Island there was very good yellowtail action on mostly 7- to 10-pound fish. The Gun Site and Genoa both had good action as well. In tight the calico bass action was outstanding with lots of fish in the 6- to 7-pound range.
There was good yellowtail fishing at South Island at Ribbon Kelp, South Kelp along with SKR. Most all of these yellows came in under the 10-pound mark but there was a lot of them.
Guys also caught some 3- to 6-pound bonito scattered all around the Islands and some barracuda mainly from Ribbon Kelp, South Kelp and the Rockpile. …
Fishdope.com
Ensenada
Angel, aboard
"Boricua,"
trolling a pink jet head, captured this dorado estimated to weigh between 35 and 40 pounds on a kelp paddy towards the 238 Bank around 9:00 a.m. The ocean was calm and a little bit overcast. …
Edgar Sanchez, Coral Marine Store
West of Ensenada, yellowfin tuna action is on the rise as a bunch of boat scored five fish -- Mexican limits for all on board. It is kicking out steady; small stops on these 8- to 20-pound yellowfin.
The tuna are coming off spots of dolphin, puddlers, jumpers, sonar marks and random blind jig stops.
Black/purple feathers and Halcos are working good for trolling lures.
There are a few kelp paddys around. About 1/3 of them are holding yellowtail ranging from 4- to 6-pound rats up to big 30-pound slugs. Some have dorado, too.
There are also some open-water dorado running around as there was a double jig stop on them, with a couple more caught on bait…
Fishdope.com
San Quintín
Fishing out of San Quintin with Fishco Pesca Deportiva on the
SeaVee 37 Z
for yellowtail with good friends…
Julio Meza
Bahía de Los Ángeles
It's all about the kids…
As far as fishing, most of our work was done at Animas.. there wasn't much inside around the islands. Bait was kinda tricky, but we always made enough.. and came home with about 15 yellowtail between 20-30-pounds. CRAZY THING happened though. We REALLY wanted to get the first dodo so we would frequently troll some dorado and marlin jigs back from Animas while we clean the fish.
http://www.bdoutdoors.com/forums/threads/bola-7-15-22-front-page-bd-picture.633210/
Traveled down with another couple on Saturday and fished Sunday to Wednesday. Wind was blowing pretty well the first two days and we were really limited on speed due to our hull geometry.
Water was 79 to 81 degrees throughout the week.
Several sailfish sighted, hardly any porpoise around and no dodos or whale sharks were there yet. We did see one baby, 7' whale shark at Animas…
Willdoggy
http://www.bdoutdoors.com/forums/threads/bola-7-17-16-to-7-20-16.632523/
Cedros Island
Can't believe this trip has already finished! It was amazing in every aspect! If you want to experience a very unique and fishing adventure, I couldn't possibly recommend Cedros Adventures enough. There service is second to none! Or better yet, join us on the Let's Talk Hook Up trip next year…
Rick Maxa, "Let's Talk HookUp"
We only wanted to fish for calicos but we did do a little yellowtail fishing and both calicos and yellowtail were just as we had heard -- flat out some of the best bass fishing I have ever seen! My back ground is long range fishing and I have done over 22 long range trips on some of the best boats in the world . So you know the bar is set kinda' high as far as food and accommodations and I must say I was not disappointed at all…
Fred
http://www.bdoutdoors.com/forums/threads/cedros-island-at-coa.632744/
Well the first Let's Talk Hook Up trip was at the Island last week. Guide Ron Lane and three frequent listeners of the radio show had a great time with Cedros Tackle and Cedros Kayak Fishing. There was wide open calico bass fishing on just about whatever you felt like throwing at them. Fish to 6 ½-pounds were caught from the Hobie Outback kayaks. A great time was had by all!
The yellowtail fishing at Punta Norte continued this week with excellent fishing on the dropper loop with live mackerel in 150' of water. Bait is easy to make right now and large schools of anchovy were seen along the lee of the island which enhanced the calico fishing and made for wide open action.
No exotics reported this week. Water is 70 to 72 degrees along the lee and South end of the island…
Jeff Mariani, Cedros Tackle
Bahía Ascensión
Schools of 20- to 30-pound yellowtail are around and a guest hooked but lost a marlin; however, local fishermen have landed a couple. Water temps are rising over 70 now. Good calico fishing, too, and halibut from the pier and beaches so we're off to an early start again this year. …
Shari Bondy
La Bocana
The promise! …
Juanchys Angular
Loreto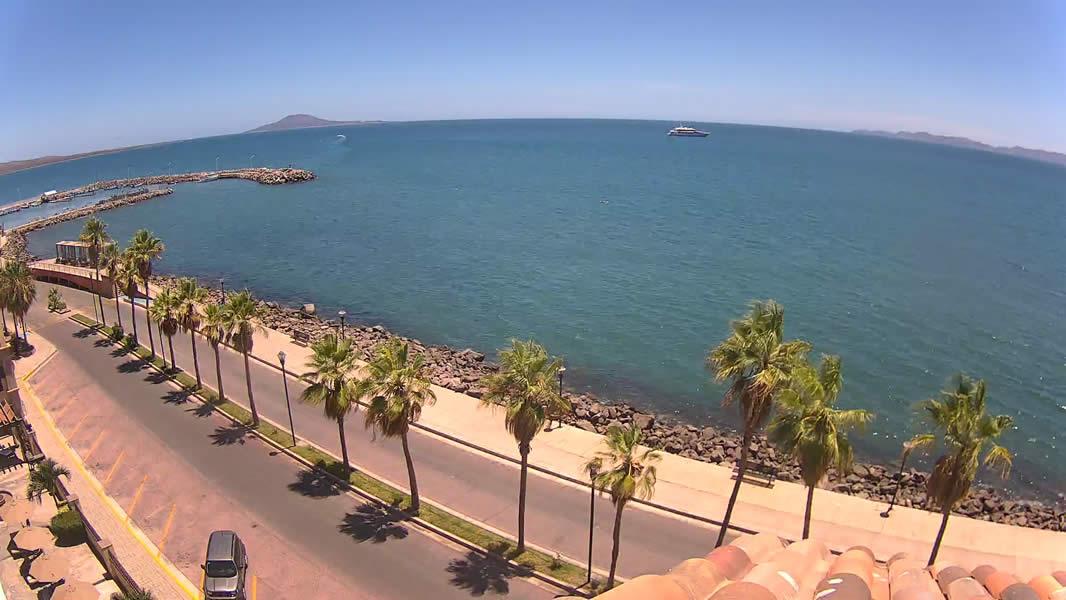 Bottom fish, its meat on the table fish all year long in Loreto.
This week our summer climate has turned into continuous days of hot, humid therapy and to top it off we are getting some spin-off clouds and moisture from tropical storm, "Frank".
Got some drizzle this morning but only enough to wash the dust off the solar panels and put the haze on windshields!
The fishing scene has been holding up with bottom fishing the number one attraction.
A few years ago I was surprised that August was producing a good number of yellowtail. I even suggested it was a continuation of the good yellowtail year we had been having since the previous winter.
This year things are a little more clear.
We have resident fish that are here all year with yellowtail being the favorite catch with the attached bragging rights.
When the summer dorado season misses the Gulf waters the fishing just shifts to the residents; big jacks and the salt water "bass-types".
No hype and no crying- just get some live bait and let's go!
One of our captains, Adrian "Chappa" Quintana on his day off offered me a good example:
Live bait at his favorite "go-to" spot(s) off Carmen's punta Lobo, he and his cousin nailed one large grouper in the 30 pound range, four yellowtail and three amberjacks. They also did some rig repair due to shark interference.
Not bad for a day off and I didn't mention to them that their luck was obviously improved by not having any"clients" along to get in the way!
Roosterfih are still in the mix of big fish possibilities. There are not a lot of other surface action types and everybody has been avoiding the occasional billfish.
Cut up the dead bait for triggerfish- nothing better than triggers to teach and capture the younger generation.
Punta Colorado area has alternating spots with pargo around one point and cabrilla around the next…
Rick Hill, Pinchy Sportfishing
Magdalena Bay
Report pending…
La Paz
Captain Efren is holding a fly caught rooster…Jay Murakoshi
Report pending. …
Jonathan Roldan, Tailhunter International
East Cape
A blue marlin weighing more than 600 pounds was caught in the super panga
Rude Baby 2
with Captain Chuy Wednesday!!
If you are looking to land a roosterfish, then you need to get down to the East Cape right now! I cannot ever recall seeing the roosters in as thick as they are in now. We are seeing some world-class roosters in the 60-to 80-pound range. The fly fishing clients have been in Rooster Heaven with multiple shots at large roosters each day.
Really, other than the absence of the dorado, the fishing is
very
strong. Anglers are enjoying the variety of species they are getting to fish for each day. In a typical day we will see wahoo, tuna, roosters, jacks, cabrilla, blue marlin, striped marlin, sailfish and more…
Van Wormer Resorts
All Rancho Leonero boats released fish -- some as many as 10 in one day mostly off La Ribera and just outside Pulmo. (Read that again: 10 in one day!) Two ranch kayaks released 7 marlin. Taking darker, especially green lures and loving ballyhoo. About 40% of the billfish released have been blues along with a few blacks…
Gary Barnes Webb
http://www.bdoutdoors.com/forums/threads/billfish-swarm-double-digit-releases-for-some.632719/
San José del Cab0
Clean blue water is now within a couple of miles from shore, swift currents have been sweeping through the fishing grounds and water temperatures have ranged from 80 to 85 degrees. In the marina channel area bait vendors have offered mixed quantities of caballito, mullet and moonfish, with a few odd species mixed in, some slabs of squid are starting to be used again as well.
Early in the day boats have been doing okay on yo-yo jigs near the San Luis Bank, some red snapper (huachinango), cabrilla, pargo, bonito and amberjack. Though not many charters were even trying this action for various reason, one of them being late departures due to having to check weather possibilities. Local fleets found their best option within several miles of shore from Cardon to San Luis Bank. Average caches were just handful of fish per boat this past week, highlight of these catches were wahoo, which went back on the bite in the area of La Fortuna, striking mainly on trolled Rapalas, a few on rigged baits. No huge numbers of these wahoo, though some boats caught up to three fish, though anglers were fortunate to land one or two, sizes ranged from 20 to 50-pounds several nice sized ones were in the mix and of course the usual stories of other lost fish.
Offshore action was slow, occasional encounters with striped marlin, sharks and smaller sized dorado. There is more consistent billfish action now being found out of the East Cape, a mix of striped and blue marlin, one blue marlin over 600-pounds was reported, but besides finding marlin their bite has been very limited.
Yellowfin tuna were in the area, though no big numbers, the majority being smaller sized 10 to 35 lb., striking yo-yo jigs and medium sized trolling lures, some also hitting on stripped squid, no consistent action or significant numbers on a day to day basis. Some larger sized yellowfin were reported on the Pacific Banks off of Cabo San Lucas, though again a hit or miss scenario.
Getting late it he season now, though roosterfish and jack crevalle continue to be found patrolling inshore stretches, striking on slow trolled live baits. Roosterfish to 50-pound. were accounted for…
Eric Brictson, Gordo Banks Pangas
Los Cabos
The fish taped out at 208 pounds and by the power invested in me, I declared Holden the newest member of the 200-pound Tuna Club. We also caught a second tuna later in the day while flying the kite, but it was the right short corner that got hit, again with the same Bomboy lure! …
Thomas aboard the Extraction
http://www.bdoutdoors.com/forums/threads/the-newest-member-of-the-200-lb-tuna-club.633119/
This 176-pound yellowfin was caught by Angelo, who came all the way from Australia to see what Cabo fishing was all about. This big guy was landed at the 11:50 spot on a green & yellow lure aboard the 35-foot Pisces
Valerie
. …
Pisces Sportfishing
Cabo Climate: About a 50/50 sunny/cloudy week. Air temps at 90.5 degrees average day time highs, 76 degrees night time lows and an average humidity level at 56.33%.
Sea Conditions: Surface breezes flowing mostly from the east southeast directions at 14.1 mph average. Pacific side, Finger Bank to Cabo Falso, 80 to 83, Falso to San Jose at 84. San Jose to Los Frailes all at 86.
Best Fishing Area: The 1150 was the "hot spot" for the stripers but right out front of Cabo was the area for the blue marlin.
Best Bait/Lure: The billfish, including the blue marlin, were interested in the live baits on the drop-backs, after following the artificials.
Live Bait Supply: A good live bait supply is available for the fleets at the $3.00 per bait rate, paid to the bait vendors.
Last edited: