May 11, 2011
975
567
Name

Gary Graham
Boat Name

Watercloset
Baja Bytes news
A rare daytime swordfish along with huge dorado top Cabo San Lucas and East fishing news. While up at Loreto the
1st annual Robert Ross Fishing Tournament
delivers unexpected quantities of striped marlin and sailfish to top mid-May
Que Pasa
"Thank God all went well today. Good fight by Martha Macnab on a 245-pound swordfish! Very hard work as always from my crew Omar Araiza, Amador Hector, Cortez Ritchie — Well done!" Antonio Araiza
Tijuana Bull Ring
The Imperial Beach and International Reef area have a little bit of bird life with some scattered spots of bonito and possibly yellowtail, but not a ton of activity…
fishdope.com
Coronado Islands / Rockpile
Once again, yellowtail and bonito have been biting okay around the islands and Middle Grounds. Pukey Point has seen some yo-yo iron bites on the meter marks this weekend, and there are also some schools of both species scattered around the Ridge running through the Middle Grounds, off the weather side of South Island and around the Lighthouse.
Keep an eye out for terns to mark the areas where the yellows and bonito are holding. Also watch for meter marks around the deeper drop-off sections around Pukey Point, the Ridge running along the Middle Grounds, and outside the Lighthouse at the tip of South Island. When you're in a good area, you can troll rapalas, fly line or slow-troll sardines on 25- to 30-pound gear, or you can throw surface iron, especially where you see terns hovering and dipping over fish. Wind is just fast enough that the jig "kicks" side-to-side without rolling over or spinning…
fishdope.com
425 / 371 / 230 / Upper Hidden Bank / 390 / San Salvador Knoll
There's better bluefin fishing above and inside the Upper Hidden Bank and in toward the 475 Knuckle on the incoming tide, with several boats again getting on good schools that responded to chum and bit the fly-lined sardines well. This weekend has seen big spots of meter marks, breezers, and even a few foamers of bluefin on tiny anchovy throughout this area. This weekend the majority of the tuna are those nice 50- to 80-pound grade, with a few more models over 100-pounds showing and biting along with an occasional spot of smaller 30- to 40-pound tuna.
Bite times have generally been on the incoming-to-slack high tide, which is a couple of hours after sunrise and sunset this weekend. Fly lined sardines on 40- to 50# fluorocarbon with a small #1 or 1/0 circle hook have been working best. There have also been a few bluefin taken before dawn and late in the day on glow-in-the-dark Flat Fall jigs on 100-pound gear on meter marks from 30- to 250-feet down. Finally, you can also fly a double/trouble rig (swivel to two circle hooks on 2- to 3-foot leaders, each with a sardine or mackerel hooked through the back) under a kite while drifting. It's a great way to use heavier 80- to 100-pound gear to stand a better chance at not losing these nice-grade tuna since the kite keeps your line up out of the water where line-shy bluefin can't see it.
There have also been a few kelp holding yellowtail scattered through the offshore grounds. Most of these yellowtail are those 3- to 5-pound rats, but there are some legit 8- to 15-pounders in the mix if you find the right kelp. They'll eat fly lined sardines on 25-40# test no problem.…
fishdope.com
Ensenada
Mixed bag of barracuda, yellowtail, bonito, rockfish…
Mara's Sportfishing Ensenada

San Quintin
Fish/Surf Combo Trip with the Weinsteins. Scotty & friends.
Got out early during the fat morning tide and headed out to the high-spots for some yellowtail.
Yellows we're chewing, but so were sea lions, we hooked up 3 in a row and the dogs got em all….
We did get some great waves though…
Kelly Catian
Bahia de Los Angeles
Talked to the captain who says to be ready to leave by 5:30 am.
We get up and get on the water by 5:45 am and start making bait. It took about 20 minutes.
Then off we went on an hour and 20 minute drive. He took us to a reef in 100-feet of water and stopped — then he says this is it! We cast out, and my friend hooks up on the first cast. After that, we kept catching fish all day in the same spot. We caught 14 total the first day! Two guys in the back fished bait, and two of us threw iron…
https://www.bdoutdoors.com/forums/threads/bahia-de-los-angels.716288/
Gonzaga Bay
I made a quick trip to Bahia Gonzaga for some kayak fishing. As usual in that area, I had to carefully pick my time on the water due to the high winds that seem to appear and disappear within a few minutes of each other.
I was able to get in an evening session on Wednesday. Thursday was a bust due to the wind. Flat calm conditions on Friday and Saturday mornings. The wind was predicted to blow hard for a few days starting on Sunday, so I packed up and headed home.
I had pretty good fishing on this trip; I was able to land some very nice grouper of two varieties, some nice cabrilla and a couple of yellowtail.
Other species on the list include sierra, spotted bay bass, bonito, barracuda, triggerfish, pargo, needlefish, totoaba, lizardfish, and rose snappers and I'm probably missing a few.
I changed tactics a bit on this trip. There is a reef in the Bahia that I call Iceman's Reef because "The Iceman," Andrew Allen, originally turned me on to it years ago. The reef is jagged rocks with a lot of destroyed commercial fishing gear littering the bottom. I don't want to count the number of big fish and fishing lures I have lost on that reef. This time, I only brought big jigs and Krocodiles, plus my heavy gear – 40- and 50# line. My drag was cranked so tight that I could barely pull line off by hand. The plan worked quite well, but I was still absolutely freight-trained by four other fish. Even the couple of fish I landed in the 20- to 25-pound range, I could not believe how hard they pulled!
A couple of photos of some of the fish I caught. I tried to get photos of the two largest grouper, but I tried to get them to pose draped over my ankles on the kayak, and both got rambunctious and flopped back into the water — bloodying my calves and shins with their fins.
The one huge grouper photo (actually, I think it is a black sea bass) was taken at La Poma. Part of the Robert Moore posse went out on a panga on Saturday and came back with that guy. The captain baited him up with a four-pound bonito and hooked him three times before landing him…
Ross Zoeroff
Loreto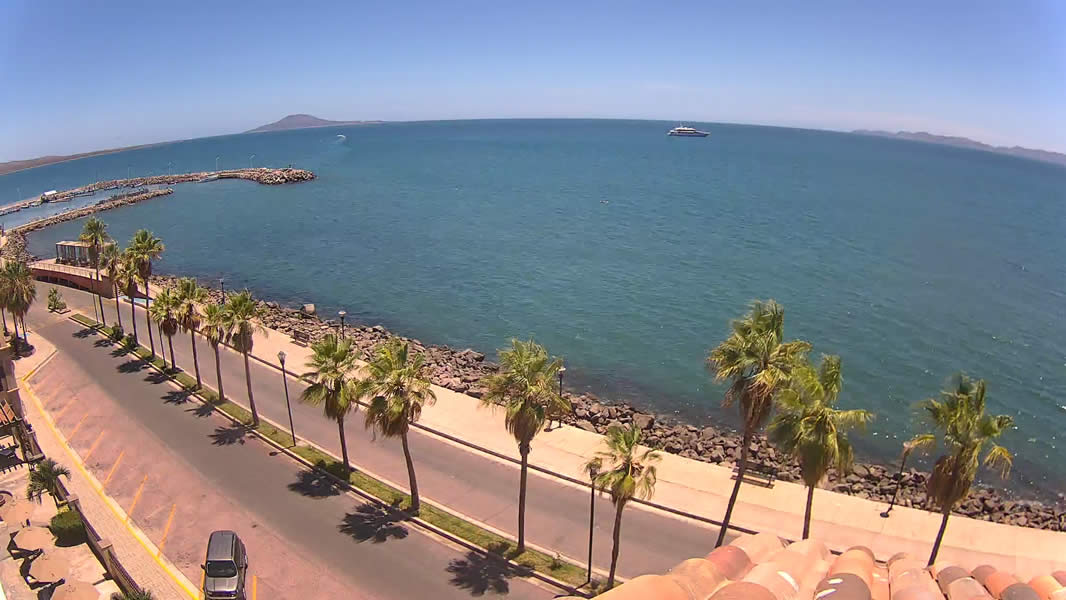 Robert Ross Fishing Tournament — the Birth of a Tradition
Tournament namesake, Robert Ross greats the many dignitaries that attended the premier event.
The 25 teams in the
Robert Ross Fishing Tournament
found even better weather on Sunday morning, May 20 than the first day, as once again they sped past the official start boat at 7-am sharp.
Throughout the morning and into the afternoon, rumors of not only large but also plenty of fish ricocheted around the weigh-station until almost 4-pm when the first team "Bad Influence" arrived at the scale with both a qualifying dorado and a qualifying yellowtail.
Once again, over half of the teams had returned to the scale with qualifying fish or videos of multiple releases of marlin.
• Grand Prize for Marlin and Sailfish Catch and Release went to "
Tag Team
" – John Sercu for a total of 16 marlin and 6 sailfish in the two days which earned the team $11,200 plus a
Suzuki outboard motor
.
• Dorado Overall First Place was taken by "
Voladores
" – Angler C.P. Dewitt caught a 30.5-pound dorado the second day earning $5,625.
• Yellowtail Overall First Place went to "Canuks" with a 29.7-pound yellowtail earning $5,625. (They also won the $4,000 yellowtail jackpot on the first day plus $4,500 pot the second day) …for a total of $14,125.
John Sercu observed, "
Marina Puerto Escondido
is fantastic! The offshore fishing for billfish this weekend reminded us of Magdalena Bay. It was awesome, and we will be back in August for the
Dos Mares Finale
!
Jeff Hill, who spends three months in British Columbia and nine months in Loreto added that the Tournament Coordinators had done a fantastic job organizing the event and that he would be back next year!
C.P. Dewitt, Phoenix, Arizona, was delighted with his personal-best dorado that came along just at the right time. His team was also far offshore and caught the largest dorado among the many groups of billfish they spotted.
Enrique Salcedo, General Manager, thanked all the participants and congratulated the winners. He recognized the local and visiting dignitaries, and he promised that the 2020 Second Annual Robert Ross Fishing Tournament would continue to keep "fun" as the event's foundation next year.
La Paz
MEXICAN MINUTE LA PAZ FISHING REPORT from Tailhunter Sportfishing for Week of May 12-19, 2019
East Cape
Gone are the winds from the north and the East Cape has settled into to summer conditions. Weather is fantastic right now with highs in the low to mid-80s with flat seas.
Fishing this week was on fire and with that, the East Cape season is on!
Fish Scorpion & El Regalo
https://www.bdoutdoors.com/forums/threads/scorpion-sportfishing-east-cape-report-may-19-2019.716622/
Reporting from the "Miss Corona": This is a good-size dorado!! Good job Chuy and Pedro…Anibal Miranda,
Van Wormer Resorts
Puerto Los Cabos
Bait netters had to work extra hard to obtain what they could — a mix of moonfish, caballito and a few species of sardina. On the fishing grounds, namely Gordo Banks, anglers were able to jig up some other chihuil baitfish, but this proved scarcer by the day as water warmed up quickly. Using mullet now is prohibited, but this season should open in the coming weeks.
Main fishing grounds have been from Palmilla, Red Hill, Gordo Banks, San Luis and as far north as Vinorama. The Gordo Banks is the location where yellowtail, averaging 25- to 35-pounds, are being found striking on larger live bait near the bottom. As the week progressed, this bite came to a standstill. Large numbers of various shark species were also moving in on these same grounds and seemed to spook the gamefish.
Sea lions were a pesky problem as well, especially on the grounds to the north; these aggressive mammals wrecked the good action for red snapper and bonito. Other bottom action included cabrilla, leopard grouper, pargo, and Almaco jack.
On Thursday, there was a very impressive, 96-pound amberjack landed from a panga. More numbers of bonito than anything else and most of these were striking on yo-yo style jigs, weighing 5 to 10-pounds.
In recent days the striped marlin became much more active on these same grounds, and a bit farther offshore there were stripers, most of which were striking various bait. The average weights were 70- to 100-pounds although one monster striper around 180-pounds was landed on Friday. Many people thought it was a blue marlin because of its size. One wahoo weighing about 25-pounds was also landed Friday, although few dorado or yellowfin tuna were caught. To the north, off Cabo Pulmo, they have been finding tuna, so we expect these fish will also move south into our range before too long.
Off the San Jose del Cabo Hotel zone, anglers were finding better action for roosterfish in the 15- to 25-range; we look for this action to peak in the six weeks or so. Please remember that these gamefish should always be released.
Not as many sierra are being seen now, no large schools of sardina to attract them and as the water temperature increases, these fish usually migrate out of this region…Eric Brictson, Gordo Banks Pangas
Cabo San Lucas
Numbers at a glance: Billfish 42%, tuna 12%, other species 29%.
This week, the weather has remained stable with only one or two days of strong winds which didn't seem to affect fishing. The inshore action picked up quite a bit, with roosterfish, sierra and jack crevalle being the main targets.
Top boats caught and released up to 13 roosterfish in one day.
Marlin catch and release percentages also remained constant, although several boats did spot many marlin but struggled to get them to bite. With that said, the top boat released five stripers.
We've been closing out the week with great wahoo catches – one weighed an estimated 60 pounds.
Inshore fishing was solid with some nice catches of large sierra along Migrino. Roosterfish showed up again in the surf from Solmar to the Lighthouse and off Palmilla. Yellowtails in the 15- to 30-pound range were hitting on live bait off Migrino. Some very nice catches of red snapper and grouper were also reported close to the rocks around El Arco.
LOCATION: 1150 Spot, Cabrillo Mount, Punta Gorda through to Destiladeras. Inshore fishing mostly on the Pacific: Pedregal up to La Bomba.
BEST LURES: Caballito Bait (live and slow trolled), cedar plugs, feathers, hoochies, green/white, green lures.
WEATHER CONDITIONS: Mostly sunny, intermittent winds on two days of up to 15 knots. Other days much calmer, with seas of one to two feet.
AVERAGE WATER TEMP: Temperatures varied from the Pacific to the East Cape side, with the Pacific about five to seven degrees cooler.
Mainland Mexico
San Carlos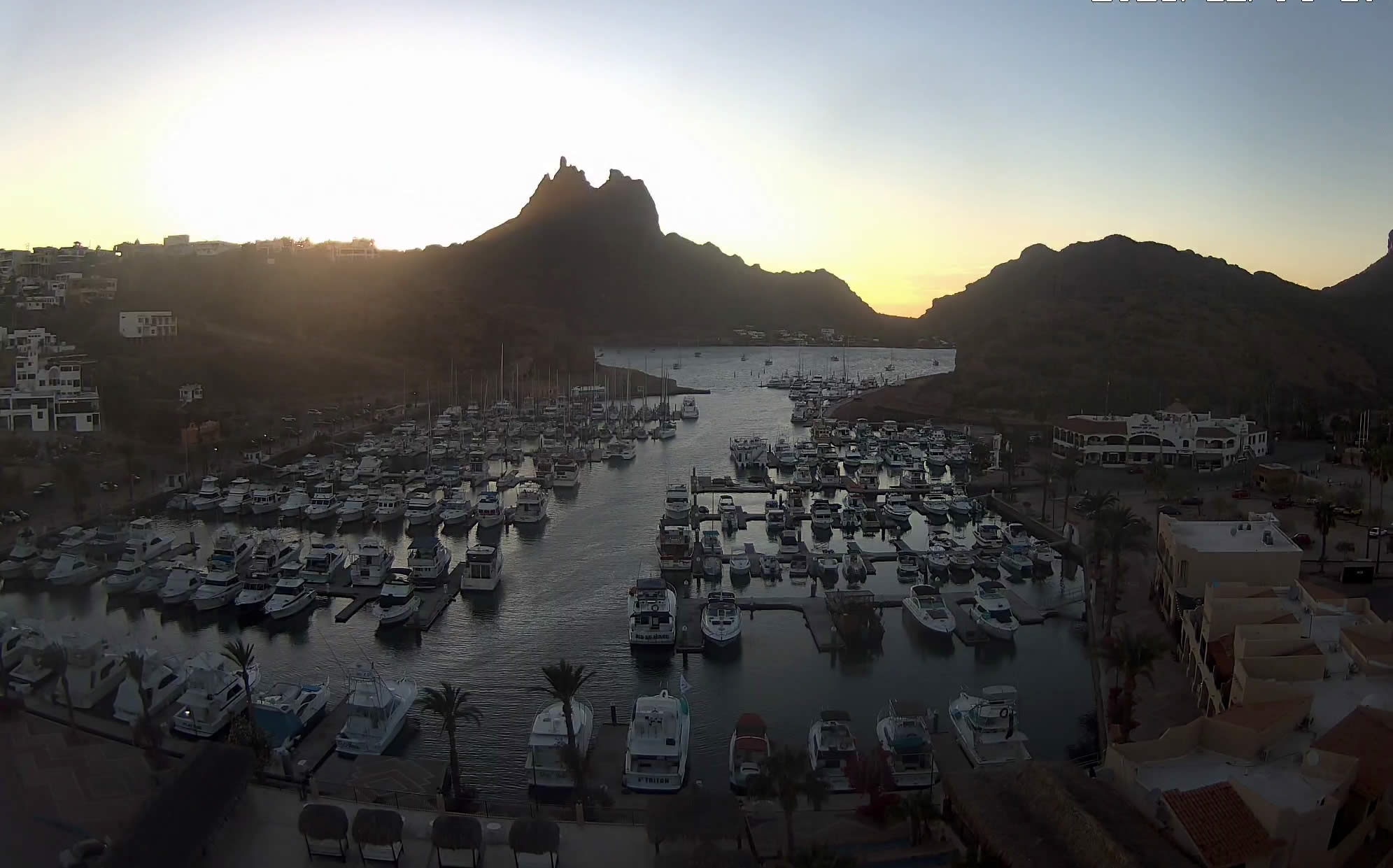 Mazatlán
The offshore boats reported a mix of striped marlin, sailfish and yellowfin tuna. The inshore boats had another solid week and reported good action on snappers, sea bass, red grouper, and triggerfish.
Mazatlán Climate: The forecast through the end of May is for mostly sunny skies with breezes lowering to a modest 9- to 12-mph range primarily out of the West trending toward the SW toward the end of May.
Sea Conditions: The water has been warming a bit and is now in the 74- to 75-degree range. On longer runs out to 25 miles and beyond, they are finding 76-degree water and the yellowfin tuna. The outlook is for relatively calm seas in the mornings with some afternoon swells and chop with winds picking up in the afternoons in the 9-to 12-mph range.
Best Fishing Area: The offshore bite for billfish is starting about 12- to 15-miles out with best results to the west and southwest of the Marina El Cid. Inshore, the Super Pangas are finding success all along the coast, especially around the rocks. The water is clear from the shore out to the offshore breaks.
Best Bait & Lures: Freshly caught rigged trolling bait, and smoke trail lures produced best results for billfish. The tuna are being caught on feathers and cedar plugs.
Bait Supply: Freshly caught bait are readily available from the bait boats
Ixtapa-Zihuatanejo
Following the big International Sailfish Tournament, things settled down quickly in Zihuatanejo with lots of striped marlin, but very few fishermen were around to take advantage of the abundance of billfish!
The independent fleet reported sparse action on the plentiful small striped marlin with most boats raising two to four marlin or sailfish fish per day. Some larger blue marlin showed up well offshore. The yellowfin were again found way out at the 30- to 40-mile mark for those willing to go the extra distance in the larger boats. Overall fishermen activity was slow as few anglers showed at the docks to take advantage of the plentiful billfish action.
Yellowfin were again found 30- to 40-miles out well past the 1000-Fathom mark with quality fish in the 50- to 75-pound range. Striped marlin were the prime target, surpassing the historic Zihuatanejo Sailfish bite. Inshore the chulas (false albacore) were the most productive bite.
IZ Climate: The outlook is for even warmer temps and mostly sunny and partly cloudy skies. Daily temps are predicted in the mid to upper 80s and nighttime temps in the low to mid-70s with humidity expected to run in the upper 70s through late May. The winds are expected to be mild in the 9- to 12-mph range primarily from the West and SW.
Sea Conditions: The spring offshore water temperature has stabilized and is now warming in the 83- to 84-degree range from the 100-Fathom line at the 5- to 6-mile mark out to the 1,000-Fathom line at 30- to 32-miles and beyond. The offshore clear blue water has recently moved as close as 5- to 6-miles out with some very deep blue water now out beyond the 1000-Fathom mark at 32- to 50-miles. Inshore, the water was in the 80- to 81- degree range and a bit green.
Best Baits & Lures: Rigged trolling bait and smoke trail lures continue to produce for billfish and dorado with most boats preferring a mix of rigged bait for billfish and smaller lures and feathers for the dorado. Inshore, topwater poppers are the favorite for the roosterfish, bonito, and jack. Cedar plugs and feathers are working best on the yellowfin when found.
Bait Supply: The bait supply remains good and freshly caught bait are provided gratis with most charters. Live bait are readily available at this time and are $5.00/dozen paid directly to the bait vendors.
Costa Rica
FAMILY ADVENTURE SPECIAL 2019
The spirit of Costa Rica and the magic of the Osa Peninsula will enlighten your family, and the oasis at Crocodile Bay Resort will bring your whole family together to create memories that will last a lifetime.
https://newsletter.bdoutdoors.com/l...s5doZpMhdSKw76324Vzqqg/2bngPuyAzrRJGrIBjY0Vlg
Guatemala
The bite is on and it's time to fish for adventure. Join Captain Rick Murphy, Brie Gabrielle, and Dave Ferrell along with our 9 regional captains for weekly fishing reports.
click here
Last Minute Openings — call NOW to reserve:
(305) 854-4665 /
[email protected]