May 11, 2011
975
566
Name

Gary Graham
Boat

Watercloset
Baja Bytes Weekly Overview 07/24/17
Monday, July 24, 2017
Gary Graham​

Que Pasa
There have been reports from
Magdalena Bay
of an early showing of striped marlin as well as the following observations from Captain Steve Lassley after his recent trip from
Cabo San Lucas:
"Never before in my lifetime have I seen the abundance of anchovies as I saw on my trip up the line … for over 400 miles we were in them. Sometimes we would go awhile and not see them, but the bulk of the trip they were solid!"
Add to that the fact that the first striped marlin was caught out of Ensenada this week on the 295. It's certainly encouraging news as August approaches…
Baja Norte
Coronado Islands
Fishing at the Islands and the below at the
Rockpile
has been fair. At the Rockpile there is good action on mixed yellowtail, barracuda and bonito. Best bet is to anchor up and keep a steady chum-line of anchovy/sardine.
In the lee of
South Island
down to the
Lighthouse
and the
South Kelp
is a good area, as is the
Middle Ground
s and the weather side of South Island.
The water is streaky … you'll do best if you can locate a clean water band.
At the Middle Grounds those doing best were setting-up on meter marks resulting in slow pick on the fly-lined sardines; most had limits by noon. The iron wasn't working…
Fishdope.com
Offshore Ensenada to the Upper 500
Above the
238
: Very good kelp paddy and the yellowtail and dorado action continues. There are of course a bunch of those small yellowtail that are normally found on kelp but there is also quite a few bigger ones mixed in. They are 10- to 15-pounders and some kelps have a bunch of the 20- to 30-pounders as well.
The dorado are nice fish, too. No dinks. Just 8- to 15-pounds. Some kelp have a lot of them. Some just a few, but most of them have at least a few dorado on them.
There are also some bonito around. If you find them they will all be big ones in the 8- to 12-pound class.
Best of all this stuff is biting…
Fishdope.com
1140 Finger/Lower 500
Some better numbers of yellowfin and dorado are beginning to filter in. Hopefully this stuff will slide up the line. These yellowfin are running from 10 to 25 pounds.
The yellowfin are on dolphin as well as out in open water and coming on blind jig stops.
Some of the jig stops are turning up 2 to 10 bait fish as well. Kelp paddy yellowtail and dorado fishing is good just like areas up to the north
…Fishdope.com
Ensenada
Fished yesterday with my girlfriend, Teresa, and fishing in Bahia
Todos Santos
is picking up. Yesterday was especially good for big sand bass, bonito and reds. Plastics, iron, mega baits and live sardines did the trick.
The offshore scene took off the last couple of days as well with lots of nice yellowtail and a few dorado being brought back to the docks. It's time to go fishing…
It's 4 Reels Sportfishing
This weekend, coming back from the 295 Spot, a local boat caught yellowtail, dorado and a striped marlin…
Coral Marine Store
San Quintin
We mostly fished the bottom down by Socorro in 70- to 80-feet of water. The bottom fishing was excellent and my grandsons were stoked. We tried trolling at the mouth of the bay for white sea bass for a couple of hours. Nada! Later we heard that Kelly caught 4 tankers in the same spot earlier in the day. There were a few caught on Sunday, also. Not too many fishermen going out…
Bob Baker

https://www.bdoutdoors.com/forums/threads/san-quintin.662034/
Things are heating up in San Quintin! With water temps up…the fin bait is thick! Great fishing for white sand bass and yellowtail … 80% of the fish are on iron, up top; few on the slow troll near highspots. Halibut has been very good and the calico fishing is as good as it gets! We have boats available now….
Captain Kelly Catian
Cedros Island
PENDING
Bahía de Los Ángeles
The first day we made bait in front of the public ramp which is very nice … $5.00 dollars to launch. The next two days the bait had moved just south of the white and red barber pole. It took about 30 minutes to fill the tank. We fished 3 days; the first two days was south of El Piojo where there were about 20 boats fishing for yellowtail.
The fish were 12 to 18 pounds and limits were easy. Bait and blue and white Salas JR were hot! The third day we went south of La Giardia and fished a high point about 3 miles south. We were the only boat out there and just about every bait or cast caught a fish. The fish were 15- to 20-pounds.
https://www.bdoutdoors.com/forums/threads/la-bay-report-july-15-to-17-2017-and-road-problems.661906/
Winners of the 3rd leg of the
La Pesca Baja Championship
, which took place in Bahia de Los Angeles BC, on July 21 & 22, 2017
www.pescalabaja.com

Loreto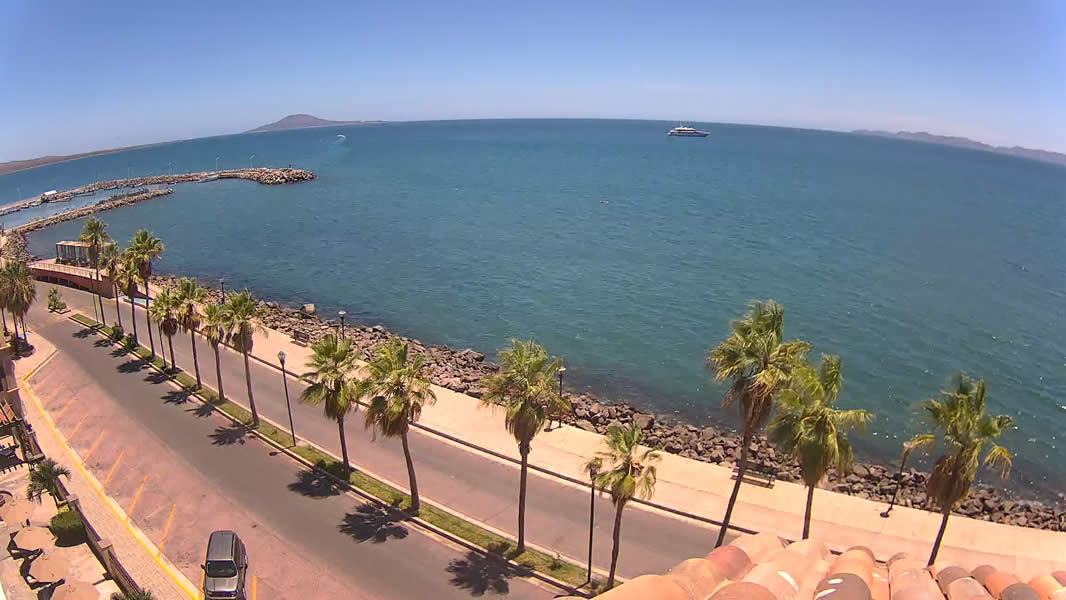 It's been a very unexciting week for fishing in Loreto. Dorado are here and many days that's all you want to catch. The only thing is that all the big fish seem to be down in Cabo and all the shorts are up in Loreto, filling up on 5- inch flying fish and sardina.
Panfish days in Loreto is the story for this July's action.
We had to take some extreme measures to get summer vacation school kids interested in the ocean and fishing.
It's too early to tell if our
"Pargo Puppet Show"
will have any lasting effect but it did get the kids talking. There was no music or theme song to accompany the performance which may have hurt the event. Good thing my Spanish isn't that good or I might have heard something about "all adults are crazy" being tossed around!
Surface water temps are as high as 86 degrees in many spots with the few sargasso patches holding mostly baitfish and turtles.
Our scuba divers report many schooling grouper, "a wall of 25-pound fish including golden grouper" at
Coronado's "Lagrimas"
.
It's only the end of July so don't call it quits just yet. The biggest dorado we caught last season was in October…
Rick Hill, Pinchy Sportfishing
We arrived in Loreto, expecting to be able to do a charter through the hotel we were staying with but their boats were being repaired. Long story short, due to unexpected circumstances we were put in contact with
Outpost Charters
. We only booked for the next morning at around 7:00 p.m. the night before, but this was no problem for them.
Captain Froy arrived to collect us the next morning. We had booked the super panga and we honestly couldn't have been happier. There was ample space for all five of us. We went out with them for 3 days. Each day we had delicious burritos and sandwiches.
At the end of each day we felt that it couldn't get any better but it did. Within 30 minutes of our first trip we had landed our first dorado. The Captain took us to all his favorite spots and we were not disappointed. He was wonderful and so patient with all of us. The snorkeling was absolutely out of this world….
Jade Heyes
Magdalena Bay
PENDING…Bob Hoyt
La Paz
Mexican Minute La Paz Weekly Video Fishing Report for July 16-23, 2017 Tailhunter Sportfishing
…Jonathan Roldan, Tailhunter International
It happened! We got a Baja milkfish on a cast fly! Dr. Ben Wilson pulls it off. This is the first targeted milkfish I know of in our area. It would be wonderful to find a key that worked at least sometimes. They are almost always here in big numbers…
Gary Bulla's Flyfishing Adventures
Congratulations to Baja Pirates of La Paz.
After a 4 hour and 50 minute battle John Coulson hooked and brought to the boat this 410# Tuna. It took several captains and John to bring the brute onboard. This catch is believed to be the largest tuna ever caught in the La Paz area. John is shown with his sons and Captain Ivan.
East Cape
Lost in the marlin and dorado frenzy of last week was a good tuna bite. Tuna in the 30 – to 50-pound class were found to the south using chunked squid and sardines. Tuna were also found just a few miles offshore trolling Rapalas, cedar plugs and hoochies. There were also a good number of tuna caught offshore on the porpoise schools using the same lures. …
Fish Scorpion & El Regalo, Matt Clifton
Quality fish hitting the deck in the East Cape. …
Van Wormer Resorts.
Everything from dorado to blue marlin to wahoo were within 15 miles of the hotel. The lighthouse was just plain deadly with VW Beetle-sized roosters cruising the beach. The northern end and outside Pulmo Park boundaries were highly productive. …
John Ireland
https://www.bdoutdoors.com/forums/t...in-and-wahoo-within-15-miles-of-ranch.662096/
Return resort guest Casie Cory, visiting from the
San Diego
area, enjoyed three days aboard
Alegria, Tres Hermanos
and
Liliana
landing more than a dozen tuna along with red snapper and a grouper.
Although it was a slow week for us, as far as the number of fishing boats going out, skippers who were out were encouraged by all the life they spotted; including schools of dolphins, rays, different kinds of sharks as well as blue marlin, a few blacks along with some striped marlin. Good news for Bisbee's East Cape fishing gang arriving August 1-5, we will be hosting…
Axel Valdez
https://www.bdoutdoors.com/forums/threads/hotel-buenavista-east-cape-fish-report.661943/

Puerto Los Cabos
Action was spread out now. Largest fish we heard of was early in the week, a 428-pound black marlin which was hooked into while trolling a lure around the Gordo Banks; other highlight was a 100-pound class yellowfin tuna landed on Thursday.
Most common catches were for a smaller grade of 10- to 20-pound yellowfin. These fish were scattered throughout the inshore region, striking on trolled hoochies and smaller Rapalas. This action started out strong early in the week and was more spread out by the weekend. These schooling tuna were not associated with porpoise, just found in open water, along the inshore drop off.
Inshore there was decent action for roosterfish, hot spot perhaps off of the San Jose Hotel zone, fish to over40-pounds were landed, also many juveniles were mixed in.
The action off the bottom was up and down, one day good, next day slim … mainly targeting red snapper (huachinango), in the 4- to 12-pound range, found near San Luis Bank and hooked up with yo-yo style jigs. Only a few amberjack were found. No dogtooth snapper to speak of either, only a couple of small ones.
Bait supplies consisted of mullet and caballito. Some anglers are starting to try their luck with strips of squid, but so far nothing has been consistent with that, need a larger grade of yellowfin to move in. It is the time of year we do regularly see the quality grade tuna move in.
Some limited wahoo activity was reported this week; more strikes missed and lures cut off than fish caught. This happened while trolling for the tuna, though a couple of wahoo up to 25 pounds were landed … first of these we have seen in a while with inshore waters cleaning back up, blue water is what wahoo prefer. If water temperatures become too much warmer these fish often become more sluggish.
We heard of one 45 –pound snook landed off the beach in the evening —
these world class fish are in the area, though you have to put in some serious effort and be fortunate enough to land one!…
Eric Brictson, Gordo Banks Pangas
Cabo San Lucas
52-pound dorado landed aboard the Pisces Ruthless.
The local fleet found a close-in area of the Cabo Falso drop-off providing numerous anglers with blind jig strikes for yellowfin tuna in the 20- to 30-pound class and in most cases, in double and triple blind jig strikes.
Billfish action remains slow with only a billfish a day being released. Reportedly one boat had an estimated 500-pounder on for several hours before it got away..
The yellowfin tuna presence is an enormous help for attracting the bigger blue marlin and is providing very good action for most of the anglers throughout the area. The fishing is really starting to pick up and the yellowfin tuna action has been a real boon.
Cabo Climate: Daytime temps averaged 85.4 degrees and nights at 77.8. The humidity ratio averaged 76.2%. In general, it was a partly cloudy week with good periods of warm sunshine.
Sea Conditions:
The Finger Bank
, southerly to
Cabo Falso
, is all at 76-78 degrees. Cabo Falso and out to the 95 Fathom Spot, northerly across the 1150 Fathom Spot and on up to Los Frailes, is all at 82-84 degrees. Sea surface breezes flowing in from the westerly directions at an average of 13 mph with much calmer and nicer conditions on the Sea of Cortez side of the peninsula.
Best Fishing Area: The yellowfin tuna bite has been just outside the Cabo Falso Drop-Off, about a mile or so; the fish are providing blind jig strikes and are not running with porpoise. A couple of marlin taken in a few areas with a fish here and a fish there, with the better bite at the
Herradura
, followed by Cabo Falso
.
Best Bait-Lure: Feathers and cedar plugs were working well for the tuna and rigged trolling baits were the answer for the stripers.
Live Bait Supply: There has been plenty of live bait available but the billfish have not been overly willing to bite on the live caballito, albeit, we still recommend taking 10 live bait per trip…
Larry Edwards