May 11, 2011
975
566
Name

Gary Graham
Boat

Watercloset
May 14, 2019 by
That Baja Guy-Gary Graham
Baja Bytes Fishing … Tuesday, May 14, 3019
Prospects of bluefin continue to dominate Northern Baja as the yellowtail bite gains momentum close to shore. For the first time this year, San Felipe has reported in along with Bahia de Los Angeles.
A new tournament in Loreto debuted, and roosterfish have continued to dazzle at Muertos and East Cape. While offshore anglers impatiently wait, hoping that sea temps will continue to increase and that the tuna and billfish bite will pick up.
Que Pasa
The first annual Robert Ross Tournament begins with registration at Marina Puerto Escondido on Friday, May 17. Registration has been brisk, as many sport fishers are coming from afar looking for some early season tournament.
With a full array of species — yellowfin tuna, yellowtail, and billfish around — it will be interesting to see how the teams choose which species to target. Recent reports place the mossback yellows nearly two hours north!
Will the fleet take the bait and head there? Or will some swing for the fence and head out toward the trench in hopes of a huge billfish or yellowfin tuna?
Stay tuned. I'm flying down Thursday and will be posting updates beginning with registration on Friday afternoon.
https://www.robertrossfishingtournament.com/rules.php
Tijuana Bull Ring
Early morning and the mid- to late-afternoon hours are when anglers continue to see some nice calicos on the outer edge of the kelp, along with sand bass up toward the Pipe, and a few halibut in the Flats toward South Island.
Coronado Islands / Rockpile
Good yellowtail in the 10- to 20-pound class for both private boats and sport boats.
The yellowtail are being found along the weather side of North Island, the Gun Site area, on bird schools inside South Island from Ribbon kelp to the Flats, and also down in the SKR area.
The Ridge running through the Middle Grounds is also very likely worth a good look as well.
Slow-trolling sardines and mackerel, while scanning for birds, has been effective but on some days the greedy sea lions make it all but impossible. If this happens, switch over to Rapalas. The sea lions won't bother those. Troll them on 40# and pull hard to get the "dogs" from getting your yellow or big bonito as those are still around also…
fishdope.com
425 / 371 / 230 / Upper Hidden Bank / 390 / San Salvador Knoll
The few boats that were out started calling in with bluefin around 10 am.
The "Tomahawk" reported in with eight bluefin in the 30#- to 50# class as of 10 am with five more still hooked up. At noon they were up to 14 on board with more still hanging.
Right after that, we got word from the "Tribute" that they had 15 bluefin onboard, weighing from 25- to 60-pounds, and they still had several tuna hanging. Then at 2:45 pm the "Tribute," who reported in with full limits of bluefin, said they were switching gears to look for some kelp-paddy yellowtail.
The "San Diego" called in at 1:30 pm with over 20 bluefin in the 50- to 70-pound class with another six still hanging
The bulk of the bluefin are being found in the area from the 101 to the 475 Knuckle and west four to five miles.
There appears to be quite a few bluefin in the area. Far more than the counts show because they are smart and not interested in a sardine with a hook in it.
Boats are driving from school-to-school, and occasionally one of them will give up a few biters. They rush the chum, boil around, and then bug out.
They are found on the surface on sonar marks from 30- to 200-feet down.
Most will bite if you can get them coming on light line; no more than 40# fluoro and a hot sardine pinned on a small circle hook, but some guys are getting bit on the Flat Fall jigs, too.
This zone is holding kelps with yellowtail on them as well.
Most of these are those little 3- to 5-pound rats, but there are some legit 8- to 15-pounders in the mix…fishdope.com
Ensenada
Yellowtail and bonito are biting just outside of Punta Banda. They are under birds and biting trolled Rapalas and surface iron. San Miguel reef also has yellowtail, but these are deep and biting the yoyo iron.
I want to try out fishing on the Pacific side of the northern Baja area — around Ensenada — looking for a good private charter. Type of fishing? Ultimately would like to get to the yellowtail. Expectations? Any guidance would be greatly appreciated.
https://www.bdoutdoors.com/forums/threads/northern-baja-pacific-side-fishing.714851/#post-4839086
Just got back from the docks, and most of the six-pack boats that went out over the weekend had from 10 to 12 yellowtail aboard. Bait isn't a problem nowadays. Anglers on one boat commented that the yellows were hitting irons …Jay
https://www.bdoutdoors.com/forums/threads/ensenada.226013/
San Quintin
We had "a big crew" from San Diego this weekend, (three boatloads!) Gary Trieshmanand friends. We got lucky on Saturday with some good weather and nice seas…
Kelly Catian
https://www.bdoutdoors.com/forums/threads/k-m-san-quintin-fish-surf.226209/
San Felipe
A few pics of the fishing day and the grouper which was "catch and fillet." For a few more days, sierra should be all over the Consag Rock…
Alex
https://www.bdoutdoors.com/forums/threads/san-felipe-consag-rock.715496/#post-4838561
Bahia de Los Angeles
Yellowtail are on top; today we caught medium-size YT from 10 to 20 pounds…
Joel Prieto Ceseña
https://www.bdoutdoors.com/forums/threads/bahía-de-los-Ángeles-5-13.716112/
Gonzaga Bay
They all worked. Tried every color. Haven't lost one on the boat in two consecutive trips. This particular lure has easily taken over 100 Cabrilla. Most released…
Rick Jensen
Bahía Asunción
A beautiful warm, clear morning on this Mother's Day weekend. I'm posting a quick image of Isla Asuncion. Our third day in a row without wind, which is highly unusual for this time of year. I was on the water yesterday with Tomas from Luncheria Mari, and we had a nice pick on some chunky calicos. Once we had our fill of calico fish, we took a ride offshore.
I recently replaced my transducer for my sonar, and I wanted to see how it performed at speed in 100+ fathoms of water. It was flat calm, so it was wide-open throttle wherever we wanted to go. The water temperature near Isla Asuncion was 58-degrees and green in color.
Seven miles south, in 100-Fathoms of water, I was reading 67.2-degrees, clean and blue. It's crazy to think about, let alone talk about, tuna this time of year in Asuncion, but another two degrees in water temp, and I would have stayed out there and looked around a bit. I caught some tuna in late July two years ago and a couple in the first week of January this year.
September through December pretty much brackets our season for pelagic in this area…
Ross Zoeroff
Loreto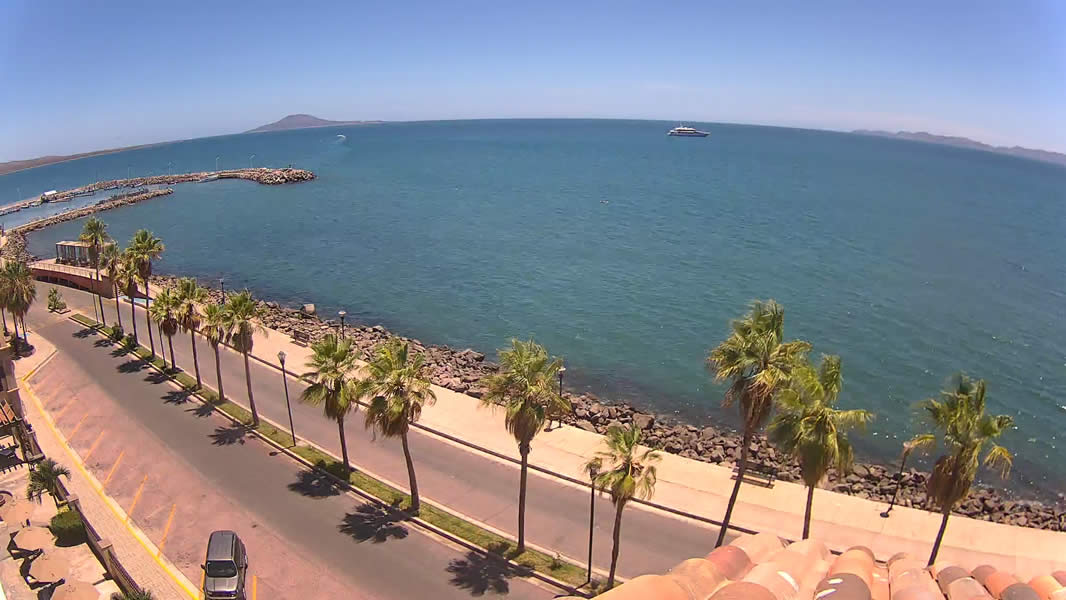 The spring fishing battles continue in Loreto with the mixed bag taking center stage. Some big yellowtail are being caught at our northern limits with a few hitting 35-pounds.
Idelfonso and Pulpito have been the targets of many boats but most only doing solo days. The long run can make for a two-hour bumpy ride, and the trip back along the coast took away some of the pain with constant bites and hookups on pargo, cabrilla, and other assorted snappers.
(The big yellowtail are all going for mackerel close to the bottom with smaller versions hitting sardina in the shallows.)
The best bet for catching yellowtail in shallow water has been by chumming with sardina and doing a combo of fly lining bait and trolling with hard bait. Pacific dog snapper (junior versions) have been working the same areas as the cabrilla with fresh, dead sardina being the ticket.
There is nothing like fresh fish for lunch. On the last day of your first visit to Loreto, why not stop at Punta Lobo and pick out a few cabrilla to join you for lunch. Captain Indalecio and Paul Burton did the morning routine with most fish caught on trolled hard bait…
Rick Hill
La Paz
La Paz – Las Arenas/ Muertos Bay/ Suenos Bay – Fishing Report for Week of May 5-12, 2019
Gary Freed with Fidel, Sr. landed this 70-pound roosterfish on a 10-wt. rod…Gary Bulla Flyfishing Adventures
East Cape
Good fishing at East Cape — Tuna, marlin, roosterfish, and more at East Cape Rocks!!
Lot of TUNA and BILLFISH. Both
are Awesome right now!…
Anibal Miranda, Van Wormer Resorts
Water: 77-degrees. Clear and flat.
Air: Beautiful spring weather. Clear skies, highs in the low 80s, cool mornings.
Cooler than normal weather this year has made for a slow start for our fishing season. This week the bite has finally started to turn on.
Most fleet boats are fishing north off Cerralvo Island. Quite a few nice wahoo mixed with good-sized tuna in the 50-pound class have been taken in the past week. Huge schools of skipjack and white bonito are providing unlimited action for anglers. A little tough getting the sardina deeper where the yellowfin and wahoo are biting, however.
Schools of porpoise are 20 miles off Los Frailes and are holding yellowfin weighing up to 15- to 20-pounds, all taken on hoochies and cedar plugs.
The outside drop-off between the lighthouse and Los Frailes is producing striped marlin.
Inside, the roosters are getting bigger, and fishing is getting better!
Several 30-pound fish have been released on fly from the beach.
A much improved week of fishing!…
John Ireland. Rancho Leonero
Puerto Los Cabos
Supplies of sardina have become scarcer but are being found most mornings. Main action now has been found from Palmilla to Gordo Banks, La Fortuna, Iman, and San Luis. Catches included a mix of bonito, sierra, roosterfish, pompano, amberjack, red snapper, pargo, cabrilla, and yellowtail.
Some of the hardcore local pangeros fishing commercially have been leaving very early; this has paid off in being able to jig up chihuil baitfish by using sabiki rigs on the Gordo Banks. After the sun comes up, these baitfish do not want to bite.
The candy bait have been producing quality catches of yellowtail, averaging 25- to 30-pounds while soaking the bait on both the Inner and Outer Gordo Banks. The sport fishing fleet are catching a few, but hard to leave at the hour needed to catch the better bait for this action.
Anglers are using a mixture of available baitfish and yo-yo jigs to produce a mix of good eating bottom species. Marlin action has been very spotty, but they are seeing a few of the striped marlin, recently; more of these billfish were seen closer to shore than farther offshore, where water was a bit more greenish — still transition time where the water changes from green to blue and currents are pushing in from different directions.
No talk of yellowfin tuna, dorado or wahoo now, but that could change at any given time as conditions become warmer and more favorable — still plenty of sea lions to deal with also.
Inshore action consisted on some roosterfish to 20 pounds, and sporadic action for sierra to over five pounds. A handful of African Pompano were found off inshore rocky areas, though there are so many aggressive triggerfish, it is hard to get through them…
Eric Brictson, Gordo Banks Pangas
Cabo San Lucas
Numbers at a glance: Billfish 42%, tuna 12%, other species 29%.
This week, the weather has remained stable, with only one or two days of strong winds which didn't seem to affect fishing much.
The inshore action picked up quite a bit, with roosterfish, sierra and jack crevalle being the main targets. Top boats caught and released up to 13 roosterfish in one day.
Marlin catch and release percentages also remained constant, although many boats did spot many marlin but struggled to get them to bite. With that said, the top boat released five stripers. It seems like we've been closing out the week with great wahoo catches. A nice 60-pound (estimated) wahoo was caught.
Inshore fishing was solid with some nice catches of large sierra along Migrino. Roosterfish showed up again in the surf from Solmar to the Lighthouse and off Palmilla. Yellowtails in the 15- to 30-pound range were hitting on live bait off Migrino. Some very nice catches of red snapper and grouper were also reported close to the rocks around El Arco.
LOCATION: 1150 Spot, Cabrillo Mount, Punta Gorda through to Destiladeras. Inshore fishing mostly on the Pacific: Pedregal up to La Bomba.
BEST LURES: Caballito Bait (live and slow trolled), cedar plugs, feathers, hoochies, green/white, green lures.
WEATHER CONDITIONS: Mostly sunny, intermittent winds on two days of up to 15 knots. Other days much calmer, with seas of one to two feet.
AVERAGE WATER TEMP: Temperatures varied from the Pacific to the East Cape side, with the Pacific about five to seven degrees cooler.
Mainland Mexico
San Carlos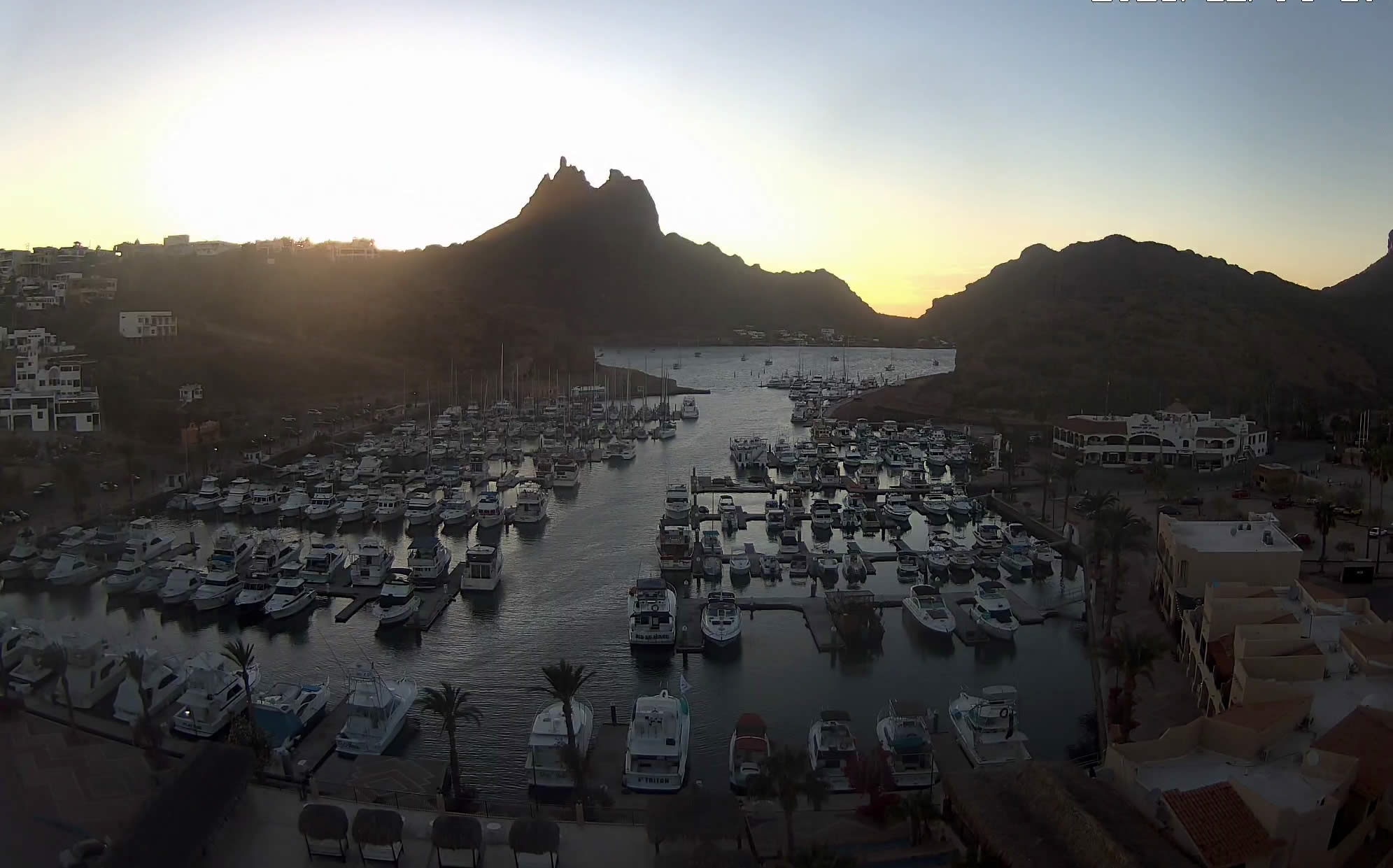 Mazatlán
The striped marlin are now outnumbering the sailfish. The yellowfin tuna showed up again this past week but way offshore. Their inshore fishing produced solid results for anglers.
The offshore boats found a mix of striped marlin, sailfish, and yellowfin tuna. The inshore boats had another solid week and reported good action on snappers, sea bass, and queen triggers.
Mazatlán Climate: The outlook is favorable with warming to the mid-80s daytime and mid-60s in the evenings. The forecast is for mostly sunny to partly cloudy skies with breezes lowering to a modest 7- to 12-mph range primarily out of the West trending toward the SW.
Sea Conditions: The water is now in the 73- to 75-degree range resulting in a seasonal showing of the striped marlin. On longer runs out to 25 miles and beyond, they are finding 76-degree water and the yellowfin tuna. The outlook is for relatively calm seas in the mornings with some afternoon swells and chop with winds pick in the afternoons in the 7- to 12-mph range.
Best Fishing Area: The offshore bite for the billfish is starting about 12-15-miles out with best results to the west and southwest of the Marina El Cid. Longer runs out to 25 miles, and warmer water are finding schools of yellowfin. Inshore, the Super Pangas are finding success all along the coast, especially around the rocks.
Best Bait & Lures: Freshly caught rigged trolling baits and smoke trail lures produced best results for the billfish. The Tuna are being caught on feathers and cedar plugs.
Bait Supply: Freshly caught baits are readily available from the bait boats.
Ixtapa-Zihuatanejo
Locals found plenty of small striped marlin and sailfish, with most boats raising three to six fish per day, along with ideal conditions for fly anglers being able to tease up the marlin with hookless lures and then throw streamers to them. Some larger blue marlin showed up in the reports, as well. The yellowfin were found way out at the 30- to 40-mile mark for those willing to go the extra distance. The dorado improved this past week with a couple of big bulls reported. Fly-fishing and spinning rigs for jacks, false albacore and bonito inshore have continued to be steady. Capt. Temo reports the inshore fishing for jacks slowed, but the action for false albacore was very productive. Overall, fishing activity was slow as few fishermen showed at the docks to take advantage of the plentiful billfish action.
The GOOD NEWS is that this year the tournament instituted a 10,000 peso 1st place prize for Catch & Release, so we hope that is the start of a strong movement toward increased release of non-trophy fish in this tournament.
CONGRATULATIONS to Capt. Temo Verboonen who guided his clients to a 1st Place finish in the Dorado Division of the tournament!!
IZ Climate: The outlook is for even warmer temps and mostly sunny-to-partly cloudy skies. Daily temps are predicted in the mid- to upper-80s and nighttime temps in the low- to mid-70s with humidity expected to run in the upper 70s through late May. The winds are expected to be very mild in the 6-10-mph range primarily from the West and SW.
Sea Conditions: The spring offshore water temperature has stabilized and is now warming in the 83 degrees range from the 100-Fathom line at the 5- to 6-mile mark out to the 1,000-Fathom line at 30- to 32-miles and beyond.
Best Baits & Lures: Rigged trolling bait and smoke trail lures continue to produce for the billfish and dorado with most boats preferring a mix of rigged bait for the billfish and smaller lures and feathers for the dorado. Inshore topwater poppers are the favorite for roosterfish, bonito, and jack. Cedar plugs and feathers are working best on the yellowfin when found.
Bait Supply: Live bait are readily available at this time and are $5.00/dozen paid directly to the bait vendors.
Costa Rica
Costa Rica First Sailfish On The Fly – Costa Rica Fly Fishing
http://fishcostarica.org/sailfish-on-the-fly-costa-rica/
Guatemala
Father's Day Fishing Frenzy at Casa Vieja Lodge
Join us for our 2019 Father's Day Fishing Frenzy June 14-16th at Casa Vieja Lodge. Give Dad what he really wants this Father's Day and join in on the action. Teams may consist of both friends and family, but higher points will be given for double and triple sailfish releases that include dad! June also boasts higher marlin releases and dad definitely won't complain about that!
We have 2 boats remaining in the tournament!
Call the Miami Office at 305-854-4665 or send us an email HERE.
For our fishing reports: click here
Last Minute Openings — call NOW to reserve:
(305) 854-4665 /
[email protected]
Last edited: