May 11, 2011
936
528
93
Name

Gary Graham
Boat

Watercloset
Que Pasa
The
National Aquaculture and Fisheries Commission (CONAPESCA
) announced the closure of the fishing season for bluefin tuna on May 10 due to the completion of the catch quota for Mexico assigned for 2018 by the
Inter-American Tropical Tuna Commission (IATTC)
.
The bluefin buzz has grown louder as the bite ramped up with some 100+ bluefin in the mix in the
Pacific offshore
waters
below the border as the Mexican commercial quotas were reached
.
On the
Sea of Cortez
side, there has been no escaping the wind from
San Felipe
to La Paz. However, recent catches of early dorado at Loreto is an encouraging sign.
Still some grande roosters are teasing the fly-flingers from Los Arenas to Land's End, and the yellowfin tuna are the "fish of the week" with a few wahoo and billfish to keep it interesting. Rumor is that one of the first blues of the season bit somewhere off of
East Cape
; it the anglers' attention for nearly six hours before the line parted.
Baja Road update:
• The Mexico 1 toll road, between Rosarito and Ensenada, is currently under construction around Salsipuedes. Please drive slowly and with caution.
• Road construction is being done on the toll road Mex 2-D between Tecate and Mexicali from km. 70-74. The road goes down to one lane in both directions.
• Work is being done on Mex 3 between Tecate and Valle de Guadalupe north of Valle de Guadalupe. They are expanding the road, so expect a few easy detours on the dirt roads that run parallel to the road.
• The Ensenada bypass that is planned to go from the northern route of Mex 3 near Valle de Guadalupe to Maneadero is only partially completed and open to local traffic. No word on when construction will be complete.
• Mexico 1 through Maneadero has many potholes.
• The paved road on Mex 5 from San Felipe to Puertecitos is in very rough condition. The road has been erroded in many areas and there are potholes. Drive slowly as the numerous vados and dips can sneak up on you as well.
• Mex 5 from Puertecitos to Gonzaga Bay is paved and in good condition. The paved road continues for about 30 kilometers past Gonzaga before the pavement ends. There are another 21 miles or so of dirt road before you reach Mex 1. Construction crews are actively working to complete the paved road, but progress is slow. Take care on the dirt road and only drive during daylight hours. There are about 3 to 4 miles of paved road from Mex 1 at Chapala north that have just been completed and should be open and drivable soon.
• Mex 1 is in extremely rough condition with pot holes and worn roads from about 10 miles south of El Rosario through Cataviña and down to about 10 miles south of Lake Chapala. They are slowly working on patching some stretches of the road, but expect very rough road conditions for almost 200 kilometers.
• Mex 1 is in bad condition with large potholes for about 10 miles around Santa Rosalillita.
Baja Sur
• The road out to Abreojos has a number of potholes.
• The north road into Scorpion Bay is passable with a four-wheel drive vehicle with high clearance.
• The road from San Ignacio to Laguna San Ignacio is now paved almost all the way out to the lagoon. There are a few stretches where they are doing road maintenance.
• Highway Mexico 1 has a lot of pot holes and washouts just north of Santa Rosalía. There is construction being done at the entrance of town in Santa Rosalía.
• Thirty miles north of Ciudad Insurgentes there are dirt detours while they are constructing bridges.
• There is construction on Mexico 1 south of Ciudad Constitución with dirt detours as they work on widening the road.
• The road out to San Javier is now paved all the way. The road is in good condition but it
passes through a number of arroyos where vehicles will need to go through water. Be careful after rains. Inquire in Loreto about the latest conditions.
• The road north of La Paz is in rough condition due to construction. Expect detours and drive with caution.
• The paved road out to Bahía de los Sueños is in bad condition with washouts and many potholes.
• The Cabo bypass is finished and drivable. This is a toll road with exits for Cabo San Lucas, San Jose del Cabo and the airport. The fees range from 32 pesos to 70 pesos depending on how far you will be taking the road…
Discover Baja
Baja Norte

Tijuana Bull Ring
Red tide is still an issue along shore. Calico bass fishing in the kelp beds seems to be improving as the water cleans up. Anchovy is the key to this. Without these little fin baits, the bite is poor.
226-302 / 230
One boat found about a dozen kelps and all were dry. Had the trollers out and got zero strikes.
371 / 390
This is currently the primary bluefin zone. The area is just a bit west of the 371 and spreads south to about the 390. There are quite a few tuna around right now. It is all mixed-grade with some of the 20- to 30-pounders, good numbers of the 40- to 75-pound tuna and then there are the 100- to 200-pound monsters.
The really big ones are biting the Flat-fall jigs fished on 80-pound with 130-pound fluoro leader. The rest are mainly coming on the sardine fished on 40- to 50-pound fluoro.
Bad news for the private boater: these are nearly all sonar fish. Very little signal on the surface currently. They also require a massive amount of chum.
These factors make this very unfriendly to the private boater. Best bet is to jump on any of the ¾-day to 1.5-day trips leaving out of San Diego until these fish come up and start breezing around.
425 / Upper Hidden Bank
Kelp paddy yellowtail are still around but becoming much harder to find. Only about 20 to 25% of the kelps are holding anything and those that are mainly just have a few fish. This is not to say the big numbers on a kelp are not around anymore because there are some very loaded kelps. They are not holding day after day though, as the fish are moving around.
Primary area is still around the Upper Hidden Bank with fewer the farther north you go. Very little above the 425.
Some jumbo bonito around in this area, too. If you see a bird school it is very likely big bonito underneath. They are also jumping on the troll jigs. There isn't a ton of them, but enough to warrant looking for them.
East of both the Hidden Bank and the Upper 500
Much slower kelp paddy fishing now in this zone. There are still some kelps with yellows on them but the big volume appears to have bugged out for some other location. Some very large bonito remain in the area and will jump on a feather or cedar plug if you find them.
483/500
There are bluefin in the area that are, "roughly 15 to 20 miles west to southwest of the D220."
However, the boats are not planning to run back for this with the good numbers of bluefin located between the 371 and the 390…
fishdope.com
Ensenada
Little surface action forces angler to settle for limits of bottom fish.
San Quintin
People in wet suits and surf boards on the sand seem to tell the story.
Northern Sea of Cortez
Bahia de Los Angeles
Recently, visiting anglers found the wind was still a nuisance some days, although they still managed to catch yellowtail and grouper.
Loreto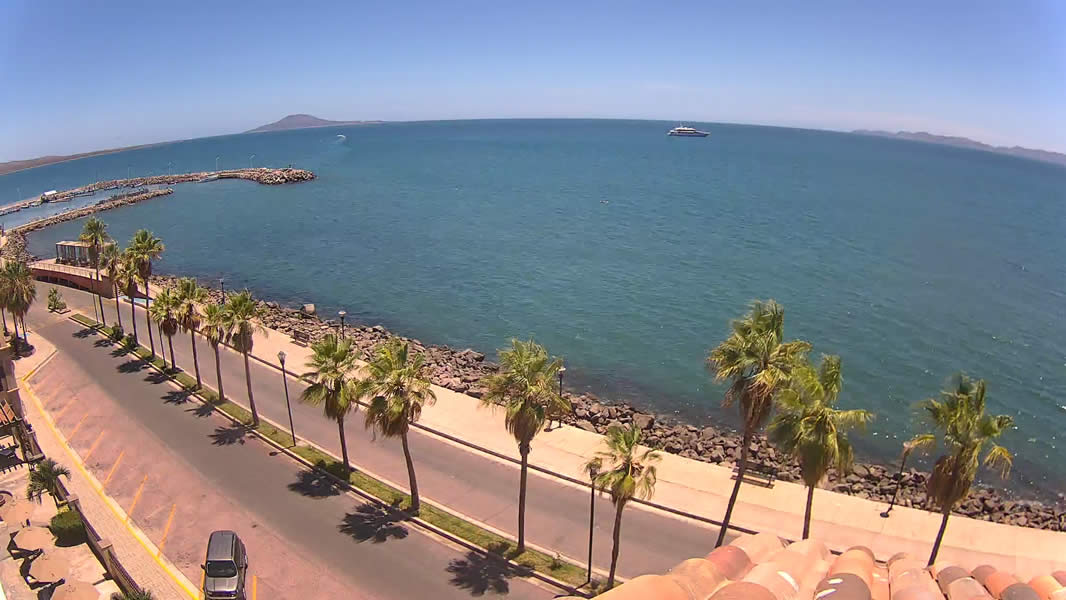 Nothing spectacular to put on the fish count this week except I must admit that the size of the mackerel we are seeing in our bait tanks are bigger than most of the reds and whitefish we are catching.
Yellowtail!!! — with Outpost Charters.
You need to have big hands and big hooks to match with these 14-inch mackerel!
Yellowtail are closer to town this week with most boats working from the San Bruno highspot all the way south to La Cholla.
No hot bite with most boats lucky to get one or two fish in the 15- to 20- pound range.
A few boats that hit La Cholla managed to land cabrilla using 6X jr. iron in blue and white.
The pargo parade on the north side of Coronado Island is still ongoing with most fish breaking off on the sharp ledges along the "Repollo" cut.
Lots of boats out on the weekend, but no chatter on the radio and no dancing at the boat ramp — still better than work! …
Rick Hill, Pinchy Sportfishing
La Paz
MEXICAN MINUTE LA PAZ FISHING REPORT from TAILHUNTER SPORTFISHING for WEEK of May 6 -13, 2018
They let me fish sometimes… Gary Bulla's Flyfishing Adventures
East Cape
Lot's of TUNA 'n happy faces… Anibal Miranda, Van Wormer Resorts
It has been a mixed-bag this week. One day wide open yellowfin fishing, the next day, slow. Lots of striped marlin mixed with a few blues. Inside the fishing has been very good. The big gallos are showing up and there are lots of good-sized pompano and pargo in the mix. Great live bait, both big sardina and caballito…
John Ireland
https://www.bdoutdoors.com/forums/threads/spring-has-sprung-wahoo.687240/
Puerto Los Cabos
Ocean currents have been sweeping in from different directions, at times turning the water a bit greenish, but this is the common scenario in May. Ocean temperatures have ranged from 67 degrees on the Pacific side of Cabo San Lucas, up to 78 degrees in the direction of Los Frailes. Winds were moderate this past week, picking up a bit stronger late in the week.
Anglers were able to obtain sufficient supplies of sardina; also some caballito, mullet and chihuil baitfish. The most productive fishing grounds locally continue to be from La Fortuna to Iman Bank. This is where both the sporadic bottom action for various snapper and pargo species were found, as well as yellowfin tuna on the surface. The tuna bite was dead starting off the week, picking up again on Thursday and Friday. The yellowfin were striking mainly on the sardinas, using 40- to 50-pound leaders. Some boats landed up to three fish in the 15- to 55-pound range. Only a handful of smaller-sized dorado were seen and reports of a few wahoo seen but none actually landed that we heard about, except from East Cape charters fishing closer to Los Frailes.
There was a day or two early in the week when reports of amberjack and some yellowtail were found feeding near the surface off Palmilla Point, but that action disappeared as fast as it developed. For the most part, the better bottom action was found from the Gordo Banks, where if you could chum up some chihuil bait; these were working well off the high spot for leopard grouper and other species if the sea lions weren't too aggressive. Closer to shore off of Cardon and La Fortuna, anglers found good yellow snapper action early in the morning, with some leopard grouper and an occasional amberjack mixed in. Most of this bottom action was on bait, with limited success on the yo-yo jigs.
Billfish action was scattered; only a few striped marlin were found scattered offshore. Inshore there were more numbers of smaller-sized roosterfish showing up, with good action on sierra closer to the Pacific and of course some jack crevalle actively patrolling the shoreline. In the coming weeks we expect to see greater concentrations of mullet which in turn attracts the trophy-sized roosterfish, pargo, snapper and jacks…
Eric Brictson, Gordo Banks Pangas
Cabo San Lucas
Overall catch success rate, all species combined: 81%
Numbers at a glance: Billfish 24%, Tuna 43%, Dorado 7%, other 17%.
Fishing has been consistent this month, with this week maintaining roughly the same averages of species caught per boat. Slightly better this week have been tuna numbers, with more fish caught per boat. This Friday we saw marlin numbers start to pick up as well, with every boat out catching marlin, except for one. We are eager to see if this trend continues into next week… Weather has continued to be pretty nice, hot sun and some days with some wind picking up (only for a few hours).
We didn't see much dorado this week, but the Pisces 60ft Shambala did well to catch 2 dorado of about 10 lbs each, releasing one of them, on their Half day of fishing. The fish were caught at about a half mile from Morro Prieto, by anglers from Alberta, Canada.
LOCATION:
San Jaime, Punta Gorda, 11:50 Spot, Cerros de Arena.
WEATHER CONDITIONS
: Calm seas, some wind in only certain areas, sunny.
AVERAGE WATER TEMP
: This week temperatures varied greatly between location on the Pacific and East Cape, ranging from 68 F to 83 F in some areas, but with an average of about 73 F.