May 11, 2011
975
566
Name

Gary Graham
Boat

Watercloset
Baja Bytes Weekly Overview 05/26/17
Friday, May 26, 2017, 2017
Gary Graham​
EFFECTIVE JUNE 5TH, BAJA BYTES WILL BE PUBLISHED MONDAY AFTERNOON!​
Que Pasa
What began as a bold experiment to improve communications between the Sportfishing Association of California (SAC), the sportfishing industry and the various Baja and Mexican Rivera Ports on the West Coast of Mexico in 2015, was so well received and produced such impressive results that additional visits to other Mexican Riviera Ports on the West Coast of Mexico added. Ensenada and Cabo San Lucas were areas visited in 2016 and Mazatlan was visited in May of 2017.
The Port Captain's Office in
Loreto
is the next stop to be visited by the SAC team led by SAC President, Capt. Ken Franke and others in June. To listen to the show and receive updated information on the interchange of ideas and developments between those who care about sport fishing in Baja and
Southern California
, dial in to Let's Talk HookUp, Radio 1090 at 7:00 a.m. PST on Saturday June 3. Be sure to call in with your questions and opinions.
Baja Norte
Coronado Islands
There is good volume of quality yellowtail at the Islands right now.
There are fish along the weather side of North Island and there are plenty in the lighthouse area at South Island. In both areas slow trolling sardines, surface iron and yoyo iron is working well.
These yellows are nice fish -- most falling in the 14- to 18-pound class with a few bigger and very few smaller.
Out on the flats between the Islands and the mainland there is word of some mixed yellowtail and barracuda being found under birds working schools of what appear to be tiny anchovy? This is no doubt more of the same stuff the guys up at Imperial Beach have been seeing out on the flats…
fishdope.com
Tijuana Bull Ring
Hit and miss…
The bait, birds, dolphin and sea lions are still in the area along with yellowtail and legal-sized barracuda on this bait. Getting them to bite is the problem. Some guys are scoring by trolling sardines and or X-Raps while others struggle greatly just to get a bite. Not sure what the answer is. Sure not going to get them without trying though. The fish are there on the flats on both sides of the border…
fishdope.com
La Salina
Fished Thursday in dirty water down La Salina way. Got lucky and got a pole-holder 19-pound yellow in 50 foot on a squid-tipped plastic. Released several nice lings, kept one that went 28". Took the ling into Bahia Cantiles and had Santos fry it up with his special batter … DELICIOUS!!!…
Bill Fisher
https://www.bdoutdoors.com/forums/threads/la-salina-yt-ling-cod-fish-n-chips.657131/
371/425/Upper Hidden Bank
Really good weather and a good bluefin bite this morning. Much better than it has been. A number of boats got on them at gray light and put 10 to 20 fish on before 8am.
These remain mostly the 15- to 35-pound models although one boat did run into a school of 100-pound class bluefin; 20- to 25-pound fluorocarbon with a #2 hook is working just fine for most of the fish. The smaller Flat-Falls are working well, too. Be sure and bring the 50- to 80-pound gear, too, because you never know if the next school you is going to be those 100-pound monsters.
The boats are still seeing a few 35- to 50-pound class yellowfin. At least four of those were caught today.
There was also at least one big yellowtail caught today. It was mixed in with the bluefin and not on a kelp. The kelp paddy stuff remains dinky and they don't want to bite either. Kelp in this area have been hit hard over and over again for the past several weeks…
fishdope.co
Ensenada
Yalan Cervantes took out his son Yalan JR. for a fishing trip to Punta Banda leaving around 8am; they started trolling with 5"plastic purple lure with 1-oz. lead-head, finding on his way a nice yellowtail approximately 20 pounds.
Fought well, going deep beneath the kelp patty, before they could finally pull him out and into the kill bag.
Yalan Sr. mentioned that there were more tails around the kelp and between the rock formations on the Punta Banda area…
Coral Marine Store
San Quintin
Oldman pullin' reds in San Quintin
https://www.bdoutdoors.com/forums/threads/oldman-pullen-reds-in-san-quintin.656765/
I will be heading down to SQ in the first week of July; I remember fishing at SQ two years ago and they were everywhere. Are they still there? Also when do the WSB start showing up?...
theyuckyone
https://www.bdoutdoors.com/forums/threads/sq-updates.656676/#post-4337198
San Felipe
In a mere four years, Pesca La Baja SEPESCABC has established itself as one of the "must-attend" family tournament series in Baja – not only drawing residents of communities where they are held, but also drawing a growing number of anglers from California and beyond. What's not to like? A competitive event, it is a
fiesta
wrapped in a proven tournament formula attractive to both locals and visitors.
While most tournaments in Baja have a "cause", Pesca la Baja simply celebrates sportfishing and the individual communities of anglers who share a common passion for the sport, merged with the challenge and rewards of winning, of course.
The numbers of participants or spectators has grown every year as has the enthusiasm for the event. It manages to blend local and visiting anglers into a unique celebration of sportfishing in towns and villages throughout Baja Norte where "Pesca la Baja" thrives.
Total immersion comes in many shapes. Fishermen from outside Baja and beyond that I've spoken with over the years delight in the chance to share their passion for fishing with local anglers, in many cases creating lasting bonds of friendship during these two-day events that have allowed an introduction to Baja's rich family and fishing culture. Of course, under normal circumstances, this is often something that can only be accomplished after years of residing or traveling and exploring the rugged coast of Baja.
The first of the 2017 series was held recently at the local dock in San Felipe on the Sea of Cortez; 130 anglers on 35 boats departed early Saturday morning under sunny skies with moderate wind.
The second event will be held at San Luis Gonzaga, June 16-17 and will be based at Hotel Alfonsina's, followed by the third at Bahía de Los Ángeles, on July 21-22 at the local launch ramp.
Bahía de Los Ángeles
Headed down to LA Bay from San Quintin with Captain Jaime and a couple of friends. Road conditions were good up to Catavina. A few potholes before and after. The worst was between Laguna Chapala and the turn off to LA Bay. Saw a few vehicles pulled over with trailer problems…
Ted
https://www.bdoutdoors.com/forums/threads/bahia-de-los-angeles-fish-report-may-23-and-24.657126/
Stopped by BOLA, on the way home to check on the house; very windy for the last four days … road to BOLA is nice and bridges are complete. Weather was warm, wind out of the north. Alexandrina's lost her liquor license for now at least…
RG
https://www.bdoutdoors.com/forums/threads/baja-road-report.656488/
Thursday (on hearing a report) we ran up to Alcatraz at first light and sure enough they were up and boiling on our arrival. Initial casts with 6x Jr's and Tady 45's scored 3 yellows between 15- and 18-pounds before they sounded. They popped up a couple more times briefly but no longer interested. Bottom fishing rest of day for good taco meat. HOWEVER, we witnessed a couple charter pangas from town drifting live bait off the osprey nest scoring at least 3 white seabass…
Rob
https://www.bdoutdoors.com/forums/threads/la-bay-report-may-10-13.656294/#post-4335594
Gonzaga Bay
Just returned from an 11-day stay in San Felipe and Gonzaga Bay. The fishing was great, the catching was slow. We took part in the Pesca la Baja fishing tournament. We came up blank; tons of fun though. Had a great time hanging out with my friend Rockadile John, Anthony Hayward and the Gypsy. We fished the Golden Reef, Consag Rock. The coast below Gonzaga Bay and a few of the islands in front of the Bay.
We had some great weather with a few windy days … thank you john Fitzgerald. Fishonnnnnn…
Captain Juan Cook.
Cedros Island
Report pending.
Bahía Ascensión
Report pending.
La Bocana
Report pending.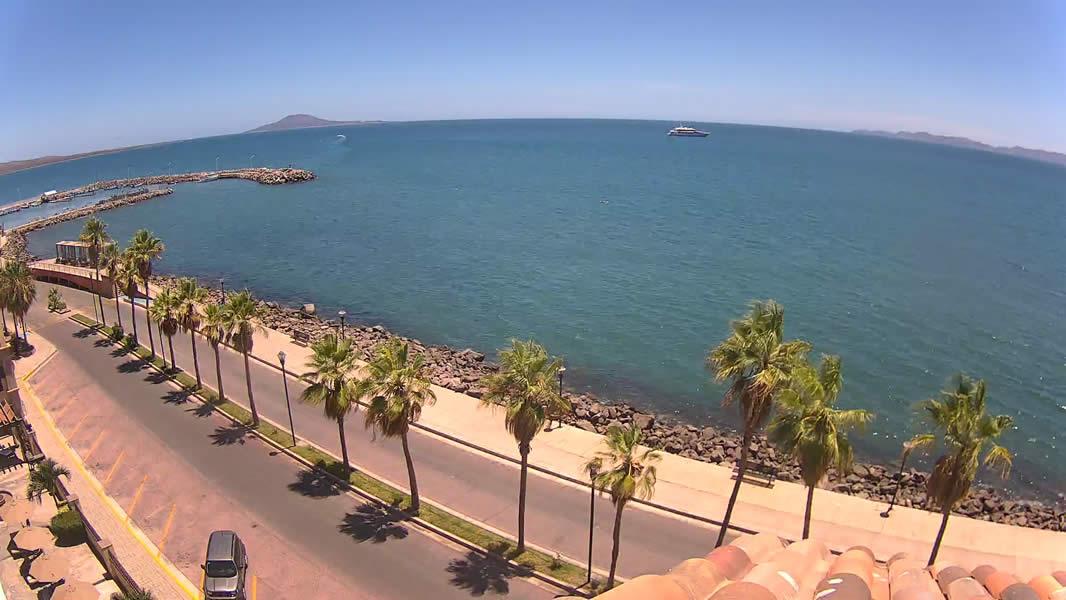 Loreto
Captain Tony Davis with a yellow wrestled off the rocks at Pulpito Reef.
We've got dorado and sardina in Loreto but not on a sandwich! Great news that needs to be taken with a grain of salt. The beach in front of the Oasis Hotel has been the place of historic fish events throughout history and it is repeating itself this year.
Sardina have been netted in the afternoons but it is too early to know if this is a mini-showing or the beginning of a solid summer. For the past few years the little silver fish treats have been a no-show all along the Baja coast so this news is raising hopes.
Also in the same area, kayak paddlers have reported seeing dorado working the mouth of the arroyo. I spotted one doing the greyhounding routine this past Tuesday.
We have needlefish and sierra doing partial airborne displays but nothing comes close to the dorado show…well, a big roosterfish can stir up some strong emotions, too!
Don't count on catching many dorado for another month because they will be too busy fighting their way through the multitude of bait schools! Wait and see with fingers crossed! Yellowtail action has been hit and miss depending on the day and the rock pile. Bottom fishing near Punta Perico produced a few yellows and huachinango on live bait.
The best yellowtail action happened on both east and west sides of Monserrat Island for the Escondido-based boats.
Live mackerel and down riggers did the damage with fish ranging between 18 and 30 pounds. Water temps are still just under 75 on the surface although our divers found 62 degree cold water in their scuba-zone...Rick Hill,
Pinchy Sportfishing
Kayak action aboard Hobie kayaks available at
http://www.bajapeninsulatours.com/
3 Orca whales, 2 whale sharks, 5 grouper, and 1 pargo made for another awesome day on the water. …
Cast N Reel
http://www.castnreel.com/
Magdalena Bay
Puerto López Mateos,
Good grouper bite with a couple of fish over 60 lbs. yellow tail up 30 lbs on the ridge along with a few white seabass.
Red crabs have showed up in large numbers. Both outside and in the bay
Bay fishing mostly for smaller fish...
Bob Hoyt, MagBay Outfitters
Puerto San Carlos
. Report pending.
La Paz
East Cape
Starting about 10 days ago, fishing really heated up on the East Cape. We have had a couple of windy days but besides that it has been great to be on the water and a lot of action. The bait has been plentiful and we expect to have outstanding summer…
Fish Scorpion and El
Regalo
https://www.bdoutdoors.com/forums/t...-cape-sportfishing-report-may-25-2017.657072/
It's been a great week down here on the East Cape! The fishing has finally busted wide open with a variety of species being landed each day. The primary species the last few days has been yellowfin tuna. The school started out about 42 miles off hotel Palmas De Cortez, but has now moved to about 15 to 20 miles from the resort. Nice football-size and up to about 50 pounds have been common…
Van Wormer Resorts
https://www.bdoutdoors.com/forums/threads/east-cape-fishing-is-off-and-running.656516/#post-4336130
Second half of May exceeding expectations! …
John Ireland
https://www.bdoutdoors.com/forums/threads/second-half-of-may-exceeding-expectations.656638/
Weather has been great with high temps in the low- to mid-80s and light to moderate winds of up to about 8 knots. Water temperatures are in the low 80s and seems to be climbing. Yellowfin tuna are on the bite grabbing dead squid down below Los Frailes. Both striped marlin and blue marlin are eating live bait…
Felipe Valdez
Hi guys, great day today fishing with my friend Todd. Got two nice wahoo trolling Rapalas before 9am…
Mike
https://www.bdoutdoors.com/forums/threads/east-cape-wahoo-may-25.657078/
Puerto Los Cabos

Had some fun shore fishing the beaches of Cabo. Actually got one of the hookups on video…
Steven
https://www.bdoutdoors.com/forums/threads/toro-hookup.657015/
Ideal weather patterns now; cool for this time of year. High temperatures in the lower 80s … great time to visit before the serious summer time heat arrives, also very light crowds now; normally the month of May is much busier. Who knows what's up with the lack of visitors. Some south wind still to deal with -- calmer ocean conditions in the direction of the Sea of Cortez; this is also where the warmer ocean currents are, ranging up to 77 degrees now, while on the Pacific it has been down to a chilly 68 degrees.
With the cooler climate, this delays seasonal transition periods further, and until we have several weeks of calm and warmer temperatures we expect similar fishing reports. Billfish action has mainly been straight outside of Cabo San Lucas and towards Chileno … still hit or miss, but better than it had been, with most charters reporting at least a couple of opportunities per day. Dorado still very scarce, but there have been a few landed and other hookups lost. Same report for wahoo, though in recent days there were more wahoo strikes reported from areas near Chileno and Santa Maria; this is where the water was a bit warmer and clearer. One wahoo reportedly weighing 70 pounds was landed on Thursday.
Inshore fishing consisted of sporadic roosterfish action; one day these fish could be found by trolling caballito or mullet outside of the surf line, though other days they could not be found at all. Changing currents and baitfish movement may be factors. Still decent numbers of sierra being encountered, as well as a few jack crevalle. We need to see more mullet activity to really bring in the main run of roosterfish. Supplies of sardina are very limited, vanishing; more charters are starting to use chunk baits and strips of squid, particularly for the yellowfin tuna opportunities.
The yellowfin tuna action was concentrated from the Iman Banks, San Luis and Vinorama areas, drift fishing or slow trolling with various baits; some days action was found early, other times later in the day, but the yellowfin are definitely holding on these grounds. No significant numbers, sometimes just one or two fish per charter -- other anglers were more fortunate, landing a half dozen with sizes ranging from 15- to 45-pounds with the majority being in the 25- to 35-pound class.
The bottom action is a decent option now since the surface bite was somewhat limited; working various rock piles produced a mix of quality eating species. Not many large fish, but all are excellent table fare. Most common were triggerfish, yellow snapper, barred pargo, leopard grouper, jacks along with pompano and flag cabrilla along with a few amberjack and a couple of grouper, one weighing about 80-pounds.
…Eric Brictson
,
Gordo Banks Pangas
,
Cabo San Lucas
It may have taken eight long hours, but after this fight of a lifetime the Dlouhy's from Nevada managed to boat this monster 241-pound yellowfin tuna. It was landed with a cuchi lure, on 40-pound test line just out on the Pacific side near the Old Lighthouse. All of this was aboard the
Pisces Valerie
, captained by fleet veteran Roberto Sandez and his deckhand Salvador. Congratulations to anglers and crew on this great catch…
Pisces Sportfishing
Unfortunately, the billfish bite remains slow for the Cabo area and even though there are good opportunities to bait the sleepers through the day, the fish are in the "no bite" mode and being completely uncooperative for the anglers. The big change for the past week was the numbers of yellowfin tuna that have popped up within a mile or so of the shoreline and have been biting pretty well for the fishermen keeping the anglers busy enough with some 15- to 25 -pound fish. Even a few bigger roosterfish were caught in the 35- 35-pound range.
Cabo Climate:
Mostly sunny, warm and clear days with daytime temps averaging 82.8 degrees and nights at 74 degrees. Humidity ratio averaged 47.3% for the week.
Sea Conditions:
Cooler waters on the Pacific side, from the Finger Bank to Cristobal Ridge was all in the 63- to 67-degree range; the Jaime Bank offered a small area that increased to 73 degrees. Cristobal to Cabo Falso was at 76 degrees and Cabo San Lucas to Las Frailes was all in the 77- to 79- degree ranges.
Best Fishing Area:
The billfish are scattered about the area and there is no real concentration, albeit, they are all being located on the Sea of Cortez side of Cabo San Lucas. The yellowfin tuna are being found in several areas within a mile or two of the shoreline and start right out front of Cabo San Lucas. The tuna schools are being caught on blind jig strikes and are not running with the porpoise.
Best Bait/Lure:
Live bait was best for the few billfish caught and the roosterfish, also. The tuna were being taken on a myriad of colors of tuna feathers, jet head lures, Rapalas and other deeper running lures.
Live Bait Supply
: Remains readily available at the $3.00 per bait rate paid direct to the bait vendor at time of receipt…
Larry Edwards, Cortez Charters.