Apr 29, 2004
70,222
329
50
Name

j
Boat

VS
Saved the year for me at least.
Just a quick report and will let the pictures do the rest.
Vince and I did a trip with Ali last year and he was nice enough to bring us back down this year to fish his boat, Tuna Jihad.
Expectations weren't high but anything would be better than my last trip. Plus with the two little kids no time to fish offshore much these days.
So this was my last chance of the season to put tuna in the boat and Ali did not disappoint.
Found nice schools of smaller fish boiling and jumping but they were skiddish and we couldn't get them to go. Kept moving and finding fish. Finally Brett got a nice 25lb YFT to the boat.
Moved to some cleaner water and found some dolphin. Ali marked fish and Brett set up the chum. Didn't turn the boat on again until we headed in. Fish all around the boat. Had a couple quad hook-ups going. After that is was a steady pick on nice 25-35lb fish.
We went 16 for 17 on hookups. Fish would move in into our chum and stayed with us for the next 2-3 hours. Putting on a nice show the whole time. All fish caught on 5-6" sardines. Left them playing since we had more than enough tuna in the kill bag.
Brett getting it started.
Vince with a tuna.
Me with a tuna. Went 4 for 4. Thanks Ali for saving my year!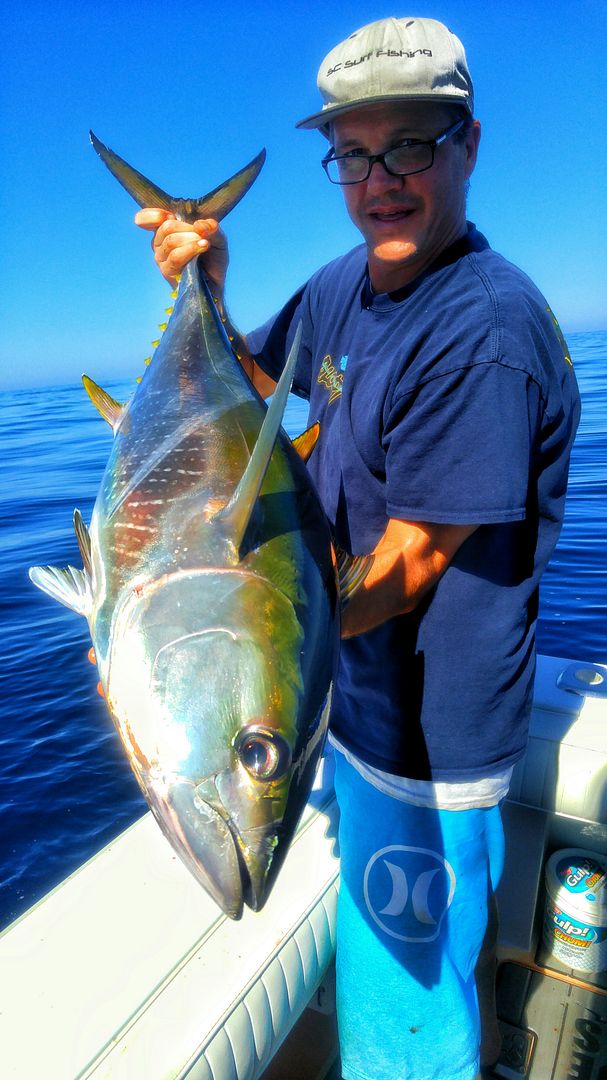 Tuna Deck on the Tuna Jihad!
Great to meet you Brett and a big thanks to you Ali!!!!!
Can't wait to do it again next year.
j
PS. We all agreed the fishing was much better without Jason aka misuse on the boat.