Jul 7, 2011
171
246
Name

KG
Boat

none
Another quality day of fishing from Dana Point on Tuesday 9/16!
Father in law is super pumped on fishing and has been a regular companion for boat trips and Baja journeys for the last 10 years. He really loves everything about fishing and seems to have just as much fun on the great catching days as he does on the boat ride days. The little boat is a bit of a challenge for a 70 year old, but he was up to it, so off we went.
My main fishing buddy this year has been my 4 year old son. In my last report, I mentioned being bummed that school was starting again and that I was gonna lose my fishing partner. Shame on me, but I took him out of school to go with Dad and Grandpa.
We were at the DP bait barge at 7 for an excellent scoop of strong Dines and off we went. We've had some bad timing with bait lately on weekdays and I was super confident seeing the great swimmers we had. After reading the reports here and on Fishdope, we pretty much straightlined it for the 277. The further we went, the water just got warmer and more blue/purple. We read 77 degree water at some places.
We stopped on a few patties on the way out for quick soaks, but we were on a mission to get out there in case the wind kicked up. About 5 short of the 277, we found a patty with no boats around and started the long soak and chum. We had 3 lines in the water way back, 2 of which were in rod holders in freespool with the clicker on. I saw a couple big splashes way out where I knew our baits were and told Grandpa to be ready. At that very second, all three get bit. The clickers were screaming and little man was tripping! We all have a tuna on and it's pretty much mayhem. I set little man's drag pretty loose otherwise there's a good chance of Talica in the water. I worked my fish pretty fast, stuck him and then helped the other two. Little man got back about 2 feet of line over then next 15 minutes and was pooped. As he handed it back to me, it came unbuttoned, no biggie. Grandpa fought his and we gaffed it after a 20 minute fight.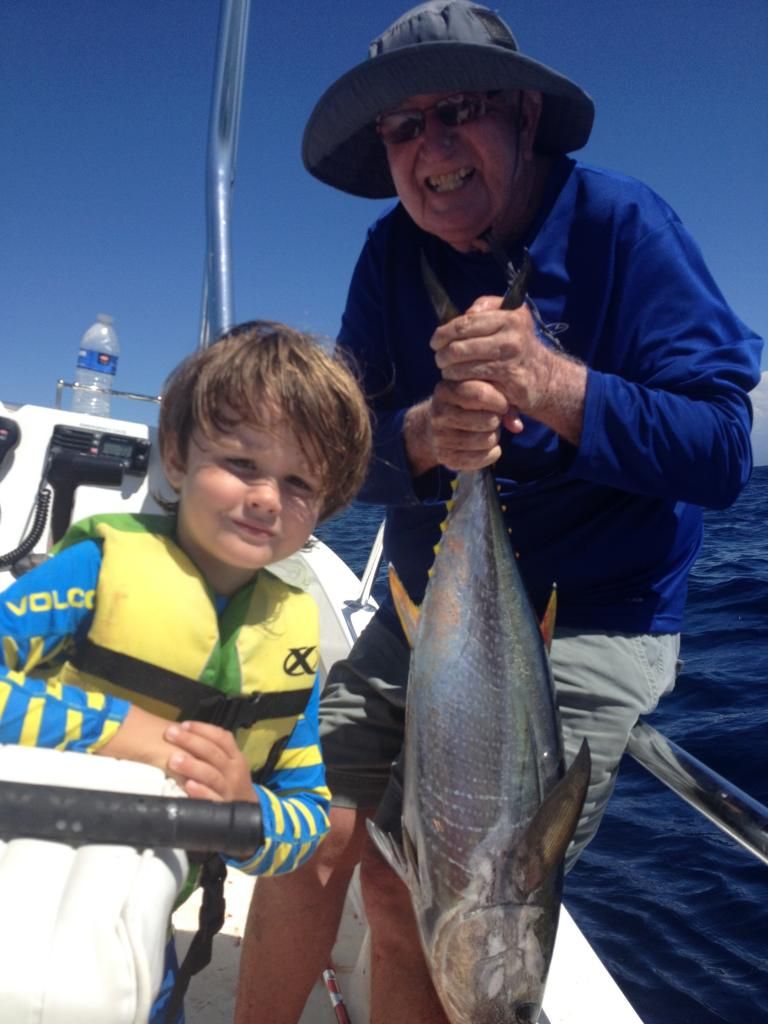 We went for another drift for nada and kept going. Got to the 277 and picked another fish up off a patty and then the wind starting acting like it was gonna kick up, so we started for the barn.
Halfway to the 267, we come across the biggest patty I've seen all season. First drift and I get picked up close to the patty by a very nice YFT. I had one in the water for little man and he is on also for a medium YT. We both fight and land our fish in about 15 minutes and go back for another drift. He's super stoked as the 8lb YT is about the perfect size for him to actually land one. On the next drift, Grandpa and I both get picked up pretty quick and it quickly becomes apparent the Grandpa has a nice one going. My fish takes me about 15 minutes, and Grandpa is still losing line. 30 minutes in, he needs a break and hands it off to me for a breather. I put a little work into it and hand it back pretty quick. After a total of about an hour, a solid 35lb YFT joins us on the boat and Modelo's were shared by the adults!
We were pretty far off the patty by this time and I wasn't paying much attention to the incoming traffic, but by the time I was ready to head back up the line, there were 4 sportboats on it including the Dana Pride, Patriot, Freelance and a couple I didn't recognize. We decided to clean fish and head in.
Final count: 6 YFT 15-35lb, 1 8lb YT, 13 gallons of fuel, 3 big ole smiles!