May 11, 2011
968
560
93
Name

Gary Graham
Boat

Watercloset
Baja Bytes Weekly Overview
Sunday, September 18, 2016,
Gary Graham​
Que Pasa
Sport Fishing tournament, Grand Finale at the Marina Bay –
September 23 and 24.
September 23rd
: Inscriptions and reunion of captains.
September 24th
: Fishing day and awards.
Cost of registration for all the public:
Adults 600 pesos
Children 200 pesos
More information for bases, regulations and awards
at:
www.pescalabaj.com
Coronado Islands
South 9 Mile Bank – Coronado Canyon
Evening Update: There was some decent yellowfin action in the afternoon hours in a 2- to 3-mile block.
This is only 15 miles from the point. So close that even the afternoon ½-day boats got in on the bite.
There was also a second area down a little bit farther in the canyon.
Just like out west, the best action came with lots of chum and then fishing them with 20-pound fluorocarbon and a size-2 or even a size-4 hook.
Hidden Bank – Upper 500
The area in the east about 10- to 12-miles has some 10- to 20-pound yellowfin and a few kelps holding both dorado and yellowtail. …
Fishdope.com
Ensenada
Todos Santos has had steady yellowtail counts of 35 to 60 per charter; however, they are running 8 to 12 pounds over the past three weeks.
On the contrary, tuna counts on the outer banks have been non-existent.
Fish Dope now reports blue fin, yellow fin and dorado are moving towards the 238 from the Hidden Bank area by this weekend. …Jay
http://www.bdoutdoors.com/forums/threads/ensenada.638127/
San Quintín
September 11 at K&M !!!!
Captain George found a nice stretch of bait just south of the bay. Fish were up top,on the bottom and under the prop...
Went out Tuesday morning and I only saw three hook ups . . . all seemed to be medium-sized fish with one being a 'yeller'. ...
Sam
http://www.bdoutdoors.com/forums/threads/san-quintin-reds-and-a-yeller.638200/
Bahía de Los Ángeles
Rosarito Jimmy and I fished the 10th and 11th; hit the weather just right on the 10th -- the 11th was a little bumpy but good. The tails were small BUT plentiful; bait was tough so we fished jigs. We spent a couple hours on the tails and then went casting for cabrilla (leopard grouper). We found some wide open spots and had a blast! …
Captain Juan
http://www.bdoutdoors.com/forums/threads/bahia-de-los-angeles-catching-report.637858/
Cedros Island
I start fishing in the Cedros Outdoor Adventures for four days.
Cedros Island is known for yellowtail and calico bass.
I am going to concentrate on popping.
Here is a list of my tackle:
Rods:
10' prototype Black Hole Surf rod spinning
8' Black Hole Challenger Bank 801M spinning
8' Black Hole Challenger Bank 801MH conventional (prototype)
6'6" Black Hole Cape Cod Slow Pitch rod spinning…
Kil Song
6'2" Black Hole Cape Cod Tail Special spinning
Reels:
Penn Clash 6000
Penn Slammer III 7500
IRT 400 and 700
Shimano Stella 10000
Bahía Ascensión
The Extreme Toyota group arrived at La Bufadora Inn in Bahia Asuncion!
David Kier led a really fun group of off roaders through the Baja peninsula and they took a rest day here. We had a great time at the Fiesta Patria as well as surfing at Pta. Loma, swimming, snorkeling and boogie boarding at San Roque Beach. …Shari Bondy
http://www.bdoutdoors.com/forums/threads/woooo-hoooo-wahoooo-in-bahia-asuncion.636916/
La Bocana
Report pending. …
Juanchys Aguilar
Loreto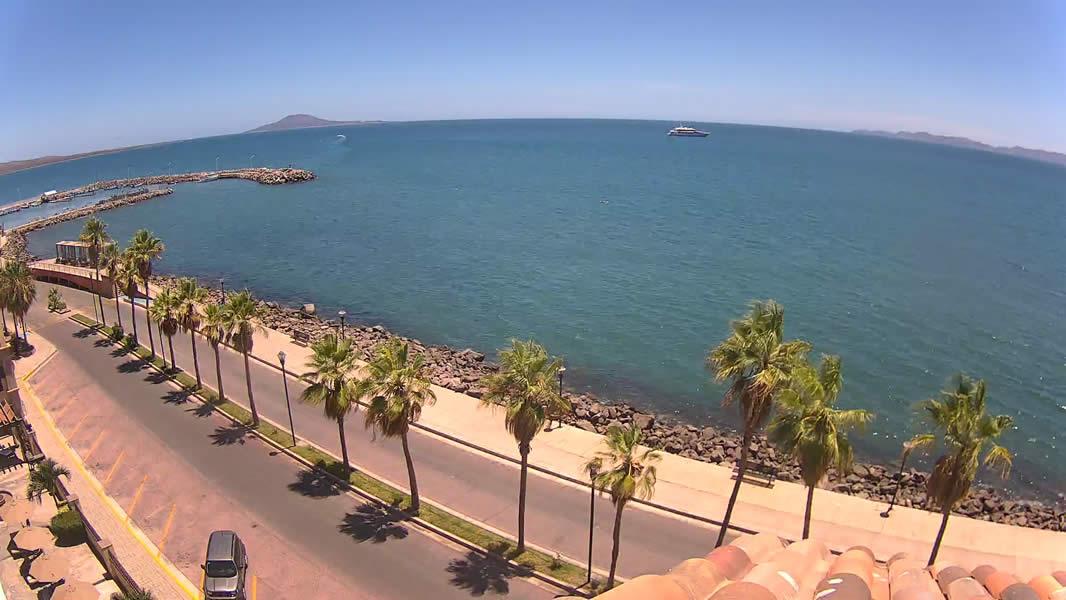 Captain "Tony" with his day-saving dorado caught on a jurelito near Playa Blanca.
Life is right back on the early autumn track after our "pop-up" hurricane.
Fishing is getting back to some consistent catches and many more break offs.
Yellowtail have been biting out at the "50 spot" just outside of Carmen Island's Punta Lobo.
Mackerel remains "the magic bait" with the 8-inch bait out preforming the jurelito.
Coronado Island (the 500-foot deep spot) is the place to catch the macks for the serious crowd.
For the laid-back fishermen, the trick is to put twenty-five dollars on your jurelito sabiki rig at the bait receiver.
It appears that there has been no noticeable ocean change due to the storm.
Normally after a hurricane we are foaming at the mouth looking for floating fish attractions like cactus, palm and palo verde trees with hungry fish underneath . . . no such luck this time!
Captain "Tito" did a marlin trip on Tuesday and came back with a big "zero" for the day -- not even a bonito to lessen the pain.
Captain "Tony" did a trip to the "50 Spot" and at least had a medium dorado to show after losing six hookups on the rocks. I wasn't sure what the problem was -- big fish or weak "leaders!"…
Rick Hill, Pinchy Sportfishing
Magdalena Bay
I fished yesterday and today outside Mag Bay for the first time since Hurricane Newton, and it looks like it was a good call since the forecast is for wind for the next week or so. Sometimes a serious storm will disperse fish that have been holding around high spots and it can take weeks for them to regroup. I was happy to find that Newton was not that strong off the Pacific Coast before it bent to the east and nailed Loreto. …
Bill Erhardt
http://www.bdoutdoors.com/forums/threads/outside-mag-bay-after-newt-sept-13-report.637965/
Fishing remains very good for wahoo tuna and a few marlin. …
Bob Hoyt
La Paz
No storms. Great weather. Even the full moon seemed to have zero effect on the bite this week. Dorado, tuna, big rooster fish and wahoo were all highlights.
If you fished with our La Paz fleets this week, I could pretty much do something I never do…guarantee you fish. There's plenty of dorado everywhere. The downside is that there are so many dinks out there that are literally the size of a big trout, it's like you're molesting the nursery. But, these little guys are born hungry like little pac-man fish and they go after anything that's in the water. They are attacking lures twice their size. They go after and destroy any bait you put in there and ergo, there goes your precious bait supply! In a word, they're pests!
But that's the only way to catch anything even remotely larger! If you don't have line in the water, you're not gonna' catch anything. And there's some larger 10- to 30-pound fish running with the "children" but the issue is how many of the squirts you have to deal with to get a larger fish!
The upside here is that these fish are a load of fun on the lighter tackle or flyrods. The other side is that dorado grow faster than just about any fish in the ocean because all they do is eat. In a month or two, these fish will double and triple in size. Two months ago, there were
zero
dorado around and we were all bitching. So, it's hard to complain too loudly when there's this kind of action out here. We just want 'em to grow FASTER!
As a little side note to the dorado, if you want to catch a billfish like a marlin or sailfish, a great color pattern for your lure would be…(drumroll)…dorado colors like green, yellow, blue and white!
LAS ARENAS/ MUERTOS BAY
This is where it was happening all week. This past week and the previous two weeks (minus that little hurricane last week) was like what Las Arenas/ Muertos Bay were like "back in the day."
We had wahoo between 20 and 50 pounds. There's a good smattering of yellowfin tuna in the 10- to 20-pound class. We have dorado…mostly in the 10-pound size, but got some of the largest dorado I've seen in two years up to 30 pounds.
And, we had some monster rooster fish up to about 80 pounds! In fact, about the smallest I think we got this week was in the mid-20's with most in the 40-pound class.
Now, in all fairness, it wasn't wide open and not every boat did great every day. But overall, with most of our anglers fishing 2 or 3 days, you really had some of the better fishing we've had in a long time.
Here's the ticket…we had squid!
Several weeks ago when the tuna and dorado showed up, we cut open bellies and found they had baby squid in them. The problem is that there's zero baby squid to be caught. Impossible.
So, for about 2 weeks now, we have our staff head to town and buy every bit of fresh giant squid they can get their hands on. Every night, I'm cutting up to 100 pounds of blocked frozen squid into 3 pound bags to sell to our guys.
From what I hear, we're buying out the city and are the only ones with the squid. The fish are eating it and, at the very least, it makes great chum.
This is not "bait squid." This is edible "CALAMARI" -- that's "restaurant grade." It's expensive. But the fish eat it and it's making a difference.
We had some good guys come to our restaurant for dinner. They fish with a competitor however and they asked if they could buy squid from me; I regretfully had to turn them down and said it's only for our fishermen and there's not enough to sell to anyone else.
So, one of them laughed and said, "Well, we're here to order dinner. So, we'd like to order the "calamari plate." However, please tell the chef we want 30 pounds of it and not to cook it and make it "to go!" We all had a laugh.
Anyway, as long as the fish are eating it and I can keep getting it, I'll sell to our clients to be prepared to purchase it. It's better than headed to the water and paying the bait guys and then waiting maybe 1 to 3 hours for them to find enough mackerel or caballito to sell you…if they find any at all.
For the rooster fish, the best bait is still the big ladyfish so be patient. You DO have to catch these baits and it can take a bit and you can only catch them one-at-a-time, but this is what the big rooster fish want. Anything that can wrap it's mouth around an 18-inch bait is gonna' be big!
Lastly, we hit some monster rainbow runners this week. These were the largest I've ever seen down here in 20 years. Cousins to yellowtail, they look like smaller cousins and are great eating. Usually, we catch these in the spring.
First time ever fishing and first time in La Paz, Karen Gerber from Washington hit it
out of the park
with this massive roosterfish she caught with Captain Moncho of the Tailhunter Fleet while fishing Muertos Bay just south of La Paz using a big ladyfish for bait. Karen also had the presence to release the fish.
First time visitor and first time salt-water fishing, John Green from Columbia, South Carolina, rocked it with tuna, dorado and a huge wahoo caught just outside of Bahia de los Muertos with Captain Jorge of the Tailhunter Fleet slow-trolling a big dark Rapala XRap.
Todd Jones from Salt Lake City, UT, said, "I could not stop jumping up and down in the boat after getting this rooster. I was laughing and almost in tears at the same time with excitement!" Todd spent 10 years in his quest for a roosterfish visiting other countries and places in Mexico unsuccessfully. He had only one day to fish, but decided to give La Paz a shot because of its reputation as
the roosterfish capital of the world.
He finally got his fish and not just any fish -- we estimate this fish to be close to 80 pounds! Todd says he's 6'3" and 270 pounds so the photo doesn't do the fish justice. He fought the fish on light tackle for 30 minutes. His biggest disappointment was that they were "unable to release the great fish" although they tried gamely to let it go. He did donate the majority of the meat to the nearby pueblo! …
Jonathan Roldan, Tailhunter International
East Cape
Wahoo, tuna, dorado, billfish, pargo, rooster -- what are you waiting for??…
Van Wormer Resorts
The tuna were the last to make a return. Today (9/10) there were nice fish on the table in the 50-pound range. Reagan Brogdon from South Carolina boated a 45-pounder after a tough fight on light tackle. Fish still want the squid. …
Gary Barnes Webb
http://www.bdoutdoors.com/forums/threads/newton-came-and-went-new-normal-back-by-weekend.637718/
Get your rods here right now!! Fishing after hurricanes are the best of the year and it's starting today. Here's the catch of today on the Dottie BII with Capt. Vicente Cosio. …
Hotel Buena Vista Beach Resort
San José Del Cab0
As summer season is entering its final week, we continue to see light crowds of visitors, though our busy fall season will be upon us soon. We are following weather forecasts closely; this week there was Hurricane Orlene which headed far off to the west making no impact at all on land except for increasing the already high humidity. Now we are watching a newly-forming, low pressure system off of the mainland coast; they are forecasting this system to travel offshore, paralleling the west coast of Baja -- far enough away not to cause any problems, and hopefully this will be the case. Most of the area is finishing the cleaning up of the debris and damage caused by Newton. However, our local panga dock area will require more rebuilding than most areas, but clean up has begun, and will be an ongoing process.
Ocean conditions are great now; practically no wind, light swells, clear blue water of about 85 degrees, lots of bait activity. Anglers were fishing the spots from the Gordo Banks to San Luis, using strips of squid, some caballito, bolito, skipjack and chihuil for bait. They were finding a variety of species, but no great numbers of any particular fish at this time. Yellowfin tuna are being seen feeding and breezing on the surface, but with all of the natural food source available on the same grounds, they are tough to entice into striking. A handful of tuna in the 100- to 150-pound class were caught along with others in the 10- to 60-pound range . . . best bet has been on the Iman Bank, though on the Gordo Banks, most charters were fortunate to land one or two tuna in their overall catch.
Overall catches averaged a few fish per boat -- tuna, dorado, snapper being the most common catch, along with a few billfish. Large numbers of tuna are in the area, just a matter of them going on the bite, with so much food on the grounds; they are not that hungry to aggressively attack anglers offerings at this time, however, a lot can happen from day to day, and week to week.
Off the bottom there were yellow snapper, triggerfish, leopard grouper, barred pargo, amberjack and dogtooth snapper, though in limited numbers, except for the triggerfish, which were plentiful as usual. Dorado were scattered -- some fish up to 20-pounds landed. Wahoo were scarce, but one 60-pound wahoo was landed from a panga on Thursday on a lure near Punta Gorda…
Eric Brictson, Gordo Banks Pangas
Los Cabos
Check out these proud anglers from Houston, Texas, with their 208-pound yellowfin tuna! It was caught aboard the Pisces
Knot Workin
on Monday. Captain Tito Olascoaga and deckhand David Martinez put them on this big boy about 20 miles out from the Jaime bank. It was landed VERY unconventionally (for Cabo at least) on a kite with a fly-fishing lure! To add to the fun they also caught and released a 140-pound striped marlin
-- Great job guys!…
Pisces Sportfishing
There was a pretty good mix of fish caught on the Pacific side of Cabo this past week by the Cabo San Lucas fleet. This week the most abundant species of billfish were striped marlin, with blues coming in second plus a few sailfish to round out the billfish scene. Yellowfin tuna and dorado, with some large tuna mixed in were also in the mix although most of the dorado and tuna were in the 15- to 25-pound range. Overall, another good week on the water for visiting anglers.
A mostly sunny, warm and nice week with a few passing clouds. Daytime air temps averaged 90.4 degrees and nights averaged 75 degrees. Humidity was 56.8 % average for the week.
Water temp on the Pacific side from Finger Bank to Cabo San Lucas was at 82 to 83 degrees. Cabo San Lucas to Los Frailes and out about 15 miles at 85 to 86 degrees and beyond 15 miles warmed up to 87-89 degrees. Tropical surface breezes were mostly from the southeast at an 8.8 mph average.
Best Fishing Area: In the Pozo de Cota area and close to shore along the coast in the Golden Gate Bank area, including the Cabo Falso and Herradura areas.
Best Lure/Bait: Tuna feathers worked well for both yellowfin and dorado along with rigged and live bait for the billfish.
Live Bait Supply: Good supply of caballito at $3.00 per bait rate. …
Larry Edwards Cortez Yacht Charters