I've posted enough I should edit this section
Mar 17, 2011
1,180
580
Name

Wai Jung
Boat

Seahawk II
A bit of chaos several weeks prior to departure due to the great uncertainties about conditions, so Capt Mike offered to extend our 5-day to a 7-day by either leaving earlier or coming back later. Would have been nice but no can do given people's booked flights and/or schedules; it was highly commendable and generous that he made the offer. The only thing that was possible was to leave at 9AM vs. the original 11AM...every little bit helps.
One member in our group of 26 had a bad fall en-route to Ensenada and had to disembark to get medical attention when the boat did the obligatory check-in. We later got word that other than some major bruises and some disorientation, he didn't have anything broken. Not the best start for any trip but it could have been worse so we left for the overnight run to Guadalupe.
The following is an account to my best recollection given the numerous stops made and my snoozing in between...
About 1-2 hours after dawn Wednesday we set out some trollers; mine went out with a cedar plug. After a few false positive stops, my setup ended up being the only one out as we got to the island. About ten minutes after turning northwards around the island, Capt. Mike called for a chum line and I start winding in my jig when I hooked up to a juvenile YT. Though it was released, I felt good for breaking the skunk for the boat. We ended the rocking and rolling day (including night fishing) with 10 YT and a bunch of hog Calicos.
Started the next day with a scratch bite like the previous day until 8AM when the bite went WFO for an hour and a half and we picked up 45 YT. I got two on flyline and here's a picture of my first one: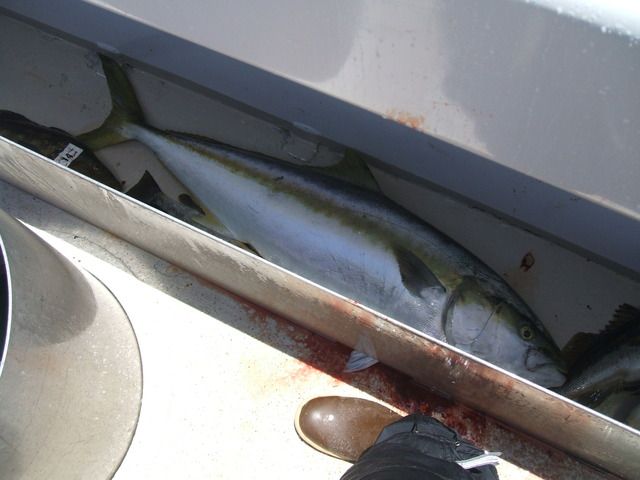 ...and my second:
After that it went back to being a scratch bite for the rest of the day with the wind and water smoothing out gradually. Picked up more YT, Calicos, and rock fish (the dinky Calicos and the rockfish all went back). Capt. Mike sighted YFT at two stops but they had lock jaws. At the start of night fishing two more YT were picked up with a third popping off. Since the few macs we had all got picked up by YT, about 6 of us fished sabiki's for macs and got 30-40 for our efforts.
Friday also was a scratch bite day but we did have ONE 30lb YFT by our one and only female angler on-board landed at the same spot where they were sighted the previous day. I managed another two YT; one on dropper and one on flyline.
Scratch bite on Saturday until late morning when the boat started the return trip back to Ensenada and it was back to the routine of trollers, chum line stops, and a scratchy bite. After 3pm, the trollers picked up three schoolie YFT and one more on a surface iron. Capt Mike tried to put us back on that school but it wasn't meant to be and he called it trip a bit after 4pm.
Boat total was 75 YT, 5 YFT, and a bunch of Calicos. The largest YT was 65 lbs confirmed at Five Star; the rest were 25 lbs or larger.
Two notable observations while at Guadalupe: (1) the "taxman" was not seen once, and (2) the sea lions were only a "minor" annoyance unlike the experience the Shogun trip that returned three days before our trip left.
My setups that landed my four YT:
Daiwa SMF170H on a Okuma Oceanic OC-C-701MH 20-40 Lbs with 50lb braid, 40lb mono top shot, and 40lb fluoro leader got three via flyline.
Daiwa Sealine 400H on a Okuma Catalina CT-T-601MH 30-60 Lbs with 65lb braid, 50lb mono top shot got one on dropper loop. Was very surprised that I didn't get rocked given that I only did 5 cranks back up after hitting bottom.
A lot of us got away with using less than the "recommended" 60lb minimum--probably because it was early in the season.
Not the most optimal conditions or most productive trip, but I got Guadalupe off my bucket list and landed four decent sized YT...and that's good enough for me.
Last edited: