Jun 9, 2010
701
765
Name

John
Boat

Wilderness Systems T-160...and just sold the boat!!!
2019 INDEPENDENCE 10 DAY SHOOTOUT – ALL ABOUT TIMING, AVAILABILITY, AND FISHING WITH FRIENDS
As is the case when you decide to try a new ride, availability on a given popular fall trip is limited, as returning anglers get the first chance to rebook. Also, several of us were in the mood for a boat change, and a trip to Guadalupe as we had been on one of the boats without permits the last several years. Ed had never been to the Lupe, and I hadn't been there since the mid 80's. As always Ed takes the research lead and found a couple good trips, to include the Indy Shootout and the next trip that left on the 16th. Turns out that for the trifecta of timing, availability and fishing with friends necessitated the Indy Shootout to accommodate our mixed group of five this year.
Our trip did go to the Lupe with scratchy fishing on 30 to 60-pound tuna, and no yellowtail at the Lupe. We also found scratchy fishing at the Ridge for a few tuna, dorado and Wahoo, and dead at the Rocks and San Pablo. We then had to follow a much different daily report as the Indy experienced solid variety fishing for Wahoo, tuna, yellowtail, and Dorado on the next trip out. Ed and I are already number 1 and 2 on the RP for the HI's Tackle November 2020 trip, along with our longtime buddy Bruce…see who else joins us…we are locked in!
LET IT BEGIN
The time has finally come for the annual long-range trip, and as always there was a long time to prepare, though this year was really a challenge. As I said to my wonderful wife, though we had hoped for an easier year after two rough years, though it was not to be. Apparently 2019 was a year to survive, and hopefully 2020 will be a year to thrive. I attended a memorial service for my Dad three days after our return from this trip, and did the same back in April for my Mom, needless to say a rough year! If you have followed my annual reports, in 2018 I had only recently gotten back into my home after a major rebuild following Hurricane Harvey in 2017.
This trip, me and Ed's ninth annual trip follows two trips on the Intrepid, four on the Excel, one on the Royal Polaris, and now a leap to the Independence. Why the jump to a new ride, despite good to great previous trips on the other three 100' boats? Well, high on the list remained that it be a big boat, and a desire, no make it a need, to go to Guadalupe Island, prime time dates later in the season, and then availability. So, with those four factors in play, ultimately it was the Independence that could meet all our specifications. As the season played out there were several earlier trips that would have worked, with steady tuna at the Lupe, and fairly light taxation by the resident GWS Tax Man in action. But this is our trip, October 6th through the 16th, and always the myriad of variables will play out dynamically through the next 10 days, though despite swinging for the fences, from purely a production standpoint we were left wanting. Luckily for all of us, though production is only one part of the equation, and this trip nailed the food, boat condition/cleanliness, fish handling, crew vibe, and overall group dynamics, so on the whole it was an enjoyable trip to a special place!
Joining us from previous trips are Bob and his son Nick, and Brett, so we start out with a few familiar faces, and like-minded guys to share in the anticipation as game day approached. Actually, the building anticipation goes back much farther, and included additional planning for 2020, that currently includes a June trip to Cedros, and an even later 10-dayer in November on the HI's Tackle 10 day on the Royal Polaris. Who knows, maybe the lower banks will again go off, and our timing will pay off next year...
Also, in the preparation phase, I decided that my original quiver, built by a good buddy in Texas was due for a rebuild. My 7470H, 700H, 700MH, and 700M are rewrapped and added reel seats from the original deckhand style build. Gary would have liked a little more advance warning, but cleared the bench and knocked them out, and even delivered them, giving me sufficient time to then get them shipped to Mike Morris of "Big Fish Transport"
10-4-19 Pre-Trip Travel Day 1
Like any trip involving air travel, today started way too early, and made worse by anticipation that had me up at 0250 instead of alarm time of 0315. Out the door at 0415, and at the airport by a few minutes after 0500. On time flights to Houston, and a gate change to San Diego also on time. Mike Morris from Big Fish Transport is always the best solution for us traveling anglers. He offers round trip shipping of gear, reel repair and pick up and drop off at the airport…truly long-range concierge service. He also offers storage at reasonable rates. Give him a call at (760) 805-0824, you won't be disappointed. As always, he was there on time, picked me up at the airport, and dropped me off at the Ramada Inn directly across from Point Loma Sportfishing. On that note, after several years staying at the Dolphin as part of the tradition, we went with the Ramada and were fortunate to grab a room adjacent to the sidewalk exit, which made the cart transfer super easy on departure day. Though an upgrade from the Dolphin, I'll always miss it.
So checked in, with Ed still an hour or so from San Diego, driving down from Ventura, I grabbed a white sea bass taco at Mitch's to hold me over until dinner. Once Ed made it in we got him unloaded, and relaxed for a while, before wandering the docks, checking out the Fisherman's Landing tackle shop, before heading over to SquidCo for a few last minute "necessities". Following that we walked next door to Volare for the traditional Italian dinner; starting out with a caprese salad, I went for their take on Cioppino loaded with clams, mussels, shrimp, scallops, and calamari with penne pasta; while Ed went with the eggplant parmesan, and a grilled sausage. Early to bed after a long travel day, and checked off the traditional pre-trip day one requirements.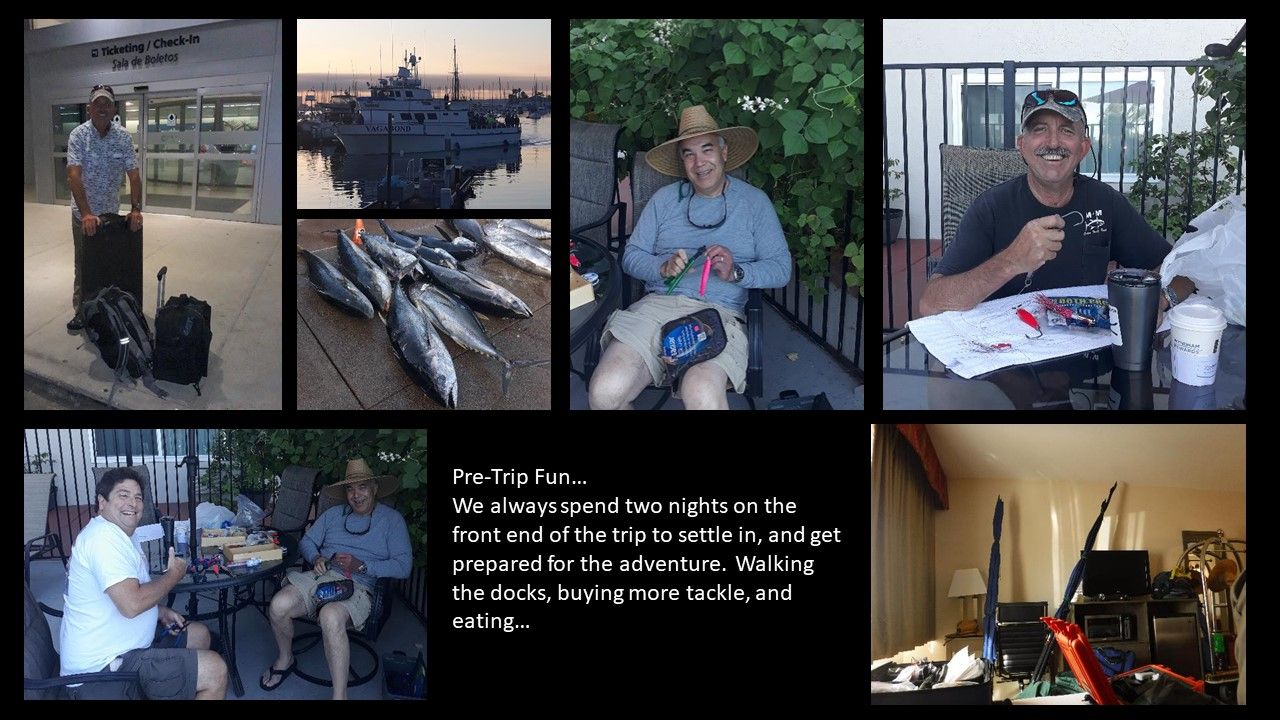 10-5-19 Pre-Trip Day 2
Typical day, woke up early, wandered over to the docks, saw the Searcher, Royal Star, and the American Angler offload from trips to the Lupe. Fish were from 30 to 80, mostly 40-50. Reports were most fish caught on 40, though a few on 30, and a few on 50. Went to Mitch's for breakfast, went back to the room for one last inventory check, and some retooling based on twitchy fish, small hooks, and light line. One last run for a few hooks and odds-and-ends. Spent time poolside tying wire, and re-rigging some well-chewed Wahoo bombs. Brett made it in, caught up with him, and then off to dinner at Pizza Nouvo, and as always, a great dinner. Early to bed, knowing we would be up early to grab the standard departure day breakfast.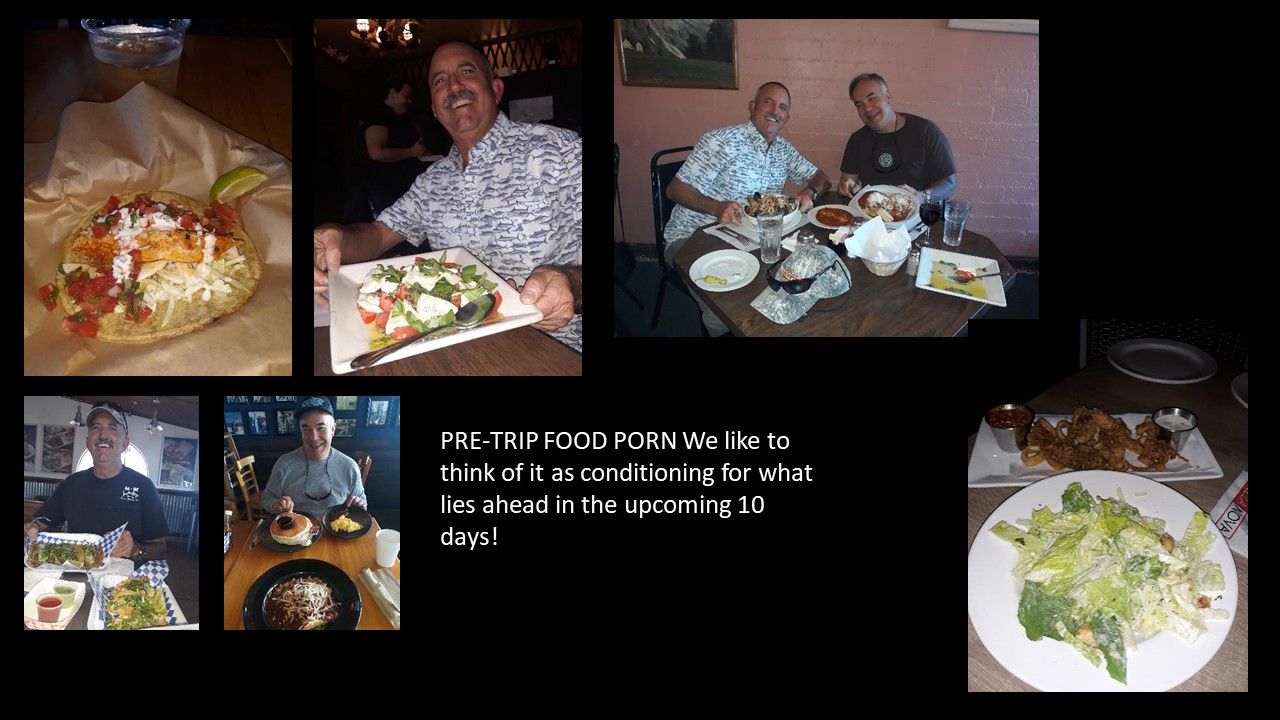 10-6-19 Day 1 Departure
Up at 0400…beat the alarm as to be expected. Went to Denny's for our old guy breakfast, back to the dock to grab a cart to transfer our mountain of gear from hotel to the dock, check out of hotel…it's game day! Smooth check-in with Judy, paid permit fees, and now to hurry up and wait. Bob and Nick showed up, so our gang is here, and ready to go. Mostly longtime regulars on the trip, seems like a great group, and includes John Collins, and our stateroom mate Rudy, another retired firefighter. Got loaded and underway by around 0900, and spent a few hours at the bait receivers putting on a good load of 4 to 6" sardines. Word has it that the tuna have wanted the smaller bait…so bait size is good news.
With bait on board, Captain Matt and the crew comprised of Brian, Oscar, Romo, Roman, Anthony, and Ed and Josh in the galley, hold our safety meeting, and gave us the gouge on what might happen over the next few days. Already feel a good vibe, and became reacquainted with two of the crew, Romo who we met on a 2011 trip on the Intrepid, and Brian who worked on our 2018 Excel trip. Spent some time putting gear together, though saved rigging for tomorrow once we knew our destination and game plan.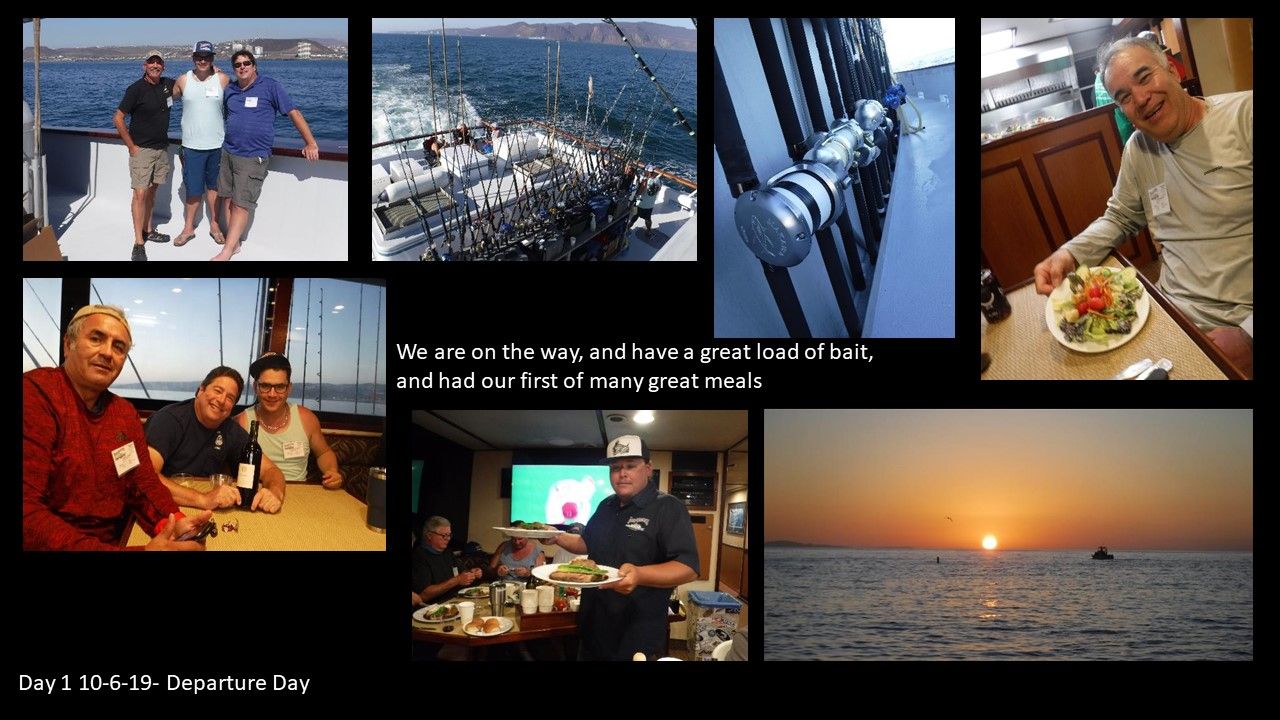 Time for a snack, with a chicken quesadilla, guacamole, chips and salsa laid out. Should hold us to dinner.
Our first stop is Ensenada to clear customs, and other permit logistics associated with fishing Guadalupe Island. We were in and out in about 45 minutes. Matt was waiting for end of day reports from the fleet to make the final decision on where we would start this adventure.
First and only call for dinner, and the bar was set high! Spoiler alert, food is a big part of these trips and will be fully covered. Started off with a real nice mixed salad, fresh rolls, and a perfect prime rib, baked potato, and asparagus. Sour cream, chives, fresh horseradish, and plenty of butter were liberally applied. Apple Pie and ice cream for dessert. Off to bed early…woke up around 0500, and the course had been set for the Lupe.
So before we get immersed in fishing, I'll dispense with the food porn shots:
Pre Trip...getting prepared!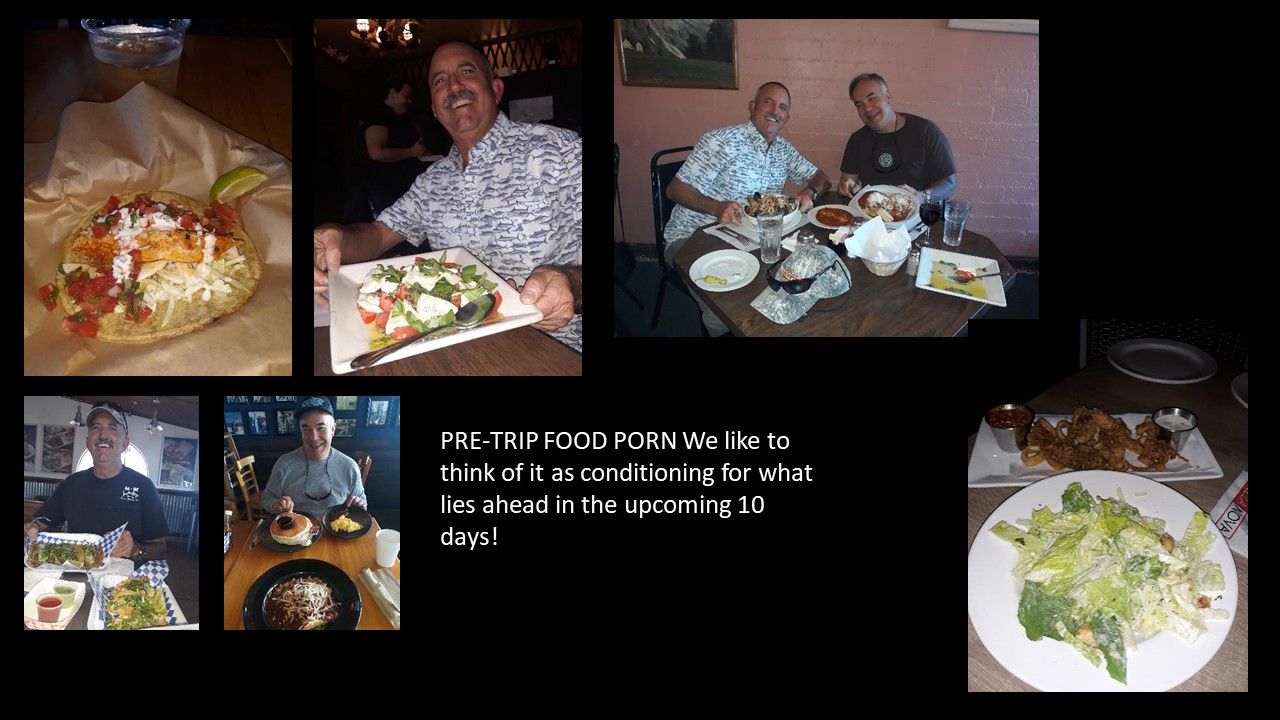 And in no particular order...all was great!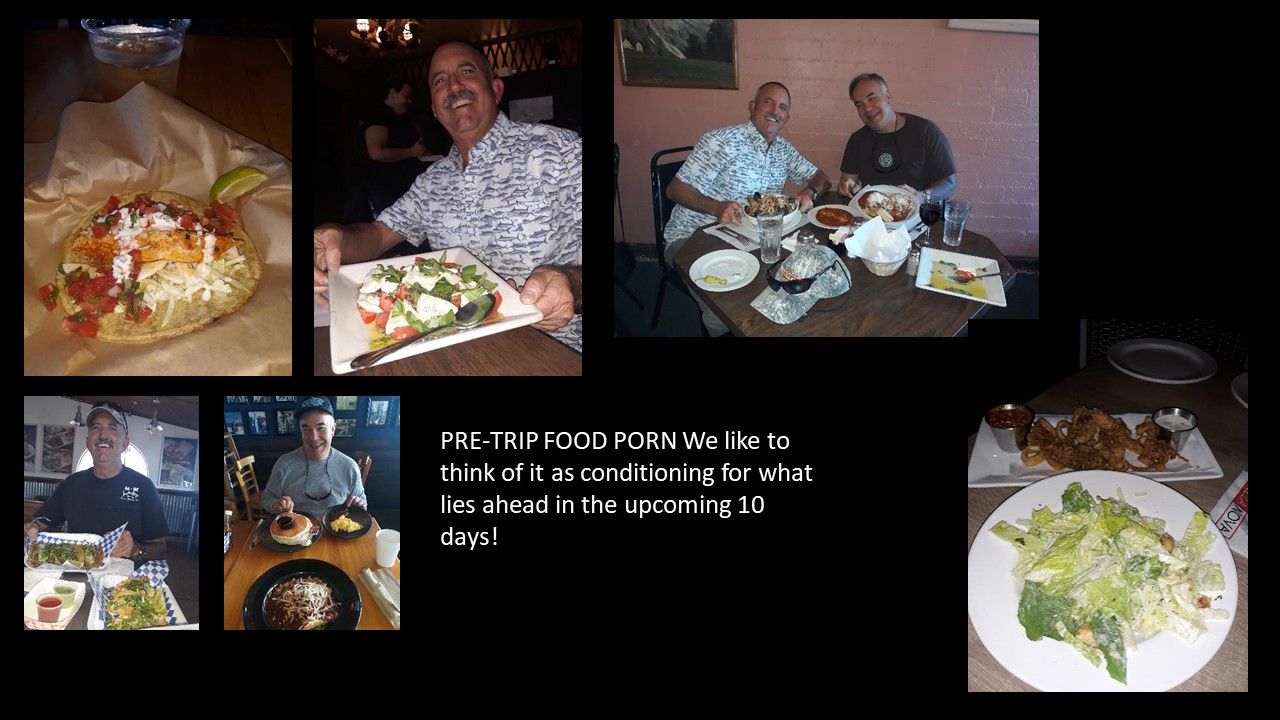 Have some more!
But wait, there's more!
10-7-19 Day 2
Travel day outbound for the island, started with first call for breakfast around 0630. Eggs to order, ham steak, and hashbrowns.
After breakfast, Matt came down and gave one of the best seminars I have heard, super informative, and some great one-liners…talking about getting bit, and fumbling to get your rod into your "Mangina" or rod belt, and losing the fish. The rest of the morning was spent rigging, with the crew fully engaged with those that needed assistance. When the smoke cleared, I had the bases covered with twelve rigs from 30 to 100, with jigs and poppers, dropper loop, and the rest set up for bait alternating long and short topshots in 30, 40, and 50.
Lunch of Lobster Ravioli and garlic bread has us fortified as we would arrive around 1400. With the island drawing closer, the anticipation level rises, as we collectively imagine what lies ahead.
Upon arrival, we took a look around for a while, throwing chum on a couple spots of fish, until finding one that reacted. Once set up on some that wanted to bite a little we stayed on the anchor scratching a way on 25 to 40 pound fish, that bit mostly 30# floro, on 1 or 1/0 J-hooks. With light gear there were lots of casualties, though the taxman was rarely in town, though arrived hungry later in the day. Once he came out of hiding, the tax rate went up as he made his presence known, including one or two highly visible taxations, including an epic attack boatside on Nick's fish. When the day ended, we had 28 of these fish gilled and gutted resting comfortably in the RSW. One or two with 3, several with two, and the rest with one or blanks on the board. Ed and I managed one a piece, though Brett snuck in two, and Bob and Nick managed one a piece.
With a great dinner of a nice mixed salad, salmon, wild grain rice, and broccoli and carrot cake for dessert finished we spent an hour making a box of mackerel for later use.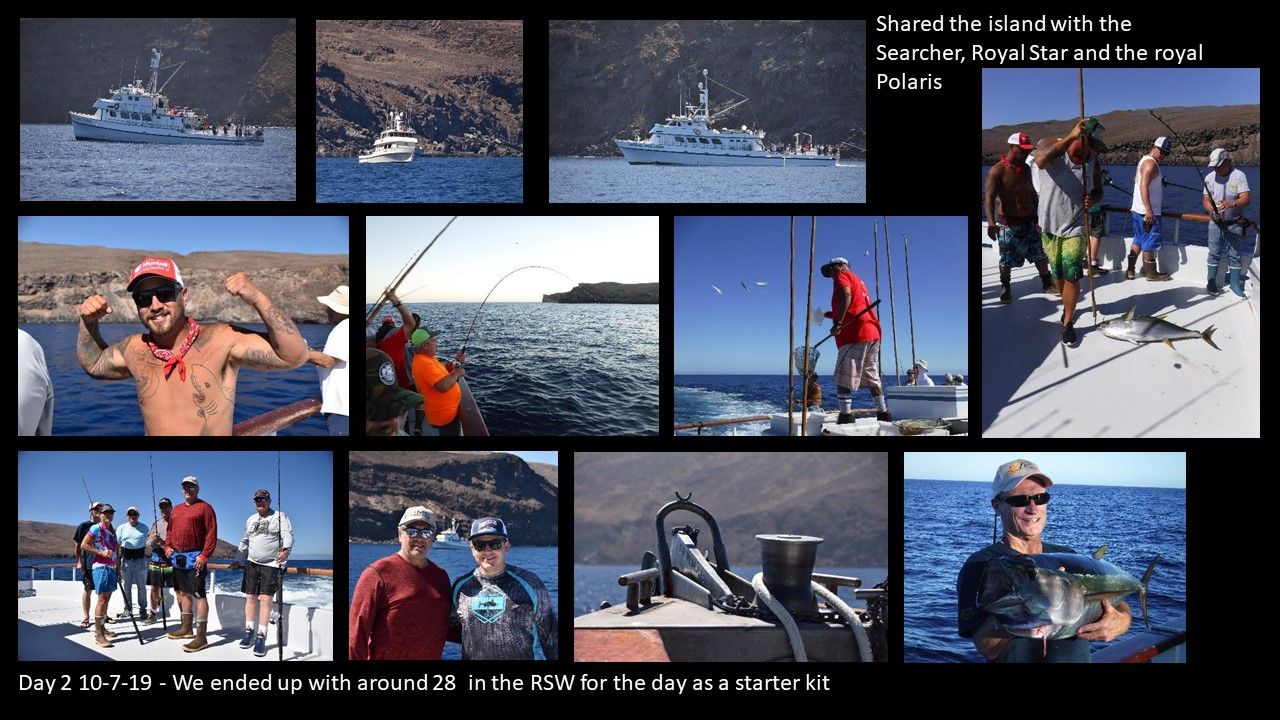 10-8-19 Day 3 – Humbled!
After yesterday's fishing we spent a peaceful night on the anchor, and awoke to slack conditions, and a few fish boiling around. First call for breakfast was popular, with hopes the fish would turn on. Throughout the day we saw way more fish than what was caught. Mr. Whitey, AKA the Tax Man and a few of his friends were parked under the boat looking for a few tuna to tax, and apparently, they went from hungry to hangry! These big guys put on several wet and wild shows right next to the boat. One of those super scratchy bites most of the day yielded 10 YFT, where food and NatGeo moments were definitely the high point. A late in the day rally resulted in another 20 YFT. Ed got one, and I got my ass handed to me not managing to put a fish on the boat. Other high points were fish chasing down flyers. All the crashing around forced Ed and I to throw poppers and the skip jig to no avail…but, hey you got to do what makes you happy. John Collins did hook a fish on the popper, though was double taxed losing both a fish and the popper to Mr. Whitey.
The Tax Man Cometh!!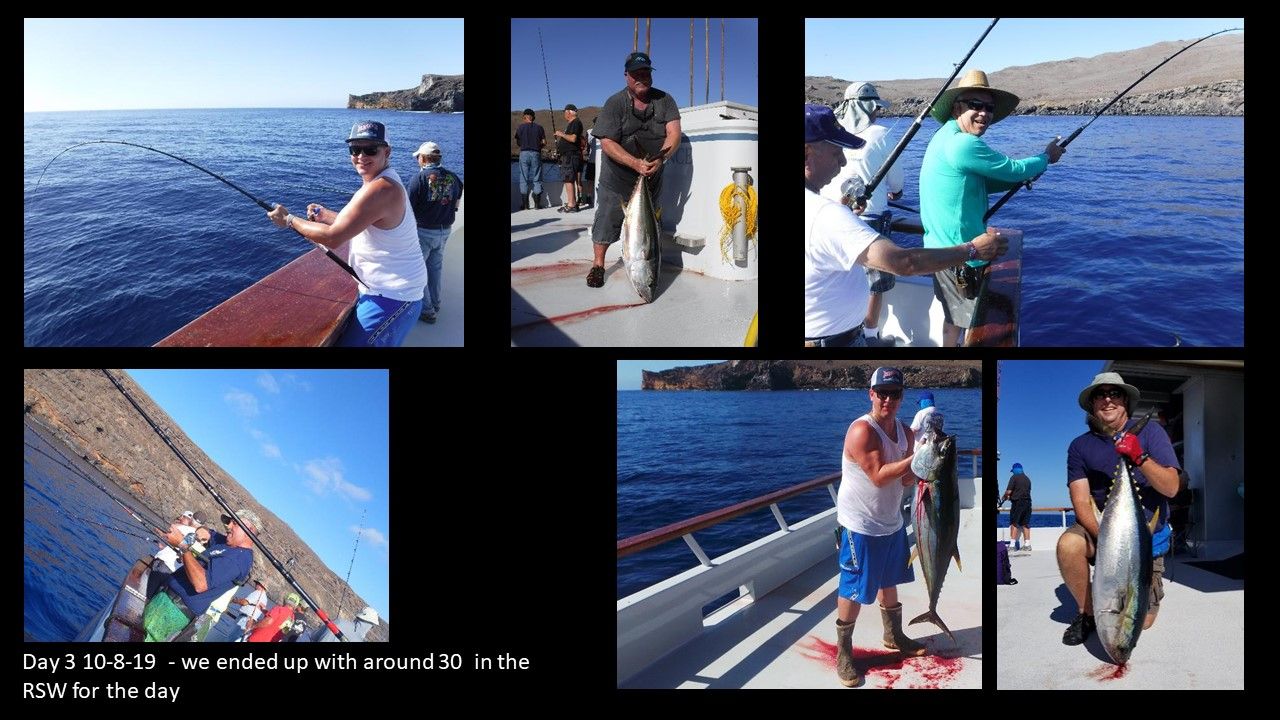 Great French Toast, scrambled eggs, and bacon started the day, followed by an INDY signature soup, this time beef and barley; along came lunch and we had Chile Verde, rice, beans, guacamole and salsa; seeming just a few hours later we boiled on a huge spot of Potstickers; and before you know it, a stop on Roasted Chicken, mashed potatoes and green beans, with a salad to start, and rocky road ice cream, that smoothed out the bumps in the road on day three.
10-9-19 Day 4---Ughhh…Groundhog Day
Sometimes catching an off day simply makes you appreciate the good days, but when you string together three in a row, an EBay tackle sale and a new hobby comes to mind. A few standouts continued to put a few numbers on the day. I thought I was going to turn things around this morning as the fish decided to bite, and I picked a bait that wanted to swim…get instantly bit. Fish does all the normal stuff with Deckhand Brian by my side, I'm feeling good. Then the fish starts acting weird, Brian thinks it's wrapped on a trap line, taking the rod he takes a 360 tour of the boat, and the tail beat returns. Then it's up to anchor territory and a back and forth and finally move off to an up and down fight, with line steadily coming back on the reel…and then a funky head shake, it's gone, with broken mainline. Crap!! Go back, retie, and on 2nd bait, I'm back on. Fish goes to the bow, and another anchor line ballet, fish finally settles down and then apparently gets sharked…zero for two. Things didn't improve after that, got picked twice. The bummer was at the time Ed, Brett and I were on fish up in the bow…would have been a cool shot with all three of us with a fish.
Same overall drill as yesterday, with a morning hit, an afternoon hit, and a final later hit going almost into the dark totaling up to another 42 fish…with me again absent from the board, and managing to get chewed off after surviving multiple slack line tangles to go zero for three…WTF. Seriously impressive was watching Brian seemingly functioning as a hook and hand machine who hook and handed 30+ fish today, though not every fish made it to the boat, his getting bit skills were phenomenal, and have been a significant piece of the last three days catch of about 100 tuna, from 30 to pushing 60 pounds, with most in the 35 to 40 pound range all on 30 and 40 with small hooks, with high casualties. So, I'll finish up tabulating a cost for the EBay fire sale to come, and consider basket weaving or gardening…
Day Four same drill...and for me same proverbial black cloud, though as always there were the standouts!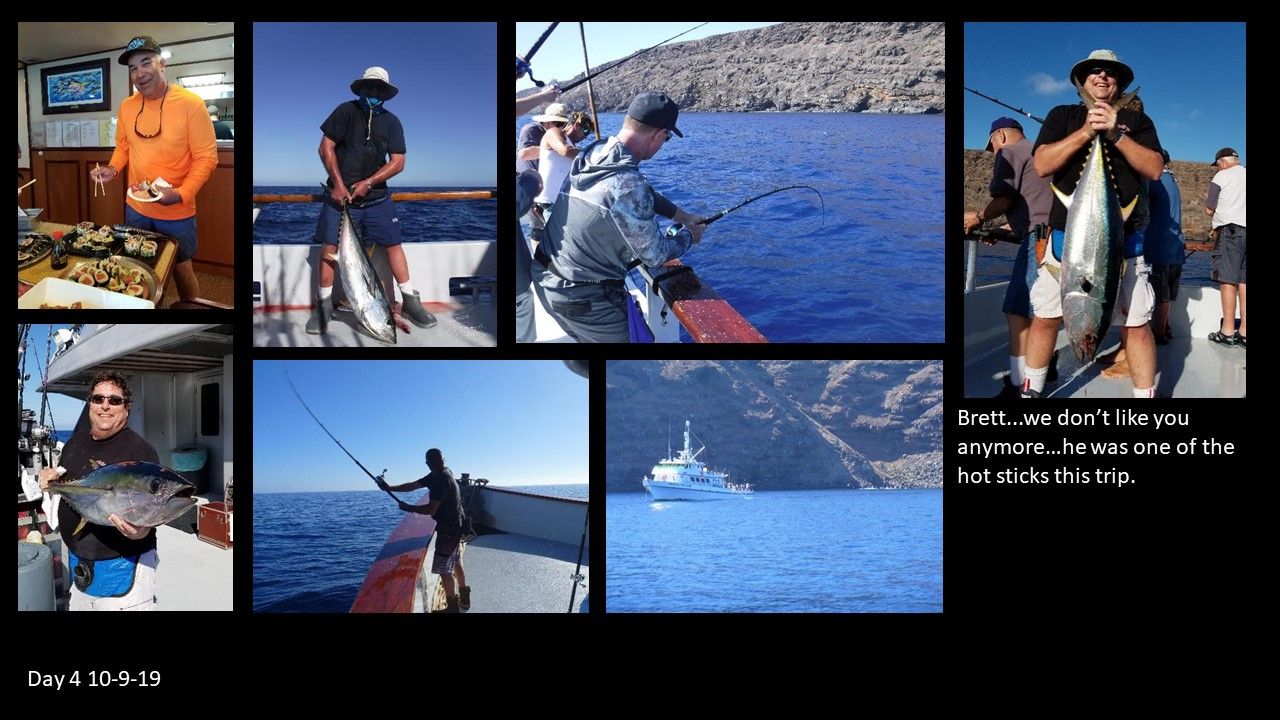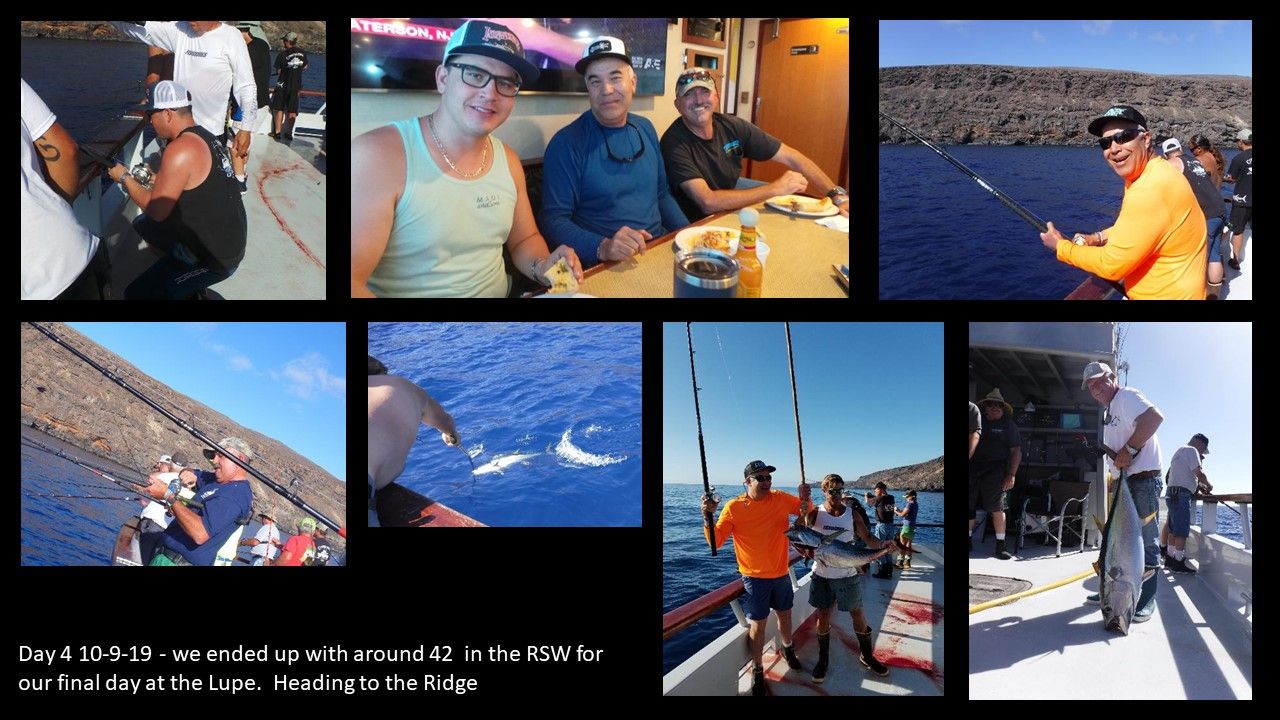 One thing that continues to amaze is the vibe of the crew, with obvious strong leadership and professional cohesion contributing to what can only be described as world class. Not only are they always busting ass, but they really try (and succeed) in making it fun. For those that enjoy music while fishing, that too was provided, with a great mix playing most of the time.
Also, important to note, is that the food has been off-the-hook incredible, with each meal, the morning soups, and afternoon snacks all being really good, and always tonnage of quality snacks out and available. On that note, we started the morning with Eggs Benedict, a hit of lentil soup in the morning, jumbo pastrami sandwiches for lunch, a killer sushi, sashimi, and poke afternoon snack, and topped it off with ribs macaroni cheese, and perfectly cooked greens…as if that was not enough, dessert of Indy Bananas and ice cream.
We are now making the 33-hour move to the Ridge, with reports of some Wahoo, ridge grade tuna, dorado, yellowtail, and grouper in the offing. I have a lot of catching up to do, after my self-inflicted ass whooping, I suffered the last three days at the Lupe. Hoping to be vindicated…we shall see. Ed ended up with 3, Brett with 5, Nick with 3, and Bob with 3, and me with a paltry 1.
As a closeout, here are some misc. scenery shots...
10-10-19 Day 5 Travel Day and Birthday Rigging…
So, I wake up a day older, and am now 57…today will be a day spent retooling for Wahoo, with bombs, raiders, bait leaders, and a Marauder all ready to go. Also, the longrods will be readied and hopefully we can find some fish to eat the iron and poppers. With the dorado on some kelps, and that Ridge grade tuna in the mix, we'll also need to have those bases covered. Rigging continued in earnest until around 1330. Took some crimping lessons from Ed and rigged some new Captain Jimmy Bombs and battled tested 6x and 6x Juniors. We took a break for lunch, thoroughly enjoying a big Cobb Salad, and then finished the travel day chores, making a few last adjustments to the gear.
With the work and naps complete, we took it easy awaiting the afternoon snack, and an eventual first and only call for dinner that was perfectly prepared Rack of Lamb with farro and delicious sauce. Dessert was strawberry shortcake.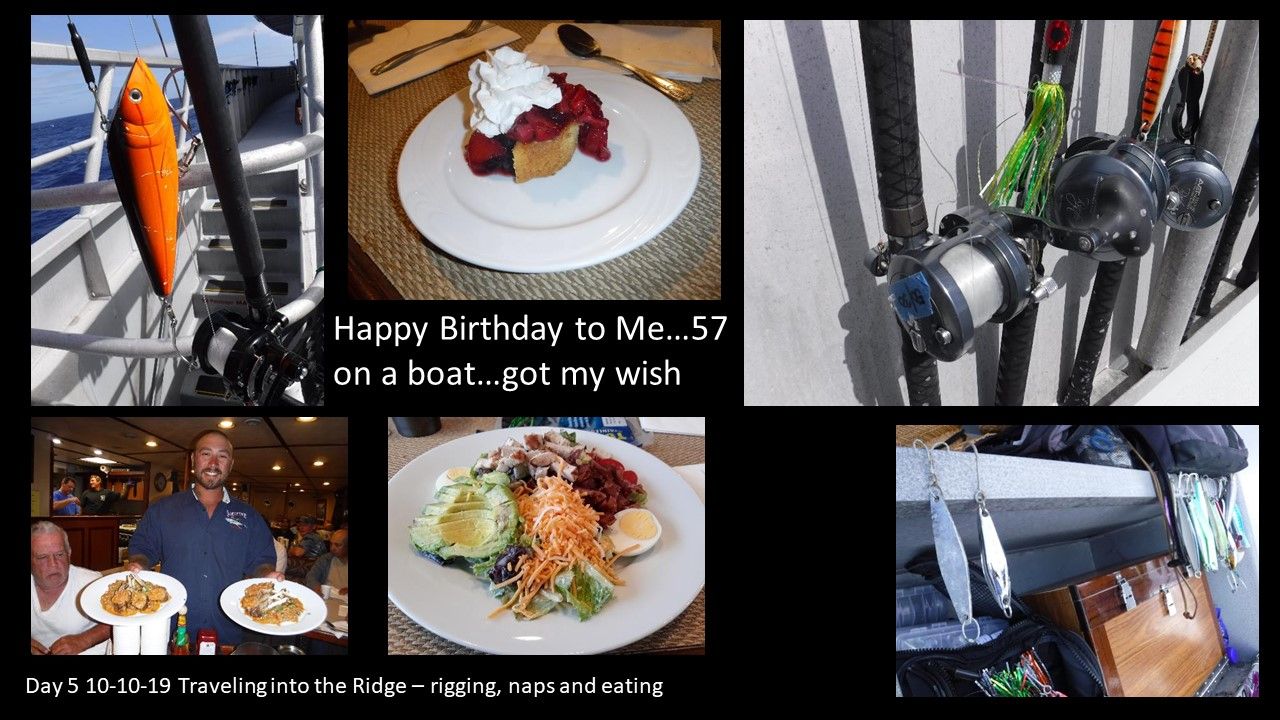 10-11-19 Day 6 – And the Hits Keep Coming
So we wake up on the Ridge, the Intrepid and the Spirit of Adventure are already down here, and should be leaving tomorrow. We get a little hit on that nicer Ridge grade tuna in the graylight, and then we get the trollers in and start the morning on the hunt for Wahoo. Ed and I our on Team 1, and I get short bit, and then one of the other rods gets bit drawing first blood. Wahoo fishing is slow all day, Ed gets one on a Raider, and got bit on a 7x, and I go 0 for 4 on a Tony the Tiger 6X Jr. We have a good hit on Dorado off a couple stops on a kelp, and continue to scratch at the tuna off a few anchor jobs. For the day we get 8 Wahoo, 55 tuna, 52 yellowtail, and 66 dorado. I for whatever reason continue to struggle under a relentless black cloud and end the day with two tuna, 1 yellowtail, and 5 dorado; though a big improvement over my performance at the Lupe, so maybe I'll cancel the E-Bay sale! To add insult to injury, my back is reminding me that I abused it in my earlier days, and required a muscle relaxant to get to sleep.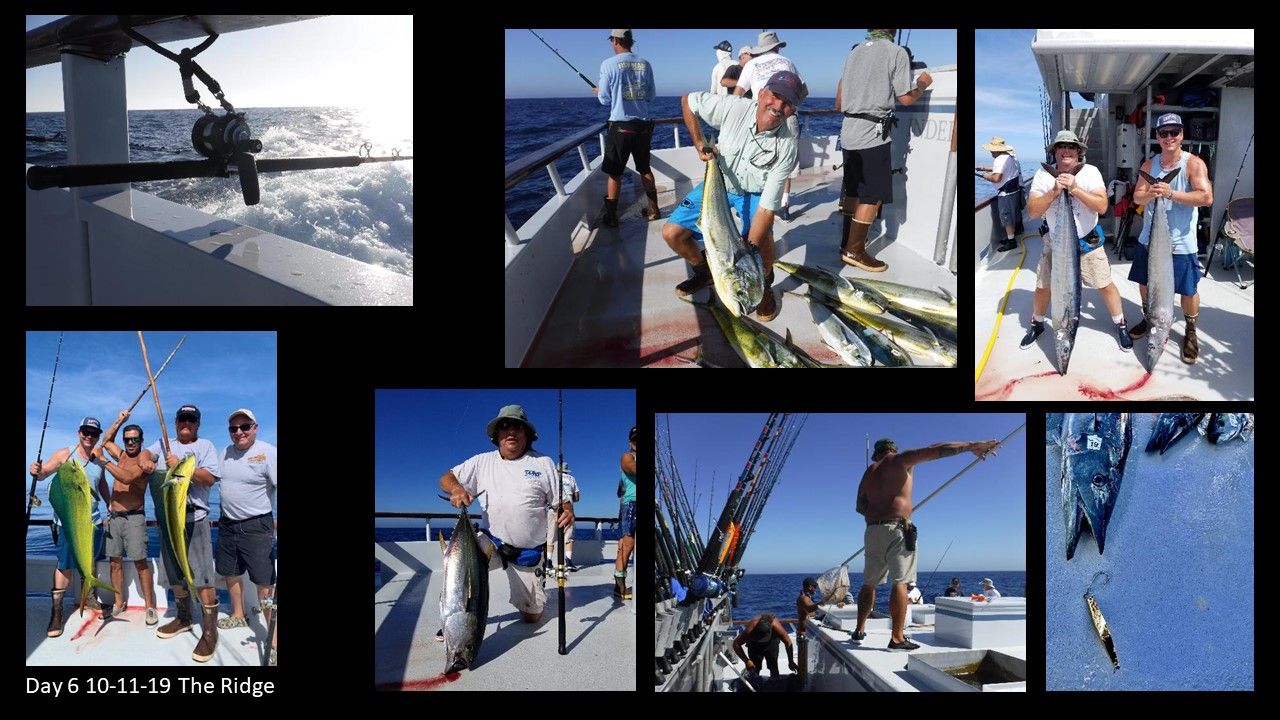 The food continues to be excellent, with Huevos Rancheros to start the day, a seafood bisque for the morning soup, a Muffuletta Sandwich for lunch, Taquitos with guacamole and salsa for an afternoon snack, and a braised beef dish with a nice mushroom sauce, mashed potatoes and green beans. Top that off with some mint chocolate chip ice cream, and call it a day!
10-12-19 Day 7 – Redemption Day…Got My Smile On
After a somewhat uncomfortable night, I awoke with my back marginally better. Popped a handful of aspirin, and remember that I have a Velcro back brace, tighten it up really tight and wander on up and grab coffee and get out on deck, and was blessed with a couple decent grade tuna! We get on the prowl, and get on good kelp with some eager dorado, and tag a couple. Feeling like the black cloud may be beginning to lift…We get on the troll, with team 5 starting it out, picking an occasional single or double on the Wahoo. I am getting bit on the same scarred 6X Jr from yesterday, then switch to a black and orange Jimmy Bomb. Same thing, getting bit, but not converting…despite winding through the bite. Ed gets a follower on the surface jig, runs out of water, and the fish breaks off, and as it turns away, I see it light up as my bomb comes into the zone…get bit, come tight, and he manages to chew through the 150 floro. I'm now 0 for 10 for the trip. Another kelp, some more dorado as we work our way up, for what is ultimately a turn out to the Rocks. Team One comes up on the troll, and Ed and I are in jail. An hour into it, my Marauder gets hammered, as do two more in quick succession. My fish and the corner rod end up wrapped, and unfortunately the other fish gets sawed off. I'm on the board, and a trifecta day is on the board for me. We end the day with 24 tuna, 14 Wahoo, and 33 dorado, and for me 3 tuna, 4 dorado, and a Wahoo. Hopefully our run back outside pays off…we shall see tomorrow!
Go figure the food continues as it has now for 7 days----excellent. Breakfast of waffles, eggs, bacon and sausage; followed by a morning hit on chili; before long it's lunchtime and a jumbo cheeseburger and fries make an appearance. A couple platters of spareribs tide us over until dinner, when some checkerboards come out with steamed rice, and spinach, and finished off with a brownie and ice cream completing a fun day.
10-13-19 Day 8 – Not as Hoped
No doubt we were all excited about the prospect of a run out to the Rocks, envisioning a hit of wahoo and maybe some yellowtail on the Alijos Bank. Unfortunately, things didn't quite go that way. With tough fishing I managed a single tuna that ate the jig that the wahoo seemed to be immune to the hookset, despite leaving it mauled. We pulled the plug on the Rocks around 1300 after a full and disappointing tour to include the Alijos Bank…all found to be pretty much devoid of life. We are making our way up, and many of us have broken down some gear, though optimistically left a few rigged as Captain Matt said we'd have a few hours to fish the coast on the way up destination TBD…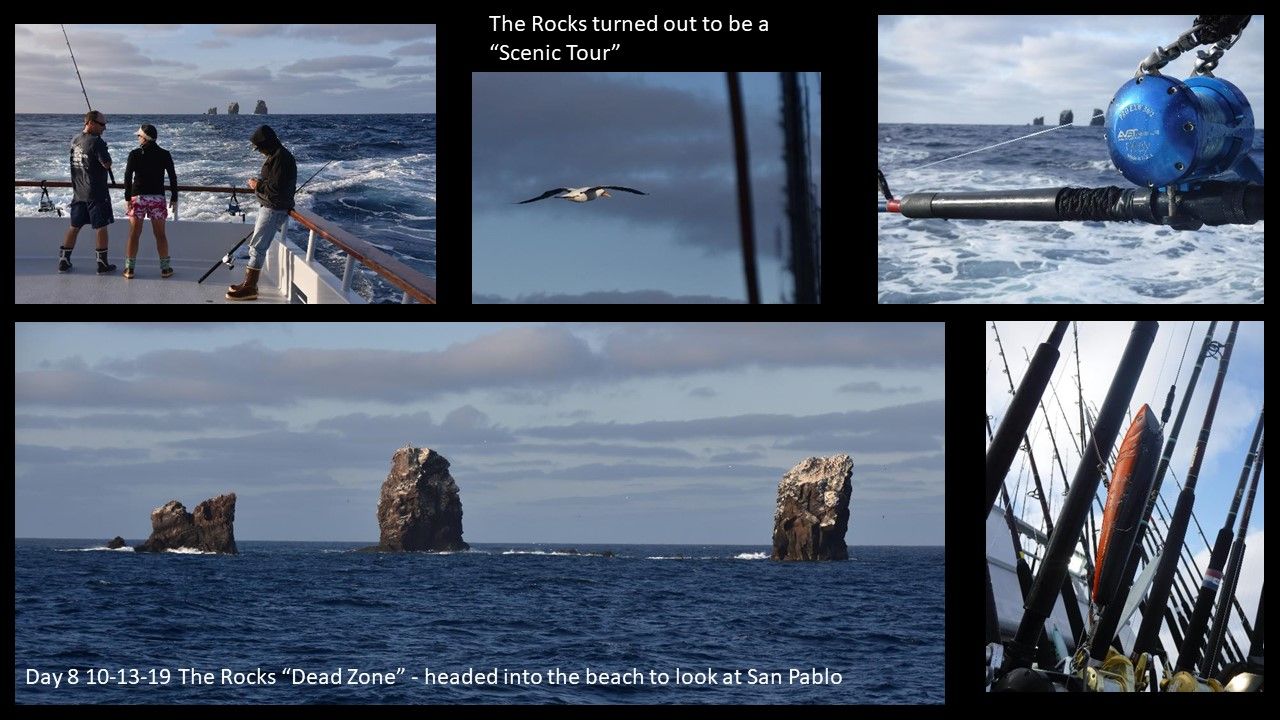 We started the morning off with ham and cheese omelets, hash browns and toast, and there were fresh baked cinnamon rolls; a late morning chicken soup; lasagna and salad for lunch; a killer dorado ceviche for an afternoon snack; and jumbo humongous pork chops with mashed potatoes and fresh green beans.
10-14-19 Day 9 - Not to be…
We woke up outside of San Pablo in the morning and found bait, porpoise and birds, but no biting yellowtail in slack conditions. We pulled the plug around 1030, and have 300 miles to cover to get to our check-in in Ensenada. Everyone broke their gear down, and the trip is essentially over but for traveling, more excellent food, and an offload on the 16th.
Not what were hoping for...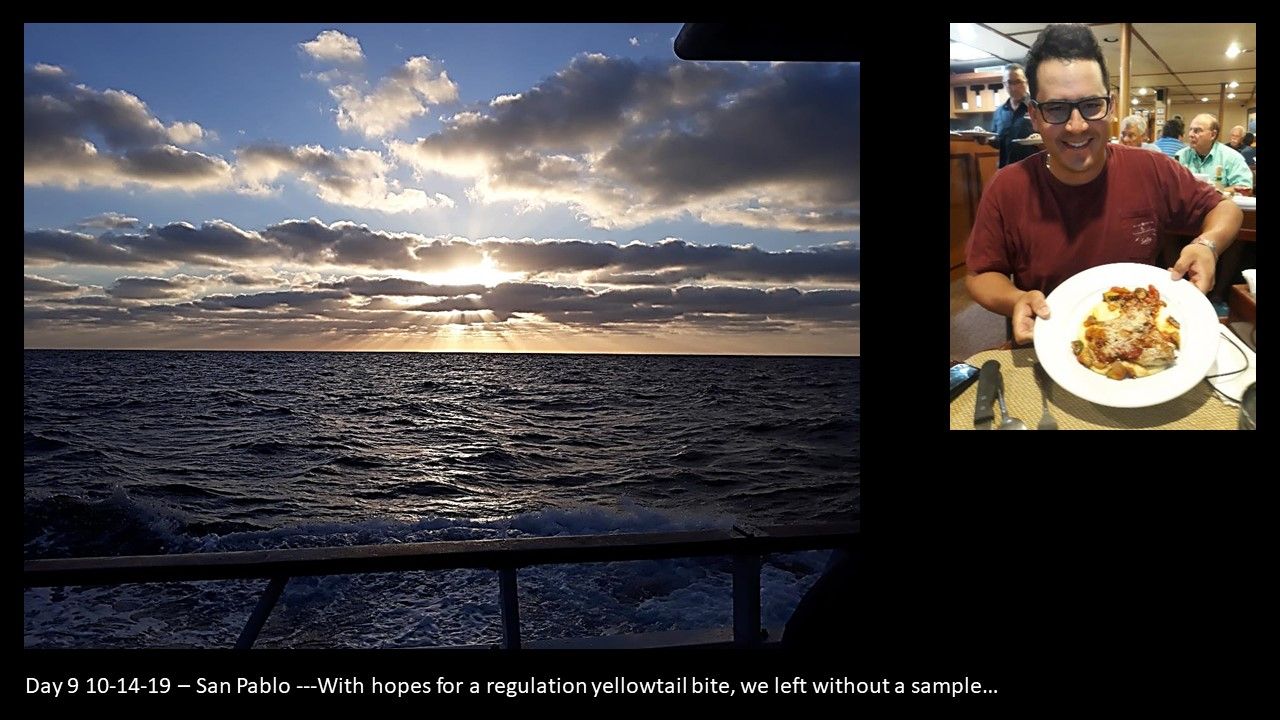 The morning stated with pancakes, eggs, bacon and sausage, though opted to have two pancakes and bacon; midmorning soup was split pea; beef bowls for lunch; and
10-15-19 Day 10 Ensenada Check-in
After a sloppy night running up the line, we awake to improved travelling weather as the miles spool behind us as we up head for Ensenada.
Food is the only thing of interest throughout the day. The crew scrubs the boat, while we must be content with "ING" - reading a book, watching TV, and catching a nap.
Failure on my part, I missed the promised documentation of the days food, though I recall dinner was a perfectly cooked New York Strip.
10-16-19 Return Day
The last day is pretty much the same across the fleet, with efficiency being the operative term, as the boats need to get the passengers, gear and fish off the boat, and then get fuel, groceries and a new batch of eager anglers back on the boat to start the cycle over…another Ground Hog Day analogy…wash, rinse and repeat. Ed and I used Fisherman's Processing, and I'll take a little up to Ventura where the "four orphans" and spouses are converging for my Dad's memorial service. The rest will be shipped out to coincide with my arrival back home after a three-week absence.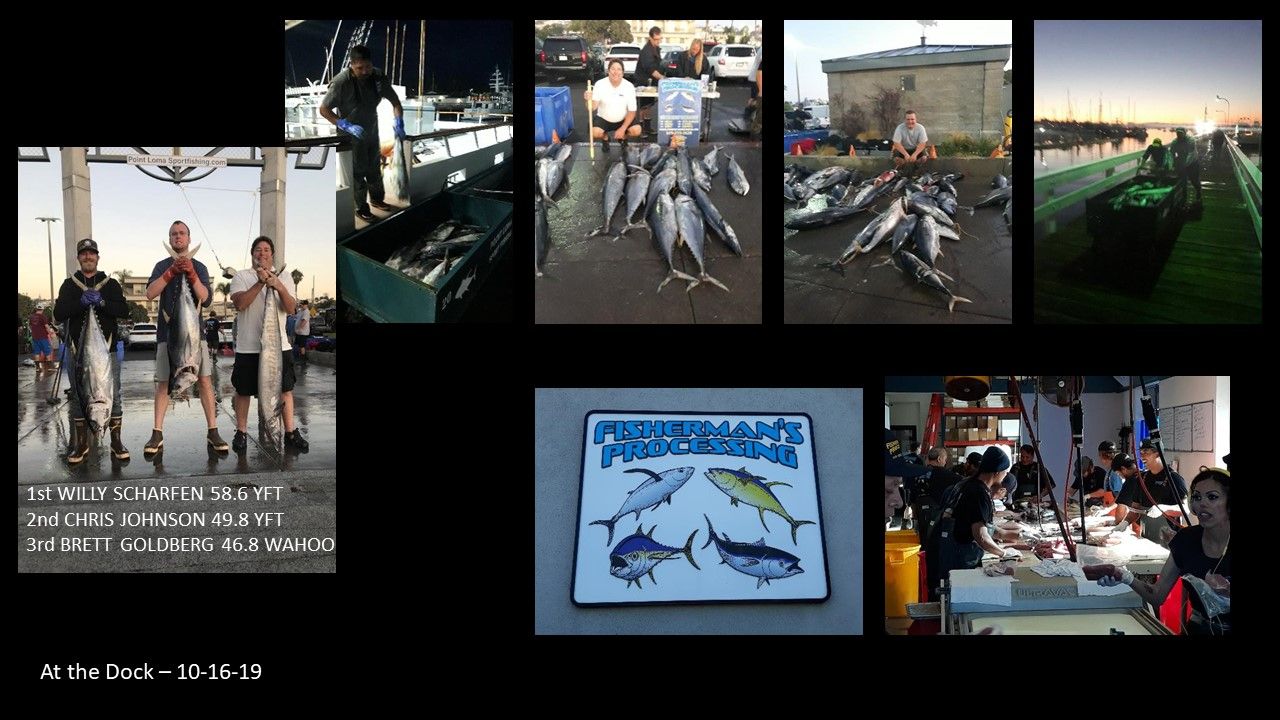 Though fishing was never red-hot, and the mainstay yellowtail were mostly MIA, the trip was a success in that we had great weather, a cool group with no "that guy", a great overall operation with a really fun crew, a Captain that pulled out the stops delivering a destination "Trifecta" hitting the Lupe, Ridge, and the Rocks, and a bonus stop on the beach.. The food was the best I had experienced in the nine annual trips that Ed and I have done. Fish handling was superb, with all larger tuna gilled and gutted, all others spiked and flushed, with the rest of the catch spiked and quickly making its way into the RSW. Also notable was that the boat inside and out was always super clean. So, though there was significant consideration to rebooking, we are sticking with our planned November 10 day on the Royal Polaris. With that said, anyone pondering a trip on the Indy, it is a great choice, and I wouldn't hesitate to fish this operation again. As many have said pick a trip that fits your schedule, as all the boats seem to have a great following. Hopefully we will get our yellowtail and calico bass fix with a Cedros trip planned for June.
Another thing to ponder is in regards to the emerging trend that has seemed to be playing out the last few years, as the mainstay of the fish seem to be pushing farther north, with the 2 and 3-day trips having great success on school and cow/super cow grade bluefin, school grade yellowfin, and yellowtail. Are we in a long-term cyclical change, that when combined with closures to include Cedros and Benitos, as well as those that leave the long trips constrained to the Hurricane, Buffer Zone, and the Lower Banks may change the face of longrange fishing? Regardless we will be out next year, and see what happens when it happens…
Hope you enjoyed the report!
Last edited: