Jun 9, 2010
702
768
Name

John
Boat

Wilderness Systems T-160...and just sold the boat!!!
It seems that each title of these trip reports over the years is ultimately influenced by an odd conversation, an unexpected landmark in the journey, maybe during the trip, or even before, though unrecognized at the time. This trip is no different…
This trip is an annual 10-day sponsored by Phenix Rods, as such comes with some great swag, loaner rods and of course rep Ryan Carey who is always fun to fish with.
It seems that each title of these trip reports over the years is ultimately influenced by an odd conversation, an unexpected landmark in the journey, maybe during the trip, or even before, though unrecognized at the time. This trip is no different…
Cliff Notes Version – Overall this was a scratchy trip, with no "full speed" WFO what longrange memories are made of kinda fishing. As always, there are those standouts, that through talent, luck, or more likely a combination of factors seems to dominate. I would say I normally have consistently been among those standouts, though this trip often had me on the sidelines. I ended up with two wahoo, 12 tuna, and 11 yellowtail, plenty to last through the year no doubt, though was in no position to help those less fortunate, nor donate to the galley. I did catch one mahi, though gave it to someone, as I didn't relish a mahi that swam in the RSW since our first fishing day on the 25th. We spent our 1st fishing day at Alijos, 2nd day on the Ridge, 3rd day below Mag Bay, 4th day at San Pablo, 5th day at Canoas, 6th and 7th at San Clemente Island. If you fished all those areas on a ten-days trip you would know that to do it would require a great deal of travelling…during daylight (fishing hours). So, with Hurricane Rosa, as part of this trip's calculus, we moved and moved some more to stay out of its way, and though we fished seven out of ten days, we also lost a lot of actual fishing time to travel. Our 33 anglers ended up with around 200 yellowtail, 300 YFT, 30 wahoo, 13 mahi, a handful of grouper, and 6 bluefin tuna in our 30 hours spent at SCI.
Observations – Very different vibe on the boat in a post Travis, Chowder, and Laoust world. Seems like the boat is in transition, though would hope that with time the new crew members will settle in and find their groove as a team. We all know that crew turnover is a reality in the fish biz, but always hate to see old favorites move on in their pursuits, though we always wish them well in their endeavors, and in some cases may choose to follow them when their move lands them on another great platform.
Tough fishing is a part of the game, though it is a time when the crew is under the most pressure to keep people in the game. No doubt Captain Mike gave 110%, and most would also agree that the Captain and crew want a killer trip, just as we do.
Crew- Captain Mike Ramirez, 2nd Captain Renee, Deckhands Vance, Jeremiah, Flaco, Brian, and Nick and the other Nick in the galley. Strange, not a familiar face on the deck...sort of like showing up at the wrong family reunion.
9/21/18 Pre-trip day 1- So this year represents the 8th edition of the annual longrange trip, that long-time friend Ed Gonzales and I have taken, beginning in 2011, with three trips on the Intrepid, three on the Excel on the same Phenix sponsored trip, last year on the Royal Polaris, and now back on the Excel for 2018. The great thing about these trips is the opportunity to fish with returning friends from previous trips, as well as meeting new ones each year. The stories are retold, phone calls to talk fishing and simply to catch up transpire frequently. As I write this first piece flying west from home in Port Aransas, Texas, I'm not sure who all will be dockside for this adventure, though I know I'm here, Ed from Ventura California my old hometown, Bart from New Jersey (yo, what are ya from fckn Jersey?), Mike from Virginia, Ryan the rep from Phenix, Tex from…well, Texas, Danny another SOCAL guy…we'll fill in the rest as we go.
You might have recognized my hometown of Port Aransas as we were on the national news for a few days as ground zero for Cat 4 Hurricane Harvey starting on August 25, 2017. Not going to belabor the point, but suffice to say it sucked, and thankfully my Wife and I just recently moved back into our home 320 days after landfall following extensive repairs.
I'm excited that our good friend Mike Morris of Big Fish Transport is easing back into the business assisting traveling fisherman with the logistical piece of long-range fishing. He'll meet me at the airport and a short ride to the "world famous" Dolphin Motel, which will likely be gone next year as old iconic landmarks are scraped so as to build high dollar hotels, that will not be as fisherman friendly as in bygone days.
Recent reports from the fleet have raised expectations with solid YFT and YT fishing on the Ridge, with some wahoo thrown in at the Ridge and at the Rocks. Stories of WFO jig and poppers bites has anticipation high. Add to that the significant number of triple digit bluefin that have been at San Clemente Island…and I'm super excited about this trip.
Checked in at the Dolphin Hotel, gonna miss the old school feel (ambience might be a stretch) of the old hotels and businesses in Point Loma, as time marches on to a future that is arguably not better from the perspective of the tens of thousands of fishermen that come to San Diego each year.
For those unfamiliar with the southern California sportfishing industry, it is a one of a kind fishery made possible by an amazing live bait capability of companies like the premier Everingham Brothers live bait operation. Not only has the area changed, becoming gentrified in a tourism centric way, but the fishery has evolved along with the cyclical nature of water temperatures and prevalent bait. For many decades, anchovies were the prime bait, and the summer season brought often times abundant albacore beginning in late June and early July and traditionally stretching through Labor Day. The season then extended up to Avila and Morro Bay, with some SD based boats extending the season "up North". Now these albacore are believed to be more akin to the mythical unicorn, with many of today's younger anglers having never experienced the crazy days of turn around albacore trips. Today's season is different as large schools of bluefin capture the headlines, along with locally available school grade yellowfin tuna, and other variety on kelps offshore. Today's bait is predominantly 5-7" and bigger sardines; easily fished on heavier gear, though in the day, it was often two eyeballs and a wiggle anchovy fished on 12# to 25# Mono, and hooks ranging from tiny size 6's up to size 1/0 if bait was both large and healthy.
Ed arrived in time for a late lunch, and opted to go light, I went for a seared ahi caesar salad, Ed with a smoked tuna and yellowfin salad at Point Loma Seafood in preparation for the anything but light eating that will ensue over the next 12 days, 10 on the boat with three meals a day, twice daily snacks, with candy, fruit, and drinks always available. Now living in Texas, I tell my West coast friends, that our party boat trips, especially the 48-60 hour trips are like wilderness camping, and I tell my Texas friends that the west coast long-range fishing is like a cruise but way better!
We checked out a few tackle stores, saw a few boats unload from shorter trips, though the big bluefin were notably absent as some sloppy weather had them down, the small to medium yellowfin, yellowtail, skippies, and a few mahi made up the catch. Then it was time for dinner; so off to Pizza Nuovo, and somewhat surprisingly going light again. I went with a bowl of lobster bisque soup and salmon crostini, Ed opting for a pizza. Following a long travel day, it was an early to bed kind of night.
9/22/18 Pre-trip Day 2 – Guess I was tired, sleeping late until after six, missed the unload of the American Angler and the Royal Star, though Bart who was up earlier did say that they had good trips, with good catches of nice grade yellowtail and yellowfin as well as a few wahoo. After the slow start we made it Mitch's for breakfast, enjoying a leisurely breakfast of Huevos Rancheros…life is good.
Spent a few hours working on tackle, built another 12 wahoo bait leaders, wiring jigs, and a few heavy floro leaders on jigs. Wandered out for a late lunch, obligatory stop to see Joey and gang at Squidco, pick up a few last minute "necessities ", and get some line on a new TRANX 500. The late lunch put a damper on the normally planned big dinner at Volare. Came back to the landing, and realized that the Excel was in a day early, though would still unload fish on Sunday. This gave us hope for an earlier departure the next day…only time will tell. We figured we still needed to eat, so meandered down to Point Loma Seafood opting to again go light with a bowl of clam chowder. Early to bed, knowing that sleep might be elusive.
Yup, woke early and walked across the street looking to score a cart…no joy…with the Polaris Supreme, Searcher, and the Excel unloading. Plan B, walk down to Dennys for breakfast, busted back to the landing and scored a rare and endangered clean and dry cart, and loaded up our ton of gear that will be taken to the boat by the Red Shirts later in the morning. While waiting for sign-in and to begin loading, it's time to renew friendships and catch up as we missed last year's trip. Mike Morris of Big Fish Transport fame came by with donuts, and was greeted by many that prayed for him while he went through a double lung transplant. Mike is a good friend to many, we were all so happy to see how well he is doing…God is Great!! We also saw Rosie Flowers of Cedros Adventures, who reminded us that we still need to get down for a trip.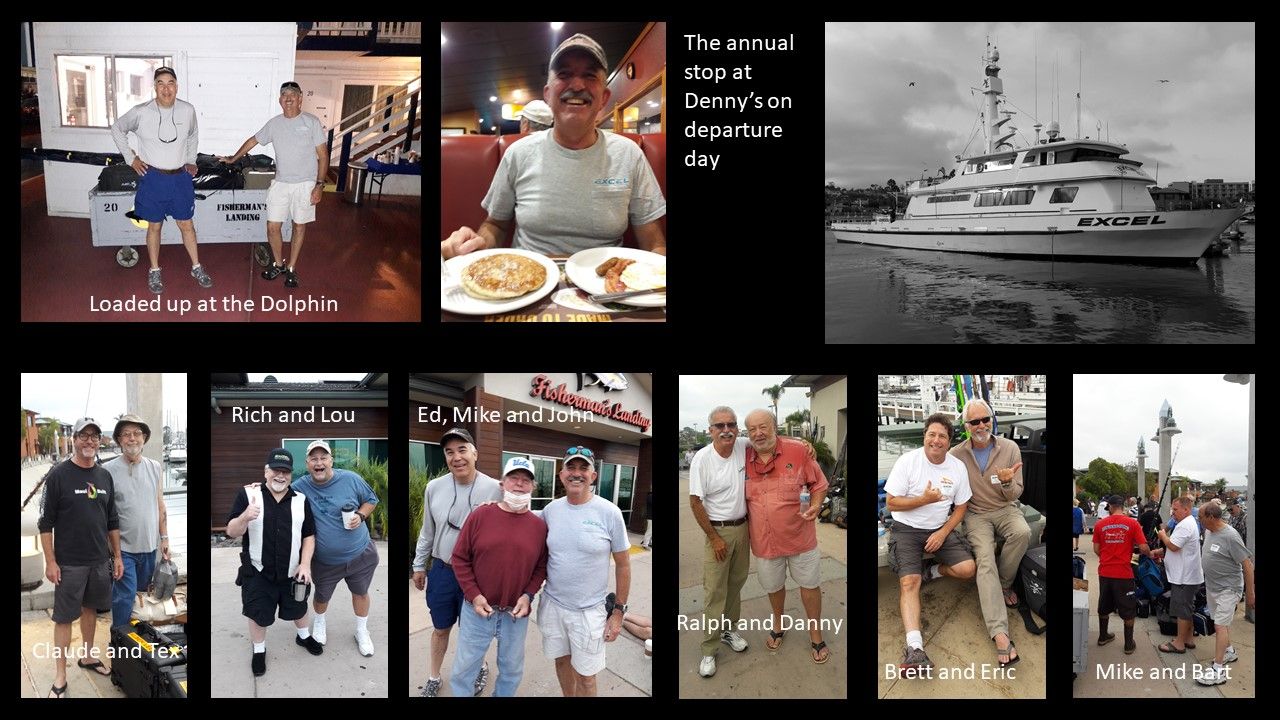 Well, we did get off the dock a little early, as the consistently smooth and efficient Red Shirt orchestrated loading process went off without a hitch. Remember the old less organized free-for-all loading process? We all got all our tackle and other gear stored away as we traveled to the bait receivers, spending a couple hours putting a seemingly great load of bait, before clearing the point before 1100. A quick safety meeting with Capt Mike Ramirez, that also offered a glimpse at what lies ahead…the Ridge and the Rocks…and maybe a start on the trip with some yellows at San Pablo Bay. He'd know better in the AM as it became clearer on how the fleet would be spread out.
Next on the agenda, Ryan from Phenix Rods, our trip sponsor launched the great swag and raffle giveaways, with shirts, hats, gloves, and finger tape for all, and a nice assortment to include three rods, a rod blank, 700 yard spools of Phenix Specta, jacket, hoodies, and a pro staff jersey…I scored a spool of 65# spectra. Went back in the stern for a photo op, with everyone (except Danny who apparently didn't get the memo) sporting Phenix apparel.
Time to eat, with our first lunch of a crab cake sandwich. With lunch out of the way, a few people began rigging, getting reels paired with rods, while others chose to more slowly ease into this, telling fish stories, or otherwise just chilling. Air was comfortably cool, so coffee was my beverage of choice. Retired to the stateroom to finish organizing our stateroom before dinner time, and made it up and joined Ed, Brett, Eric, Claude, and Mark for dinner. First night's dinner was a spinach salad, fresh bread, grilled pork chop, green beans and a light stuffing, followed by German Chocolate cake for dessert…
Early to bed, and no problem sleeping as we traveled down the line in great weather…
Food Porn will be interspersed throughout the report---Here is the first sample of Nick's work in the galley.
9/24/18 Day 2 Travel Day
Awoke around 0600, still travelling on down...wondering if it would be San Pablo for a shot at good yellowtail, the Rocks to focus on wahoo, or joining the fleet for the nice grade yellowfin that have been on the Ridge. These are real 1st world dilemmas, as we ponder initial rigging considerations, though the answer will come later this morning.
After a couple cups of coffee out on deck, I join Ed, Stan, Mike, Bart and Rich for first call for breakfast. Mike picks up honors for guest diner of the morning as we sit down for Eggs Benedict to start off a strenuous travel day, that will be spent rigging, napping, eating, and rigging in between the feeding and napping.
Vance puts on a really good tackle seminar focused on wahoo fishing, though covers the basics on dropper loop and standard flying. Word is out that we will start on the Rocks, and that will drive most rigging decisions for the next couple days, as we travel all day today and tomorrow .
So the typical travel day activities continue, with lunch being a high point, with a tasty seafood chowder that may make the afternoon of final rigging chores more difficult, as a nap may be in order. Tim is the guest diner for today's lunch. Decided to finish rigging after lunch, figuring on a late afternoon nap once these chores are done. Rigging done, spent rest of the afternoon watching the miles unwind astern, talking fishing. Obviously we've spun south, as skies are blue, and air temperature warm, bordering on hot. Because the day would not be complete without snacks--- morning munchies were blueberry and walnut muffins, and the afternoon hit was quesadillas with guacamole and salsa.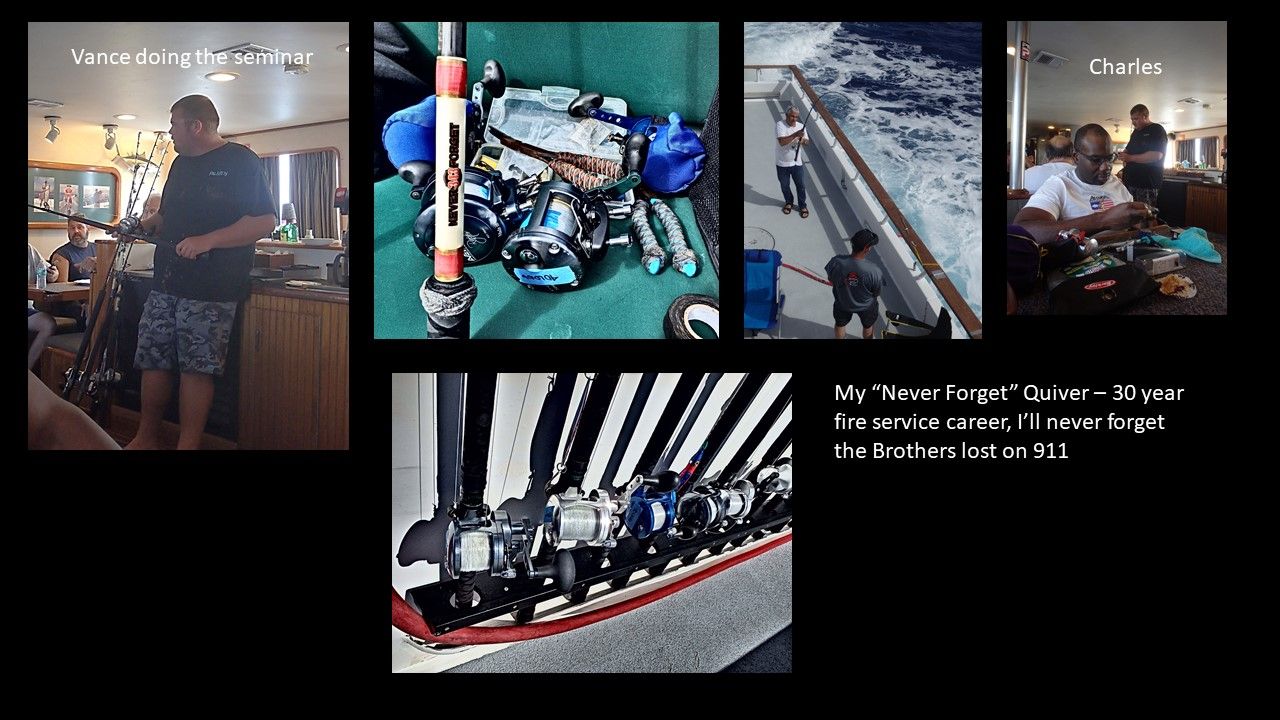 Initial rigging—dynamic changes likely, but need a start point.
770XXH / Avet 30 100# braid w/80# topshot
770XH / Avet HX Raptor 100# braid w/60# topshot—dropper loop
Seeker Baby Boomer / Shimano xxx w/ 100# long topshot – wahoo troller
Seeker Ulua/ Daiwa Saltiga w/ 65# braid / 50# mono – surface jig
Calstar 90J/ Shimano Tranx PG,65# braid, popper
Phenix 809XHJ w/ Shimano Tranx 500 w/ 80# braid—bomb
Calstar 6470 w/ Avet HXJ Raptor w/ 65# braid w/ short 50# topshot –bomb
Calstar 6480H / Avet LX Raptor w/ 65# braid w/ 50# mono bait
Calstar 800H / Avet JX Raptor w/ 65# braid w/ short 40# flouro bait
Calstar 700H / Cedros 12S w/ 65# braid / 50# mono, Salas 6X Jr., wahoo
Cal star 700MH / Avet LX w/ 65# braid w/ long #50 mono topshot—slider bait
Calstar 700M / Shimano 20HG w/50# braid w/ long 40# topshot wahoo bait
Phenix 809H / Avet MXJ Raptor w/ 50# braid w/ 30# topshot wahoo bait
Lamiglass vintage unknown / Avet MXJ w/ 50# braid w/ long 30# mono
Some additional rigging and other activities helped pass the hours as we traveled on down.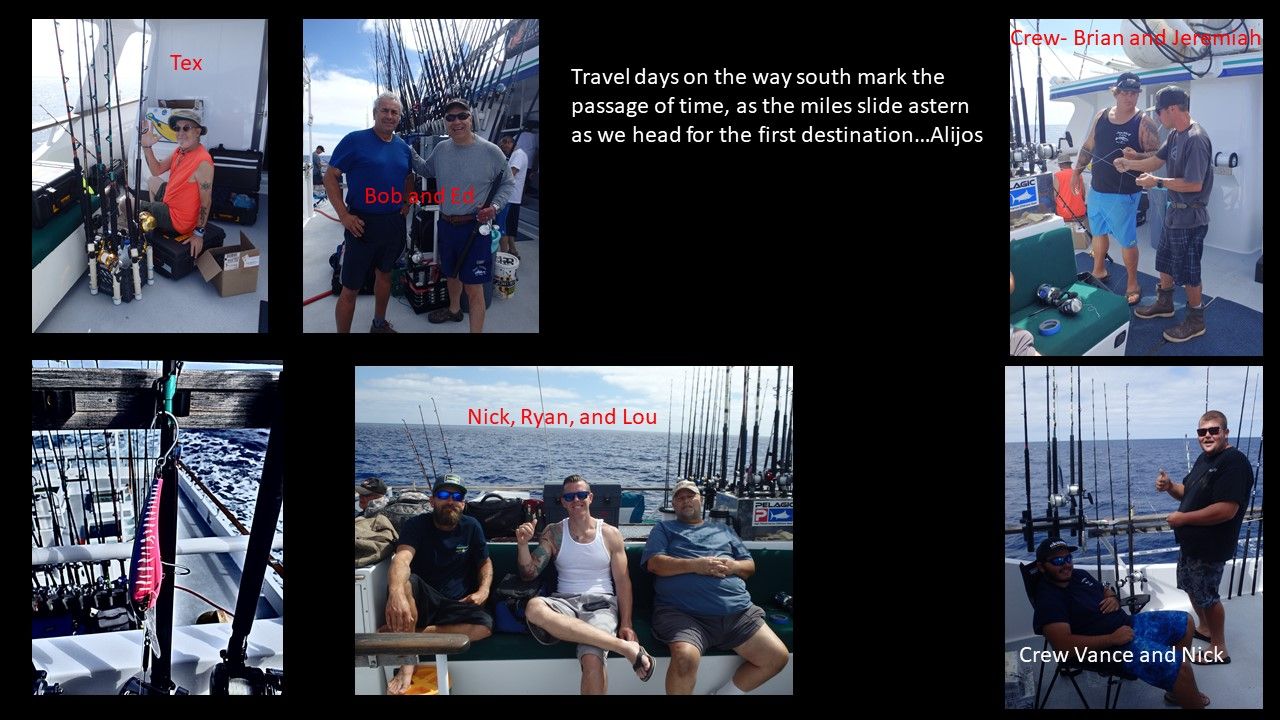 9/25/18 Day 3 Alijos Rocks. Good travelling throughout the night, awake to 10 knots of breeze, small swell as we make the final approach to the rocks, ETA 0930, leaving ample time for breakfast and final tackle checks. Bart was the guest diner this morning with biscuits and gravy, over easy eggs, and bacon. Note to self sit next to the guy who doesn't eat bacon, thanks Bart!
We arrive to our first destination, with Ed and I both on trolling team one. I'm trolling a Nomad, in a fish biz partnership with Mike Atkins with my trolling gear and his hopefully hot troller…we shall see!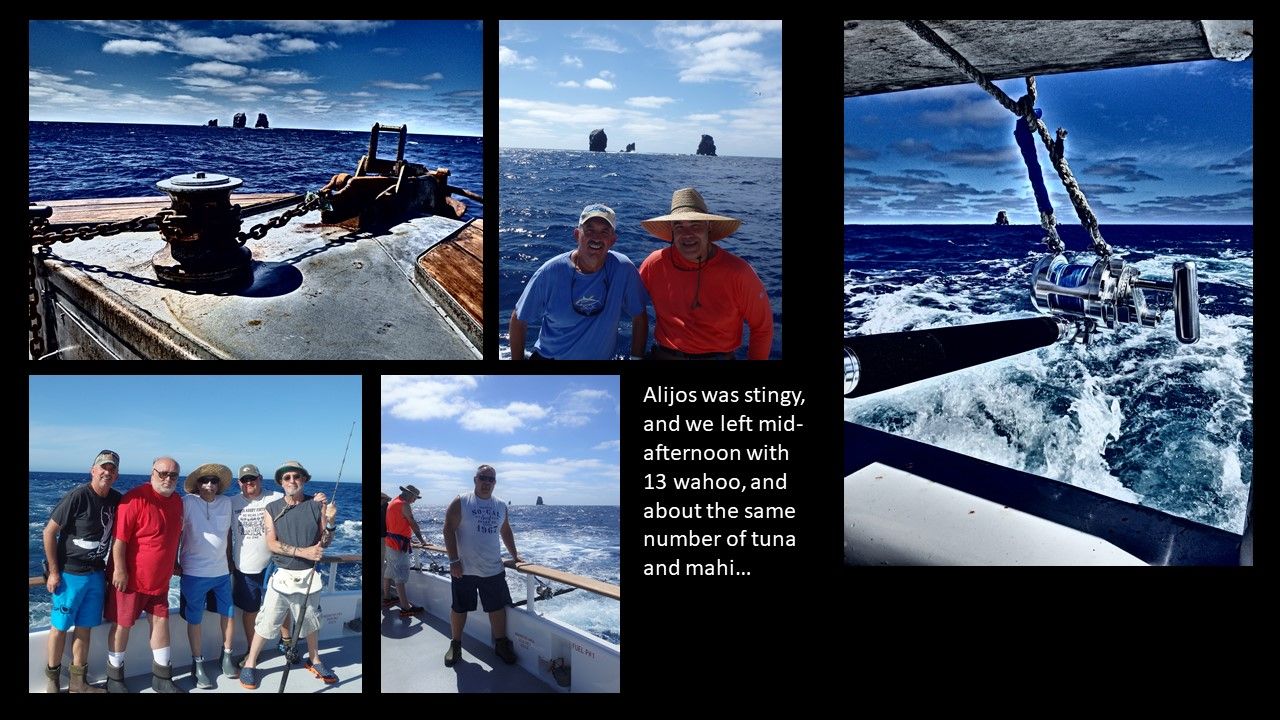 Well as the day ended much as it started, we have a lot of work ahead of us, as the day one starter kit left a lot to be desired. Total for the day was 13 wahoo, 13 mahi, and 17 tuna. Ed squeaked out a troll fish, and one on a Halloween 6X Jr., Brett had a troll fish, Ryan had a troll fish on the cowbell…spoiler alert…the Nomad is scratch free, only a couple bait and jig fish to go with a few more troll fish. I caught several mini YFT all released, one mahi given to another fisherman as I wasn't too excited about an 8 pound dodo in the RSW for 8 days, and I hooked a 100+ lb striped marlin on a pink 6X Jr. on 40 lb, had it on for short of 10 minutes before it broke off.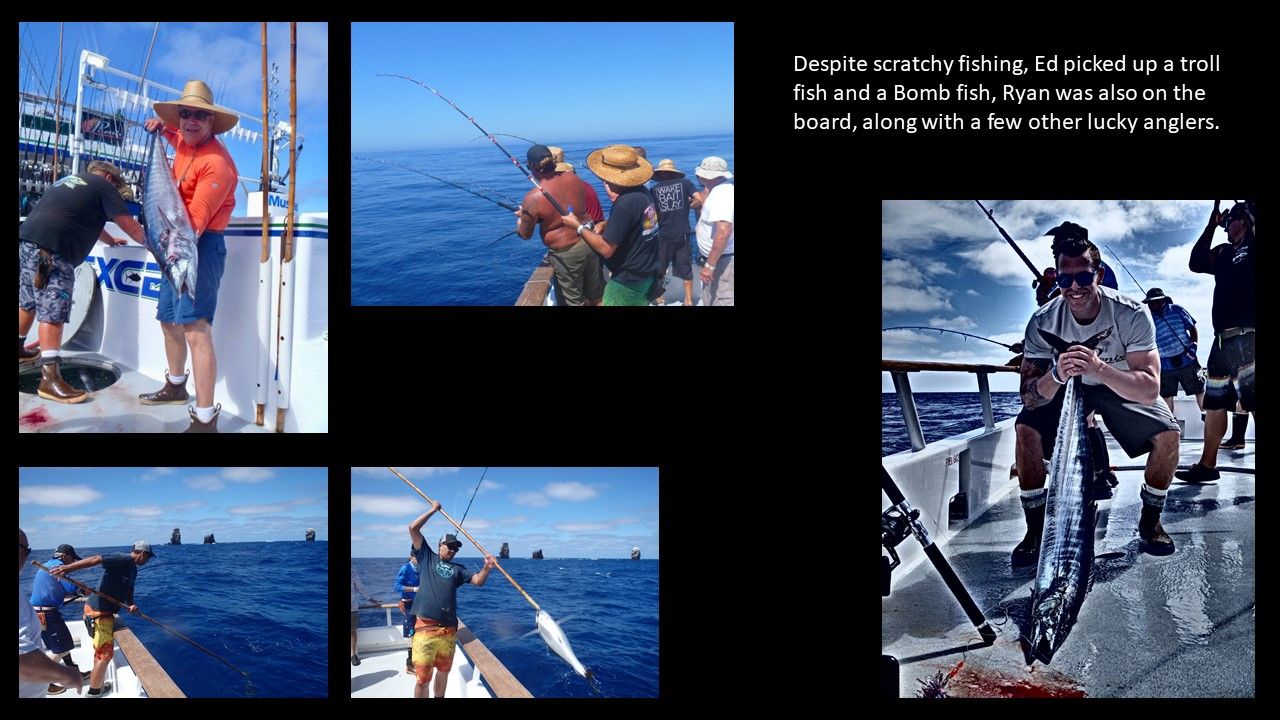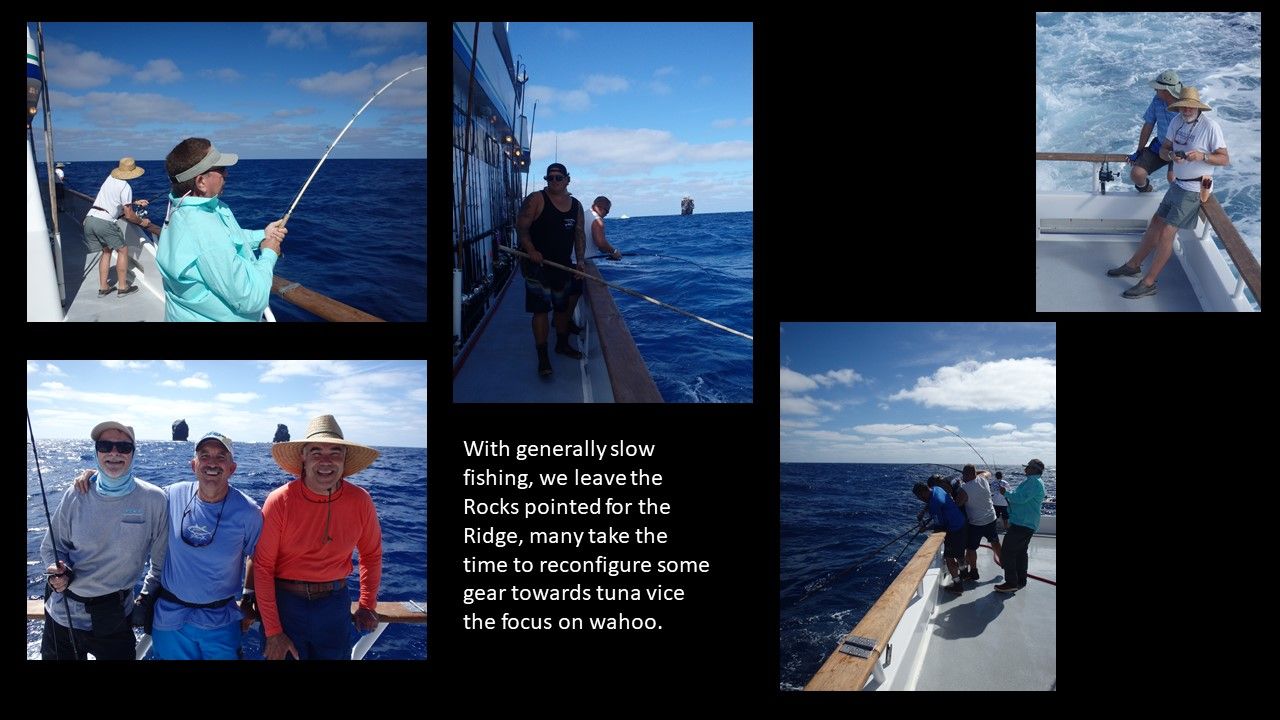 With the proverbial handwriting on the wall, Capt. Mike kicked it for the Ridge about 1600, with a 0930 ETA at Thetis. After the call, did a tackle redo, leaving minimal wahoo gear, opting for in order of preference an Ulua with a mint Salas 7X, a 90J with a TRANX PG and an OTI popper, a Flatfall rig, a yoyo rig, a bomb rig, and filled out with 30/40/50 bait, wahoo bait, and grudgingly a dropper loop rig. Bases are covered for whatever opportunity that might present itself. Today was a reminder that every trip is different, and no trip should be benchmarked off another. Case in point, two years ago on this same trip, we started out on the rocks, and at the end of the day when the smoke cleared we had around 100 wahoo resting in the RSW.
One bit of consistency was we did find time to eat, today Charles was the featured guest diner with an Italian hoagie and pasta salad for lunch, and Rich starring for dinner, with garlicy fresh baked bread, garden salad, with a nice flank steak, roasted red potatoes, and broccolini. Add in bread pudding, one of my personal favorite desserts…great dinner!
Maybe time for some more food porn, considering that the day was short of action, so food becomes the priority, as we continue to enjoy perfect weather!
9/26/18 Day 4 After a good night's sleep in decent travelling weather, up at 0600, with three and a half hours left on this leg of travel. Sounds like the tuna fishing has been pretty decent, though tons of small stuff to wade through to make a catch. Hoping for a good day to offset yesterday's day at the Rocks. Even with low production it is always cool going to the rocks to see the time beaten columns of stone out in the middle of nowhere. For the next few days the view will be of seemingly endless expanses of water, and glimpses of Cabo San Lozaro to our south.
Got started this morning with the trollers around 0900, though no biters on the troll. Got the anchor down around 1000, and waded through the jumbo skipjack to scratch out about 125 tuna---on a 2 or 3 to one ratio. Most of this YFT was 12-18, with some nicer model fish mixed in up to around 30. Picked up the anchor around 1330, and put the trollers back in as we resumed the hunt.
Couple more anchor jobs, for a few more tuna. We are now straight lining for Mag Bay, we'll make bait and see what wants to play tomorrow morning.
For the day I tagged a somewhat disappointing 4 YFT in the 15-20lb range, dumped a few, and also got a bazillion skipjack. Bait produced consistently better, though I spent half the day throwing jigs and poppers. Ed and Ryan stuck to the iron and poppers, and also had some success. A few guys had significantly better days, and a few really experienced a tough day, unable to hit the magic conversion factor resulting in a YFT. That's why we call it fishing not catching…and we keep at it…waiting for those days where it seems we can do no wrong, and can catch fish by our preferred method.
Daily food report - Breakfast was French toast, bacon, and eggs, with Bob serving as the morning edition guest diner. Lunch Dinner was the daily garden salad, fresh baked bread, pork loin with a raspberry reduction, rice pilaf, and baby carrots. Dessert was a butter pecan ice cream.
After dinner we spent an hour or two making a couple boxes of bait, and are now travelling about 25 miles below Mag Bay and will see what our fish fortunes bring in the morning.
9/27/18 Day 5 Woke up around 0400, glassy conditions on the anchor. Managed one yellowtail pushing 40#, a few grouper came aboard, a few more yellowtail, and Ed managed a YFT on the iron. Ryan had two grouper. Starter set for the morning. Scratch fishing…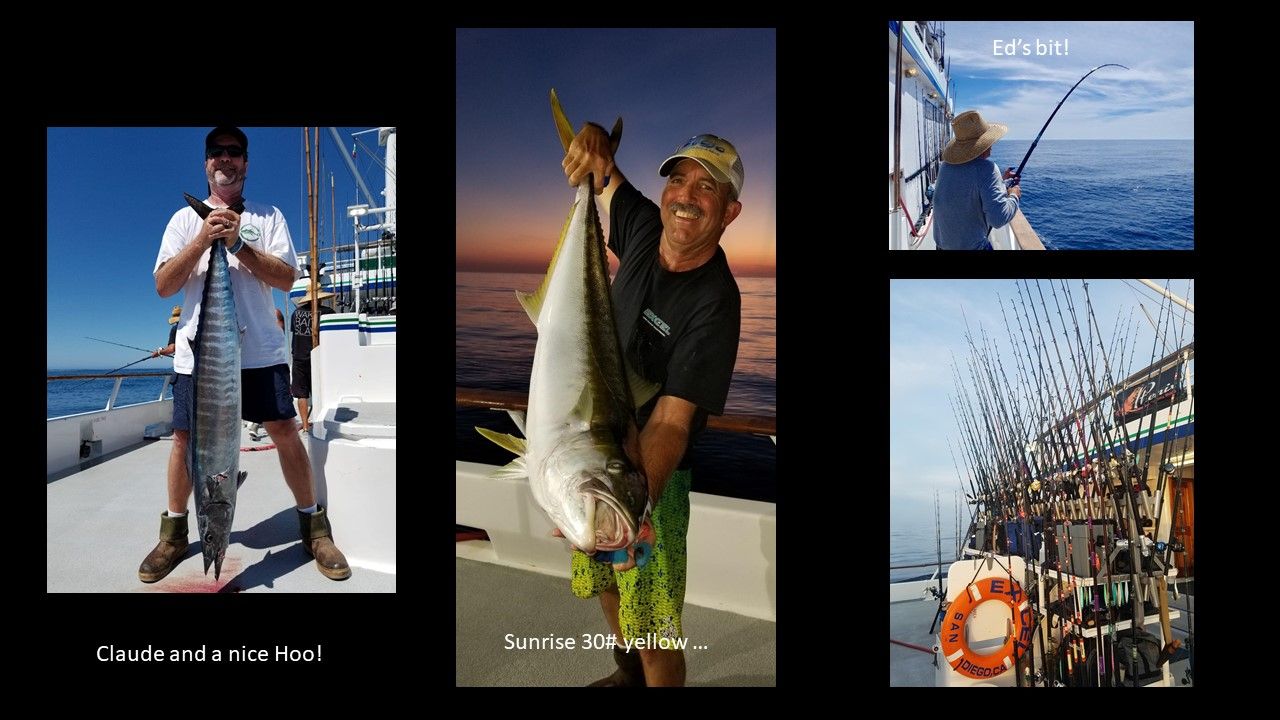 Based on updated Hurricane Rosa forecast this morning, it looks like we will be making some tropical weather influenced strategic planning for the duration of our trip that is forecast to become a CAT 3 storm before weakening as it makes landfall somewhere above Cedros on Tuesday 5 days from now.
So we traveled further south for nothing in the production department, though proximity to the beach made for scenic travels with the booming swell breaking on the beach courtesy of the hurricane rapidly intensifying offshore. Forecasted now to be a CAT 4 major hurricane, before rapidly weakening prior to coming ashore somewhere near Cedros as a tropical storm. Sharing the pond with the Spirit of Adventure we stopped on multiple patches of hard bottom, all exhibiting the same non biters…no boils no bites. Came upon one spot of fish that wanted to play, so we ended the day with 140 yellowtail that were in that smaller 10-15# grade resting in the RSW, along with a few from the little bit we found in Mag Bay early in the morning. I started hot, 4 casts all converting, then went cold. Ed was hot, guessing he caught 8 or 9, while others caught between 0 and 6. Bait was producing well based on the chaotic scene in the stern…not my favorite place to be.
Hmmm, guess it may be time to throw you a bone, by way of some more food...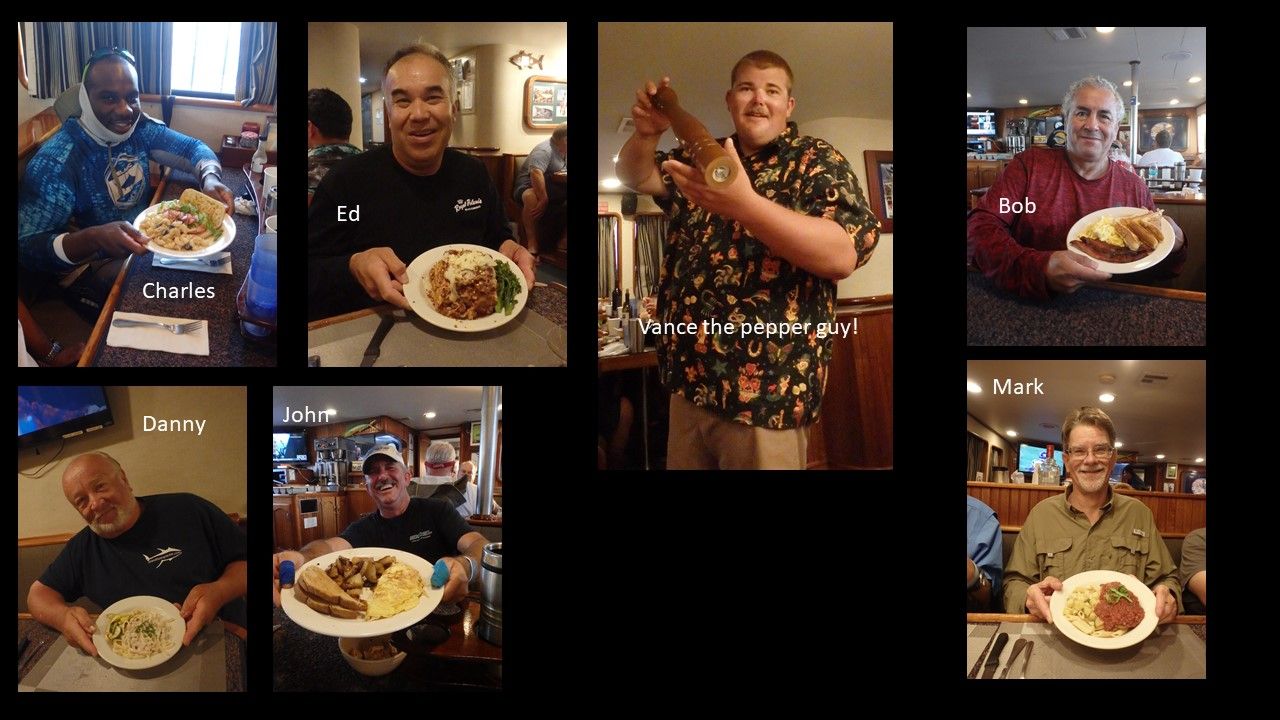 Daily food report – I played guest diner on a ham and cheese omelet with homefried potatoes and toast for breakfast. No pic for lunch, pulled pork slider, coleslaw and watermelon. Mark was the guest dinner for a chicken parmigiana and penne pasta with squash, fresh garden salad, and fresh bread to kick things off.
After dinner Captain Mike gave us the plan for the next couple days. We will spend Friday on the Ridge trying get fixed up on the tuna, no doubt having to wade through lots of skippies, and then running up to San Pablo to then hopefully finish up on the yellowtail.
9/28/18 Day 6 Started early, fishing in the dark for YFT, with some nice grade fish in the mix, with most fish in the 20 to 30# class, with a few bigger and a few smaller. Once the sun came up, the skippies got on us pretty good, though fishing a mackerel or the chunk kept the skippies off and resulted in a few more tuna throughout the day. We put on around 60 before the bite died, along with some smaller grade yellowtail in that 8-13# grade; Captain Mike reminded us that we would be at San Pablo the following day and that has been steady on 18-24# grade fish that has been the norm for this area recently. Spoiler…we will need a plan B to get healthy on yellowtail.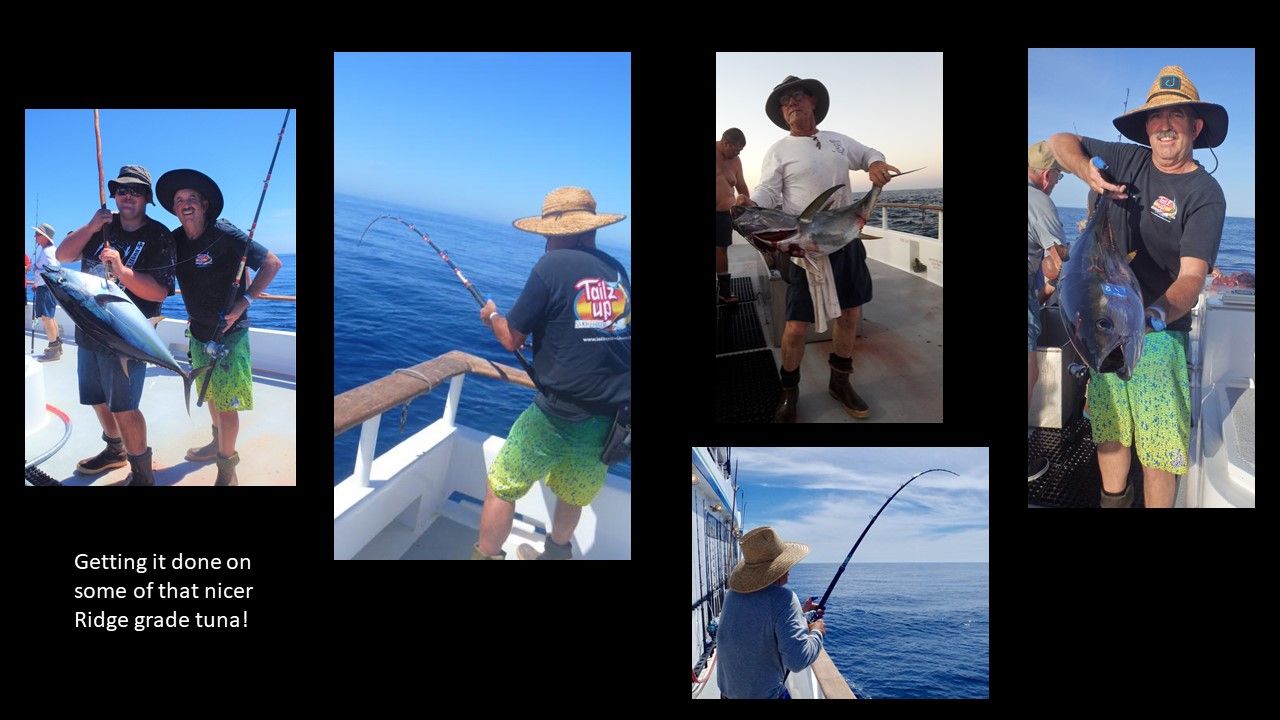 We got on the prowl, looking for wahoo, and put 20+ aboard, including a slob on the troll caught by Nick that was a bit over 60#! Also found a few more tuna, most in that 25-35# grade. Today's fishing was the type where time at the rail combined with versatility was critical as you had to be ready to switch back and forth between bait for the tuna and bombs for the wahoo based on what was happening. I was real happy with my day with 8 nice tuna, two yellowtail, and super stoked as Ed and I both managed to nail two wahoo a piece in the 40# class all on the bomb.
After dinner Captain Mike gave us the plan for the remainder of the trip, with tomorrow spent at San Pablo fishing yellowtail, and if we need a little bit more we'll spend the night and finish up the following morning. From there the focus is to get above the affects of what will end up as Tropical Storm Rosa that is forecast to weaken from its current CAT 4 intensity, and make landfall around Cedros on Monday. Likely snoop around for some halibut or seabass up around Geronimo. We shall see...
9/29/18 Day 7 We travelled through the night in greasy conditions, though the big swell spaced a long ways apart served as a reminder of what lies offshore in the way of Hurricane Rosa that has weakened slightly and is now a CAT 2 storm with peak sustained winds of 105MPH, though is predicted to weaken prior to coming ashore as a Tropical Storm with 50 to 60 MPH winds. We will be well north of those conditions , with a focus likely more on safety than further production.
We are anchored up at San Pablo since arriving around 0800. Conditions look good, though just waiting for the proverbial dinner bell to announce bite time…We are on the fish's schedule, and in the mean time take advantage of the time to break down some gear, as the tuna and wahoo portion of the trip is now behind us as we seek altitude.
So….the worm turns, my what a difference a day makes, sometimes you're the windshield….today I was definitely the bug. So normally when you put the time at the rail, and remain aware and adjust to what is working for others, you can stay in the game…or at least recover from a slow start. For me, today, that wasn't the case. Though fishing was again scratchy, I was for some reason unable to even get bit, much less seal the deal. Ed was able to produce in a slow bite, pieced together a decent day putting six in the RSW, and knowing that he had 10% of today's yellowtail catch says a lot. Total for the day was around 50 yellowtail and two YFT…dang I blanked…ouch.
So we left San Pablo at about 1530, not getting the bite we had hoped for, though were lucky to spend our seventh consecutive day in primo weather. Boats leaving in the next couple days may have some sloppy weather to contend with. We're not done for the day, but it's an altitude game to get up the line and above Rosa well in advance of its landfall on Monday. Looked at a couple spots on the way up, all devoid of life…or as Captain Mike announced…"bald". We were treated to an epic sunset as we fished bait that quickly gave us two boxes of kinda big Spanish. Hopefully we can put it to good use.
Captain Mike gave us the gouge on two options for the remainder of the trip --- fishing the beach, to hopefully put some more yellowtail, a seabass or halibut also in the mix, along with some calicos…or shoot for the stars and run two days and go to San Clemente and take a shot at the Bluefin. We shall see in the morning.
Daily food report – Pancakes, eggs, and bacon for a leisurely breakfast as we traveled up to San Pablo. Tim from Carpinteria nailed the bacon cheeseburger shot for lunch. Nick T. Was the guest diner for tonight's comfort food special - ribs, mac-n-cheese, and corn on the cob.
Daily food report – Early start to the morning with Poco Loco, and carnitas enchiladas, rice and beans for lunch, and a really nicely done New York steak, mashed potatoes, and asparagus for dinner…with the twin guest diners of Tex and Stan.
So, with not much excitement to generate great photos, we can always rely on food to calm the savage beast in our belly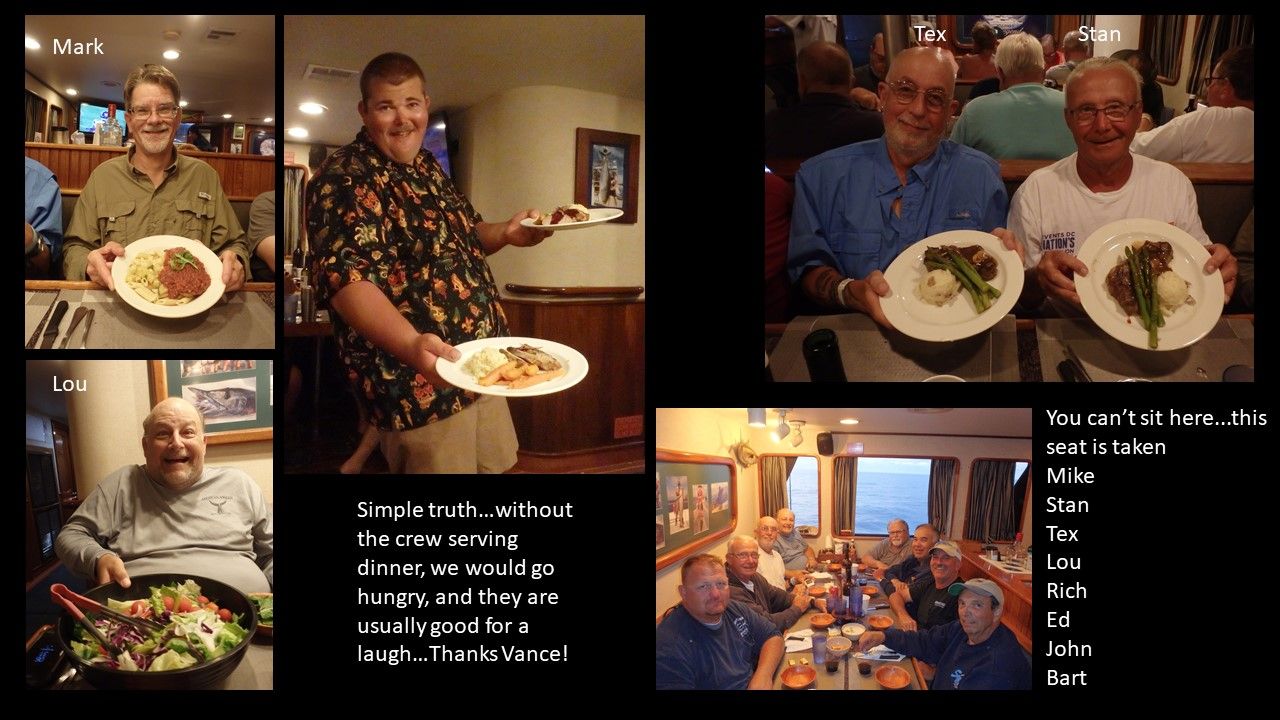 After dinner Captain Mike gave us the plan for the remainder of the trip, with tomorrow spent at San Pablo fishing yellowtail, and if we need a little bit more we'll spend the night and finish up the following morning. From there the focus is to get above the affects of what will end up as Tropical Storm Rosa that is forecast to weaken from its current CAT 4 intensity, and make landfall around Cedros on Monday. Likely snoop around for some halibut or seabass up around Geronimo. We shall see...
Daily food report – Early start to the morning with Poco Loco, and carnitas enchiladas, rice and beans for lunch, and a really nicely done New York steak, mashed potatoes, and asparagus for dinner…with the twin guest diners of Tex and Stan.
9/30/18 Day 8 We are travelling up and in, heading for Canoas, and will be trying to finish up on the yellowtail as we continue to gain altitude to stay above Rosa and her wind, rain and seas that will be affecting this area in the next day or so. I'm hoping for redemption on yesterday's dismal personal performance; and glad we opted for this option. We should be arriving around 0845, and will take advantage of the time to break down a little more gear, and reconfigure my 809H with a Tranx 400 and a swimbait…
So as is often the case, the title for this trip develops just like the trip unfolds, and often results in the report, no make that "The Story" writing itself. The working title simply reflects a date, time, and place. The trip has been for me a little "off", and I like a fool let that "offness" define me, and the trip. No shortage of laughs, despite a little lacking in production, both overall, and for me personally. Realistically, I have plenty of fish resting comfortably in the RSW…we will eat well in the coming year. I awoke refreshed, hopefully with my head screwed on straight, and back in the game. I took the time out to talk a bit with God, further cementing my focus on gratitude…rather than loss. OK, you are now thinking there is some deep meaning to the title, maybe a reference to the struggles associated with a 13 month recovery from Hurricane Harvey that devastated our community…no, that was a speed bump in life. This loss was one oh so much deeper and profound, a loss that Ryan Carey our normally cheerful Phenix rep is still struggling with after suffering something so deep, and so heartbreaking, that some of us would have trouble even trying to relate to it. Yesterday, yes just yesterday he lost his favorite jig, this jig was not something that he sought out. Much like any relationship, this jig found him, and rewarded him with amazing dedication to his passion. This jig was as he described it, the "perfect jig", a Mint JRI 4, that moved like there was no tomorrow, and danced like no one was watching. The "JIG" danced to the tune of 200+ fish over their passionate but way too short relationship, and those moves will likely never be truly replaced…the memories will always be a bit raw. Though trying to be a good friend, Ed reached out, maybe too soon, with another JRI 4 Mint…though it appeared forced, Ryan tried with this new jig…but it will never replace…the "Jig". Ultimately, she was not worthy and was cast away…left to dance alone.
Canoas gave up a little of the yellowtail it is known for, just a sample, though it all adds up as the days progress towards the trips eventual final chapter. I was able to tag four, all on the yoyo, not my absolute favorite way, but adapt or…stand on the sidelines. I had done that already on two days, sitting out the game "on the bench" as I watched rather than participated. Momma said there would be days like those.
Fishing for the day was called at 1430, when Captain Mike called an unscheduled family meeting, with my first thought being a change in the forecast of Rosa pushing the trip clock forward. But, no, the reason was announcing that with around 200 YFT, 300 yellowtai, and the 30 or so wahoo, it was time to swing for the fence..go BIG, or go home! Yup, we are travelling up for rest of the day, with an ETA to Cow Town at San Clemente around noon tomorrow. Needless to say, this spurred a flurry of activity as crew and passengers alike began retooling, in many cases a reversal, as heavy gear had been broken down, traded for the long rods, yoyo gear, and 30-40# bait. All my light stuff is now broke down; ith the exception of an Ulua, and a 50# "light" bait rod. A boat Mak 50 is now on my 770XXH with a 130 topshot and Shimano blade jig, my Avet 30 has a fresh 100# topshot on my 770XH for bait. Even cooler is I'll be on the 1st kite rotation. All that is left is the wait as the miles spool behind us, hopefully destined for glory.
Daily food report and more - One of my favorite breakfasts this morning---Huevos Rancheros. Hopefully I'll be burning some calories on a few fish today! Probably my favorite lunch for the trip, as Nick nailed a not spicy, but super flavorful gumbo, with chicken, sausage, and shrimp on rice. Looked as good as it tasted, even with Brett showcasing it. Tonight, was seemingly planned as a carb loading for what is hoped to be some epic battles for the luckiest among us. I'm excited because I've never fished big bluefin, despite having spent 12 years in the fishing industry. In fact for many years in the 70's and 80's, fishing bluefin meant total finesse fishing with 10 or 12# mono, and a number 4 or 6 hook with an anchovy. Bluefin catches were more often incidental while fishing albacore, rather than a target species.
10/1/18 Day 9 After travelling through the night in flat conditions, knowing that where we had been in grease flat conditions was now experiencing tropical storm force conditions, the decision to run up to San Clemente Island was a good thing, regardless of what comes of it production wise. With gear all rigged, not much to do but relax, and reflect on the trip, and plans for future trips. Though we feel at home on the Excel, there are boats that we would like to try, and are on the wait list for all October 2019 10 dayers on the Indy, and also considering another run on the Royal Polaris. This mostly due to them holding Guadalupe permits, and a trip to Jurassic Park, it's larger model YFT'S, and the omnipresent tax payers rides high on the wish list.
Spent some time putting gear away, packing clothes, and other end-of-trip chores as we will be on a compressed schedule as we will only be 60 miles from San Diego when we finish fishing tomorrow.
One little bit of rigging to do, adding back a 6480H and an LX Raptor 65/50 with a 3/0 circle hook…just in case the smaller BFT want to play. Final drag setting, and we will be ready for whatever the next 24 or so hours brings…
Stopped on several sonar schools, including one blowout on the kite with Ryan up to bat for no love. Right at dinner, Bob got a 102# and Ralph a 50#. Ate dinner, fished till about nine, following Captain Mike's suggestion to be up at 0330 to get the early bite….goodnight for now. Ended up with 5 for the night, 42# to 102#
Daily food report – Started the morning off with over easy eggs, homefried potatoes, and sausage. Lunch was a travel day of chicken fried steak, mashed potatoes, and corn. Dinner, as always started with fresh bread and salad, with linguine and clams and squash. Gave Danny the guest diner honors.
10/2/18 Day 10 San Clemente Island. After drifting all night in good weather, up at 0345 to give it hell on our last day. Not a lot to write about…typical BFT, no daylight fish, despite seeing breezers, and sonar schools. Ended up with one around 60# caught by Nick T, not long before we pulled the plug at about 2100.
Always a reminder of how lucky we are regardless off all the moving parts on any trip, is that we are extremely fortunate...I'll even say blessed...that we are able to participate in these grand adventures. Sometimes it is necessary to put it all in context!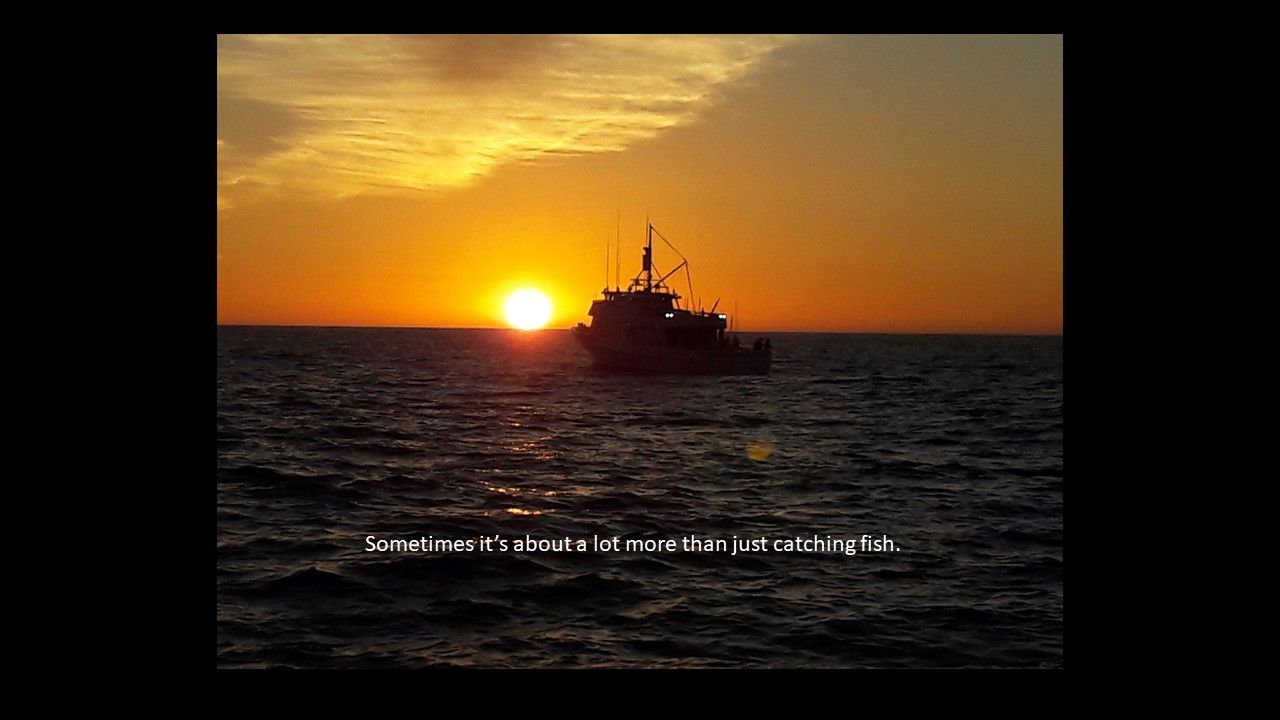 Strange final day, as we fished late, and simultaneously break down tackle, while trying to to stay in the game. As we sat down for dinner around 1900, we're interrupted several times as Captain Mike called out sonar schools…how do you ignore "good school of the big models…use your heavy gear"? With dinner over, fishing and breaking down gear continues, with Nick T, scoring a 7th inning 60# BFT on a Flatfall to officially end the fishing part of the trip. This was the only fish for the day.
Daily food report – Breakfast bacon fried rice and eggs; lunch was Kung Pao Chicken; and traditional last night's dinner of prime rib, mashed potatoes, and asparagus, with cheesecake with a raspberry sauce for dessert.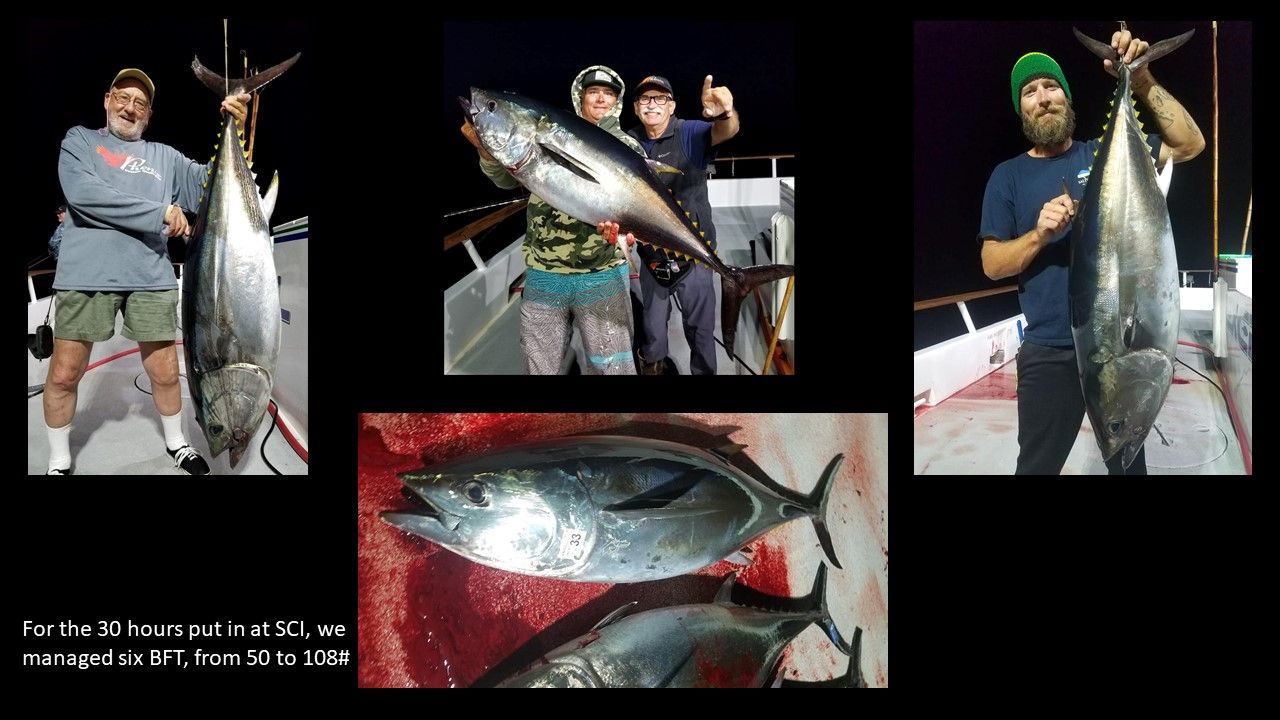 10/3/18 – Return Day Normal deal, up before 0500, get gear moved up and aft to prepare for offload. We get tied up, and a seemingly subdued group of anglers say their goodbyes, load up the collective mountain of gear in their respective carts. Once we were off, the crew moved the boat over to the Point Loma pier for the offload of the catch. Judging by the relatively small number of carts to push, most opted for Five Star for processing, with on-board weighing and transfer to slush bins. Ed opted to leave directly as his fish were first in line at Fisherman's Processing for same day processing, while mine went to Five Star and will come home in a week or so on a Southwest Airlines jet. Mike Morris, Mike Atkins, Bart and I opted for breakfast at Mitch's. After breakfast, Mike gave me a ride to the airport, and I spent the rest of the day and evening travelling back home, which gave me time to finish the annual installment of the report. Unless someone wants to sponsor my trip and lay claim to the report, we'll see ya next year! Hope you enjoyed reading it as much as I enjoyed the "research".
Last edited: