I've posted enough I should edit this section
Mar 17, 2011
1,180
580
Name

Wai Jung
Boat

Seahawk II
Had been preparing for this trip since the middle of December.
26 (including the sensei himself) on the charter. The boat left dock on time at 10AM, 6/16, and picked up a load of anchovies from the bait receivers that no one was happy about.
Day One was all travel so everyone just prepped gear. Here's Alan helping the guys tie knots:
My gear? Well, the haters may hate and the flamers may flame...
...my imports:
(from left to right)
1. Fin-Nor LT100 w/ Daiwa STW70MHS 7' MH (50 lb rig);
2. Okuma CD-65 w/ Quantum Offshore Blue Runner BROS70M (25 lb rig);
3. Daiwa 400H (HT100 washers) w/ Okuma CT-T-601M (50 lb rig);
4. Daiwa 600H (5+1 drag stack) w/ Okuma CT-T-561H (60 lb rig);
5. Okuma CT-30C w/ Okuma Catalina CT-C-661MH (30 lb rig);
6. Okuma CT-55N (converted from 6.2:1 to 4:1) w/ Okuma CT-T-601MH (50 lb rig);
7. Daiwa 600H (5+1 drag stack) w/ Okuma CT-T-561H (80 lb "just-in-case" rig);
8. Daiwa 600H (5+1 drag stack) w/ Okuma BG-T-601M-1 (100lb "just-in-case" rig);
...and my domestics: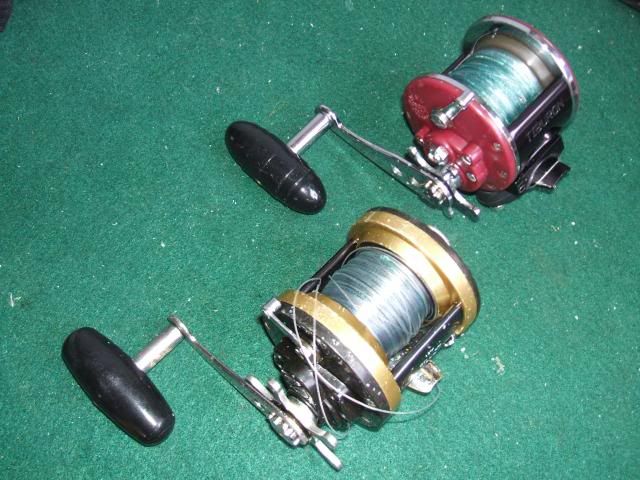 (from left to right)
9. restored Penn 970 (epoxy-repaired left plate (
http://alantani.com/index.php?topic=9889.0
), 24-349 crank) w/ 7' no-name 20-40 lb E-glass (40 lb rig)
10. Tiburonized Penn 27 with hybrid internals (SS gear sleeve, 13-200 Surfmaster pinion, 24-56 crank) w/ Okuma Oceanic OC-C-701MH (40 lb rig)
All the conventionals, except for the CT-30C, had mods that I wanted to field test.
Day Two was spent trolling for blue fin with some stops on paddies that had no one home. I managed a 10 lb bonito on one of my trolling turns. One yellowtail and some other bonito were picked up by other anglers. Those of us who threw out anchovies got nothing to show for it; nothing on jigs or irons that I could recall. We gave up at some point in the afternoon. That's all that was memorable in my mind. We got to Cedros late in the day. Tried to make bait and came up with juvenile lizardfish; I actually pulled up two decent sized whitefish on my sabiki on one drop. Captain Mike called it a day and we moved on.
Sunset at Cedros: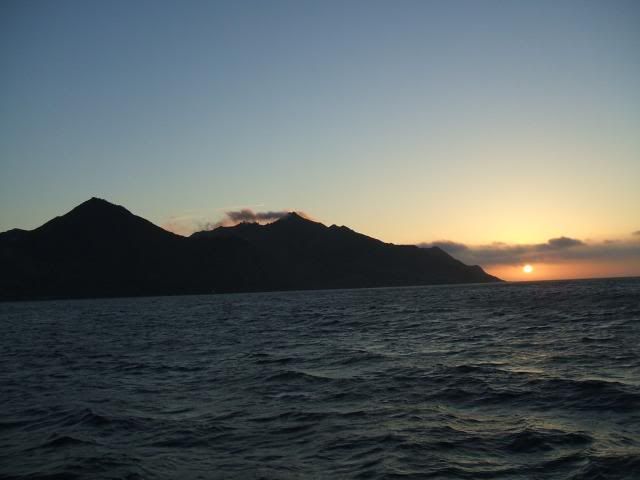 Captain Mike decided to dump one tank of the anchovies so overboard they went. We anchored, had dinner, and made bait from 8 pm 'til 1:30 AM; managed at least two tanks (maybe a little more?--I wasn't counting) of macks and some dines.
Day Three we got down to business and scored YT all day...
...me (center) at the rail: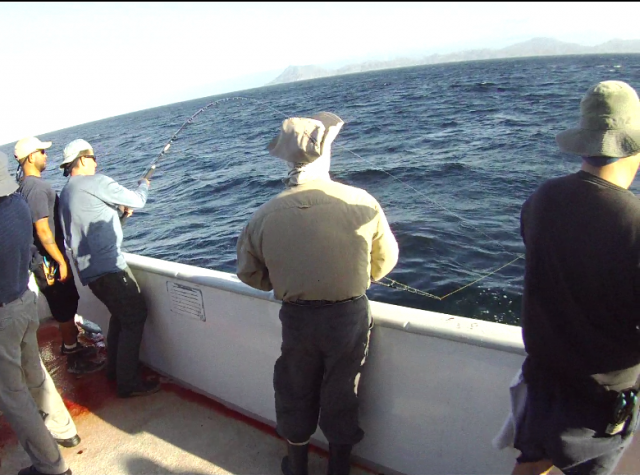 ...and a hook-up:
...and my count was seven:
1 on the Okuma CT-55N;
2 on the Penn 970;
2 on the Penn 27; and
2 on the Fin-Nor LT100
...with two lost:
1 due to a bad Yucatan knot (the Bimini Twist came back with no top shot); and
1 due to main line breakage as I tried to clear the bow/anchor.
Day Four we chase YT again, and my count was two:
1 on the Penn 970; and
1 on the Fin-Nor LT100
The bite died late morning and we motored north along the east side of Cedros...
...leaving the salt mine:
After the plan to meet up with a local bait fisherman fell apart, we made bait again when we encountered huge schools of macks mid-island on the eastside, and then spent the bottom half of the afternoon messing around by a kelp bed that yielded YT, barracuda, whitefish, calicos (I got two keepers), and a sizable grouper (by Alan Tani himself). Then two white sea bass were boated with the larger one landed by Alan: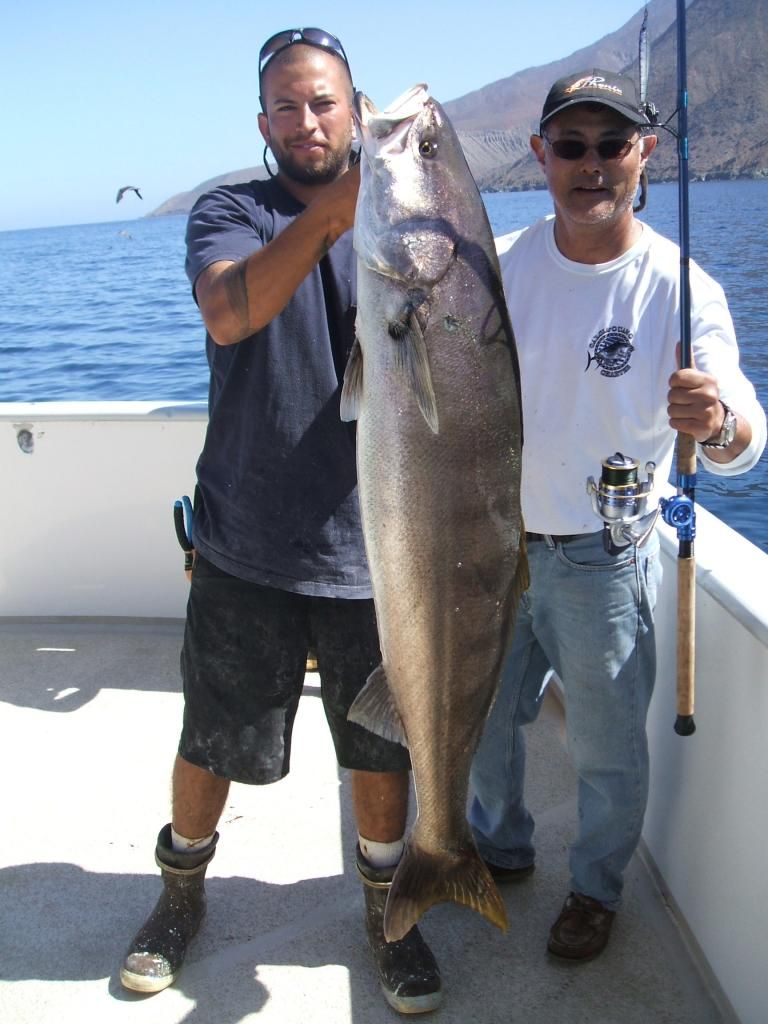 We pulled anchor and tried for a late YT bite further north with no success. Dinner was served as the boat left Cedros heading into the sea and wind; having prime rib while the boat was being tossed around was an experience to say the least.
Day Five was spent trolling towards home with hopes of blue fin. There were four schoolie yellow fin tuna that resulted with nothing for those fishing the slide, and nothing from the stops we made on paddies or sonar hits. Captain Mike called it a trip at 6 PM and we headed for the barn.
This was a TEAM fishing trip with everyone entitled for an EQUAL share of the PRIMARY catch(es) which ended up being YELLOW TAIL. Five Star processed seven for me, and I also kept my two calicos; the bonito I gave away to someone who was planning to smoke their fish. My portion filled my one ice chest and then some. I was actually OK with NOT having any BFT though the fight would have been fun.
The Spirit of Adventure is a great boat with a great crew and Captain Mike doing all he could to put us on BFT; I look forward to the next time.
That's all I have to write home about, but I'm sure Alan will be posting a more detail report.
Last edited: