Spring Break Baja Fishing Report
Tourists aren't the only thing hitting the beaches, as Gary Graham shares in his Spring Break Baja fishing report. Even some yellowfin tuna showed up to the beaches of Los Cabos!
Que Pasa
Yellowfin Tuna caught from the beach !!!! Thrill anglers, Dave and Mario.
These beach tuna were caught here in Los Cabos with the silver "Jansen Sardina and are the star of the Spring Break Baja Fishing Report"…Stephen Jansen
Easter vacation, or "spring break" as it is often referred to, marks the seasonal change for many countries where students and/or families flock to the warm beaches to celebrate;  thus the Spring Break Baja Fishing Report.
Students are drawn to Baja where the temperatures are enticing and the beaches are beautiful;  in addition government offices, banks and many large businesses close from Thursday through Sunday for a four-day holiday, allowing many local families to flock to the beaches intent on camping and partying … usually, their first opportunity to spend time celebrating by camping with family and friends.
Although fishing certainly takes the backburner, there are always a few who cannot resist the opportunity to "wet a line". As noted above and further down in the report by the recent catches of jacks and small roosterfish in Baja Sur below East Cape.
By  the time you are reading this, the beaches will be abandoned as the Easter revelers will have packed up and returned to the cities.  But the fish will still be there, increasing in numbers as the waters warm on both sides of the peninsula.
Tijuana Bull Ring
Still pretty slow for surface fishing. Outside the kelp line there are some mixed brown and red rockfish, some sculpin and whitefish, however, a lot of the rockfish are those little ones like square spots and baby reds…fishdope.com
Coronado Islands
Just when the pattern started to come together, it completely changed again. After several days of slow mornings and yellowtail bunching up on the late-afternoon incoming tide, they decided to bite a little bit early morning on the dawn incoming tide. The main zone continues to be around and just SE of the Rockpile, with scattered spots of 8- to 12-pound yellowtail being found in mid-water and down near the bottom. Side-scan sonar is a big help for this kind of fishing, but even some of the private boat fleet got in on the bite on meter marks and yo-yo iron. There are also some nice big bonito in the area willing to eat Rapalas and Halcos on the troll, and you may also find some yellowtail mixed in below these schools so it's a good idea to fish through any troll stops.
Still not much happening at the Islands proper for gamefish, but the bottom fish bite continues to be good-to-excellent at the usual hard bottom and drop off spots around North Island and the Middle Grounds.
The whole zone from a mile or two NE of the Rockpile to about a half-mile below it is loaded with life, with lots of red crab, fin bait, dolphin, and birds in the area. The water is a little off-color, green and 58.5 – 59.5 degrees. This is also the main yellowtail zone, but they are hard for private boaters to get on since they're mostly in the lower half of the water column due to the cool green water.
The sport boats are able to do well by finding schools on their side-scan sonar and dumping good amounts of chum on them,
both of which are not possible for most private boaters.
A good strategy would be to work the edge of the shallow canyon that runs NE from the Rockpile in about 150- to 180-feet of water, looking for meter marks while dragging Rapalas. If you find a meter mark, stop and drop yo-yo iron on it. Otherwise, work through fishy areas that have good signs of life and you may pick up some bonito and/or yellowtail on the troll.…fishdope.com
Ensenada


Little activity for the fleet in regard to visiting anglers. However, there were yellowtail for the taking according to SAMMY Susarrey Sportfishing.
And Louie Prieto of It's 4 Reel sportfishing posted photos of bonefish caught in the bay if you are interested.
No need to fly to Florida and beyond to find them.
San Quintin
No report.
Northern Sea of Cortez
No report
Bahía Asunción
No report.
Loreto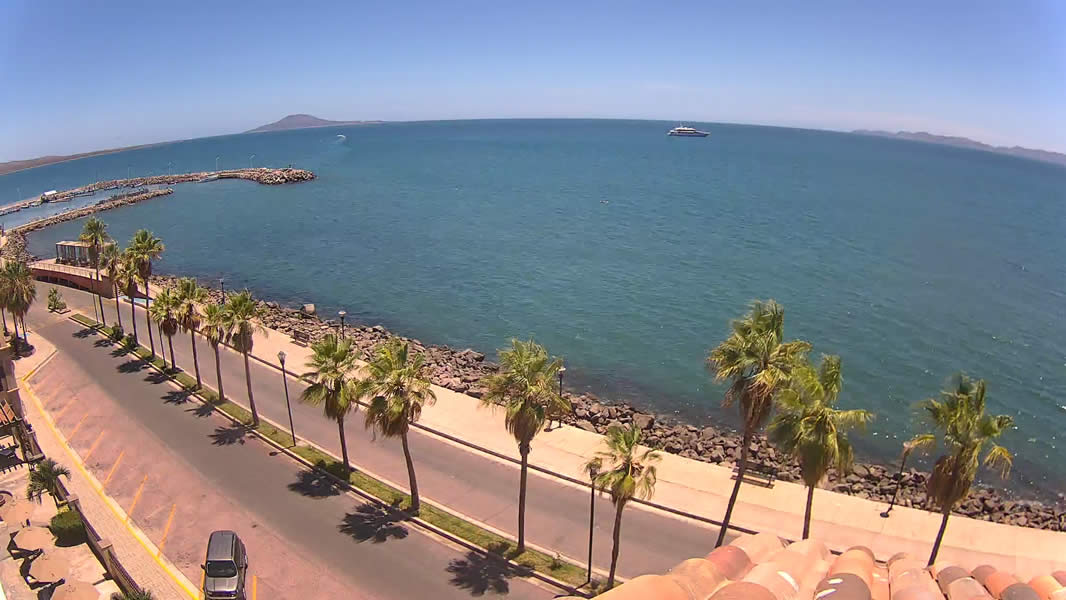 Looks like a great season for the fly fishermen in Loreto!  That's the word I am hearing from our divers and snorkelers!
Every beach is loaded with foot long roosterfish gorging on sardina. I've heard the names of all the local beaches and bays being added to the list of rooster haunts!  Add to that the mega quantity of sardina and this should be a busy year for the pez gallo and the dorado, too!
(It's been at least 4 years since we had sardina in these numbers!)
I have been seeing similar airborne activities performed by great flocks of mixed sea birds diving on bait schools that are more than just the shallow water sardina schools!
As far as fish catching this week all the action has been focused down south of Carmen and Catalan Islands. Half the boats have been doing very well on both yellowtail and cabrilla.
I witnessed a surface bite on yellowtail by a boat load of spinning gear grinders chucking surface poppers. They worked an area for an hour and caught at least 6 yellowtail in the 15-pound range. I didn't get a close enough look at the baits they were throwing but the colors were mostly blue and they made a crazy volcano of splashing water as they were retrieved!
We still have whales in the Danzante, Monsarret, Carmen triangle and as soon as they split things should start exploding…Rick Hill, Pinchy Sportfishing
La Paz
https://youtu.be/UfdIaZeyAUk
MEXICAN MINUTE LA PAZ FISHING REPORT from TAILHUNTER SPORTFISHING for March 25, April 1, 2018
East Cape

Dr. Peter Lafoso from Florida caught some nice jacks n a small rooster today Lots of fun on the beach…Grant Hartman
Windy…offshore
It's all about the yellowfin tuna. Anglers finding the breezing schools of porpoise are scoring nice yellowfin.
https://www.bdoutdoors.com/forums/threads/a-bit-of-dirty-water-has-slowed-things-down-to-normal.681267/
Puerto Los Cabos

The main choice for bait now has been sardina, they are being found schooling near Palmilla, Cabo Real and north near San Luis; surf was a little higher earlier in the week and this made it harder to get the bait from the beaches to the north. On some days the pelagic red crab were found drifting to the surface and these crustaceans were being used for various pargo and snapper species although this was a sporadic deal from day to day. Ocean water temperatures ranged from 71 to 74-degrees.
The main concentration of sportfishing charters fishing the La Fortuna on the Twenty-Five Spot, just on the inside of Iman Bank, and this is where the yellowfin tuna are now. These fish have been at this spot for several weeks and they seem to become more finicky each week. Between the crowds of boats, pesky sea lions and the plentiful natural food source, these yellowfin are very leery to strike any baitfish with a hook. Anglers are using- to 30# leaders to enhance their chances, so once a fish is hooked it is a delicate battle to be able to land. The average-sized tuna being landed are in the 20- to 50-pound range, though even larger-sized yellowfin were reportedly seen feeding on the free-chummed sardina. Individual charters were doing well to land one or two tuna during a morning trip; other charters worked hard without ever even having any opportunity.
The same area produced a mix of bottom structure species, though not many large monsters — mostly fish in the 5- to 15-pound class — leopard grouper, yellow snapper, bonito, triggerfish, huachinango, amberjack, island jack, barred pargo and others.
The best technique proved to be using fresh sardina, with a few fish also taken on yo-yo jigs.
The striped marlin bite is good now, a bit more scattered this week, as the balls of baitfish that were being found dispersed and the marlin were found moving onto different grounds. The nicer-sized stripers ranged up to 150-pounds, and were striking on trolled lures, rigged ballyhoo, bolito, skipjack and chihuil with most of the billfish action coming within 3- to-8 miles from shore.
Numbers of dorado were down this week, though there were still some of these gamefish hanging around. We saw fish up to 15-pounds accounted for. There were even chances at wahoo, though not many were landed; more of these fish should start biting when the water temperature warms up, as it does around the latter part of April.
Not much talk of inshore action now, a few roosterfish and sierra, but no numbers and actually more anglers are now targeting the more prevalent offshore species…Eric Brictson, Gordo Banks Pangas
Cabo San Lucas

Numbers at a glance: Billfish 43%, Tuna 18%, Dorado 2%, other species 46%.
Another solid week of spring fishing for the Cabo fleets going into
the full moon. There was a little bit of everything this week and even though dorado catches have slowed down. We've seen all other catches varying from striped marlin to tuna, and from sierra to wahoo, and even mako shark, yellowtail and grouper.
The nearer shore panga fishing struggled to find the roosterfish but delivered a mixed bag of bonito , barriletes and triggerfish.
Cabo Climate: More great fishing weather with mostly sunny skies; the average and daytime temps in the upper-70s with evenings in the mid-60s. More great weather expected through the middle of the month with daytime temperatures in the mid-70's and no precipitation predicted over the next two weeks. Winds are relatively calm with gentle shore breezes in the upper single digits. Winds are expected to increase into the mid-teens going into the middle of the month. Humidity has been relatively low but expected to increase into the upper 70% range by the middle of the month.
Sea Conditions: Relatively calm seas throughout the area with some surface chop occasionally stirred up by surface breezes at 8- to 10-mph mostly out of the SSW. Forecast is for more of the same with winds in the 9-to 12-mph range shifting to out of the West and SW. Sea temps around the Golden Gate and Jamie Banks steadily cooling into the lower 70's. Water around Cabo Falso east to the Gorda Banks is warmer in the 72- to 74-degree range.
Best Fishing Areas: The prime fishing has shifted around the point and to the east. The 1150 Spot was the hotspot with the 95-Spot close behind. Action off Palmilla produced both marlin and dorado. El Faro continued to produce favorable action as well.
Best Bait & Lures: Trolled lures and rigged and live bait tossed to surface fish seemed to be the ticket for the marlin.
Bait Supply: Plenty of bait available at the $3.00 per bait rate upon exit from the Harbor.