I had a great day of fishing last week!
How good does it feel to say that?  I was mentally prepared to write an article this week on how just getting to go out was its own reward.  And I would've meant it!  I got out fishing this week in one of the most beautiful places I've ever seen, the Sol Duc River, close to the town of Forks, on the Olympic Peninsula in Washington State.  I got out with my cousin Shane Mitts (above – standing), proprietor of It's Fish On salmon & steelhead guide service in Sequim, WA.  If we didn't catch, at least we got to catch up while fishing in this beautiful spot.
Shane and I didn't hang out much growing up, but when Governor Inslee said last week that recreational fishing was opening up on May 5th, I reached out to see what he was planning to do.  Shane told me he hadn't been out in 6 weeks, but he was going to scout it out on May 5th and let me know.  He ended up doing well, catching one chinook and one steelhead for the day.  I would've gone if he didn't catch a thing, but I was excited he did.  We made plans to fish on Thursday, May 7th.
How We Got Here
One of the things I'm fond of saying is that as long as you learn something going fishing, no matter what the outcome may be, then it's a successful outing.  I truly believe that.  On my way up to Washington, you'll remember I made a stop in Eureka, CA.  I connected with Mark Aviles who took me steelhead fishing on the Mad River in Arcata, CA.  I had one solid hookup that ended tragically when the fish jumped and the lure popped out of its mouth.  You have to use barbless hooks when fishing salmon.  This practice is required in order to facilitate the release of wild fish (vs. hatchery fish).  Fishing a barbless hook necessitates a couple of things…  One is setting the hook, something we're taught NOT to do in Southern California.  The other is that these barbless hooks put a premium on maintaining tight contact with the fish so that the hook doesn't slip out.  Lessons learned.
After leaving Mark, I found my way up to Newport, Oregon.  On my lingcod/crabbing trip there, I caught a beautiful Chinook (king) salmon that I didn't end up getting to keep.  We were fishing on a Friday, and the season opened on Sunday.  In addition, I was using a barbed hook, so the fish was returned to the ocean.  No lesson learned, but it made me hellbent on catching a salmon I could take home.
Prior to heading out last Thursday with Shane, Anne Levinson, an old friend from the boats reached out to me.  Anne used to cook on some of the Channel Islands Sportfishing boats before moving up to Bellingham, WA (near the Canadian border) toward the end of last year.  Anne has the unique distinction of being one of the very few anglers I know of to have ever caught a Chinook salmon in Southern California.  I told Anne of my fishing plans, and she was down to go.  It would be nice to see her, and I figured maybe some of her salmon luck would rub off on me.
Trip Report – Salmon Fishing On The Sol Duc River
We put in around dawn on a calm section of the river.  Once we were in the water, Shane set about baiting us up (cured salmon eggs) on a bobber rig setup.  Once we were ready to go, he gave us a quick tutorial.  The idea was to throw the rig upstream, then try and keep the line as tight as possible as it drifted downstream.  All the while, you visually tracked the bobber to see if it dipped below the surface, indicating a bite.
As we made our way downstream, Shane provided instructions on where to cast in order to drift into the deeper holes and troughs where the fish were hiding.  It made me glad that I made the switch to using a spinning set up on the beach last summer.  Those hours in the sand paid off, as I mostly hit the spots Shane pointed out over the course of the day.  Sometimes we'd anchor up and really work over a spot.  Other times, we'd drift through it.  Shane provided coaching and encouragement along the way.  In between the fishing zones, we'd run up on small patches of whitewater that were fun to ride through, especially from my seat at the front of the boat.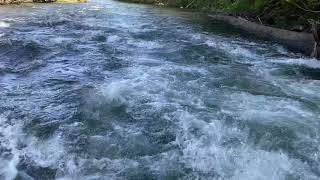 Eventually, we made our way to a section with a long, deep "ditch."  Shane anchored up and threw a switch up rig that he called a bait diver.  It was similar to the bobber rig, but the bobber was replaced with a hookless crankbait.  The crankbait puts the bait lower in the ditch while providing enticing movement of the bait at the same time.  I was just coming to the end of the drift on my rig and was reeling it back when Shane got bit.  Shane rose up from his seat, gave it a good hook set, and handed me the pole.  I wasn't expecting that.
In previous times catching salmon, they've typically had one good run and were done.  Not the case this time around.  I was surprised at the strength and duration of the fight.  Once I had most of the line back, Shane jumped out of the boat with the net.
The fight was far from over though.
The fish started jumping, and my stress level went into overdrive.  The video in my head of the steelhead on the Mad River spitting the hook replayed over and over as I watched the big fish launch itself out of the water.  Even when it got close to the net, it found the energy reserves to rip out more line and continue the struggle.  It was only after about 15-20 minutes that the fish was sufficiently spent where I felt I could safely guide it into the net.  RELIEF.
It was a hatchery fish…I got my keeper.
Shane said it was probably about 25-pounds (on 12-pound test!).  We tried to see if a second bite could be had, but it wasn't to be and we kept going.   With a keeper in the boat, my goal for the rest of the day was to get a fish on my own.  We didn't catch anymore chinook, but I did manage to catch a small cutthroat trout.  Toward the end of the ride, I topped that effort with a decent sized steelhead (left).  We already had meat, so after taking pictures, I revived and released the fish.  It swam away strongly, providing a satisfying end to the experience.
That was basically the trip.  While we were fishing, Shane's friend moved his truck to the haul-out point.  We loaded up and Shane brought us back to my car where we had started our morning.
Thanks, Cuz!  I had a blast, and hope we can get out again before I leave.  If you find yourself out this way, definitely give Shane a call.  The scenery was absolutely amazing.  Shane had great gear and provided the necessary instruction and local knowledge to put us on some really nice fish.
Good luck if you get out there.