I wrote several weeks back about how now that I'm back in Washington (for the time being at least), I've been on a quest to catch a shore lingcod again.  I got out a few times in pursuit of my goal, when the virus and subsequent recreational fishing ban took hold on March 25th.  In the month of April, when lingcod season actually opened up on the 16th, we were shut down.  Even though I couldn't actually fish, I still needed to get out of the house.  I went on a few driving adventures to scout out potential spots.
One of those spots was Rosario Beach.  Rosario Beach is located on Fidalgo Island, just across Deception Pass from the northern part of Whidbey Island.  It falls within the boundaries of the vast expanse (about 4000 acres) of the most visited park in Washington State – Deception Pass State Park.  The day that I found this spot, it was cold, raining and windy.  Even if I could have fished that day, the conditions at the time didn't support it.  Still, I wanted to come back and fish it under better conditions.
Anglers have a way of knowing…it just looked fishy.
Turns out this area has been a fishy spot for centuries.  Samish tribal tradition has it that the Maiden of Deception Pass (right) agreed to marry a sea god in order to preserve the rich bounty of fish and shellfish that the tribe has harvested for generations from the sea and surrounding shoreline. She left her tribe on land, to live in the sea with her new husband.  Legend has it you can see her hair flowing in the waters around Rosario Beach.
Last week, I returned to see the Maiden.  Friday (May 15) looked to be a good window of opportunity.  The day fell between two major storm fronts, and I liked the timing and tidal movement for the day.  I started out Friday morning fishing the outer edges of the tidal pool area of the park.  It looked really promising but didn't produce anything.  I switched it up and fished off the dock in the little cove on the opposite side.  It looked good as well.  I saw a sea otter working in the area.  He appeared to be feasting on the abundant salmon smolt I could see surrounding the dock.  I tried to match the hatch and fished a Gulp minnow on a drop-shot setup.  I was getting attention, but nothing was sticking.  In a desperate attempt to avoid the skunk, I downsized and fished a Gulp camo worm.  The worm worked to entice a little kelp greenling (left) to get stuck.  I would've rather gotten a green ling, but the greenling was a new species for me.  I'll take it.
I went to another spot and got a single quillback rockfish before calling it a day.
Sunday morning (May 17) I was up early.  The tides were a couple of hours later than on Friday, making it a convenient time to go fish.  There was also a big swing between the low and high tides, even bigger than the one on Friday.  It was raining heavily as I drank my coffee, but as the saying goes up here, "If you don't like the weather, just wait an hour."  I've often found it nicer out there on the islands too, so I decided to go.
Sure enough, by the time I got there, the clouds had parted and the sun was shining.  The previous day, I was looking at the area on Google Maps.  The outside part of the park showed some deeper spots, dotted by boiler rocks.  I definitely wanted to give that area first look, and went straight past the Maiden to access it.  I hiked through a little wooded area.  When I emerged on the other side, this is what I saw…
Whoa!  It looked good alright.  In addition to the boiler rocks, I could see dark patches of kelp (or is that the Maiden's hair?).  I wanted to fish it, but it just didn't seem prudent.  I walked over to where those people were standing.  The ridge dropped off from that high spot.  Continuing around the point, I found a perch that was maybe 20 feet closer to the water.  It was still high, but the water directly below looked great.  What the heck.  I had a jig and fly-type setup rigged with a 1-ounce Live Target goby on the bottom, and a 2-inch perch grub from Campania Lures about a foot above it on the 15# fluoro leader.
"I'll probably lose my tackle, but at least I tried."
I thought to myself as I made my first cast off the cliff.  I missed my spot.  As I was reeling in, I could see I was going to get caught in the kelp, so I reeled in faster and lifted my rig up and out to safety.  Second cast.  This time I hit my spot.  I placed my rig just past two big patches of kelp.  A slow bottom drag was going to put me right between them.  As I approached the kelp zone, I got tapped.  Oooh!  Found some fish.  Dragged it a couple of inches more toward shore.  BITE! 
This video gives you a glimpse of what happened next.  You'll have to search my socials to get the link to the full, expletive-filled version…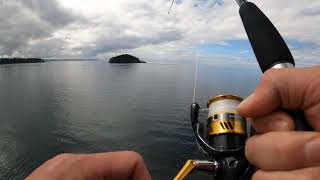 I got the bite and was shocked into full alert seconds later when it started peeling out drag.  The fish briefly got stuck in the kelp, but I managed to work it out.  I got it to the base of the cliff, then had to handline it up from there!  On the way up, it hung up on an overhang.  Somehow, I got it past the obstacle without it falling off the hook.  When I finally pulled it up and over the edge, I fell back from my seated position and burst out laughing.  It bit the upper grub and was only hooked on the outside of the lip.  So ridiculous that I found myself sitting next to a freshly caught lingcod at the edge of a 60-foot (?) precipice.
Had I been closer to the water, I would've immediately released it after pictures, but throwing it off the cliff would kill it for sure.  I put it in my backpack and hurriedly walked it down to the dock where I caught the greenling and released it.
I'd still like to find a legal one, but I'll definitely take it.  I guess the lesson of the day is no matter what the weather may look like, or what wrenches Mother Nature might throw at you (like a 60-foot cliff), it doesn't hurt to give it a try.  You might just get really lucky and have an epic story to tell if you do.
Good luck if you get out there.