Yellowfin outside of Ensenada, limits of sea bass at San Quintin just scratches the surface. Bahia Asunción kicking out some feisty yellows and a dorado or two. While off Magdalena Bay limits of wahoo are possible. Throw in the early appearance of black and blue marlin along with a few cow sized yellowfin tuna puts Baja's tip in the limelight as well.
Que Pasa

Conservationists Sight Multiple Vaquita
The first vaquita sightings of 2019 were recorded by a group of scientists and conservationists on board M/V Sharpie — the Sea Shepherd crew sighted two pairs of vaquita on August 19 and 20; then two vaquita were photographed on September 3.
Vaquita are endemic to Mexico's Upper Gulf of California and are the smallest cetaceans on the planet.
They are also the most endangered marine mammal on Earth — it is estimated there are fewer than 19 vaquita alive.
https://www.maritime-executive.com/article/conservationists-sight-multiple-vaquita
Tijuana Bull Ring
The area has had a few flurries of bass and bonito action when the current moves and the water cleans up a tad. Set up on the outer edge of the kelp, get a chum line going, and fly line the smallest baits you can dig out of your bait tank.…fishdope.com
Coronado Islands / Rockpile
Still quiet. Reports are very few and far between right now as most anglers are fishing offshore for tuna .…fishdope.com
230 / 371 / 425-101 / Upper Hidden Bank
The yellowfin and bluefin bite was much more hit-or-miss today, likely due to a combination of windier/bumpier conditions along with heavy boat traffic. There are still excellent signs of both yellowfin and bluefin tuna in the area, though. It looks like it will be lumpy and bumpy, with maybe some south wind against the NW wind chop early and then a stiff NW breeze in the afternoon.
Depending on the school you run across, you might find all yellowfin or all bluefin, or you might start with yellowfin that then turns into bluefin. You may find these schools as breezers, puddlers/jumpers, or sonar marks, depending on the time of day and the mood of that particular school. The afternoon hours into early evening have also seen some very of those spots of both yellowfin and bluefin blowing up on anchovy under terns.
In recent days there have also been a few open-water dorado to 12-pounds that have occasionally found their way into boat chum lines to make for a little added excitement. Kelp paddies are also holding rat yellowtail, and some kelp have a few dorado and/or nice schools of yellowfin on them.
Both species are eating fly lined sardines on 20# fluoro and a #2 hook just fine. The problem is that the bigger bluefin are much harder to land on this light gear, so you may need to bump up to 25-, 30-, or even 40# fluoro and a 1/0 circle hook (Mustad size 1/0, much smaller than the Owner 1/0) to stand a chance.
A common theme this week (actually all season) has been that the first boat or two to find a school gets bit very well, and then boats that slide in later may only find a slow plunker at best. It's worth your while to search around outside the clusters of boats for your own spot of fish. You'll also want to have lots of chum available to get the yellowfin in a biting mood. If you have a small bait tank, that means taking an extra pass or two at the bait barge into a five-gallon bucket to cut up as chunk chum.…fishdope.com
Ensenada
Yellowfin cavorting offshore while bottomfish limits are very easy to come by…Mara Sportfishing
San Quintin
Ryan Wada and Todd Kuwaye fished with [email protected] aboard our 25′ Parker. Neither of these guys had ever caught a white sea bass before…Captain Kelly Catian
Bahia Asunción
It was an excellent morning of fishing today. We managed to land three nice yellowtail and lost a couple more.
The ratio of bonito to yellowtail is coming down, but still around 10 to 1.  One more morning of fishing and then with Troy Zed and then he heads home — Ross Zoerhof
Cedros Island
No report
Bahía de los Ángeles
I decided to plan a trip to BOLA in my Cessna 182.
I am new to ocean fishing and was hoping to get into some good fish. After research and many recommendations, I decided BOLA was going to give me a good chance. I was hoping to hook up with Rafa Cuevas.
I departed Redlands 8/28 at 1:00 p.m. after customs in San Felipe, and landed at BOLA about 5:00 p.m. After getting a taxi, they called Rafa on the radio, and we were able to schedule the following two days of fishing with him.
We started out at 5 a.m., caught bait, then ran out to a spot where we hooked a yellowtail in the first 30 seconds of fishing!
There were tons of yellowtail and some bass. Rafa said we hooked into a massive black sea bass, but because of inexperience we couldn't keep it out of the rocks and broke off the 100-pound line. Overall, it was a great trip, and we really enjoyed Rafa; we could not recommend him more. Thank you, everyone, for your reports and advice on BOLA; otherwise I would never have had the confidence or knowledge to take on such a great adventure.
Oh, and to top the trip off, we made it over to swim with the whale sharks…Stephen
https://www.bdoutdoors.com/forums/threads/first-trip-bola.726950/
Loreto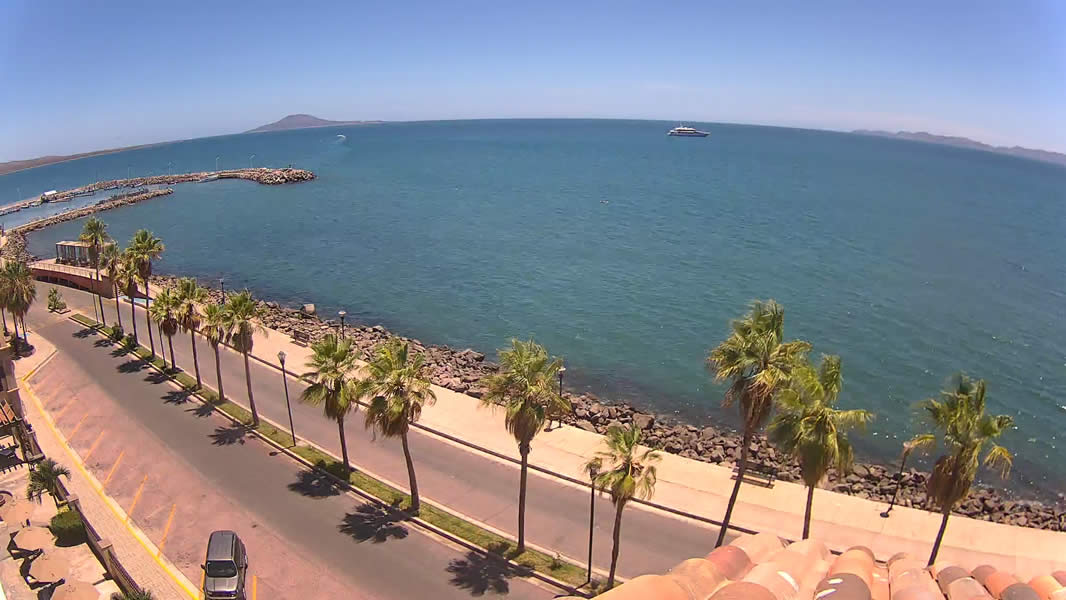 Loreto just finished up the week with a small slice of rain; it was not enough to do any damage or create any good fish attracting devices.
For most of the week, we were entertained by thunder and a wild assortment of cloud banks which always seem to keep people's minds off offshore adventures.
Fishing remains the same with high spots kicking out good numbers of reds, pinto bass, and firecracker yellowtail.
We still have tons of small dorado in the area with most of the reports coming in from our scuba trips to Coronado Island.
At "Lagrimas" off the southeast tip of Coronado, one group got a visit by a lone bull dorado. He paddled by in his "relaxed" silver mode and was "bigger than the tournament winner" caught last week!
We always see big dorado airborne all summer long, but few hit the fillet tables. There are still many good fishing days left before the December winds, and the colder water slips into Loreto.
Now is the time to expect big dorado and big roosterfish and with fewer boats out hunting, few will be landed — lo siento!…Rick Hill
Magdalena Bay
"No Pasa Nada" from Loreto to Mag Bay — Sept. 1-7.
Well, I gathered an interesting group of individuals from different areas of Calif.; seasoned anglers both on boats and kayaks for what we had no idea…
I planned out the logistics and winged it on a few parts of the trip, but we made it work.
Our meetup spot was in Chula Vista at our buddy Ryan's house, while Javier (San Francisco) and Ricardo (Port Hueneme) would meet up with me flying in from Sacramento and Jake (Point Loma) would pick me up to head over.
We ended up in Loreto Saturday where we had to assemble some new Hobie Kayaks for Baja Peninsula Tours (Rene). Like a kid on Christmas morning, we were unwrapping these kayaks and running the wiring for the fish finders while sippin' ice-cold Pacificos in the heat of Loreto. The next thing was to start putting rods and reels together as we would be rippin' lips the next day!… Joseph Zaragoza
https://www.bdoutdoors.com/forums/threads/no-pasa-nada-from-loreto-to-mag-bay-sept-1-7.727394/
La Paz
MEXICAN MINUTE LA PAZ FISHING REPORT from Tailhunter Sportfishing for Week of Sept. 1- 8, 2019
East Cape
Air- Clear mornings with afternoon clouds over the mountains and a couple of afternoon light showers. Highs in the low 90s.
The yellowfin tuna put on a show. Big fish were taken both inside and outside under the porpoise, and there were some big fish.! Many 40- to 50-pounders and quite a few up to 100-pounds. About 30-miles offshore, both north and south, the porpoise were holding some big yellowfin. The areas inside of the lighthouse and Rincon were producing some nice fish as well. A lot of big fish were getting off both inside and outside. However, the tuna are picky biters.
The boats are using 30# fluorocarbon, live caballito, slow-trolled ballyhoo, cedar plugs and hoochies.
Plenty of dorado around, throughout the area, but the bites are best south. Limits for most anglers with the average fish in the 10-pound range. There were many releases on smaller fish, though some big bulls were taken weighing up to 35-pounds. Hoochies, trolled feathers, live caballito, chunk skipjack and squid all working.
Very, very good billfishing. Most boats targeting them are releasing at least three. About every third or fourth fish released is a blue or a black marlin with a few sails mixed in. As usual, the La Ribera Bank south to Frailes has been loaded with billfish. Very spread out with quite a few released, mixed with the porpoise and taken with trolled ballyhoo, live caballito, and darker colored marlin lures.
Not as many wahoo, but still a good bite. South off Vinaramas and the lighthouse areas are producing fish to 60-pounds. CD-18 Rapalas have been deadly.
Inshore-not much fishing pressure; most anglers are outside chasing the pelagics. There were some big almaco jacks, pargo, and pompano taken again this week. Chunk squid and skipjack are the only baits working.
Big roosterfish to 60-pounds were found along most beaches. Very light fishing pressure!…John Ireland Rancho Leonero
Puerto Los Cabos
They are here and going to be around for a while. Our last two trips we have gotten nice fish. Sept. is a great month; it's cheap to come to Cabo, and there aren't a lot of people here…Ryan
https://www.bdoutdoors.com/forums/threads/big-yellowfins-in-cabo-report.727433/
Lately, there have been quality-sized sardina available, and anglers are meeting these bait vendors on grounds such as La Fortuna and Iman Bank. Other bait options were slabs of squid, caballito, ballyhoo, as well as bolito and skipjack found on offshore grounds.
The main action has been for dorado and yellowfin tuna, an occasional wahoo, a limited mix of bottom species and some scattered billfish action. Significant boat pressure on these same grounds, combined with large concentrations of natural food sources, have caused the yellowfin tuna to be finicky. Best chances for the tuna were with sardina and strips of squid; a few also were striking on larger bait-fish.
Catches ranged from one tuna to over five per boat, weighing to 70-pounds.
Dorado were found a bit closer to shore than the yellowfin; yet there were still big numbers of very small-sized dorado, with a lower percentage of keeper-sized dorado in the mix. Sardina for bait was the best bet, but also trolling hoochies and feathers, as well as drift fishing with strips of squid worked.
Bottom fishing highlights included a few hog-sized almaco jacks to 95-pounds. A scattering of pargo, pompano and triggerfish rounded out the bottom action. A few smaller-sized roosterfish were trolling inshore stretches near the local marina.
Marlin anglers were limited, as more anglers were now targeting the tuna; though a couple of black marlin hook-ups were reported, some big fish ended up being lost after hours of battling. Some smaller-sized blue and striped marlin were also reported daily in limited quantity…Eric Brictson, Gordo Banks Pangas
Cabo San Lucas

Los Cabos Anglers Share Catch with Local Families
https://www.bdoutdoors.com/los-cabos-anglers-share-catch-local-families/
The Cabo fleet lost two days to port closure due to the passing of a tropical disturbance to the south, but when they got out, they cleaned up! The billfish were plentiful and happy to engage. The fleet was averaging two to three billfish per boat making a lot of anglers happy!
We had several reports of "Grand Slams" – as is typical of the late summer; the fleets were reporting a mixed bag of striped and blue marlin and increasing numbers of black marlin to go with the large Pacific sailfish along with dorado and yellowfin tuna and a few wahoo mixed in.
The yellowfin tuna action was solid for the boats that made the longer runs out to the tuna grounds. The dorado counts were high with 15- to 20-pound "schoolies" showing up as well as some 40- to 50-pound bulls reported out on the marlin grounds.
The wahoo were spotty and again found primarily out on the marlin grounds. We had more reports of black marlin increasingly showing up as the water warmed. Many boats were returning after releasing several marlin or sailfish, along with a mix of several dorado, to provide some tasty table fare for their anglers. We had a report of a 600-pound plus black coming off the Iman Bank to the east.
The inshore fishing was again very productive with some nice counts of snapper, grouper, and sierra s well as some nice roosterfish, although the roosterfish have slowed a bit headed into the offseason.
Inshore fishing was again solid with some nice catches of large sierra along Migrino. Roosterfish showed up again in the surf from Solmar to the Lighthouse and off Palmilla, although a bit slower than back in July. Some very nice catches of red snapper and grouper were also reported fishing close to the rocks around El Arco. Jacks were plentiful off the rocks from Solmar west.
Mainland Mexico
San Carlos
http://webcamsdemexico.net/sancarlos1/live.jpg?1349796169
Costa Rica


Crocodile Bay Resort Celebrating Twenty Years with A Giveaway!
https://www.bdoutdoors.com/race-costa-rica-2019-crocodile-bay-resort/?fbclid=IwAR1A_D1D60S8C38bvvx6vJG1RHlowW0C6XrGEIq1ap8Ph_OlYkE5rXXLSWA
Guatemala
Last Minute Openings — call NOW to reserve:
(305) 854-4665 / [email protected]