It is now approaching ninety days since sport fishing ceased in Baja Sur, with only a handful of boats going out to catch fish to distribute to local families in need.
Although it is still unclear exactly when authorities will reach an agreement on the date they will allow sportfishing to resume, there are favorable reports of improved conditions streaming in from throughout Baja.
Que Pasa Baja
Tijuana leads the state in terms of COVID-19 impact, with 1,559 cases and 377 deaths. Mexicali follows with 1,332 cases and 123 total deaths.
Health officials say 6,838 tests have now been conducted in the state.
Baja California ranks third in Mexico for COVID-19 cases, following Mexico City and the State of Mexico
There are now 47,144 confirmed cases in Mexico since the end of February. On Saturday, Baja California health officials said the country has a 10 percent mortality rate regarding the virus.
Tijuana Bull Ring
Watch for birds working over spots of bait anywhere from one to five miles off the coast, roughly outside Hill Street, as there have been some bonito and even some spots of yellowtail popping up from time to time over the past week…Fish Dope
Coronado Islands / Rockpile
Maksim checked with an update from yesterday around the islands to report some small bonito were caught in the lee of North Island and at the South Kelp Ridge on Rapalas and fin bait. They caught a nice 16-pound yellowtail off the Lighthouse at South Island around noon, but that was the only yellow they saw.…Fish Dope
Upper Hidden Bank / Hidden Bank / 475 Knuckle
There are a bunch of tuna pens and boats near and just east of the 425. Please use extra caution, especially at night, in order that you don't accidentally run into a pen or between a pen and the boat it's tethered to.
It's been fairly quiet for bluefin during the morning and early afternoon hours yesterday and today with the bite time-shifting more into the late afternoon to sunset as the tides get later each day. The main zone is still east of the Upper Hidden Bank and around the 475 Knuckle, roughly spread around a 5×5-mile block. Bluefin are running from about 75 to 80-pounds up to around 160-pounds with a high percentage over the 100-pound mark. There have even been a few cows (over 200 pounders) caught in the past week.
There are also some mixed smaller bluefin and good grade 25- to 40-pound yellowfin occasionally showing on the surface and eating flylined sardines, poppers, and surface iron scattered around the same area.
There still haven't been many surface signs for bigger fish lately, with most of the fish being found on the meter from 80- to-feet down were small wolfpacks of bigger fish or bigger schools of smaller fish. These deep marks have no problem coming up to the surface to eat a flyer so don't get discouraged. At times, the smaller 60- to 80-pound grade fish have come up to the surface to chase bait around.
Dead flyers under a kite or helium balloon have been the hot ticket, especially for the bigger fish, but with the wind up they are also eating trolled yummy flyers as well.
When it's windy (>8- to 10-kt.), skip a yummy flyer. When it's calm, send out a dead flyer under a balloon or kite (<8- to 10-kt).
Kelp paddies have also started loading up with yellowtail all along the clean side of the color break, from the 302 down through the Lower Hidden Bank. Not every kelp is holding, but there are some very good ones with lots of mixed 6- to 15-pound yellowtail very willing to eat flylined sardines, surface iron, and stickbaits.
To give you an idea of the mix of tuna in the area, No Patience checked in with a late report from Saturday after a great full day of mixed bag fishing. They stuck a big 140-pound. bluefin first thing in the morning not too far from the 425 right on the green/blue color break transition; they found some 20- to 30-pound yellowfin willing to eat surface iron, and picked a few 8- to 12-pound yellowtail off a few kelp paddies, and finished the day with a full-speed sundowner bite on 50- to 80-pound bluefin on flylined sardines…Fish Dope
Ensenada
San Quintin
Closed. Only locals can fish for food.
Bahía Ascensión
Scored a 12-pack of jumbos today. That is not even an interesting story unless you have been living in Baja for the last two weeks..…Ross Zoerhof

Bahía de Los Angeles

Tails are near town, from four to five miles off, and crashing on fin bait. Yes, Saturday.…Juan Cook

Baja Sur-Que Pasa
Confirming the late report last week about the soft opening in Baja Sur: This week the Hotel Association and state government decided to delay the opening with no announced date at this time influenced by the high total, 465 reported COVID-19 cases. As of yesterday, the number of suspicious cases was 33,224 positive, with 29 deaths and 203 recovered, making Baja Sur still high risk.
Los Cabos International Airport is welcoming 2 flights from Los Angeles, one from Phoenix, and one from Dallas. Mexican airlines Aeromexico, Volaris, and Interjet are flying in from Guadalajara, Monterrey and Mexico City with many empty seats. The airports only operating terminal has in-side additional protection including plexiglass on the counters, safe distance markers and mandatory face-masks.
Punta Chivato

"Hi Gary, we live down here full time and are able to go fishing to provide food for our family. Not sure if you are posting or not with the virus, but we caught our first dorado of the season yesterday! I thought I would share…Rick Forstall
Loreto

The snapper wars are still ongoing aided by the springtime water quality.
The commercial handline guys are seeing a few striped marlin out around the high spots north of Coronado, which is a good sign of things to come.
The water is still a little cold and the cloudy green color is more of the "norm" at most of the reasonably close spots.
Along the shoreline, the clam divers are having to work farther out in deeper water. I am not sure if this is related to the water clarity or the fact that all the easy pickings happened last week.
Red and yellow snappers along with pinto bass are the most numerous catch. Triggerfish for the close in tin boats are solid.
The hunt for bigger fish, namely pargo has moved up the coast from Punta Colorado to San Basilio. The same story has unfolded there with the traditional rock piles and caves holding more and bigger fish. The cloudy water seems to have made them less wary of venturing away from their crevices to nail bigger bait.
Good luck with getting these guys into the fish box.
Our top scorer on pargo from last week came back with four fish and stories of the dozen that got away.
It looks like June 1st will be our first chance to get out to the deep regions to check on the yellowtail action and if the cabrilla have fired up yet……..counting the days!…Rick Hill, Pinchy Sportfishing
Marina Puerto Escondido

Like all kinds of activities and massive meetings inside the Marina Puerto Escondido in Loreto, the Great Sport Fishing Event, Roberto Ross Sport Fishing Tournament, which was scheduled last week, was postponed until May 2021, reported general manager Enrique Salcedo.
"Having as a priority the safety and well-being of both our clients and the personnel who work in this company, giving timely follow-up to all the recommendations that are being made by the health sector, in the face of the emergency due to the Covid-19 coronavirus, the council of Administration has made the determination to postpone and suspend all kinds of events, as well as activities that lead to the meeting of more than ten people within these facilities," he stressed.
Magdalena Bay

La Paz
…Jonathan Roldan, Tailhunter International
East Cape
Three Leonero fish beach and panga taken from the beach!
Approximately 50-pounders taken on 20# test, using Megabait early last Wednesday morning…John Ireland
Water- 77-79 warmer than normal, gin clear, and flat.
Air- Cool mornings, highs in the low 80s. Light afternoon breezes. Beautiful Spring weather.
No real fishing pressure now for over six months. It has very obviously helped the gamefish population and the fishing overall. The bay is loaded with a real variety of bait. Tootsie-roll-sized squid, sardina, Spanish mackerel, and caballito are everywhere. The squid and sardina are getting chased up onto the beaches. Plenty along most tide lines.
There are a few local gringos going out but almost all the fishing is being done by locals.
Those few anglers that are lucky enough to fish are CASHING IN.
Yellowfin- Quite a few taken from the beach off the lighthouse – the largest around 50-pounds. The biggest fish was taken on Megabait. Squid and cast chrome crocodiles have been working as well.
Lots of schooling tuna are close inside, half-mile off the beach, from the lighthouse south to Rincon.
Nice fish in the 10- to 30-pound range. Limits all. The bite best early in the morning.
Anglers fishing from the boats are using squid.
Dorado- Quite a few taken from the beach. Lots of mid-sized fish around, unusually close inshore. None off the beach are over 10 pounds. Anglers are using dead bait picked up at the tide line, squid, sardina. Good bait!
Anglers targeting dorado off the boats are using both squid and sardina, with the sardina picking up more fish. Nice fish to 20 pounds.
Inshore- Big schools of roosterfish are roaming close inshore chasing bait up onto the beach. Lots of very big gallos. It has been years since we have seen schools of roosterfish that are quite this size.
Anglers are taking lots of pompano off the beach.
Striped marlin are two to three miles off La Ribera. Tailers and jumpers are everywhere, and there are lots and lots of stripers around…John Ireland
Puerto Los Cabos
On the Cortez side, the winds were less, and the sea was much calmer once you got up to San Jose. Nathan Brown, Silverado, Calif., spent several days fishing from shore with some remarkable results. Using his Shimano surf outfit equipped with a Stella spinning reel, he caught sierra mackerel, jack crevalle, and a rare white seabass.
Cabo San Lucas
Here is a slow-mo vid of the attack. We were running a two-tier ballyhoo dredge and I had a soft head Moldcraft in the back that would hopefully keep the fish from attacking the natural ballyhoo on the dredge.  Water Wolf camera on the Dredge
We had no idea that we had been attacked by a school of Jack crevalle until we got home and I loaded the micro SD card onto my computer… Mike Tumbeiro
Only a handful of various local fleet boats securing permission from the Port Captain to go out to fish leaving at 6 a.m. and must return BEFORE 3 p.m. according to Rebecca Ehrenberg of Pisces Fleet.
Noting that it had been very windy recently on the Pacific side still, they sent out their 42-foot "Caliente" with Jaime Gonzalez and son crew and they caught grouper, cabrilla and an almost 30-pound snapper fishing the pinnacles a few miles offshore which was being distributed among their staff and families in the Barrios.
Mainland México
San Carlos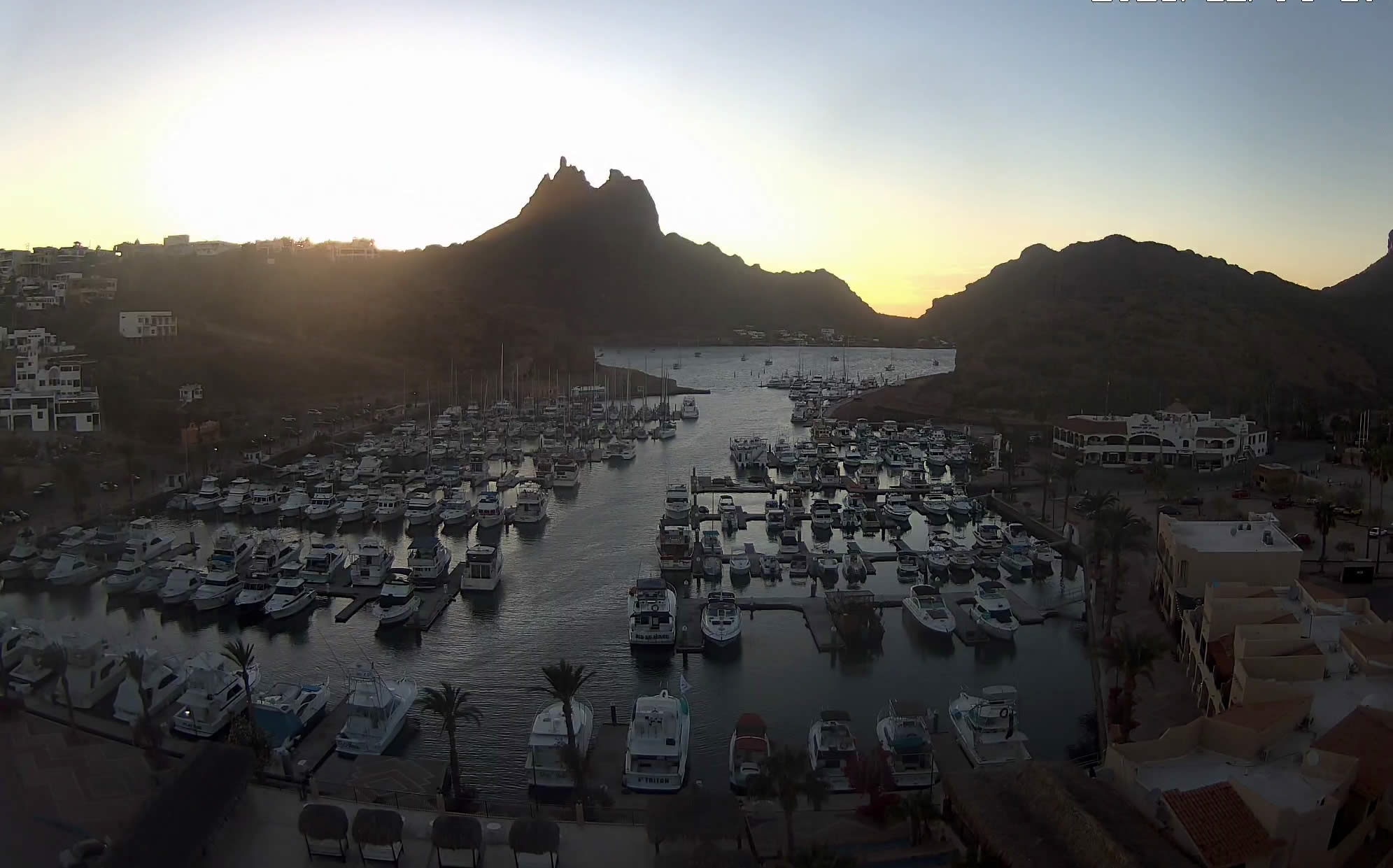 Guatemala


His superhero power is catching giant mahi, what's yours? #CasaViejaLodge | #MahiMonday | #MahiMahi | #dorado
(305) 854-4665
[email protected]