Que Pasa – Fishing Destinations 
Baja Billfish yellowfin, and dorado yellowtail scatter, while yellowtail dominate on both the Pacific side and in the Sea of Cortez. Grouper, cabrilla, and pargo please anglers up inside the Sea of Cortez. Locals, perhaps over-optimistically declare an early spring as a possibility.
Don't forget the Fred Hall Show Del Mar version will be March 28-31!
https://www.bdoutdoors.com/forums/forum/fred-hall-show-specials-deals/
The Best Five Cell Phone Apps For Boaters

The new BoatUS smartphone app is all of BoatUS right at your fingertips.
Whether you love your cell phone or hate having it aboard your boat, there are some cell phone apps for boaters that can be incredibly helpful.
https://www.bdoutdoors.com/best-five-cell-phone-apps-boaters/
Tijuana Bull Ring
There are more little junk rockfish and fewer numbers of reds, although those guys are catching some.
Be sure to carry lead from 8-oz. to 24-oz. or more if you plan to fish for rockfish. The deeper you fish, the more lead you will need. Also, try fishing with 50-pound braid or even 30-pound as it cuts through the water much better than heavy braid or mono…fishdope.com
Coronado Islands
Dorado Yellowtail in the 10- to 15-pound class are biting again.
The boats are fishing sonar marks and dropping down yoyo iron when they find the schools…fishdope.com
Ensenada
Laguna Ojo de Liebre
The whales — mothers and calves were playful and frisky today. The calves were breaching, twirling and swirling.
Every panga had lots of contact and fun communing with them.
I couldn't help but kiss this darling baby! When I rubbed his throat grooves I got some of his whale lice on me …Shari Bondy, Whale Magic Tours
Bahía Asunción

Such a beautiful morning. I got commissioned to take a few drone photos this morning. As long as I was flying, I figured I'd take a couple of my own too.
Gonzaga Bay
Loreto

You learn something new every day," and that's the kind of a week we have had here on the water here.
It has some connection with dorado yellowtail, yellowtail and "fish fingers," but first the fish count:
The boats have spread out as the bite around La Cholla has tightened up, inspiring most boats to hit all the other high spots. Some of the private boaters fished all the way out to Catalana Island and managed to land a few 30-pound yellowtail mixed in with smaller yellows and cabrilla. The spots around Punta Perico on Carmen were hit and miss with half the boats landing one or two 20-pound range yellows.
Maybe we learned more than "one thing" this past Wednesday out at La Cholla. First was catching bait
after daybreak on a full moon, no problem and only 15 minutes to load up on 12-inch mackerel. I was always told even by the commercial bait guys that that's not going to happen! Another big surprise was that dropping a gorgeous mackerel into a huge fish boil would cause yellowtail to be annoyed — almost to the point of insult! Plop that 12-inch mackerel into a cloud of sardina dancing with yellowtail, and you'll swear you are being given the "fish finger!" We did manage to pull a few cabrilla out of the boil with iron, but the ten or twelve boils we hit gave us the same score. You and your mackerel are #1 in Loreto…Rick Hill
La Paz

MEXICAN MINUTE LA PAZ FISHING REPORT from Tailhunter Sportfishing for Week of March 17- 24, 2019
East Cape
Baja Sport Fishing
Well, it's that time of year again, and the crew at Scorpion Sportfishing is hard at work getting ready for what promises to be another epic East Cape fishing season. As we do, let's take a look back at 2018 to see what a great year we had. We put together a short highlight slideshow to show you guys what we are all about at Scorpion Sportfishing. Having fun with great people, catching fish and enjoying the beautiful beaches of the East Cape!…Scorpion and Regalo Sportfishing
https://www.bdoutdoors.com/forums/threads/scorpion-sportfishing-east-cape-2018-highlights.711939/
Puerto Los Cabos
Weather patterns have been on a cooling trend; now winds have laid down and days are warming up near the 80-degree mark. Ocean conditions had turned over to cold and green, but this condition has begun to fade; it can be a slow process, however.
Water is averaging 71 to 73 degrees. Caballito and ballyhoo are the primary bait
being used as there are no sardina being found to speak of, and not much is going on with slabs of squid. It's the time of year where anglers use more yo-yo style jigs off the bottom spots.
The all-around fishing did improve recently with the highlight being some large amberjack in the 50- to 70-pound range. Also, there have been few nice 25-pound yellowtail caught, an encouraging sign that the larger gamefish species are around, over the structure near San Luis Bank. There is plenty of the eastern Pacific bonito to keep anglers busy — a few were even around 15 pounds. Some of the big amberjack grabbed onto bonito that were hooked up; these are hungry and aggressive fish, very powerful!
There were only one or two yellowfin tuna seen, and dorado were scarce as well. Perhaps with a slight warming of the water, we can expect to see more fish; there's a chance that maybe even the wahoo will wake up. The water is still off-color, but not as bad as it had been, it's on a clearing trend now, and a lot can happen in a matter of a few days this time of year.
The action was scattered for striped marlin, though as the water clears, this should improve.
Even in the off-colored water, there were reports of striped marlin, just no concentrations at this time, at least off the San Jose del Cabo grounds.
Inshore there were good numbers of small-sized roosterfish off the Hotel Zone. Trolling live bait is what these fish want, but without sardina, the other choices would be caballito or possibly mullet. Only a handful of sierra were caught — a few up to five pounds…Eric Brictson, Gordo Banks Pangas
Cabo San Lucas
Got lucky the other day as we trolled for marlin.
We thought we saw a striped marlin on the Gyro-binoculars, but as we got closer, we realized it was a swordfish tailing on the surface!
We dropped a swordfish rig back with the half-dead caballito and immediately hooked up. After a half-hour fight, we were able to gaff the fish. It was not a huge one, 112-pounds, but it was great eating, nonetheless…Renegade Mike
https://www.bdoutdoors.com/forums/threads/renegademike-gets-a-swordfish-around-cabo-san-lucas.711982/
Inshore fishing is going strong in Cabo on the Pacific side – catching sierra inshore with hoochies, live bait, and small Rapalas. We have been focusing more on snapper, yellowtail, amberjack, and groupers. Snapper bite has been good, but it's a time of day bite. Fishing live and dead mackerel has been the key. The guys fishing caballito get a few bites but not as good as fresh mackerel. Mackerel has been equally as important for the yellowtail bite. A lot of boats have going to go to the Golden Gate area to make fresh mackerel. All of our grouper and amberjack were caught on jigs. It makes for a fun day because it keeps everyone involved.
https://www.bdoutdoors.com/forums/threads/good-inshore-bite-in-cabo.711912/
Cabo Climate: The outlook is for pleasant average daytime temps in the mid- to upper-70s with evenings in the low- to mid-60s with mostly sunny to partly cloudy skies and zero chance of rain forecast through the end of March. Winds are expected to lower a bit into the 8- to 12-mph range, mostly out of the West and WSW. Humidity is expected to run in the mid-60s.
Sea Conditions: Seas have been relatively calm in the mornings throughout the area with some swells and chop showing up in the afternoons as breezes increase; strong currents are running from the north. Expect more of the same with winds in the 8-to 12-mph range from the West and WSW. The Pacific side sea temps showed significant variation from as low as 68 to 73, depending on the currents. There were reports of plumes of green water from the Pacific side to inside east of the Gordo. Inside temperatures were running in the 70- to 72-degree range
Favorite Baits: Trolled black/green or green/silver mackerel-looking lures, along with live mackerel or live caballito were favorites for billfish. Trolled feathers and cedar plugs were the ticket for the yellowfin. Hoochies were by far the preferred and most productive lures for the sierra. Poppers near the surf were the most successful bait for jack and roosterfish. Dead bait worked best for grouper and cabrilla.
Mainland Mexico
San Carlos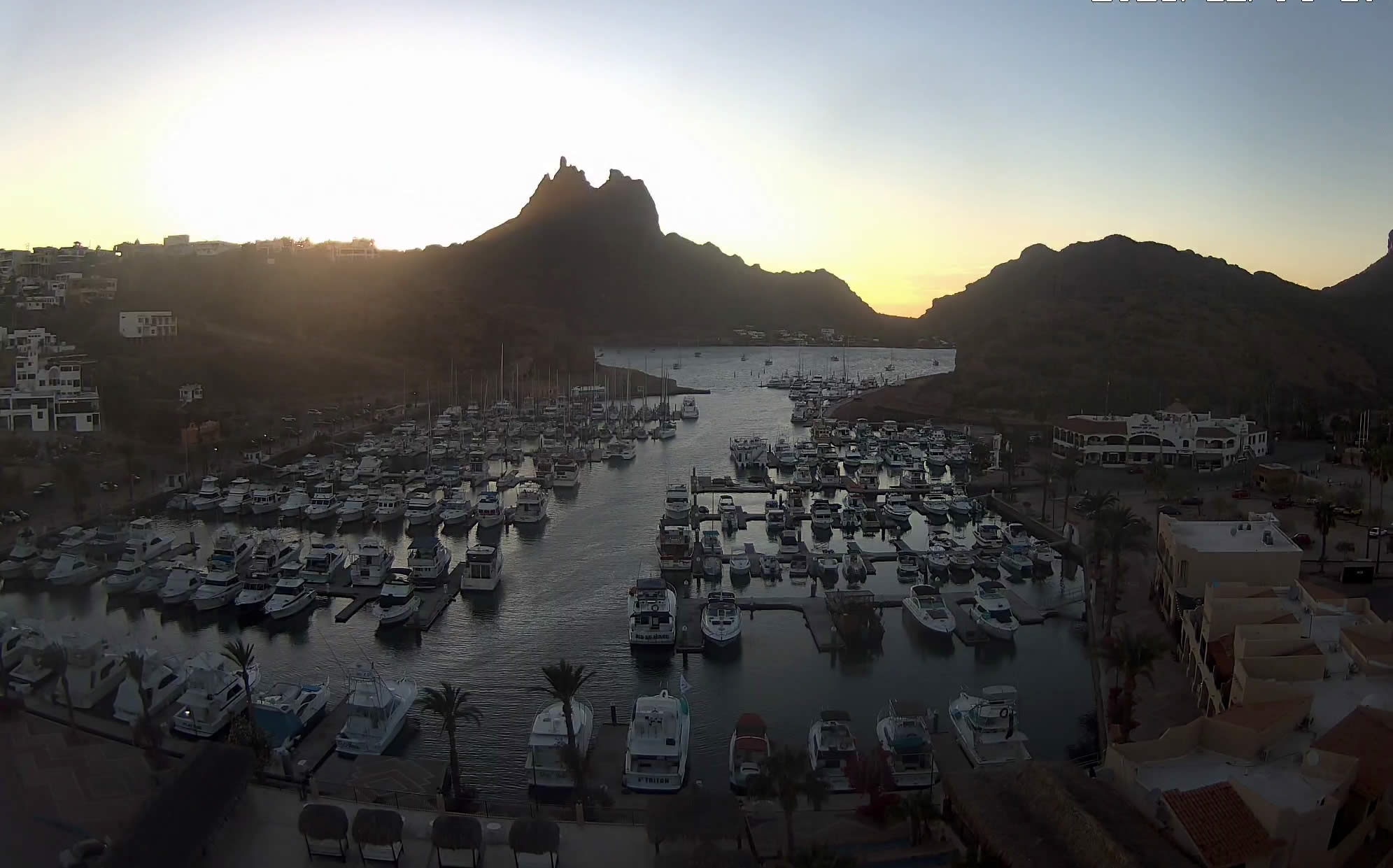 Mazatlán
The yellowfin showed up this past week to spice up the offshore fishing. Their inshore fishing continued to produce solid results.
The El Cid fleet lost a couple of days to port closure due to higher winds and rough seas, and overall fishing was unusually slow.
The offshore boats reported a mix of striped marlin, sailfish, yellowfin, and dorado. Early in the week, they dealt with some cooler water and unfavorable winds but finished the week a bit stronger. The inshore boats had a big week and reported good action on snappers, sea bass and triggerfish.
Mazatlán Climate: The outlook into late March and early April is favorable with low-80s daytime, and upper 50s to low 60s in the evenings. Humidity is predicted to be in the upper 50s, and low 60s going into early April for very pleasant fishing conditions.
Sea Conditions: The water has been seasonally cooling and now in the 71- to 73-degree range resulting in a seasonal showing of the striped marlin, but fewer sailfish sightings until the water warms again. Anglers enjoyed mostly calm seas the latter part of this past week with some afternoon swells and chop and winds in the teens.
Best Fishing Area: The offshore bite for billfish(baja billfish yellowfin) is starting about 10 to 12 miles out with best results to the west and southwest of the Marina El Cid. The yellowfin are being found a bit farther out toward the 25-mile mark. Inshore, the Super Pangas are finding success all along the coast, especially around the rocks. The water is very clear from the shore out to the offshore breaks.
Best Bait & Lures: Freshly caught, rigged trolling bait and smoke-trail lures produced best results for the billfish. There were tuna caught on feathers and cedar plugs.
Bait Supply: Freshly caught bait are readily available from the bait boats.
Barra de Navidad
Just returned from a ten-day trip to Barra de Navidad, Puerta Vallarta, Isla Isabel, San Blas and back to Cabo for some yard work. Lots of traveling, great weather and enough marlin, tuna, and sails for a successful trip. We went for large tuna — a 150-pound yellowfin and a monster 273-pound yellowfin saved us from a rather slow fishing trip. Thanks to John, Mark, and Jeepers for a great trip. As always, thanks to Captain Rich for putting us on the fish and averting a big "pop up" whale at the last minute.
Note the very rare "martuna," although often a target, is rarely captured…Paul Fruchbom
Zihuatanejo
Another good week with a mixed bite on blue marlin and striped marlin along with solid sailfish action again this past week. The yellowfin were again found a way out at the 30- to 35-mile mark for those willing to go the extra distance.
Fly-fishing and spinning rigs for jacks and bonito inshore have continued to be steady.
Rooster action this past week slowed a bit as the water cooled. Capt Temo reports the inshore fishing for Jacks remained HOT! There were reports of large schools of quality Jack off the white rocks. Nice sierra were again being reported 100 to 200 yards off the beach.
Climate: The two-week outlook is for even warmer temps and mostly sunny skies. Daily temps are forcast in the upper 80s; night time temps in the low to mid-70s with humidity expected to run in the low to mid-60s through early April. The winds are expected to be relatively mild in the 8- to 10-mph range primarily from the WSW.
Sea Conditions: The spring offshore water temperature has begun cooling a bit in the past week and is now in the 82- to 83- degree range from the 5- to 6-mile mark at the 100-fathom line out to the 1,000-fathom line at 25- to 30-miles. These temps should begin to bring in the blue marlin and yellowfin in larger numbers. Inshore temperatures are running a bit cooler at 80- to 81-degrees. The offshore clear blue water has recently moved out to the 15- to 18-mile mark out to the 1000-fathom mark. Inshore, the water is cooler and greener which has been very good for the topwater bite. With breezes in mid-single digits, the seas are very calm, particularly in the mornings.
Best Baits & Lures: Rigged trolling bait and smoke trail lures continue to produce for billfish and dorado with most boats preferring a mix of rigged bait for the billfish and smaller lures and feathers for the dorado. Inshore topwater poppers are the favorite for the roosterfish, bonito, and jack. Cedar plugs and feathers are working best on the yellowfin when found.
Bait Supply: The bait supply remains good and freshly caught bait are provided gratis with most charters. Live bait is readily available at this time and are $5.00/dozen paid directly to the bait vendors.
Costa Rica

So far in 2019, 595 #grayfishtagresearch tags have been deployed on fish all over the world!
Currently in first place for top research center is Pisces Sportfishing Fleet! Pisces boats are responsible for nearly half the total number with 279 tags out on striped marlin!
Also gunning for another first place charter boat win is "Double Nickel Charters," Costa Rica, with 149 fish tagged and released so far this year! Following close behind are Florida Charters, "Therapy IV," "Deep Sea Fishing," and "Reel McCoy" "Islamorada Fishing Charters," and Costa Rica Charter, "Reel Fly Sportfishing!"
Keep up the great work. Thanks to everyone who supports our important nonprofit! Knowledge is power, and all #GFR data is #OpenAccess.
DONATE TODAY! The future of our sport depends on it! https://grayfishtagresearch.org/donate-to-gray-fishtag-res…/
Guatemala

Hanging with Brian Horsley in Atlanta, after we had sailfish schools at Casa Vieja Lodge in Guatemala. My friend Forrest Young brought his boys, Chris, Frank, and John, along with partner Bob, to my school.
None had caught a sailfish on the fly before this trip; all caught several during the last three days aboard
Rum Line with Captain Chris Sheeder, and mates Nico and Genry. We caught 18 sailfish on fly and had three blue marlin bites. Two spit the hook, while one broke the tippet, Yesterday I caught the first sailfish on the fly after my 75th Birthday! I love my job! Jake Jordan
You can find our DAILY fishing reports on our website:
https://www.casaviejalodge.com/guatemala-fishing/guatemala-fishing-reports/
Last Minute Openings — call NOW to reserve:
(305) 854-4665 / [email protected]