Gamakatsu is known mainly for its superior line of quality hooks for almost every fishery in the US.  Many don't realize that in Japan, Gamakatsu has legendary status and a huge array of apparel and other fishing accessories in addition to those same great hooks.
Now, Gamakatsu is bringing their diverse product lines to US markets so that more anglers can experience the Gamakatsu difference.
New Gamakatsu US Products
Gamakatsu Underspin Jighead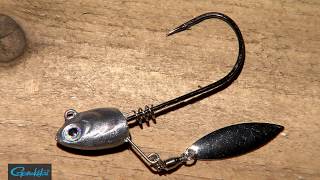 The
Under Spin Head
features Gamakatsu Heavy Cover 60-degree hook. The heavy wire and wide gap design of the Heavy Cover gives anglers a better hook up ratio and retention when using bulky swim baits. Ideal for heavy braid or fluorocarbon line. The head profile is streamlined to glide through cover. Gamakatsu Spring Lock holds swim baits and other plastics gently but firmly, keeping your presentation straight on the hook. Recessed lifelike eyes on the Under Spin provide a focal point for predators. The small chrome blade is attached to a quality ball-bearing swivel allowing it to spin freely, even at the slowest retrieves, to simulate baitfish and create a subtle trigger.
7″ Stainless Fishing Pliers
Gamakatsu has introduced these compact 7-inch stainless steel spring-loaded fishing pliers that are then coated with PTFE for superior corrosion resistance.  They feature non-slip grips make holding these pliers a cinch when using the split ring, side-cutting and crimping function of these versatile pliers.  The pliers come with a sturdy sheath and coiled lanyard.
Gamakatsu Terminal Tackle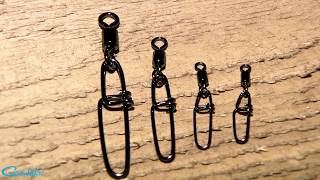 Gamakatsu is now offering US customers their proven lines of terminal tackle.  Everything from snap swivels to the
Superline swivel
which is manufactured in Japan using premium materials resulting in durable strength in smaller sizes relative to other brands.
Assist 720 Hook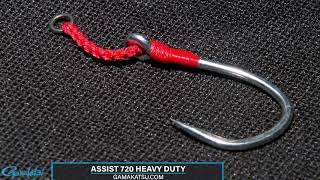 Gamakatsu calls the
Assist 720 hooks
"heavy-duty," but that's an understatement with these bruisers! The made in Japan, Gamakatsu Assist 720 Heavy Duty is the ultimate in big game fish rigging and uses an ultra-strong, incredibly sharp Gamakatsu saltwater hook. A four-strand braid of abrasion-resistant polyethylene cord provides a whopping 880-lb combined test strength, while the ring makes it fast and easy to connect the assist hook to the jig eye using a split ring.
G-Box Deep Utility Case 3700D
Gamakatsu already offers a great line-up of utility case boxes for a variety of tackle storage solutions and now the G-Box Deep Utility Case 3700D joins the line-up.  The 3700D is the most popular size box on the market. Its deep design allows for the storage of bulky items, large baits, and accessories.  The dimensions are Size: 14″ x 9″ x 3.2″.
These are just a few of the new products introduced this year from Gamakatsu.  Check out all of their offerings on their website.  Also, check out the recent article on the new G-Case 7000.