Que Pasa
While Baja's Pacific coast struggles with sketchy weather. The Sea of Cortez is alive with trophy catches ranging from large grouper, cabrilla and pargo along with a few yellowtail from BOLA all the way down to Loreto.
Further down below La Paz, Las Arenas is on fire with huge roosters for the fly and conventional guys along with epic yellowfin tuna fishing. Which continues all the way down to outside of Puerto Loa Cabo including East Cape. Where an early season wahoo snap including one weighing in at a whopping 72-pounds for "Rude Baby 1," one of the Palmas de Cortez fleet boats is underway.
Cabo Map App Does It All
If you spend a couple of days or more this season in the Cabo area, this Cabo Map App has a ton of features that will assist you during your stay. Check it out. It's available for both IOS and Android operating systems and currently it is free!
Tijuana Bull Ring
Although a few sand bass and calico have been caught in this area, they are sluggish in the off-color and cooler water.
However, there have been a few legal-sized halibut taken while drifting in the flats.
Lower 9 Mile Bank / Coronado Islands
Water is dirty but improving as the sea temps creep back up to 60.5 degrees at North Island. That's where yellowtail are down hugging the ridge in 150- to 200-feet of water and at times they will eat a yo-yo iron. One boat reported two on 6x scrambled egg yo-yo irons, finishing up with limits of big reds plus one 12-pound lingcod on the Lower 9 while fishing in 450-feet of water.
371 / 425 / Upper Hidden Bank
Boats are finding some kelps with yellowtail while a few guys are getting a big bonito or two trolling feathers. The only difference is this zone also has some bluefin. Not lots of them, but you might get lucky and run across a school. One of these was found on sonar that didn't respond to chum or lures. It appeared to be in the 50- to 75-pound grade. Around mid-day a few more 20- to 30-pound bluefin were caught in the same general area. And one kelp paddy yielded a yellowtail along with a bonus 25-pound bluefin tuna.
1010 Trench / Upper 500 / Double 220 / 295
This area is known as the bluefin zone where most of the Overnight and 1.5-day fleet is fishing. Look for the high spots. Early in the day boats were finding schools of bluefin on the sonar down around 10- to 15-fathoms with a few responding to chum, but for the most part they are not biting. Most schools are not interested in either the chum or anything with a hook in it. Quite a few kelps in the area. Most are dry but there are a few holding 6- to 10-pound yellowtail…fishdope.com
Ensenada

Up the coast a ways, this 50-pound yellowtail was caught by Andrew Deems while fishing on his Malibu Ocean Kayak out of the El Pescador Cove near Puerto Nuevo. It was brought to my attention by his girlfriend Megan, who said, "I am so proud of my man!"
Recent action has been sporadic. However, the recent warmer weather and slowly climbing sea temps are encouraging. Bonito and barracuda dominate with an occasional yellowtail showing up in the mix.
There are also a few halibut beginning to show up as spring settles in.
Meanwhile, the bottom fishing for various rockfish, sheepshead and an occasional lingcod continue to fill the anglers' sacks.
San Quintin
Still quiet.
Bahia de Los Angeles

The fishing was surprisingly similar to bass fishing in freshwater — working the shoreline while casting to structure with stick baits…Rich Hollo
https://www.bdoutdoors.com/forums/threads/the-donkey-goes-to-bola.686313/
Gonzaga

BD'er Captain Juan San Quintin had a lot of success fishing the Nomad Design Tackle madscad in Gonzaga Bay … well built lures and easy to cast!
https://www.bdoutdoors.com/forums/threads/nomad-madscad-lures.686511/
Loreto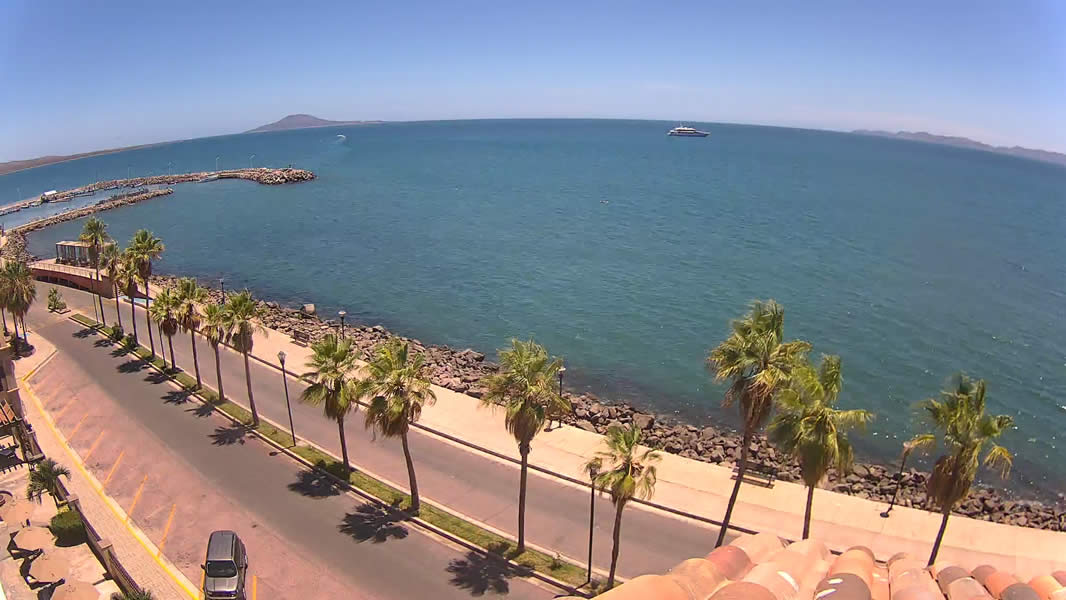 The yellowtail bite from last week at the east side of Carmen Island has slacked off with less consistent catches being landed. Coronado Island has perked up with our scuba trips reporting tons of pargo sitting on a shelf at 20 feet looking ready to grab and dive!
There are a couple of spots that are consistent for anybody wanting to try their luck with these smart fish and the sharp rocks. Try the north side near "King Kong", that's one of the best.
There is a long list of fish that I've seen caught in this area but seldom does it include these resident pargo, good luck!
Further north from Candeleros to San Bruno reef the results remain fair for yellowtail and good for the smaller targets. If you have to go home with something and the yellows have lockjaw put some cut bait on a multi hook bottom rig and pray for pintos and reds.
The weather has been variable from overcast to sunny with the temperature riding up to almost 90 as the week progressed…Rick Hill, Pinchy Sportfishing
La Paz
MEXICAN MINUTE LA PAZ FISHING REPORT from Tailhunter Sportfishing for Week of April 30- May 6, 2018
Las Arenas  is on-fire for quality roosters on the fly…Gary Bulla's Flyfishing Adventures
East Cape


Fishing was once again good for quality-sized tuna (45- to 65-pounds). They were picky, only eating sardina with 30-pound leader. We lost quite a few larger ones to lengthy battles and the forever hungry sea lions.
There were a couple of marlin also caught this week, in addition to some wahoo.
We had more than a couple of bite-offs fishing light line for tuna.
This weekend was highlighted by the Dia de Los Ninos fishing tournament.
Getting local kids on the water and catching fish (non-sportfish). They can even win prizes which have been donated by the community. What a great event! The kids always have a blast…Scorpion Sportfishing Matt Clifton
Gangbusters on tuna and inshore fishing everywhere,
https://www.bdoutdoors.com/forums/threads/gangbusters-on-tuna-and-inshore-fishing-everywhere.686634/
Puerto Los Cabos
Recently the ocean conditions have been great and the yellowfin tuna action on the Iman Bank was very good; many quality fish in the 40- to 70-pound class were landed, with some even reaching the 100-pound mark.
The Iman Bank also produced a couple of yellowtail over 30 pounds. Though the North Wind kicked up and stirred up conditions, pushing in off-colored currents, the water temperatures remained in the 74- to 75-degree range. The wind caused more ocean swell making it a bit more challenging for the commercial pangueros to net sardina off the shore near Vinorama; overall however, they were able to find sufficient supplies of bait. Other options were caballito out of the marina area, but there were still no signs of the annual migration of mullet or moonfish showing up.
Charter boats have been scouting out other options with the tuna bite coming to a standstill, though the options seem limited at this time. Offshore there was only sporadic reports of marlin spotted. The better option seemed to be working shallow rocky reefs for a mix of bottom species, although most of these were smaller-sized fish in the 2- to 15-pound range. All were good eating, just not consistent from spot to spot. Most common were yellow snapper, bonito, leopard grouper, spotted rose snapper, barred pargo and an occasional yellowtail or amberjack. Although a mix of yo-yo jigs and bait was used for bottom fish, bait was found to be a bit more productive.
Close to shore, there were just a few smaller-sized sierra found, along with a handful of small roosterfish and jack crevalle. We do expect that after this weather front moves through, conditions will rebound and the all-around action will improve. It is not uncommon to have this type of pattern during this time frame. It keeps the climate very comfortable, but does not help the fishing stay on track…Eric Brictson, Gordo Banks Pangas
Cabo San Lucas
Numbers at a glance: Billfish 10%, tuna 79%, dorado 36%, other species 12%.
The Yellowfin counts dominated recently with big sierra counts happening before that. The Marlin fishing was definitely off but most boats targeted the Yellowfin.
Cabo Climate: The April weather turned to mostly sunny skies in May with average daytime temps in the 80s and evening temps in the upper 60s to low 70s. The outlook for the next few weeks is a bit cooler with daytime temps in the upper 70s and evenings in the mid-60s; no precipitation for the next few weeks but winds are still expected to blow in the 10- to 14-mph range through first few weeks of May. Humidity is expected to run in the 70% range over the next few weeks as well.
Sea Conditions: Relatively calm seas throughout the area with some surface chop occasionally stirred up by surface breezes at 10- to 14-mph mostly out of the SSW. Forecast is for more of the same with winds in the same range out of the West. Sea temps around the Golden Gate and Jamie Banks are running in the 68- to 70-degree range. Water around Cabo Falso east to the Gordo Banks is warmer in the 71- to 72-degree range.
Best Fishing Areas: The San Jamie was the hot spot for yellowfin. The Herradura area produced marlin and the Migrino area seemed to be the hot spot for sierra.
Best Bait & Lures: Feathers and cedar plugs were the favorite for the yellowfin with Hoochies being the hot ticket for sierra.
Bait Supply: Plenty of bait is available at the $3.00 per bait rate upon exit from the harbor.