Que Pasa
Dolphin Incident

Incredible Dolphin Rescue in La Paz!
"Congratulations ROC, Jose Luis and everyone who helped save the dolphins (dolphin rescues) today Near Pichilingue! On St. John's beach, close to Pichilingue, 54 short-beaked dolphins were found stranded. That was the information provided by PROFEPA through a call made to the network of citizen observers requesting support to rescue the specimen. Thus, our captain, José Luis Cesena, aboard the boat, "Dueno DEL Noche," went to attend the request. https://mexiconewsdaily.com/news/38-dolphins-rescued-on-la-paz-beach/
When they arrived, they found 21 dolphin already dead, so the primary objective was to rescue the 33 who were still alive. After several hours and in a difficult terrain, they managed to save the remaining dolphin.
This close relationship with the sea, which for years has been José Luis's first calling, was reflected in the effort and energy he invested to save nine of the dolphin with his own hands. We will give the sea a part of everything we humans owe him.
Today the marine world and earth had a special moment; today man saved one of the most noble and intelligent animals in the sea.
Thank you to everyone who helped out!
Thank you, José Luis, Maria Ugarte Luiselli, Liisa Juuti, and Alberto Guillén Guadarrama! …Sherry Shaffter Sea Watch
https://www.bdoutdoors.com/glimmer-hope/
Lower 9 Mile Bank
The area to the north of North Island continues to work well for quality reds along with some nice Boccaccio, boscos, chuckle-heads and Santa Marias … the rock piles are scattered about in 300 to 475-feet of water.
Anglers are also scoring a few ling-cod.
For the rockfish bite best on the freshest of dead squid. For the lings, a hot sardine or a live mackerel would be a better choice.
Coronado Islands
There is talk of squid beginning to show in the Middle Grounds' area of the Coronados. If true, this could draw some yellowtail into the area.
Sunday there was a single yellowtail being caught near the Key Hole along the weather side of North Island. This 15-pound yellowtail was found near the bottom on a sonar mark and bit on a yoyo'ed scrambled egg Salas 6XJR.
The San Diego scored some yellows (7) along with 9 bonito and 95 rockfish. Again, we were told they came from North Island although we are not 100% certain of that yet. The weather side is also holding some mixed-grade bonito…fishdope.com
Tijuana Bull Ring
The sand bass and sculpin plus some keeper halibut are biting decent on the anchovy and on fresh dead squid fished on a 2- to 3-ounce leadhead;
have a look at the end of the IB Pipe or the International Reef in 90- to 180- feet…fishdope.com
Lower 500 south to Inside of the Bumps
Some mixed-grade bluefin from 30- to 170-pounds was found busting spots of bait in a 3- to 4-mile square.
This large area also has a few kelp around. Some have just a few yellowtail on them but some are loaded with 6- to 10-pound class yellowtail.
Let's hope these fish are still around after the wind gets done blowing.
La Salina

Filled the kill bag to the brim with whitefish, lings, reds, sheepshead, and sand bass. Weather was flat calm and the company was awesome! …Derek
https://www.bdoutdoors.com/forums/threads/la-salina-2-17.678090/
Ensenada


Sketchy weather makes bottom fishing tougher but the persistent anglers found some decent calico bass along with a few goats…Sammy Susarrey Sportfishing
San Quintin
I met some guys who have a farm there and now we go out in their panga and pick the ones we want to eat. Pretty cool to harvest different sizes then enjoy the subtle differences between the small, medium and large.
They are using a new technique of raising them in a bag instead of the strings and they are using a hybridized Kamamoto/SQ oyster to better handle the warm water. Kamamoto are world famous for their flavor and combined with SQ, it's a winning combo…Bob Rehfuss
https://www.bdoutdoors.com/forums/threads/heading-to-sq.678107/
I would recommend fishing with Kelly Catian if he's available. He really stays on top of the YT during cold water months and has a lot of very productive codfish/ling pinnacles and hard bottom areas to fish also. Kelly is a 3rd-generation SQ fisherman and his son is 4th generation and his grandsons are 5th generation…ZZZZZ
https://www.bdoutdoors.com/forums/threads/san-quintin-general-questions.677285/page-2#post-4511188
Road and BOLA report
Rain started in San Quintin and we chased the squall into Bahia de los Angeles. It rained heavily Thursday and Friday and then the rain stopped and the cloud cover lifted. Neighbors tell us it has been raining for the past three days. New asphalt has been laid from Los Cuates to San Agustin but Potholes started near San Agustin and then became more serious just past El Marmol.
From Catavina the potholes became quite large with many hidden by ponding water. Several cars were changing tires in this area.
New pavement about five miles before the turnoff was nice, but once heading to the bay you could see the road starting to deteriorate. No pot holes yet but the surface is starting that 'splitting' look that means the asphalt is breaking down.
https://www.bdoutdoors.com/forums/threads/02-15road-conditions.678012/
Laguna Ojo de Liebre


Today at Laguna Ojo de Liebre we joined the whale workout and saw soooo many beautiful big spy hops!!! Then a frisky whale played with our boat like we were a ducky in a tub, pushing us and lifting us up. It was an amazing trip and my guest Laura even got to pet a whale on her birthday…Shari Bondy, Bahia Asunción
Loreto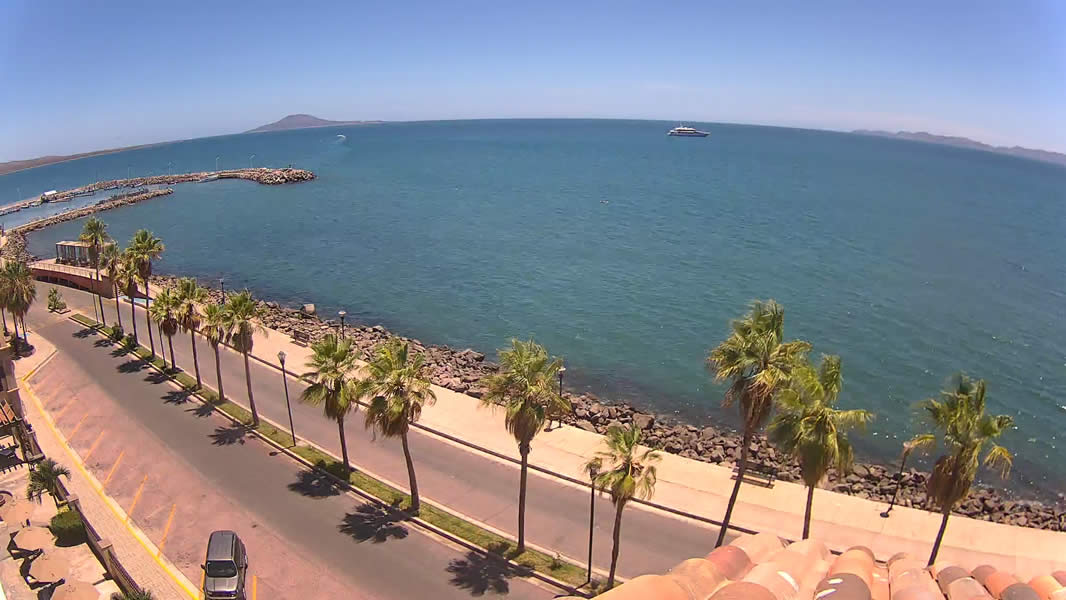 We took off this Saturday morning from Puerto Escondido at 6:30am with Jonathan and Guacolda Zinsmeyer from Seattle. The wind was blowing hard from the North at about 14 knots. The yellowtail didn't seem to mind though. We ran out to Catalan and got into the yellowtail immediately. We were fishing live mackerel off the bottom about 120-feet.
We marked some large tuna but the wind was too bad to fish for them. It was nice to see they were still there. We ended up with limits on yellowtail ranging from 22 to 35 pounds.
The weather was a little rough, but the yellowtail didn't seem to mind. We took off from Puerto Escondido this morning and had an amazing day. We ended up with limits on yellowtail ranging from 22- to 35-pounds… Jay Yadon, Outpost Charters
It's tourist season in Loreto with everybody here to see whales and not so much interested in the catching of fish.
Throw in a two-day stopover of a cruise ship and fishing hit the back burner for everybody but the commercial hand-line guys who sit on a high spot for 18 hours.
I did manage some info from the whale trips that San Bruno Reef and Six Mile had major yellowtail boils on huge sardina schools. The few sport boats out there all had mackerel and the results were what you might expect.
Some trips out at the south side had yellowtail in the twenty-pound range being caught at "sailfish" (a high spot south of the salt mine).
A mix of fish was also found out at Catalana Island for the few boats wanting to make the long run. No reports from up north at Almejas or Pulpito…Rick Hill, Pinchy Baja Bytes Sportfishing
La Paz

Mexican Minute La Paz Fishing Report from Tailhunter Baja Bytes Sportfishing for Week of Feb. 11-18, 2018
East Cape

I met with Bobby Van Wormer patriarch of Van Wormer Resorts decades ago to discuss the Van Wormer dynasty.
https://www.bdoutdoors.com/baja-east-cape-sportfishing-goat-ranch/
Six marlin and two dorado…February is hot on the East Cape! …El Regalo Sportfishing
We connected with Jeff DeBrown, owner of Reel Baja fly fishing guide service, who offers inshore and offshore trips, but he's also one of the pioneers of fly casting from beaches for roosterfish, bonito, ladyfish and jack crevalle.
The Beach Fishing 101 experience he gave us was money well spent. He would accelerate our learning curve through a tidal wave of mistakes…Rich Landers
http://www.spokesman.com/stories/2018/feb/18/the-lure-of-sport-fishing-in-baja/#/0
Puerto Los Cabos
Water conditions are now more stable in the direction of Cabo San Lucas; cooler, greenish water has steadily been pushing in the from the north with water temperature ranging from 68 to 74-degrees.
Most of the fishing action is centered from off of Santa Maria, to Palmilla and north to San Luis. The yellowfin tuna action slowed down progressively throughout the week; early on there were decent reports of yellowfin with moving porpoise, at times within a few miles of shore. Then they moved farther offshore and were hard to even find … often when the porpoise were found there were no tuna associated with them; that type of action can often prove to be sporadic. Most of these yellowfin weighed in the 20- to 30-pound class.
These fish were biting various baitfish. The sardina became a bit more scattered, but these baitfish were still being netted near the rocky beaches from Palmilla and to the south. Mackerel also proved to be a good option. These had to be jigged up off the San Jose del Cabo Hotel area, several miles offshore — not a guarantee with the sabiki's, though at times it proved to be the more productive bait.
Dorado numbers were down, as can be expected for this time of year … scattered fish in small schools and many of these were very juvenile, under five pounds and should really be released if possible. Just an occasional dorado over ten pounds is now being landed. Did not hear of any wahoo, which is also expected during this out-of-season period.
Only a handful of striped marlin are being found on the local grounds which is surprising since their favored food source, the mackerel, are present. Not much action being found offshore now; most charters are having more success closer to shore for species such as sierra, pargo, snapper, cabrilla, island jacks, triggerfish, etc.
There have been some smaller-sized amberjack found and the highlight off the bottom rock piles have been leopard grouper, ranging in sizes up to 20-pounds. Drift fishing with live mackerel was best technique for cabrilla.
Other bottom action included miscellaneous yellow snapper, bonito, triggerfish, island jack, barred pargo and surgeonfish. We did not hear of any red crab activity recently, and it's hard to predict when these crustaceans will drift to the surface.
The better sierra numbers came from Palmilla to Chileno, with the average weight being 2 to 4 pounds. Sardina and casting small jigs worked for these…Eric Brictson, Gordo Banks Pangas
Cabo San Lucas

Numbers at a glance: Billfish 35%, Tuna 22%, Dorado 50%, other 21%.
This week dorado catches increased, topping the billfish catch, which hadn't happened so far this year. The season is beginning to slowly change, and the tuna has picked up a click. This week, 132 tuna were caught, although only 22% of boats caught them; however, this gives you a better idea of what the tuna buzz is looking like in Cabo at the moment. Boats are still going very far to find them … not many will go the distances without a fuel surcharge.
LOCATION: Golden Gate, Out 30 to 40 miles at San Jaime, Old Lighthouse, Los Arcos.
WEATHER CONDITIONS: Calm seas, partly cloudy.
AVERAGE WATER TEMP: 74 F.
BEST LURES: Mackerel bait, ballyhoo, cedar plugs, feathers, chum…Pisces Sportfishing Fleet by Rebecca Ehrenberg