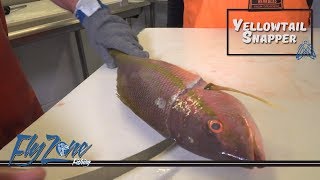 Yellowtail Snapper Fishing
Fly Navarro is back with Rich from Cod & Capers Seafood and they are demonstrating how to clean a yellowtail snapper.  Yellowtail Snapper are a delicious catch pursued by most anglers along reefs in mid-water depths, from North Carolina to Southeastern Brazil. They are most abundant in South Florida, the Bahamas in the warmer months. Yellowtail is a lean fish with a wonderful mild flavor.
Yellowtail are a culinary favorite because of their delicate meat and mild flavor.
Fly Navarro will take us to the "Fly Zone" with his vast knowledge and list of fishing connections. Visit his Fly Zone Fishing site or Facebook to learn more or to ask Fly a question.
Check out more fishing tips on BD.