One of the drawbacks of having a lot of fishing reels is that you end up needing to buy a lot of fishing line and when it comes to having your reels spooled with spectra at a tackle store, the costs can add up quickly. The good news for those of us with way too many rods and reels is that if you shop around for sales, you can pick up a bulk spool of spectra for the cost of having a single reel filled. And while you'll still need to do all of the winding, there are some inexpensive tools available that will make the job a whole lot easier.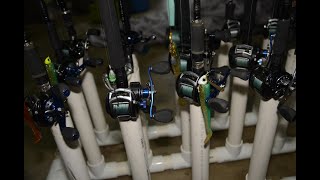 The new Penn HD Line Winder not only holds the spool of line, but it has drag washers that allow you to tension the spool and get your spectra packed onto the reel tight enough that you won't have any problems with the line digging in while fighting fish. Removing the old line from your spool is easy with the Berkley Line Stripper Max that mounts to your cordless drill and quickly allows you to strip the line off of your reels.
The best part about changing out your line at home is that you only need to replace the line that is being used. When respooling most baitcasters I replace about 100-yards of line and on my larger reels, I might replace 200. What that means is that you're going to be able to respool a lot of reels with a 1500-yard bulk spool of line.
The Fred Hall show is a great place to find deals on bulk spools of line, so keep an eye out when you're visiting this year.