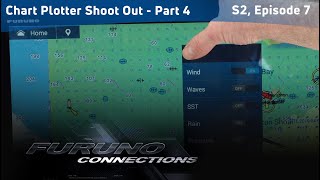 This video conducts the final GPS chart plotter tests with the Furuno TZtouch3 vs competitor MFDs.
This episode shows which GPS chart plotter is best for tides, currents, boundaries, and weather forecasting.  All of these weather layers are important for navigation safety and for catching more fish.
Furuno also shows you TZtouch 3's free worldwide weather service called NavCenter Weather. No other chartplotter gives you free weather reports that can be easily downloaded from your cell phone or wifi connection. NavCenter Weather reports give you wind, waves, clouds, rain/snow, air temperature, pressure, 500mb, sea surface temperature, oceanic currents, altimetry, and plankton all built into the chart plotter.
Marine Electronic Systems