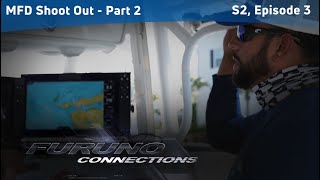 Part 2 Chartplotter Head To Head Competition, Furno continues looking at the MFDs from the top four marine electronics manufacturers.
"We compare the Furuno NavNet TZtouch3 to the other GPS plotter, fish finder, sonar, and doppler radar MFD's to see we how we stack up against the built-in features that are included in each MFD," says Jeff Kauzlaric of Furuno.
Then they continue looking at the user interface and how to customize the fishing electronics display by changing text sizing, object sizes, heading line thickness, track line thickness, route line thickness, waypoint density, and waypoint folders.
All of the fishfinders are 1KW CHIRP built-in. The TZtouch3 includes Navionics, CMOR, and CMAP charts already installed, ready to be activated. No mapping chips needed. By default, NOAA raster and vector charts are installed in the TZtouch3.  Furuno now offers boaters a way to lock the TZtouch 3 so no one can steal your fishing waypoints.  This will also be a huge theft deterrent just like phones.
Furuno's TZtouch 3 coupled with a Furuno radar and the best fish finder is a tough combination to beat.
"Furuno Connections" Season 2 premiered on Monday, April 27th, with a bonus episode on Thursday, April 30th. Buckle up, because Season 2 is going to be off the hook!
Marine Electronic Systems