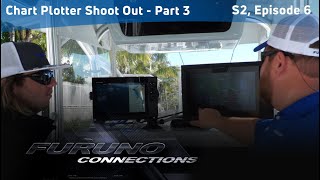 In episode 5,  Furuno compared the creation of GPS waypoints between the Furuno TZtouch 3 and their competitors, next, they discuss how to search for them in waypoint lists. They also look at how to use 3D Charts and GPS charts orientation from North up to Heads Up on the other fishfinder chartplotters and Furuno TZtouch3.
Take a look at all of the fishing electronics functionality, like satellite photography and depth shading.
Furuno compares how to do this on all four chart plotters, to determine which has the easiest to use. Don't miss the boating electronics comparison matrix at the end of each section!
First, we start off with a speed test to see how well each system keeps up with your touches. You might be surprised at which GPS Navigation systems are the fastest.
Marine Electronic Systems