"We start the Marine Electronics Chart Plotter Shoot Out with one of the most important functions: Building a GPS navigation route," Says Furuno's Jeff Kauzlaric.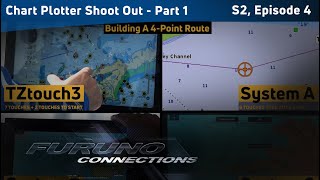 "Watch as our teams build a GPS route on each of the four MFD's, and see which is the easiest. When you're on your boat, you need to be able to build a GPS route easily and quickly so that you can safely navigate to your destination, commented Jeff.  "As our teams found out, it's not just how few touches it takes, but the responsiveness of the chartplotter display is also very important."
See which MFD comes out on top in the Furuno Chart Plotter Shootout!
"Furuno Connections" Season 2 premiered on Monday, April 27th, with a bonus episode on Thursday, April 30th. Buckle up, because Season 2 is going to be off the hook!
Marine Electronic Systems