Below the border on the Pacific Side cooling sea temperatures seem to be slowing the fall fishing. Particularly around the Coronado's. Further sown the coast striped marlin at Magdalena bay are heating up on schedule.
On the Sea of Cortez side , still good fishing at BOLA and on down the east coast of Baja. Van Wormers Tuna Shootout was a hit again this year with 46 teams participating.
Bill fishing was slow for everyone as Cat 3 "Willa" stirred things up.
Next week is the Inaugural Rockstar! Tuna Tournament presented by Pelagic November 2-4 in Cabo followed by WON Los Cabos Tuna jackpot the following week November 7-10.
Que Pasa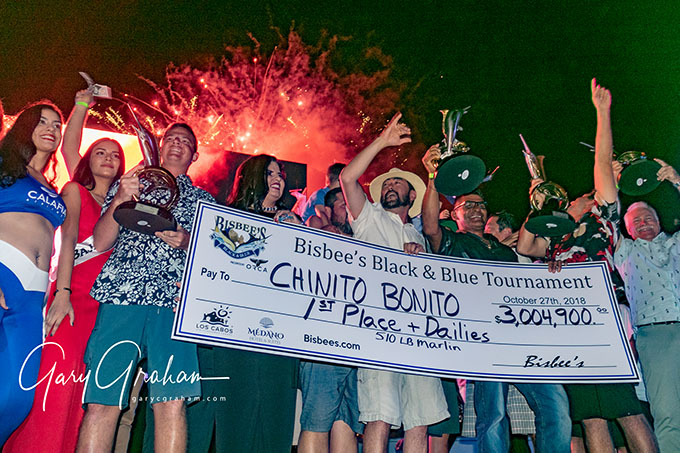 CABO SAN LUCAS, BCS, Mexico – A 510-pound black marlin caught on the final day of the Bisbee Black & Blue Tournament was worth a staggering $3,004,900 to angler Charlie Lee and California-based Team Chinito Bonito.
Lee, from San Diego, is no stranger to prize fish; in a previous year he took home $7,020, a far cry from this year's
$3,004,900, the second largest payout in the history of Big Game Sportfishing Tournaments.
Total Black & Blue Tournament jackpot payouts amounted to $3,693,625 announced director Wayne Bisbee.
The 2018 event had 114 teams competing in the waters off the tip of Mexico's Baja California both in the Pacific Ocean and Sea of Cortez. Earlier, rough and roiled seas as a result of Hurricane Willa made fishing difficult for the anglers, but on the final day the water flattened and skies turned blue.
It took Lee and the Chinito Bonito Team 1 hour, 37 minutes to boat the marlin. After landing their giant black, they headed back to the weigh-in station where their prize catch was confirmed as team members celebrated.
2018 Bisbee Black & Blue Tournament results:
$3,004,900 High Team – Chinito Bonito, angler Charlie Lee$544,250 Second Place – 4 Yahoos
$44,175 Third Place – True Grit
$65,195 First Place Release – El Suertudo
$22,567.50 Second Place Release – Overtime
$12,537.50 Third Place Release – Quiteña
Total payout $3,693,625.
Tijuana Bull Ring
Wide open bonito fishing today. The bones were along the kelp line biting small sardine and chrome jigs along with a mix of calico bass, sheepshead, small rockfish and a few legal-sized lingcod.
More bonito can be found a mile or so outside in the flats.
Coronado Islands
The bonito bite is very slowly fading. The morning half-days scored around 50 which is down from the 75 to 150 fish scores early in the week.
The bones are in the kelp line, and off the kelp line in 150 to 300-feet.
The Drop-off and the Whistler both saw bonito action this morning.
Besides the bonito guys are also catching a few bass, a few barracuda, some mackerel and plenty of little rockfish.
Lower 9 / Coronado Canyon / 226-302 / 371 / 425 / Upper Hidden & Hidden Bank
Water temps are dropping. Most of the zone is seeing 67 degree water; 68 seems all but gone now. Some spots are chilly (for yellowfin) at 65 to 66 degrees.
Just about all there is now is skipjack although if you are very lucky you'll score a few little yellowfin too.
Best bet is from between the 425 and the 371 down through the Upper Hidden to the Hidden Bank proper.
Once again kelps are the primary location for the yellowfin that are still around but do not pass up any dolphin you find. If they are "talking," work them hard! Troll them and if that doesn't get a response, get in front of them, chum hard and fly-line sardine.
Some kelps also have yellowtail on them. Again, the vast majority are tiny from 1- to 3-pound or 3- to 4-pound rats, with a sample of the larger 8- to 15 pound models.…fishdope.com
Ensenada

This is how fishing ends today…Mara's Sportfishing Ensenada
San Quintin
No report
Bahia Asuncion

Wahoo number two for October! Forty-Nine-pounds.
So here's the story of yesterday's wahoo. All of the seiners and local fishermen have been heading down the line to the Punta Prieta and San Hipolito area in search of the exotics. Not one to follow the crowds, I headed up the line. I wanted to get to a 10 fathom spot which is about 27 miles one way from Asuncion. Along bumpy ride on choppy and confused seas.
Along the way I ran into a huge area of feeding porpoise. Literally as far as I could see in any direction these mammals were splashing and jumping. Hoping that this pod was holding yellowfin tuna, I dropped back a couple trollers and immediately got a double hookup on skipjack tuna. These were big chunky skipjack in the 10-pound range. Nice fighters but not what I was looking for. I kept trying for a yellowfin or two but it was just a steady stream of jumbo skipjack coming to the boat. I gave up on the mammals and continued bumping my way to the 10 fathom spot. When I got there it was really void of life. I trolled the area for an hour or so but only found bonito interested in my offerings. By this time it was time to head home. The downswell ride back down the line was better but still held me to around 12 to 15 mph. I decided to hit one more area with the trollers.
This as an area where I got 2 wahoo last year. This guy hit my Sardine X-Rap 40 after a half hour of trolling. Absolutely the toughest fish I have ever fought an landed. It's initial and secondary run convinced me it was a wahoo but then it went deep and I started to think it might be a mako or some other kind of shark. Finally got it to deep color and I could see that it was a wahoo…. or maybe an aligator. A good gaff shot into the behind the gills and he was very docile when I got him in the boat. I steaked him out when I got home and found his stomach was plugged with small skipjack. He must have had 4 to 5 pounds of partially digested fish in his tummy. Might have to change colors on my X-Rap on my next outing. It gives me great pleasure to have a successful outing and never see another boat, seiner, or helicopter.…Ross Zoerhof
Bahía de los Ángeles
We hired Fernando to captain for us. He said that it was going to be windy Friday and we could give it a shot — which we did.
Bait was easy to make. We tried to head north but didn't make it far, due to the weather. We stopped at Coronad0 and trolled for grouper. We had several hook ups, (20 or so), including a couple of large ones but only needed two decent grouper and two yellowtail. Called it a day and went to the cove for a couple hours.
https://www.bdoutdoors.com/forums/threads/bola-october-19-20.702385/
Punta Chivato
At the end of a two-week trip to the Chivato Casa — my annual Birthday Trip since 1995. This was by far our best. When the wind was blowing we went on the quads and fished the beaches. Got lucky with pargo and huge corvina. Only got two days on the boat, weather-wise.
We trolled north one day for dorado and marlin. No luck.
Next day, went South. There were no signs of billfish. Gave up burning fuel and went looking for bottom grabbers. We drifted over some meter marks and jackpot! We found a honey hole… We got one skipjack-type fish — then cabrilla, then jack crevalle, and leopard grouper. Theresa got a huge one on light tackle. Pics to follow. Thanks Gary for all the hard work about Baja…Craig and Theresa Cove
Loreto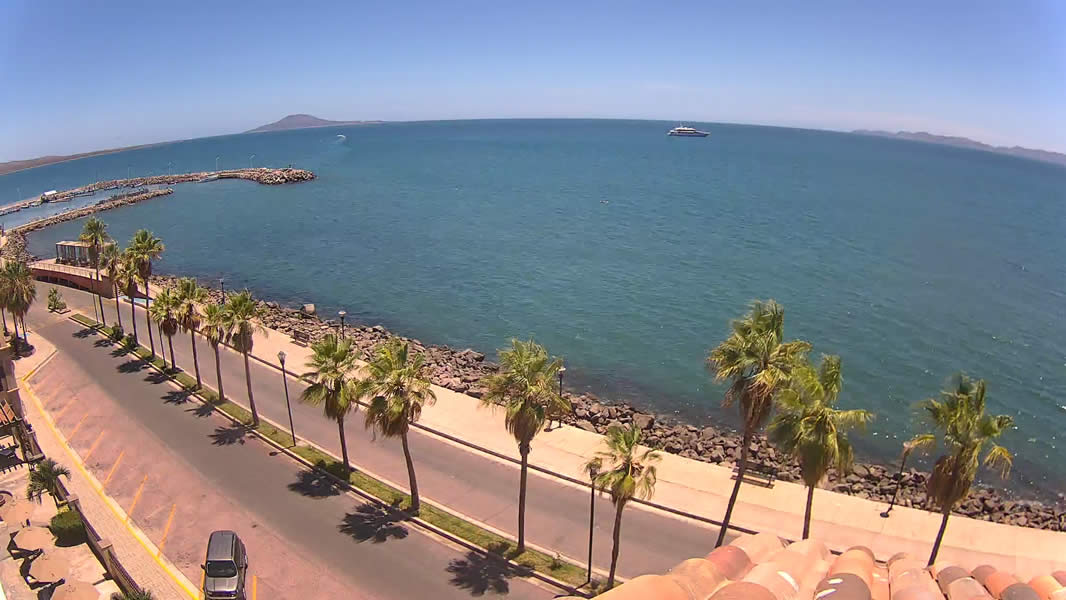 We still have lots of nice warm water and a sprinkling of dorado are still popping up in the fish count.
The problem with dorado seems to be finding where they are surfacing on any given day.
Friday's usual radio chatter was very minimal and the "offshore" adventurers upon their return all had serious looks and sad body language!
On the other hand, Friday was my first day I ever saw cabrilla airborne! I've seen billfish,
dorado, tuna and even thresher sharks doing the flying routine but never a bass-type.
The rocky points all around Loreto are home to cabrilla, various snappers and pargo.
Chumming up the points with sardina got the water boiling with swirling tails and full-blown aerobatics!
Shallow running hard baits like the Rapala X Raps produced a shade more hooked fish than live sardina.
The four-inch models did the trick on light line cast almost on the rocks. Friday's hot color on our boat was a pink mackerel!
Roosterfish and sierra are the best catch along the shorelines with a few toro mixed in.
Still 85 degrees at mid-day with nights down to 70 degrees. Most winds have afternoon winds but not more than 10 knots and dead calm at sunrise. …Rick Hill
Magdalena Bay
Visiting sportfishers from both Southern California and Cabo San Lucas are reporting wide open striper bites and good wahoo fishing.
La Paz

MEXICAN MINUTE LA PAZ FISHING REPORT from Tailhunter Sportfishing for Week of Oct. 21-28, 2018.
East Cape
Van Wormer Resorts  2018 TUNA SHOOT OUT at Hotel Palmas De Cortez. Los Barriles, Mexico ·
Tuna Shootout 2018 Results
Biggest Dorado
Weight: 31.2-pounds
Team #: 2
Angler's Name: Todd Waldman (w/ Veena Waldman & Jim Richards)
Boat Name: Mi Sueno
3rd Place Tuna
Weight: 69.1 lbs.
Team #: 44
Angler's Name: Marty Jensen (w/ Mike Gregoire & Bob Concannon)
Boat Name: Pez Vela
 2nd Place Tuna
Weight: 69.1 lbs.
Team #: 4
Angler's Name: Bryce Schilling (w/ John Schilling)
Boat Name: Bite Me
1st Place Tuna and Winner of the $300, $500, $1,000, & $2,000 Jackpots
Weight: 76.7 lbs.
Team #: 27
Angler's Name: Victor Locklin (w/ Luis Beltran & Juan Amudor)
Boat Name: La Migra
Total Grand Prize cash amount of $15,750.00 (pre-tax)
Total Jackpot Payout of $40,205.00 (pre-tax)
Cash Grand Total of $55,955.00
Total of 11 Tuna weighed in
Total of 1 Dorado weighed
Total of 46 Teams and 160 Anglers
Total Jackpot Payouts: $40,205.00
Honorable Mention
Team #19 fishing on the Mako, anglers Marty Satow, Robert Tybor, & Jason Coniglia brought in a 305-pound tuna to the dock just under an hour after the scales closed.
Puerto Los Cabos
With large crowds of anglers, heavy pressure now on all resources, particularly on bait supplies. Very hard to even find sardina, best bet near Chileno Bay, but this is limited; squid has also become scarce. Only so much squid is delivered to local sources and there can be shortages this time of year. Most days there have been fresh ballyhoo and caballito available. Other options are smaller skipjack, tuna and chihuil, these can be caught on offshore fishing grounds. Ocean temperatures were averaging 82 to 83 degrees through most of the region. Swells were diminishing, breezes from the south and north have been variable from day to day. On Wednesday we had a major south wind pick up, which made for a long, wet boat ride in from the northern grounds.
With the heavy angling pressure, skippers have been searching in all directions. Local San Jose del Cabo fleets have had best success working grounds from Iman to San Luis Banks. With the stormy seas, full moon and limited bait supplies, the overall action became that much more challenging. Mixed sizes of yellowfin tuna, ranging from 5 to 90 pounds were landed, though there were limited numbers of tuna over 50-pounds being accounted for and there were smaller-sized black and white skipjack being caught than anything else. Anglers were fortunate to land one of the nicer grade of yellowfin, though some people had as many as four quality yellowfin in one outing.
Dorado remained scarce, though occasional encounters resulted in a few fish up to 12-pounds in the mix. Wahoo were showing signs of more activity but still no hot consistent bite day to day. Areas from Palmilla Point, Iman, La Fortuna to Vinorama also held wahoo; these fish hit on various baits and lures, average size 10- to 30-pounds, with a few to 40-pounds. In the next couple of weeks, we should see some great wahoo action, as water conditions come into their preference zone.
Billfish were spread out, more numbers on the Pacific side. Some sailfish still hanging around in the warmer currents. Off the bottom there were more triggerfish than other species, but various cabrilla, pargo, bonito, pompano were also found; strong current was a factor. …Eric Brictson, Gordo Banks Pangas
Cabo San Lucas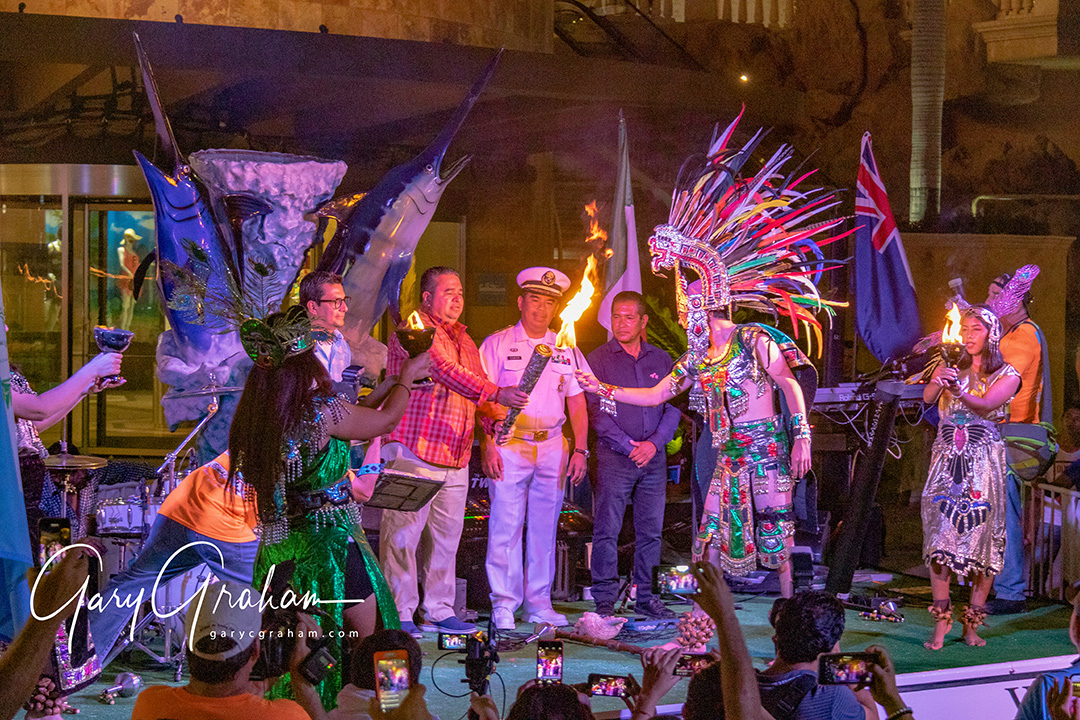 Storm clouds flee as Black and Blue begins
https://bisbees.com/News/Article/65

Bisbee Black and Blue Tournament 1st day winner receives $645,425
https://bisbees.com/News/Article/67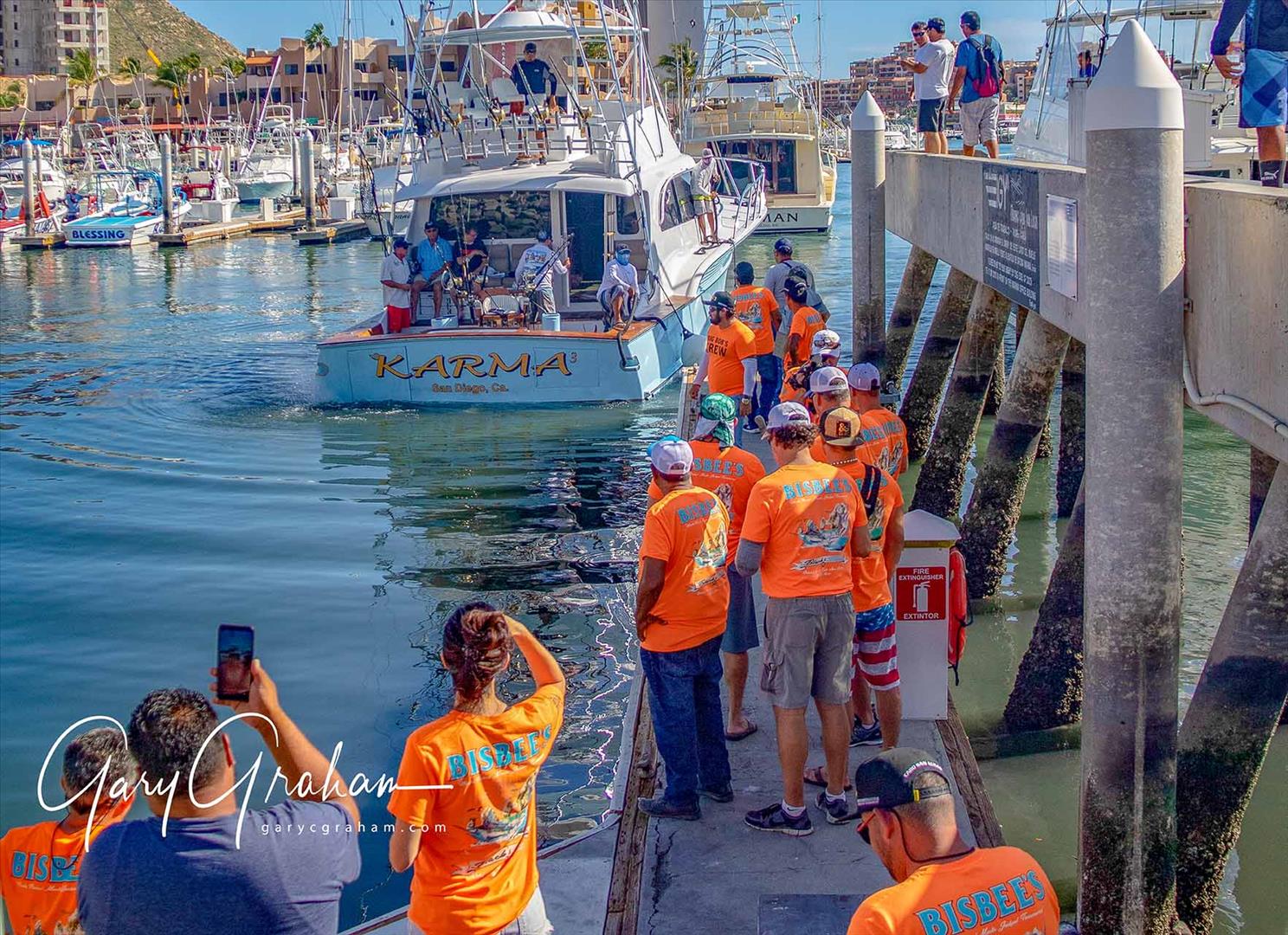 Karma plays a role in Big Game-Big Money Sportfishing
https://bisbees.com/News/Article/68

Bisbee Black & Blue: Lightning strikes twice
https://bisbees.com/News/Article/69
Bisbee Black and Blue, San Diego angler Charlie Lee wins $3,004,900
https://bisbees.com/News/Article/70
Mainland Mexico
San Carlos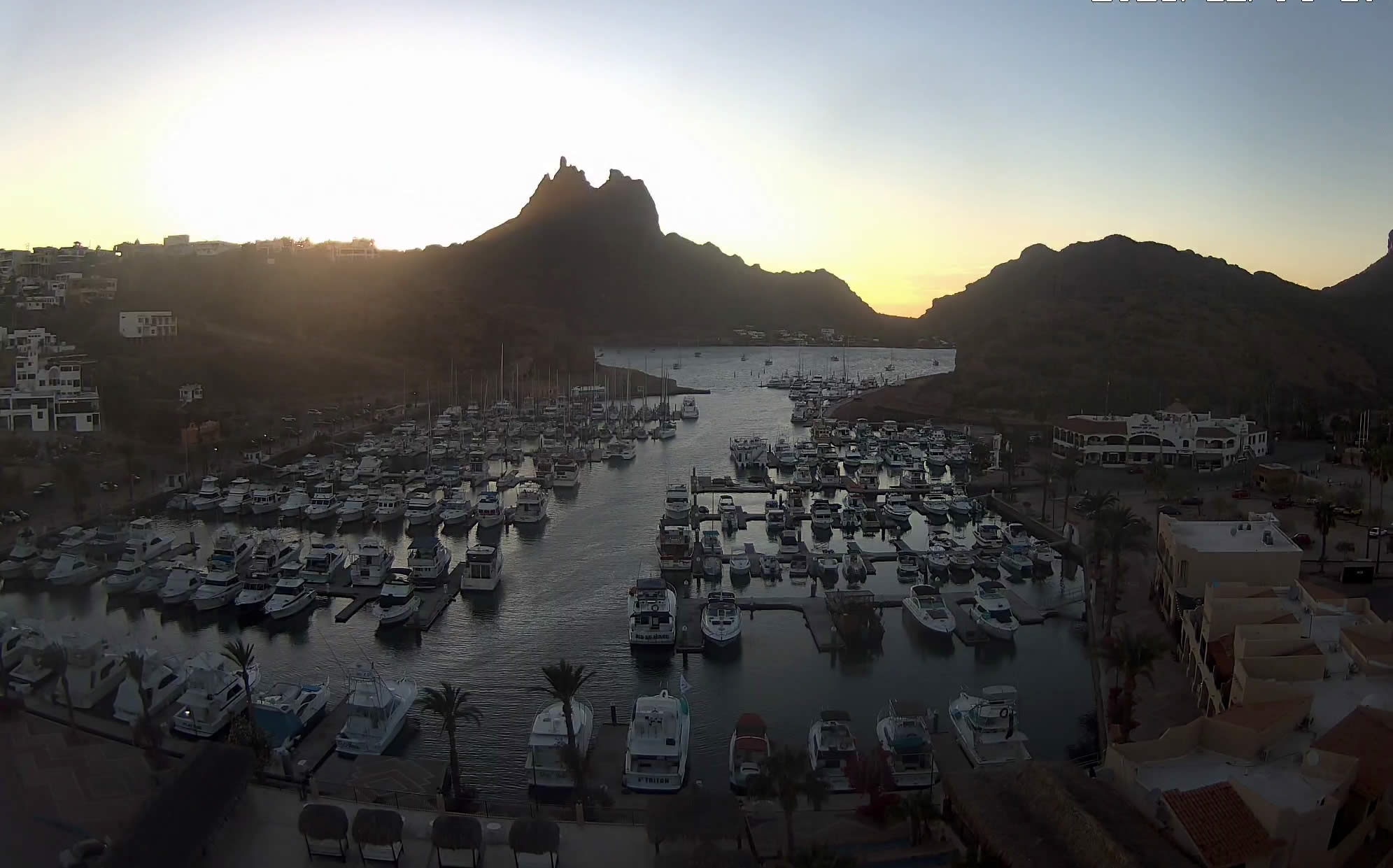 Guatemala

Please join Casa Vieja Lodge next week at the 2018 Fort Lauderdale International Boat Show on Wednesday, October 31 – Sunday, November 4th. You can find us at Bahia Mar Booth #1062, near the Engine Tent…Casa Vieja