Below the border on the Pacific side of Baja there seems to be more fish than anglers; the few boats out from Ensenada are finding fair-to-good fishing. However, on the Sea of Cortez side, the red tide at Bay of LA that has been a problem, seems to be lessening.
The zone farther south, from Loreto to the tip, is rebounding from the brief "Bud" visit as sea temps are creeping back up and the dirty water is fading. Billfish and small tuna, along with a sprinkling of dorado, plus inshore roosterfish, seem to be the most likely catches.
Que Pasa

Here are the names of those that sell Live Bait in Ensenada
Cap Guero Pequines Cel: 52-1-646-1428511
Guillermo Ramirez Cel: 52-1- 646-1071851
Or on Facebook;
Carnada viva para la pesca deportiva Ensenada
Tijuana Bull Ring
The flats are where the best bite for a mix of sand bass and barracuda is happening.The bass are biting the leadhead and squid combo as well as the plastics, while the 'cuda want the sardine, anchovy jigs and the plastic.
If you want just barracuda, you should drive around looking for sonar marks and bird schools, and be ready to throw that iron and a big handful of anchovy. The bass are mainly coming while on anchor and they will build up with time as long as you keep a steady flow of bits of squid going.
Coronado Islands
There is a tremendous amount of boat traffic around the Islands, no doubt due to the Yellowtail Shoot Out.
The weather has been awful. A nasty South wind started early and got worse as the day went on. Some yellowtail have been caught, but the word is that the over-all action is slower than it has been.
The big news was a 13- to 15-pound bluefin tuna was caught on a small Marauder in the lee of South Island. That is the first of the year.
SKR was reported slow and rough. Ribbon and Bull Kelp areas saw a little better fishing and weather but still not as good as it has been. Boats were everywhere which made it difficult to troll and the weather conditions made it tough to sit on the anchor.
Bluefin below the border
For the first time in a couple of months there are no reports of bluefin from Mexican waters. The entire fleet is now working U.S. waters.
That's not to say there aren't any tuna left. If you want to look at the area out west of the 302 and north of San Salvador, up along the border is likely the best choice.
To the south there could very likely be at least kelp paddy yellowtail from below the 425 through the Upper Hidden Bank. I would not be surprised if there were some bluefin, too.
Ensenada

Another great day on the water — seven yellowtail, big calico bass, and barracuda. Good fishing! Hope to do it again soon. …It's 4 Reels Sportfishing
San Quintin
Still quiet
Cedros Island
Another great trip. Big bass are biting swimbait and jerk bait all around the Island. Boiler rock fishing is crazy good. Bring the heavier line leader for sure…
Yellowtail fishing has been very good at the Punta Piedra point and the high spot directly outside the Point. Trolled Rapalas or live bait, either slow-trolled or just drifting, is getting the better fish up to 46 pounds this week.
The weather was good with very little wind in the morning and only normal afternoon breeze before glassing off each night. Amazing…Jeff Mariani, Cedros Tackle
Bahia de Los Angeles

Just returned from BOLA Thursday evening. Roads were good with the usual pot holes between Catavina and the turn off to the Bay. Our group fished three days with two great captains, Enrique Daggett and Joel Prieto Jr. I highly recommend them. Bait was easy to get all three days. We kept only mackerel and threw back sardines. Mackerel stay alive a lot longer in the bait tank…Dennis
https://www.bdoutdoors.com/forums/threads/bahia-de-los-angeles-june-18th-20th.691948/
Punta Chivato
The weather was bad so the Bulls Only Tournament was postponed till today. (Sunday) 15 boats took off from a shotgun style start at 7:30. We decided to save $ and not enter.
So, we are helping with the event manpower style. We went out one day and got a blind strike for one dorado. Will update you on the winner.
Winning fish. 38 pounds Mike Bower.  Second place Don Arnold. 19 pounds third Phil Davis 18 pounds…Craig & Theresa
Loreto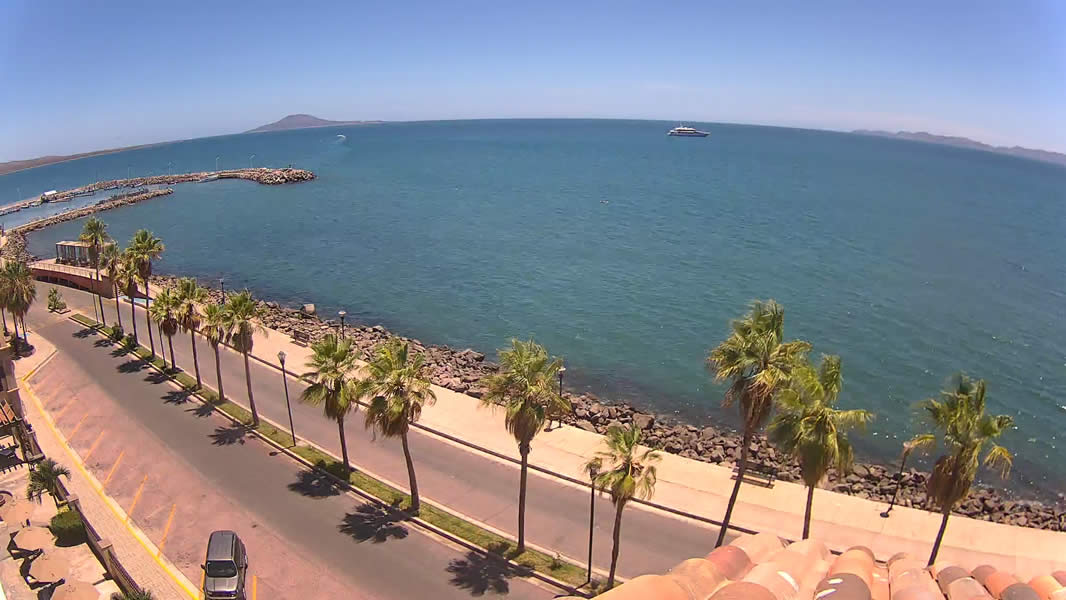 The water has been boiling up north at Pulpito with yellowtail and a few different snapper species all hitting the ice!
These yellowtail are double the size of the last flurry of 'tails we had further south a few weeks ago. The smallest ones from the Pulpito bite were running at least 15 pounds with the average closer to 25. Live mackerel has been the ticket for the 'tails. Out in deeper water the search goes on for sargasso holding biters of the yellow/gold variety.
We rolled up to one at the beginning of the week and found smaller dorado and one lone sea turtle. This paddy reminded me of a salad bar because hiding under the green stuff must have been a thousand fish sardina school all huddled.
Small dorado were eager for the first few minutes while bigger dodos lurked just at the deep limits of visibility. All of the near shore paddies were floating in very green water with no fish. It will be hit and miss to find a good paddy at least until the salad bar thins out!  A few more weeks. I've heard of only a few billfish
being caught so far this season!
A smaller dodo that fell for a sardina imitation not far from the famous "50" yellowtail hole(highspot)…Rick Hill, Pinchy Sportfishing
In the afternoon, part of the crew went out for some fishing with the family; we already knew what was north so wanted to check out south with a busy schedule ahead. We went south of Catalan where the water was green but had warmed back up to 82°; the weather was calm all day with a slight breeze. We saw some striped marlin and large floating sargasso patties produced three dorado for us. While heading back, we spotted some porpoise and trolled the cedar plugs. As luck would have it, the tuna were right there with them. We landed a total of 10 yellowfin. Made for a great afternoon for some fishing in Loreto with the kids.
We had an awesome day on the water today. We ended up with a lot of fish and a lot of variety. The catch of the day goes to Rich Christiansen with his monster snapper and almaco jack. Everyone caught a lot of fish and had a great time….Cast N Reel Sportfishing
La Paz
MEXICAN MINUTE LA PAZ FISHING REPORT from Tailhunter Sportfishing for Week of June 18-25, 2018
East Cape
Thank you very much to the group of fathers, sons, and buddies, on behalf of the entire community of Cape of the East for the great contribution to the well-being of the families and to make so many smiles in the children. Thank you very much and see you friends. …Anibal Miranda, Van Wormer Resorts
June has been a great month on the East Cape with some of the best fishing in recent memory. Consistent bait sources and calm winds have made getting on the bite easier. Despite Tropical Storm Bud, fishing on the East Cape continued to be good while conditions were mixed up to the south as we saw on our couple of days of fishing out of San Jose del Cabo. Although June has been great, there are signs that point to an even better July.
While June was an amazing month, July shows promise of being even better! Don't miss out on your chance to get in on the action with the East Cape's best. We have some openings in the coming weeks but will fill up quickly. Visit www.scorpionsportfishing.com for more information and to stay up to date on all the latest fishing action…Scorpion Sportfishing-Matt Clifton
It was a big, fat, WOW of a week
https://www.bdoutdoors.com/forums/threads/it-was-a-big-fat-wow-of-a-week.692036/
Puerto Los Cabos
Heavy ocean swells to over fifteen feet pounded the coastline; now it has dropped to normal, summer size swells. Last week the storm pushing in from the south brought with it colder Pacific currents, green water, with temperatures off of San Jose del Cabo dropping down from the 78 degree range to 67 degrees overnight. Recovering and rebounding to pre-storm status has been a slow process. Pacific grounds are still dipping into the 60s, though in the direction of the East Cape the water is back up near the 78-degree range. Clarity is still off colored, clearer in some isolated locations, but swirling strong currents continued to sweep through, causing the clarity to remain off.
The mass schools of baitfish that had been holding near Iman and Desteladera Banks have vanished, so the striped marlin action is much more spread out now, being encountered while trolling lures. Many of the tailing marlin spotted would strike dropped-back caballito. Marlin was still the main offshore species of gamefish encountered. Dorado were seen only occasionally and more often closer to shore. Yellowfin tuna were scattered farther offshore and open water trolling produced spotty action for mostly the football-sized fish. This tuna action was found mainly off of the Cabo San Lucas grounds, as well as off the East Cape. No wahoo were seen locally, but there was talk about a wahoo bite going on near Cerralvo Island to the north.
The high storm surf scattered the schools of sardina, which is common this time of year. The main baitfish that is now being obtainable in the mornings has been caballito, a few variety of jacks, mullet and limited moonfish. Offshore baitfish seemed to vanish since the start of the week, as water conditions improve and currents slack off some, but we do expect to see larger concentrations of offshore baitfish returning.
Roosterfish action remains sporadic, but has improved some in recent days, though it's surprising that the majority of the roosters have been more juvenile-sized, not all 25-pounds and up, which can be more common during the latter part of June.
Jack crevalle were also patrolling the shoreline and most of these fighters were in the 15- to 30-pound class. Only a couple of smaller dogtooth snapper were caught, as well as a handful of pompano and snapper which rounded out inshore activity.
Though spotty from day to day, off the shallow rock pile areas near Iman, San Luis to Vinorama, there were some decent fish caught — red snapper, yellow snapper, amberjack, and a variety of grouper. Bottom action was found early in the day by using yo-yo jigs, and shallow spots were more productive when drift fishing the larger baits. …Eric Brictson
Cabo San Lucas
David Ansley releases a beautiful roosterfish while Panga fishing
Numbers at a glance: Billfish 40%, Tuna 41%, Dorado 4%, other 12%.
Windy conditions on the Pacific side slowed the billfish bite for the fleet. Some did find lots of small tuna traveling with porpoise with only a few larger models in the mix.
Inshore produced some bucket fish sized roosterfish for the patient angles. Along a few trophy sized amber jack on the high spots.
Very slim on dorado and wahoo both with only a few showing up in the trolling pattern.
Mainland Mexico