The northern sector of Baja's Pacific coast is warming, and the dorado, marlin and tuna numbers are growing offshore from the border all the way to Magdalena Bay.
There was little impact from last week's passing storms on the Sea of Cortez — mostly rain and a little wind. Dos Mares Final in Loreto attracted 115 winning teams from 26 Fonmar Tournaments held during the past year throughout Baja Sur.
The winning team, "Mar Makos" from Loreto, crushed the competition with their 42.5-pound dorado.
Tijuana Bull Ring
Bass fishing continues to be good along the kelp lines, especially with some current and kelp around. You may also find some good action on short barracuda and even an occasional yellowtail when the bait really gets bunched up.
Coronado Islands
The yellowtail bite has slowed down even more to barely a trickle. The primary areas to look for yellowtail the last few mornings have been around the South Kelp Ridge, the 5 Minute Kelp, and the Lighthouse, with some 10- to 20-pound bluefin mixed through there as well. However, recently there has been better, steady action on quality yellowtail along the weather side of South Island for guys trolling Rapalas in mackerel or pink colors, so that may still be worth a try if you decide to hit the islands on your way home from the offshore grounds.
Bass fishing has also been good at the Middle Grounds, with lots of big calicos eating fly-lined bait and surface iron.
Offshore
The big story for Mexican waters is the kelp paddy yellowtail. It looks like there is a volume of fish pushing up and it's spread out over a wide area from the Coronado Canyon to down inside the Hidden Bank — likely farther than that, too.
Perhaps the biggest news of all is that MANY of these yellows are quality fish – from 18- to 30-pounders! Only about 20- to 30-percent are the smaller grade, the 8- to 12-pound stuff, and those are mainly the fish farther to the south.
It isn't all yellowtail either. Some kelp have a few Baja dorado on them.
Very few signs of tuna. No bluefin and just a sampling of 10- to 20-pound yellowfin.
Coronado Canyon / 226-302 / 371 / 425
Fishing on the local banks has slowed down a bit the last few days but there are still some scattered areas of life through here. If you get into one of these areas you may find kelp holding dorado and yellowtail, along with a shot at some open-water yellowfin or dolphin holding yellowfin. If you miss one of these little zones, you may be in for a slow day with empty kelp and lifeless water. Be sure to make mackerel when you leave the harbor, as the dorado and yellowtail will sometimes only eat them and not sardines.
Lately, some of the better kelp with life on them have been inside the 302 – more in the Coronado Canyon area. There are a couple of color breaks running north/south through the area that are holding life.
Ensenada
Last couple of days the yellowfin and dorado have been easy, no brainers; talked with Memo at El Dorado Sport Fishing who said roughly 20 miles outside Todos Santo Island there are YFT's on the troll and there are paddies holding dorado along with the yellowfin tuna. …Anthony Motshagen
https://www.bdoutdoors.com/forums/threads/ensenada-yft-dorado-wfo.696570/
San Quintin


Garcias Pangas Sportfishing, San Quintin, finds dorado.
Summer has finally arrived in the area for our local and visiting anglers. In addition to some nice-sized yellows and calico bass, there are rumors of some exotics (dorado and yellowfin tuna) farther offshore under the kelp.
Bahia Ascension
The beach was clean and the water cleared up; the temperature rose several degrees for perfect swimming … summer's ON! …Shari Bondy
Cedros Island


Stellar reports continue from the Islands at Cedros. The yellowtail, from normal-sized to some mossbacks, (even one that topped the scale at 43.6-pounds), were biting best on surface iron, with SP minnow working best. Calico fishing remains completely wide open on plastics, surface iron and Flatfall-style jigs.
Over at Benitos Island, dorado are leading the charge, followed closely by large yellowtail and calico bass.
Like most of the region, the weather is extremely hot, reaching 90 degrees during the daytime. …Cedros Tackle
Bahia de Los Angeles
Recent reports of hot weather (110 degrees in the shade) and hot fishing match. Although live bait is tough to make, it's worth the two-hour effort to get just past the lighthouse.
The reef just south of Snake Island yielded easy limits of school-sized yellowtail to 13 pounds. It seems they are not picky; they are biting nearly any lure offered out of the tackle box. However, fishing deep water, from 200- to 250-feet with lures, can become tiring in the blazing sun.
Added to the mix were grouper and cabrilla up to 5-pounds, plus several heavy mystery bites from "monsters of the deep" that broke off before the battle even began.
While trolling around Smith Island looking for dorado, a few small, free swimmers were spotted but no takers – none were hooked.
It is about 110 degrees with an equal amount of humidity; it's brutal out in the sun so don't forget your big hat and sunscreen.
https://www.bdoutdoors.com/forums/threads/bola-august-august-3-4-hot.696174/#post-4656894
Loreto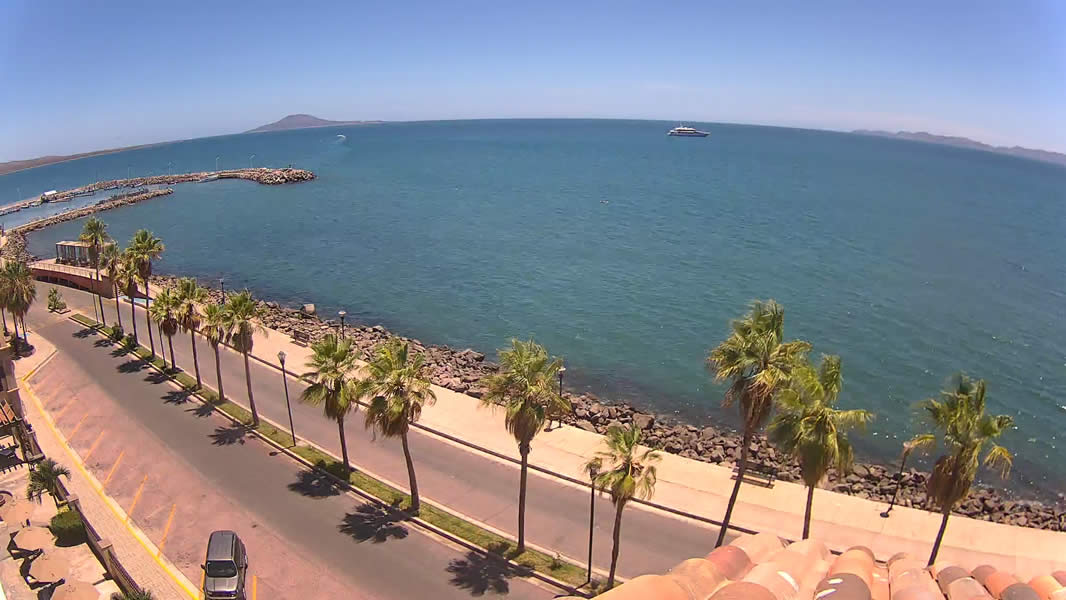 It looks as if the Baja Sur State Fishing tournament event in Loreto was a big success.
Without seeing the final results, I can't say much about the quantity or variety of the fish caught, although a Loreto team did weigh in a 42.5-pound dorado!
Fishing enthusiasts from all over Baja were teamed up with many bringing their own trailer boats.
There were lots of give-away prizes and endless vendors of food and beverages, and making the event even sweeter was the weather.
The tropical storms turned west and left us with an overcast sky that sheltered everyone from the August sun!
Most of the contestants I talked with sang the same song that we had been hearing for the past few weeks,"No sargasso and few hits!" on anything trolled.
I'll take the news of the 42.5-pound dorado as a sign of bigger fish as the summer cruises along!
Team "Mar Makos" from Loreto after weighing in their 42.5-pound dorado…Rick Hill
Magdalena Bay
MAG BAY REPORT – BEFORE THE STORM
Over the past couple of weeks the SST outside Mag Bay has moved into the mid 70s and both wahoo and small yellowfin have moved into the area…Bill Erhardt
https://www.bdoutdoors.com/forums/threads/mag-bay-report-before-the-storm-8-7-18.696143/#post-4656607
La Paz

MEXICAN MINUTE LA PAZ FISHING REPORT from TAILHUNTER SPORTFISHING for Week of Aug. 5-12, 2018
Although we've started to see more tropical storm/hurricane activity, it hasn't stopped us from reeling back some nice fish, including yellowfin tuna, wahoo and one of our favorite's — the Mahi-Mahi. Some cloudy days have been the perfect contrast, making for some nice overcast weather days. Furthermore, some bits of rain here and there have livened up the scenery, adding a little bit of green to the already colorful red rock/blue watercolor palette that characterizes the Sea of Cortez…BACo
https://www.bdoutdoors.com/forums/threads/baco-la-paz-fishing-report-fish-o-clock.696534/
East Cape
Tuna LARGE…Van Wormer Resorts
Very good fishing inside – LARGE pargo, jacks and pompano!
https://www.bdoutdoors.com/forums/threads/very-good-fishing-inside-large-pargo-jacks-and-pompano.696551/
Puerto Los Cabos
Schools of sardina, plentiful throughout most of the summer season, were now scattered and for the most part unobtainable. Local fleets are using slabs of squid, chunk bait of skipjack, as well as some caballito and ballyhoo. This is normal bait for this latter part of the summer. Ocean water temperature is in the 80- to 84-degree range.
The main fishing activity has been around the Iman Bank. The highlight has been yellowfin tuna, drift fishing with strips of squid or sardina, which produced a quality grade of yellowfin tuna up to 80 pounds; some lucky anglers had as many as four or five tuna, while others were fortunate to land one. These are strong fish and the best chance of enticing a strike was on lighter leaders, which meant long fight times and a higher percentage of lost fish.
Few dorado are being seen; fish up to 15-pounds were on the same grounds as tuna or billfish. A couple of wahoo were reported on trolled Rapalas, yo-yo jigs and on strip bait while targeting tuna. Bottom action was spotty for Eastern Pacific bonito, a few red snapper, cabrilla, yellow snapper, dogtooth snapper, amberjack and triggerfish.
Billfish action was spread out — a couple of sailfish, striped marlin and blue marlin — with better action towards Cabo San Lucas and out around the 1150 Spot.
Inshore there's not much action; a chance at jack crevalle or a late season roosterfish if you can obtain the preferred mullet baitfish.…Eric Brictson
Cabo San Lucas
Numbers at a glance: Billfish 37%, tuna 26%, dorado 27%, other species 9%.


The hottest fishing of the week happened the weekend of the 28th and 29th; I really could have written the report solely on Saturday's and Sunday's catches, which were SPECTACULAR! Just on these two days, Pisces boats caught 13 blue marlin, 2 sailfish, 5 striped marlin, 54 yellowfin tuna (one of which was 250-pounds!), 8 dorado, and 1 wahoo.
As for the smaller game fish, sought after closer to shore, we again had a great week, with LARGE roosters (the biggest this week was about 60-pounds), jack crevalle, and plenty of dorado there, too. And even with hurricane John close by, (which kept us from fishing two days this week), fishing catch-rates have still been strong, with a slight lull in the next few days after the storm. Things have begun to pick up again this week though, with good catches this weekend. We are excited to see what next week will bring, 'cause it's feeling like it will be a good one!
Sea Conditions: Seas have been relatively calm in the mornings throughout the area with some surface chop showing up in the afternoons. Forecast is for more of the same with winds in the 10- to 14-mph range out of the WSW. Sea temps are running from 79°F (Pacific) to 83°F around the inside corner to the Gordas.
Best Fishing Areas: The 95 and 1150 Spots were both productive for the marlin and tuna with Cabo Falso also producing some marlin and dorado. The Herradura area produced tuna.
Best Bait & Lures: Feathers and cedar plugs were the favorite for tuna with trolled smoke trail lures being the favorite for marlin. Live bait tossed to tailing marlin was also successful.
Bait Supply: Live bait is available at the $3.00 per bait upon exit from the harbor.
Mainland Mexico