Que Pasa
Important Mex 1 update

Just wrapped up a trip to BoLA. Left on the 28th of September. The roads are being repaired from Cataviña to the Punta Prieta turnout to Bahia de las Angeles. A lot of the pot holes are being repaired so that's a good thing…Austin Bernasconi
Baja Norte
Coronado Islands
Bonito have still been all around Pukey Point and the lee of North Island recently with a few yellowtail scattered throughout the area down both sides of North Island.
The problem is that there are still tons of sea lions around, and without any boat traffic they can all pile up off your stern as you troll around or try to set up a chum line. There have also been a few 10- to 20-pound bluefin seen and caught again around the Middle Grounds.
Chris checked in from fishing the Islands yesterday and reported that the bluefin are still around the Middle Grounds.
He went two for five on bluefin by slow-trolling sardine on 20-pound fluoro around the south side of the Middle Grounds.
One of the bluefin was taken by a sea lion just three feet from gaff. He also caught a yellowfin earlier in the day down around the 425 before the pileup of boats shut the bite down…Fishdope.com
South to southwest of the Coronado Islands / 425 / 101
More hit-or-miss fishing here. Most of the good schools of yellowfin tuna have been found between the 425 and 101, with a little bit of tuna activity along and just outside the dropoff, outside the Coronado Islands down to the Rockpile.
If you find the right school first thing in the morning the bite can be wide open, but if you get to the party late you may struggle to get bit…Fishdope.com
As for tactics and gear nothing has changed:
For trolling, just about any color feather will work just fine although black/purple seems to be getting bit the best. Rapalas, Halcos and Cedar plugs are working great, too.
Once stopped, fish the 15- to 20-pound fluorocarbon and a small 1-oz. or 2-oz. hook. At times the tuna will chew the 30- to 40-pound fluoro, but for the most part, they seem to be line shy. Put a couple fish in the boat first and then size up if you want.
These yellowfin are mostly small fish. The average is 12- to 14-pounds with only a few up in the 20-pound range. There are some little peanuts, too, in the 4- to 6-pound class, so you'll have no problem landing most anything you hook on 15- to 20-pound line.
Finally, if you happen to get a stop on skipjack, DO NOT just wind up and take off trolling again.
Many skipjack stops have turned in barn burner yellowfin stops over the past several weeks, so be sure to give it 5- to 10-minutes of steady chum before you give up… Fishdope.com
Ensenada
Fishing is very good right for big bonito, bass, yellowtail, barracuda and there are still a few tuna to be caught…Captain Louie Prieto
San Quintin
The Bakers scored on a mixed bag of surface and bottom fish during their recent visit with Captain Juan Cook
I got down there the day after the tournament on Sunday and I was told that it was slow and that a lingcod had won. We fished with Captain Juan on Mon. and Tues. for a few small yellows out on the 15 and all you wanted of the San Quintin grade giant bonito.
Went out to the 240 one afternoon and caught 5 or 6 nice lings. On Tuesday we went down to Socorro and fished some shallow-water stones for sand bass and rock fish. Fishing was good and of course Captain Juan was great to fish with. Did not hear of any white sea bass at all biting right now…Ray Franke
https://www.bdoutdoors.com/forums/threads/any-results-from-the-san-quintin-tournament.668311/
Cedros Island
This is what I h
ave been telling some guests: "There are a lot of big fish (particularly yellowtail) but sometimes they are not interested in biting, or there are so many small ones they take the lure before the big guys can. I guess it's a good problem."
Proof of it is that recently, while our guest anglers got yellowtail up to 25- or 35-pounds, our Spearo in charge, "Toro", got these 50-pounders right at the same spot…Jose Angel
Bahia de los Angeles
First day had a good snap on the yellowtail fishing; only yoyo jigs on the backside of Smith Island. School size 10- to 15-pounds with bigger ones mixed in. They were wide open and every drop was a fish. We fished the same spot for the 3 days we stayed there.
A lot of large grouper were being caught as well. The water temp stayed around 80 degrees, not very much wind and very good air temp at 85 to 90 degrees…Austin Bernasconi
https://www.bdoutdoors.com/forums/threads/bay-of-l-a.668510/
Bahia Asunción

Our guests got out on the water fishing…three in kayaks, one SUP and a shore fisher! A perfect day here at La Bufadora Inn in Bahia Asuncion…Shari Bondy
Loreto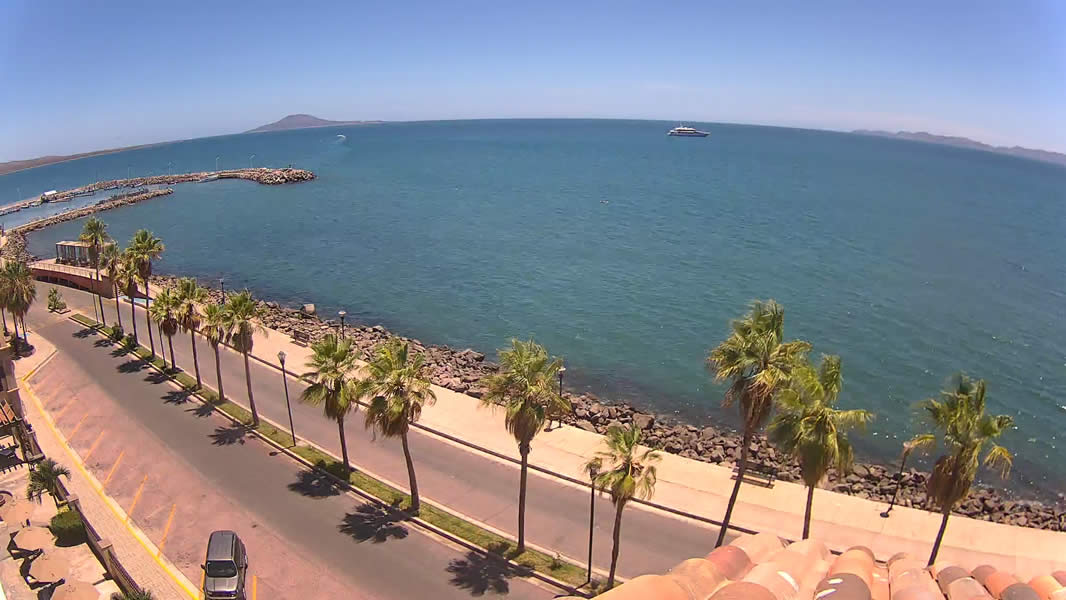 We still have the warm summer water in the area and a seasonal warm water has arrived down at Puerto Escondido.
Sierra are the usual visitors at this time of year, but they have been overshadowed by late arriving dorado.
Sardina and a fast retrieve of anything shiny has been getting the job done on 8- to 15-pound medium dodos.
North along the coast we have been landing some pargo and cabrilla that have been tantalizing boats for the past month. They were swarming and boiling but not on anything with hooks in it.
This week they were hitting trolled Rapalas with a lot of break-offs in the rocks. Punta Colorado was the best area. Most of the fish were in the 10-pound range with the bigger boys doing all the breaking.
La Paz

Tailhunter International, La Paz, Mexico, Weekly Video Fishing Report for Week of Sept 18-25, 2016
East Cape
The action for yellowfin tuna has been nonstop. Anglers easily got their limits using live sardina and squid without the long runs.
Most were football size but some bigger ones have started to show in recent days. We expect as the water continues to clear on the banks to the south that we will be seeing more big tuna in the coming days…Matt Clifton, Scorpion Sportfishing
https://www.bdoutdoors.com/scorpion-sportfishing-east-cape-fishing-report/


730 am already got limits on TUNA let's go try for catch released the blue marlin east cape rocks…Van Wormer Resort
It's all about the yellowfin tuna. There are virtually guaranteed limits for all anglers with lots of released fish from footballs to over a hundred pounders. These are being taken close inshore off Punta Pescadero…John Ireland
https://www.bdoutdoors.com/forums/threads/baja-yellowfin-tuna-steal-the-show.668491/
My guest, David Schaffer, with just one of a dozen dorado we caught recently. Back at it tomorrow…Jeff DeBrown
Puerto Los Cabos
Anglers were using a mix of strips of squid and sardina, concentrating on the Gordo Banks north to Vinorama. Very strong current has been running, pushing in off-colored, greener water on certain grounds, changing daily as to clarity on one area versus others.
As a general rule, the fishing action can become more sporadic and tougher when such strong currents are present.
The most common target species has continued to be the yellowfin tuna, sizes ranging from 5-pound footballs to 100-pounders.
No big numbers of anything, but there were some quality fish being brought in every day; all were taken while drift fishing various bait, sardina, chunks of skipjack, cocinero or strips of squid. The yellowfin were finicky and line shy, so best results came on lighter leaders and smaller pieces of bait. Some of the more significant catches per boat consisted of landing several nicer-grade tuna in the 60- to 90-pound class per morning, though for the most part anglers were fortunate to catch one nice tuna, along with maybe a mix of a few pargo, small dorado or other fish.
Dorado were scarce and mainly for an occasional fish under ten pounds; no wahoo to speak of, though if anglers were to specifically target these fish near Vinorama there is a chance, because East Cape charters have been doing that. A couple of nice amberjack to over 50-pounds,  a handful of huachinango (red snapper) and a yellow snapper rounded out the limited bottom action.
Billfish were very scattered. Not much being reported on the grounds off of San Jose del Cabo; perhaps a better chance for marlin now on the Pacific side. No inshore panga action reported, though local surf anglers out of La Playita reported good catches of barracuda, jack crevalle and a couple of days of nice tripletail action…Eric Brictson, Gordo Banks Pangas
Cabo San Lucas
Hawaii or Cabo? Our usually dry landscape has come alive from all the rain we've been getting lately. Not to mention that the summer wahoo bite continues, this happy angler shows off a nice one landed aboard the Pisces La Brisa today… Pisces Sportfishing
This week fishing started off strong with numerous billfish catches per boat … mainly striped marlin and sailfish … but then midweek this all changed as most catches turned to wahoo and many dorado per boat.
Later in the week, more and more boats were seen coming back with numbers of dorado in the tens and twenties, and quite a few wahoo through the end of the week…Pisces Sportfishing
Cabo Climate: Daytime temps averaged 83.5 for the week and nights at 74 degrees. The humidity ratio averaged 74.4%. It was a mostly cloudy week with some peekaboo sunshine periods.
Sea Conditions: Pacific side, Finger Bank to the Golden Gate Bank and down across the Jaime Bank, all at 83 to 84 degrees. Cristobal Ride and around to Los Frailes, all at 84 to 85 degrees. Sea surface flowing mostly from the westerly direction at 9.4 mph.
Best Fishing Area: All but two of the blue marlin and stripers came from the Cabo Falso area. Same for the four wahoo. The dorado and the yellowfin tuna were scattered about from one side to the other.
Best Bait or Lures: Lures were working best on the blues; rigged bait on the stripers, tuna feathers of assorted colors working well for the dorado and the tuna.
Live Bait Supply: Live bait supply is well stocked and ready for October fishing at the $3.00 per bait rate…Larry Edwards, Cortez Charters