Que Pasa


The Copa Campeones Calisureños Baja Tournament was held this week in Loreto over the weekend. This is an invitational event according to Gonzalo Alamea Camacho who is in charge of coordinating the serial Copa de Campeones Dos Mares Calisureños.
The series of tournaments are held in the 5 municipalities of Baja Sur during the year and winners are invited to the Grand Finale held each year in Loreto.
This year 104 teams signed up on Saturday, August 12. Species included dorado and black and blue marlin with qualifying weight for dorado being 12 pounds. There were no billfish brought to the scales.
The winners included:
1st place team "Los Martínez" with a 16.10 pound Dorado won 150,000 pesos; the captain of the team won 50,000 pesos plus the team won a 4-stroke 90hp Suzuki outboard motor.
2nd place team "Baja invader VI" with a 13.20 pound Dorado won 100,000 pesos; the captain of the team won 30,000 pesos, and the team won a 2-stroke 115hp Yamaha outboard motor.
3rd place team "Carnalitos Team" with a 13.20 pound Dorado won 100,000 pesos, the captain of the team won 20,000 pesos and the team won a 4-stroke 5hp Honda outboard motor.
A complete rundown of the event will follow at a later date.
Baja Norte
Coronado Islands
Fished the lighthouse area at Coronado yesterday for 13 yellowtail to 25 pounds, some barracuda, bonito and 5 nice calico. Most were caught drifting lines in 40- to 60-feet of water and a few on the surface iron. Several other boats in the area also did well mostly slow trolling. Seals were around but only got three of our fish. The only sportboats there were the Pronto and the Vendetta. All the boats in the area did very well…fishdope.com
302 /371 /425 /101/Coronado Canyon
Once again, kelp scattered through the area have a nice mix of dorado and yellowtail. Many of the fish are small but if you find the right kelp it may have some of the better 8- to 15-pound dorado and/or yellowtail on it. Some of the better kelp for slightly larger fish have been on the western edge of the zone closer to the 230; there's also some scattered signs of yellowfin and bluefin out here.
The kelp around the 371 and 425 are holding bigger numbers of smaller fish. The water between the 371 and 425 was reported to be 74 degrees today. There have also been some blind jig strikes on open-water dorado through this area, so dragging cedar plugs and tuna clones or feathers might be a good idea. Dorado especially like pink clones, and even the little ones will sometimes jump all over the bigger marlin jigs. There have also been some widely-scattered spots of 5- to 15-pound yellowfin in the area, both on kelp and eating trolled jigs.
Ensenada
Inside the bay and out to Todos Santos small yellows and bonita rule
Outside Ensenada/Hidden Bank to 238
This zone has really dried up, with very few kelp holding anything of substance. Most of the good life is above the 32 00 line in the 425/101 area described above. There's also a wide strip of 66 degree green water off Colonet; this is holding the next batch of yellowfin down below off of San Quintin.
San Quintin


Oscar had us on fish from our first drop to limits of smaller yellowfin tuna. Fish bit on Rapalas, cedar plugs, glow flatfalls, pl68 glower, and mint white. We had a blast and tore it up! Ended up with 20 yellowfin tuna and 7 yellowtail.
https://www.bdoutdoors.com/forums/threads/k-m-rocks.664182/
Cedros Island
Just got back from fishing Cedros with a great bunch of guys … I have been watching for firsthand reports on Cedros and there was not much so maybe this will help someone. Fishing was not off the hook stupid kind of fishing like you can get sometimes at Cedros. We had to work for them…Floyd
https://www.bdoutdoors.com/forums/threads/cedros-report-aug-7-11.664051/
Bahía de Los Ángeles


Bola was wide open yellowtail – 20-to 35-pounders. Bigger grade but slower fishing around the middle of La Guardia. …Corey
https://www.bdoutdoors.com/forums/threads/sam-quintin-and-bola.664131/
Bahia Asunción


Judging by the quality fish showing up on Facebook, Vizcaino Peninsula is lighting up on a variety of species.
Loreto
Same fishing action on small dorado although larger fish are being found on the southern edge of Carmen Island.
Lots of possibilities along the coast for pargo, roosterfish, and cabrilla.
Fishing captains and our scuba divers report big schools of 6-inch halfbeaks and needlefish have joined the numerous schools of small flying fish.
Sardina have become the best bait.
Billfish fans have been shutout with few sightings and even fewer catches this past week…Rick Hill, Pinchy Sportfishing
Magdalena Bay
PENDING…Bob Hoyt
La Paz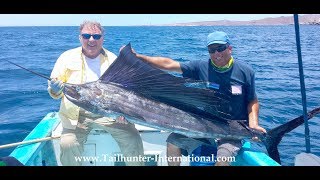 Mexican Minute La Paz Weekly Video Fishing Report for July 31-Aug. 6 2017,
Tailhunter Sportfishing…Jonathan Roldan, Tailhunter International
East Cape
Awesome fishing day on Rude Baby II with El Capitan Isidro.
Caught 6 yellowfin tuna! Beautiful…Van Wormer Resorts
Wahoo were also hitting the beach daily. These are all really good fish in the 50-pound range…John Ireland
https://www.bdoutdoors.com/forums/threads/the-good-fishing-just-continues-week-after-week.664135/


Only one more day left for me to beat my wife's big rooster, than I´m off to LA and the next day back home to Germany. The pressure is on! Fingers crossed here at Hotel Buenavista Beach Resort…Dennis Verreet
Puerto Los Cabos
Ocean water temperatures have been up into the 85- to 87-degree range.
Recent focus has been on yellowfin tuna from the Gordo Banks to Iman where schooling of fish has been located. Live bait has been limited to some mullet and caballito and some sardina in limited quantities. Using strips of giant squid is now becoming more common. Some chihuil and bolito have been jigged up at times on the offshore grounds and are being used for slow trolling.
The yellowfin tuna are small football sized to over 70-pounds. The larger fish have been striking on strips of squid, sardina or trolled whole bait, on the Inner Gordo Banks and north on the Iman Bank. Biting sporadically during the day, overall they proved to be more finicky and line shy, leaders not heavier than 50-pound worked best. Average catches have ranged from a couple of tuna to 10.
As it commonly occurs in August, it can be hard to find much variety, besides the yellowfin tuna, a few scattered mostly small dorado, as well as a handful of sailfish, and an occasional wahoo. Anglers did land one 35-pound wahoo early in the week. Not much off the bottom … strong current has been persistent and this made it difficult to effectively work the bottom; a couple of dogtooth snapper, huachinango, cabrilla, bonito, amberjack and triggerfish rounded out the structure action.
Not many of the fleet fishing along the shoreline now, though there were a few roosterfish being caught and released. Billfish action was limited, though one black marlin of about 360-pounds was landed and another couple of big marlin strikes were lost.
Also, more sailfish are moving in with the warmer currents and of course some striped marlin stragglers are still hanging in the area, while most of the cooler-water marlin have moved towards Northern Baja.
Cabo San Lucas
Nice Rooster this morning! Released to catch another day! Good job Parker…Wesley Brough Cabocaster
The full moon has taken a bit of a toll on the striper bite this past week but the overall fishing and catching remained pretty good for many anglers, especially with the spread of the yellowfin tuna catches throughout the area.
Cabo Climate: A mostly cloudy week with spurts of sunshine and then clouding up with daytime temps at 88 degree average and 78 degrees at nights and rain for Saturday. Humidity ratio averaged 74.4% for the week.
Sea Conditions: The Finger Bank to Cristobal varied from 82 to 85 degrees. Cabo Falso and up to Los Frailes, all varied from 85 to 88 degrees. Surface breezes flowing in from the westerly directions on Monday thru Friday and then turned to SSE for Saturday and Sunday. Average wind speed at about 14 mph with the exception of Saturday, increasing to 18 mph.
Best Fishing area: There was no specific "hot bite area" for the billfish and the only blue marlin was taken at the 95 Fathom Spot. The better striper action came from the Herradura area, out to the south of Cabo. The better yellowfin tuna bite came from close to the shoreline at Migrino, directly in toward the beach from the Golden Gate Bank.
Best Bait-Lures: Rigged bait were doing best for the billfish and the blue marlin was taken on an artificial. The tuna were mostly blind strikes and taken on a variety of different feathers and lures.
Bait Supply: Remained readily available even through the full moon phase at the $3.00 per bait rate paid direct to the bait vendor at time of receipt. …Larry Edwards