Que Pasa

Count Mexico among the nations creating marine parks for the sole purpose of protecting maritime life.
Recently, Mexico's President Enrique Peña Nieto designated the Revillagigedo Archipelago, a set of four volcanic islands as well as the surrounding waters, as the nation's newest national park.
The park, located approximately 250 miles south of Cabo San Lucas and 400 miles from Colima, serves as a feeding and migration area for whales, sharks, rays and other migratory species. Encompassing more than 57,000 square miles, it is the largest marine park in North America.
According to the Pew Charitable Trust, the four islands are "the peaks of volcanoes created more than 3.5 million years ago. They are part of a larger formation of seamounts or underwater mountains that help create the upwelling of nutrients from the deep sea that supports a vast array of marine life."
A Pew fact sheet calls the area a "waypoint" for many large migratory species, including at least 366 species of fish—some 26 of which can be found nowhere else in the world. It also attracts 37 species of sharks and rays, including Mexico's popular whale sharks and one of the world's largest populations of oceanic manta rays. Four threatened species of sea turtles—leatherback, green, olive ridley, and hawksbill, have also been found there.
"The remote marine park provides a place where whales, dolphins, sharks and tuna can feed, breed, and rest during their migrations," read the fact sheet.
Because of the site's rich resources, it was inscribed onto the UNESCO list of World Heritage properties in 2016.
While formerly a popular site for commercial fishermen, the national park designation means that no fishing or mining will be allowed in or around the islands.
"With the goal of guaranteeing maximum protection of this World Heritage Site, our national legislation's strongest conservation category will be used, and all forms of fishing will be prohibited," Alejandro Del Mazo Maza, of Mexico's National Commission of Protected Natural Areas, said in a statement according to National Geographic.
While the park is also being hailed as a potential new site for ecotourism, the designation also means no major development—including hotel construction—will be allowed on the islands.
Baja Norte
Coronado Islands
The bluefin are not gone. There isn't a lot of them, but you still might score one if you set up and run a steady chum line and if the sea lions leave you alone. The area is from just below the tuna pens to the 5 Minute Kelp and SKR. No info from the Rockpile but it is possible they are still in that area as well.
Big bonito are everywhere. Most are in the 3- to 7-pound class plus some larger ones pushing the 10- to 12-pound mark are being caught every day.
Yellowtail have become hard to come by. The fish that were up on the Flats to the NE of North Island appear to be gone. You might be able to slow troll one up along the weather side of North Island. Don't forget to checkout Pukey Point and the Key Hole.
The weather side of South Island is also worth a look for the slow troller. This area doesn't get hit often and can be very good at times.
Rounding out the catch is plenty of whitefish, some rockfish and if you fish the boiler rocks at the Middle Islands, some calico bass. Throw plastics right up to the rocks and wind them back to the boat; watch for followers. A stop-and-go wind technique is the best bet.
Tijuana Bull Ring
There are lots of birds working spots of bait and mackerel throughout the entire region.
The bones and the yellows are coming on small feathers, Rapalas, Colt Snipers and Mega Baits.
Slow trolling sardine is also working well for the yellows.
The bones are mainly in the 3- to 7-pound class with some larger and some smaller. The yellows are 99% in the 6- to 10-pound class with only an occasional odd one in the low teens…Fishdope.com
Ensenada
There is good fishing in this area right now.
There are 7- to 10-pound yellowtail out on the San Miguel Reef and just to the north a couple of miles. They are up breezing around, on kelp and working spots of bait under big bird schools along with some calico bass in the kelp.
This same area has schools of big 8-to 10-pound bonito.
The bait barge is reported to have some "nice sardine" for sale. The barge is located way back in the bay at the entrance of the Harbor…Fish Dope.com
San Quintin
Very good "yo-yo" yellowtail fishing going on at the high spots … full speed
early morning bite, then plenty of time for critters and bass or beer.
Big thanks to Capt. George for the awesome time. He has it wired: Fly down, Alex does the pickup at the run way. You grab the boat and truck from Campo Lorenzo's, fish a few days and you are home in three hours for turkey dinner…Curt J
https://www.bdoutdoors.com/forums/threads/san-quintin-yellows.672220/
Bahia Asunción

"It just keeps getting better. I fished with Jim Kelley on his boat today. We started at San Pablo and trolled for wahoo for a few hours but only caught skipjack tuna. We then returned to Isla Asuncion and got into some nice yellowtail and two bonus white seabass. Those are the first ones I have caught here"…Ross Zoerhof
Santa Rosalia
Multi-species bonanza aboard "Zimba VIII" with Captains Giovanni and "El Coyote". These guys put us on fish and were great to hang out with. We ranged from Isla San Marcos to about north of port, but never spent more than 45 minutes motoring out.
https://www.bdoutdoors.com/forums/threads/santa-rosalia-multi-species-bonanza.672179/
Loreto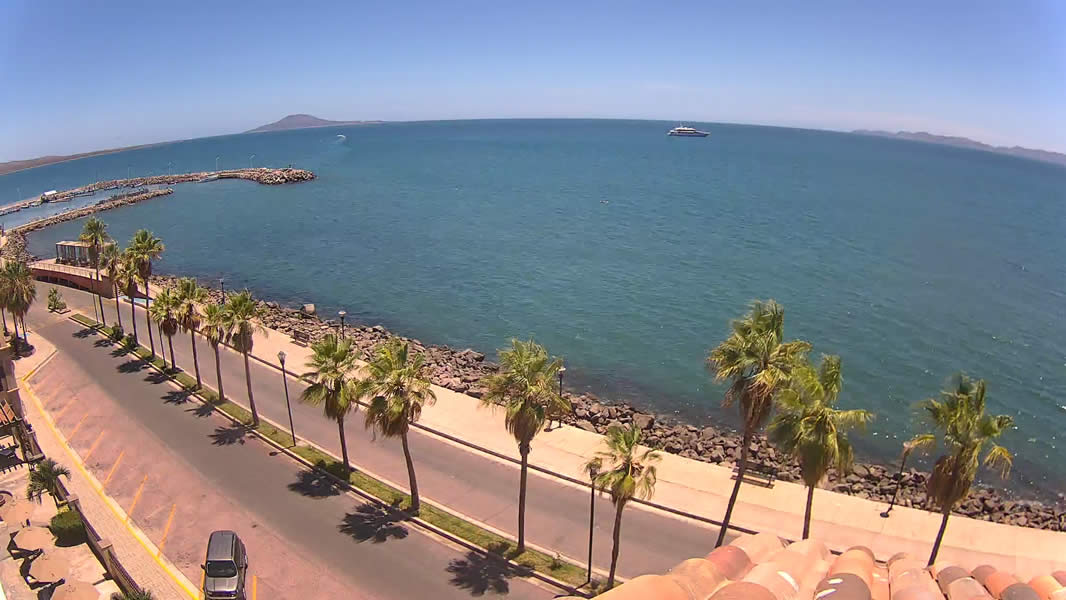 The first thing to report falls under the "normal fish catching" routine and that would be, yellowtail. We've been having a good bite on the north side of Coronado Island on a string of rock piles called, "Candeleros". Yellowtail in the 12- to 15-pound range are the most common catch with a few cabrilla and pargo mixed in.
Some spotty sierra action has been popping up with no great numbers so far.
The best news is the reappearance of big numbers of sardina. For the past few years the very important baitfish has been in small numbers with some areas of Baja being barren.
A photo and a quote from Sara Cartwright, our PADI dive instructor tells the story: "The beach at Coronado has been full of sardine and baby roosterfish for at least a month now! Lots of activity all over the island."
I found the same sardina herding going on at Carmen Island but these roosters were pushing 40 pounds, not babies…Rick Hill
Jay Yellowtail started showing up this week in Loreto. Been fishing live bait on the bottom around 6 mike reef and had some luck…Jay Yadon, Outpost Charters
Magdalena Bay
Fished out of Puerto Lopez Mateos with Rockodile John. We towed his Grady White down
in about 18 hours. Then we hired Rueben Duran one of the popular local Captains that we were lucky to get on short notice. He is usually booked solid this time of year.
While John had hoped to hook into a striped marlin or two that had been on fire the week before. Unfortunately they seemed to have suddenly come down with lockjaw.
On Duran's advice, we elected to fish inshore and inside the bay with extraordinary success. As we both caught our personal best in several categories.
https://www.bdoutdoors.com/forums/threads/magbay-fishing-11-12-18-17.672199/
SEEKING BAJA SNOOK https://www.bdoutdoors.com/baja-snook-mexico/
La Paz
MEXICAN MINUTE VIDEO FISHING REPORT…Jonathan Roldan
East Cape
Still fish by the barrelfull and its almost December…Van Wormer Resorts
Lots of good sardina available with virtually all gamefish being taken on live bait. All of Rancho boats limited on dorado and tuna and most were home by noon…John Ireland
https://www.bdoutdoors.com/forums/threads/fishing-good-but-we%E2%80%99re-in-overtime.672354/
Water temperature is now right around 80 degrees; this keeps prospects very favorable for the coming weeks. Bait supplies remained fairly steady for sardina, now schooling near Palmilla beaches and farther south, though for a few days they did become a bit more limited due to the extra heavy pressure during this holiday week. Other bait options continued to be slabs of squid, ballyhoo and the more elusive chihuil, which was the candy bait being used for targeting the highly sought after wahoo. Water was very clean and blue.
Though for most anglers they had success with smaller yellowfin tuna off Palmilla Point, hitting mainly on the sardina and ranging in sizes of 10 to 20+ pounds. The action for the larger grade yellowfin that had been happening on San Luis and Iman Banks, slowed way down this week. Dorado were scattered, not being found in any particular area; best chances were on the same grounds where the tuna were schooling. There were a few dorado up to 20-pounds.
The wahoo action on nearby spots is just an occasional fish, though near Vinorama there has been an excellent bite. The deal was to first go and catch the bait of choice, chihuil, either on the Inner Gordo Banks or at times on Iman. ]
Not all charters are even prepared to do this as it is more of a panga deal than cruiser.  They are spooky mackerel-sized baits that are chummed up and caught one at a time on very light leader.
Some boats were landing over five nice wahoo and losing many other strikes … sizes increased throughout the week, as several specimens over 50 pounds and one 64-pounder was weighed in.
Not much in the way of local billfish action out of San Jose del Cabo. Still a chance of hooking into a black or blue marlin, with the warmer water and all of the skipjack and yellowfin tuna to keep them interested.
Not much bottom action has been reported, though we saw a few more exotics this week.  Besides the prevalent triggerfish, there were a few amberjack, island jack, cabrilla and various pargo. Every day we are seeing a handful of sierra in the mix…Eric Brictson, Gordo Banks Pangas
There was a very good bite on the mako sharks this past week and even though some of them were the smaller sizes, the releases were doing well.
Cabo Climate:  A few partly cloudy days during the early part of the week, turning to sunny and clear skies for the end of the week.  Daytime temps averages 83 degrees and nights at 70.5 degrees with an average humidity ratio at 60%.
Sea Conditions:  Water temps from the Finger Bank to the Jaime Bank and down across the 1,000 Fathom Curve, all in the 80 to 81.5 degree range.  Cabo Falso and around to Los Frailes was all in the 81- to 82 degree ranges and the entire area remained very fishable.  The sea surface breezes were flowing mostly from the westerly direction at an average of 7.8 mph.
The Better Fishing Spots:  Continued to be the same with Cabo Falso, (aka the Lighthouse or El Faro) the Herrradura, Migrino and Pozo Cota.
Best Bait-Lures:  Rigged bait were working by far the best but a few of the billfish also bit the artificials, too, but were not consistent.  A few fish were also taken on live bait.Bait Supply:  Remained plentiful for the fleet at the $3.00 per bait rate…Larry Edwards, Cortez Charters