Que Pasa
For the first time, scientists have reported the capture of a live vaquita,
a small sea mammal endemic to Mexico's upper Gulf of California that is on the verge of extinction.
However, as it was showing signs of stress, shortly after its capture on Wednesday morning, the female calf was released back into the wild according to a statement sent out late Thursday by scientists with the Vaquita CPR Conservation Project and Mexico's Secretary of the Environment, Rafael Pacchiano.
https://www.bdoutdoors.com/forums/threads/first-vaquita-dolphin-ever-captured.669899/
http://www.sandiegouniontribune.com/news/border-baja-california/sd-me-vaquita-catch-20171019-story.html Anthony Motshagen
Baja Norte
Coronado Islands
Early reports say some big bonito are showing in the Middle Grounds, and that bluefin and yellowtail are both biting, hitting spots from just outside of the tuna pens down to the Rockpile.
There was also some good fishing for both yellowtail and bluefin tuna along with some decent numbers of big bonito caught today with the best area being the lee of South Island and the general area around the Ribbon Kelp.
Guys fishing with 15-pound fluorocarbon and small #2 hooks did the best as the tuna are line shy…fishdope.com
South 9 Mile Bank / Coronado Canyon
Only report from this area today was for a double on big bonito just west of the Islands. Most are driving right through heading for points south and not giving this area much of a look.
425 / 101
There are kelp here holding yellowfin and some also have a few dorado and yellowtail. It's hit or miss and for sure the better action is coming from tuna on kelp with fewer numbers on jig stops off porpoise. As is often the case, many of the kelp are empty, but if you find one holding it likely has plenty of fish on it…fishdope.com
Ensenada


Recent winds and off-color water has slowed the late summer dorado bite. Meanwhile, inside the bay there is still a reasonable surface bite for a mixed bag of small yellowtail, barracuda and bonito, along with a decent jonnie bass, whitefish and an occasional lingcod for the hard-core bottom fisher…Sammy Susarrey
West of Ensenada / Banda Bank / 238
This area is also all about kelp paddies. You have to find a good one or it will be a long day. Some of the kelp are loaded with 2- to 5-pound yellowtail and some have yellowfin. No dorado the past couple of days…fishdope.com
San Quintin

A wheel-barrel full of yellows for Sam Machado and friends aboard K&M's 25-foot Parker with Capt. George Catian at the helm delivering the goods. K&M is now located at Don Eddies Landing — Hotel/Rest and Bar…Captain Kelly Catian
Cedros Island

So far, the fishing for yellowtail and calico bass is exceeding expectations for visitors to the Island. Limits are not uncommon for both species and there are a few halibut beginning to show up in the counts for the persistent angler
Bahia de los Angeles


We did the "run and gun" for cabrilla using my friend Denis Quesnel 'dead head lures' and a 4-oz. casting jig; they work amazingly well for all types of fishing…Captain Juan Cook
Spent ten days at BOLA and the good news is about Mex 1: Most of the bad areas have been patched!
Highway 1 has been re-paved from Punta Prieta to ten miles north or so, which means the worst spot of the drive is now fresh asphalt. Very nice. Still some pothole areas around Catavina and the area north of the Gonzaga turnoff but much better than last month. Fishing was mostly for smaller yellowtail. I didn't see or hear of any dorado, and I didn't go searching for them. It was windy most of the first week. Lots of whale sharks in the south area of the bay and Rincon. It was very hot a couple days, but still very nice weather for October…Doug
https://www.bdoutdoors.com/forums/threads/just-back-from-bola.669578/
Bahia Asunción
Local fishing hero, Rossman, got this nice tuna a couple of days ago. We tried to get out to where they are today, but the wind and swell didn't allow it … dang it! However, the Nelson family managed to jig up some real nice 20- to 30-pound yellowtail with Capt. Juan Arce Marron, and 10-year-old Pepe was my hero for eating the heart of his first yellowtail!…Shari & Juan Arce
https://www.bdoutdoors.com/forums/threads/asuncion-fishing-season-kicks-into-gear-in-october.669161/#post-4446013
Loreto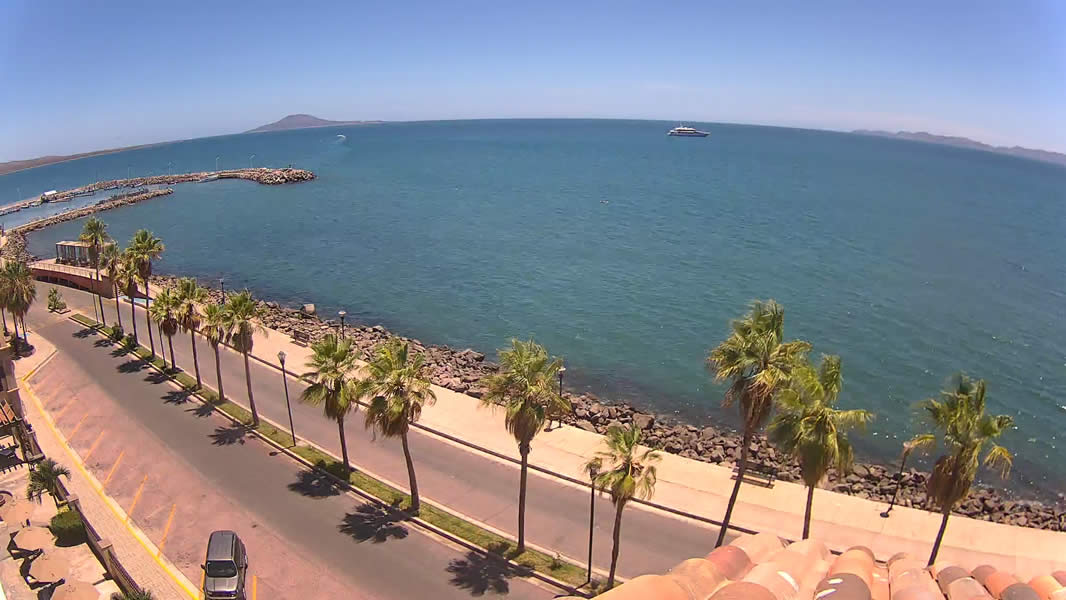 We still have nice warm water up this way and tons of pan sized dorado.
Your two fish limit on these fish will yield maybe eight tacos.
Bottom fishing is the other choice and that has been consistent with the usual critters. Small yellowtail, firecracker size and lots of triggerfish are hitting the fillet tables.
The annual wahoo excitement has been happening for the few lucky boats working the far island with early morning being the best time. Don't be digging out any wahoo recipes just yet because those swimming arrows move around quickly and bug-out after only a few days.
By the time I get the word, which is usually after the first wahoo dinner party it's too late to get in on the action.
Scuba trips are still working in warm water with visibility running 70 feet and more. Trips to the mountains are finding arroyos wetting the road to San Javier with green desert vegetation everywhere.
Best time of the year to get a serious "Baja fix"…Rick Hill, Pinchy Sportfishing
Nice day with marlin today. Five decent blues and this one was the biggest.
The blue marlin fishing has been insane the last few weeks…Cast n Reel Sportfishing
Magdalena Bay

October wahoo season outside Mag Bay got off to a slow start this year after a late September storm lowered the SST six degrees or so from around 77 degrees to around 71 degrees. The temperature drop seems to have dispersed the 'hoos to where ever they go to ponder such a turn of events.
They have regrouped on the high spots over the past week or so and the fishing has improved by fits and starts. I fished five of the last ten days out of Lopez Mateos and got a wahoo limit every trip. It was not always easy, however. Yesterday I had lines in the water at 7 a.m. and caught number five around 2 p.m. If the water temp continues to rise, or even holds at the 75 to 76 degrees it is now, maybe the action will pick up to the usual October/November frenzy on the Ridge outside Lopez Mateos…Bill Erhardt
https://www.bdoutdoors.com/forums/threads/mag-bay-report-october-19.669844/
La Paz
Tailhunter International, La Paz, Mexico, Weekly Video Fishing Report Oct. 16 – 23, 2017
East Cape
East Cape and Gordo Banks Fishing Questions
If anyone is going to the East Cape or Gordo Banks or has just returned and can give me a handle on the bait and lure situation, that would be much appreciated. I'm specifically looking to know the following:…Rob
https://www.bdoutdoors.com/forums/threads/east-cape-gordo-banks-fishing.667270/
East Cape Classic anglers score! …Van Wormer Resort
The fishing throughout the East Cape continues to be good. See below for specifics… John Ireland
https://www.bdoutdoors.com/forums/threads/blue-marlin-darlin.670028/

Wahoo slowed recently but there are still a few out there…Scorpion Sportfishing
Puerto Los Cabos


There were scattered numbers of dorado up to 20 pounds caught, but as the week progressed we saw fewer and fewer dorado — hard to say what the deal with that is. Only a handful of wahoo were reported for the entire fleet. Warmer than usual water temperatures help make wahoo more sluggish; as currents cool down into the 80-degree range, this will usually trigger more activity out of these highly sought-after gamefish.
Most consistent action has been for yellowfin tuna. The bite was more hit or miss than the previous week with heavy pressure and long waits to obtain bait; just part of the factors that come into play this time of year. Best action was found near San Luis Banks, though other areas also produced. The yellowfin were striking on sardina and strips of squid while drift fishing over the grounds.
Sizes of tuna ranged from 5-pound footballs up to 100-pound toads. Catches varied from a few fish per boat to easy limits. Some days we saw a higher percentage of yellowfin in the 30- to 80-pound class, while other days we saw more numbers of smaller fish, with a handful of larger fish weighed in.
Very little billfish action reported, though tournament teams are landing a few and there is definitely the chance that someone will be hooking into a big black or blue marlin during the "big buck" events. No inshore action to report, such as sierra or roosterfish, although there are some big jack crevalle hanging around the marina jetty area. Off the bottom there was only sporadic catches of various pargo, cabrilla, bonito, pompano, amberjack and triggerfish…Eric Brictson, Gordo Banks Pangas
Cabo San Lucas

Tom Powell, a Charleston, S.C. angler, earned the boat "Hooray" and his Team top honors and $284,683 while fishing in the 2017 Bisbee Los Cabos Offshore Tournament. He landed the largest fish of his life, a 574-pound blue marlin, which took 3.5 hours to land. It also happened to be the longest time he had ever fought any fish.
Bisbee Los Cabos Offshore Tournament
Species Stats
Black Marlin 7
Blue Marlin 101
Dolphin 1
Sailfish 7
Spearfish 0
Striped Marlin 33
Yellowfin Tuna 3
Total Catches 152
Lost Fish 16
Hook-Up Conversion Rate 90.48
Base Entry Heaviest Billfish
Rank Team Angler Species Points
1 Hooray Thomas Powell Blue Marlin 574
2 Ten Brothers Jeff Kleitz Blue Marlin 480
3 Tiger Spirit Hugo Pino Black Marlin 421
4 El Torito Antonio Rohero Black Marlin 362
5 Wildcatters John Martin Blue Marlin 358
6 Pescadores Sin Nombre Andy Beard Blue Marlin 350
7 Hooray Kenneth Padgett Blue Marlin 315
Base Entry Top Release Teams
Rank Team Points
1 El Suertudo 1400
2 Go Deeper 60 1400
3 Outta Line 1100
4 Team Galati 1000
5 Los Tapatios 1000
6 Bull Rider 900
7 Pocket Aces 900
8 Fish Tank 900
9 OverTime 900
10 Retriever 900
Base Entry Heaviest Dorado
No qualifiers
Base Entry Heaviest Tuna
Rank Team Angler Species Points
1 PxP Juan Baraajs Yellowfin Tuna 101
2 Mako Sportfishing Marco Antonio Ornelas Yellowfin Tuna 86
3 Pollo del Mar Jack Gibson Yellowfin Tuna 59
The dorado catches are increasing by the day and for many of the boats, we are seeing limit fishing and lots of releases throughout the area, especially all over the Pacific side of the peninsula.
The Los Cabos Billfish Tournament was won by a 347-pound black marlin, captured out front about 4 miles of Cabo Falso by a Canadian angler and taken aboard the Sportfisher, "Reel Gold", on the 2nd day of the 3-day tournament. Fishing the final day, they released a smaller blue marlin and a dorado.
The winning fish took 4 hours 15 minutes on 50-pound tackle and they didn't even see the fish for about 3 hours after it was hooked up on a rigged cabillito for bait.
The boat was skippered by Captain Roberto Marquez, Jr., with Roberto Marquez, Sr. as the mate, adding a little twist to the crew.
Cabo Climate: A warm and sunny week with average daytime temps at 90 and nights at 77.6 degrees. Humidity ratio averaged 58.8 for the week.
Sea Conditions: The Finger Bank to the Jaime Bank was all at 85 to 86 degrees. Along the shoreline from Cristobal to Cabo Falso and out to about 5 miles, temp. was all at 87-88 degrees. Cabo San Lucas to Gorda Banks all at 87 to 89 degrees. The 95 Fathom Spot, the 1150 Fathom Spot and the Outer Gorda Bank were all at 88 and 89 degrees.
Best Fishing Area: Cabo Falso was the hot spot for billfish and the winner of the Los Cabos Billfish Tournament was caught there — a black marlin. Two other smaller blue marlin were released there as well. Dorado were all over the area and a log found near the Jaime Bank was producing numerous dorado with most of the fish in the 15 – to 20-pound range.
Best Bait or Lure: Live bait was doing well for the dorado, along with a myriad of smaller artificials and tuna feathers. Rigged bait caught the biggest fish for the Tournament.
Live Bait Supply: A good live bait supply was available during the tournament at the $3.00 per bait rate paid direct to the bait vendors at time of receipt…Larry Edwards, Cortez Charters