Que Pasa
Jay Yadon, Outpost Charters, Loreto (loreto mexico fishing calendar), BCS along with Robert Ross found  huge  cow-sized yellowfin including this 319 pounder as the north winds swirled this week.
Road Noise
Driver beware: For the past year, the potholes on Mex One from Catavina to Guerrero Negro have become increasingly bad. Lots of damage reported on suspension, rims and tires…BE CAREFUL!
"I drove the 216SM from El Rosario to Guerrero Negro on 12/3/17 … dually, G-rated tires, 110psi. I drove 25- to 30-mph and still experienced a bone-jarring, teeth-clenching drive."
"Horrendous. I'm going to take the ferry from Santa Rosalia to Guaymas when I head back north"…Cynthia Lynne Johnson
Baja Norte
Coronado Islands
Currently the on-surface action is schools of bonito running from about 4- up to 8-pounds. There doesn't seem to be many yellowtail around.
Rockfish action is good up to the north of the Islands for some nice-quality reds and a few impressive lingcod.
Tijuana Bull Ring
A lot of private boaters watched as sportboats scored on yoyo iron and flat fall jigs just west of the Flats toward South Island.
Watch for bird schools and troll X-Raps while using sonar and looking for schools of yellows down on the hard bottom from 120- to 175-feet.
One notable change is the yellows are biting in the afternoon as well, instead of strictly just a morning bite. In fact, this afternoon the action was wide open for guys on the New Seaforth scoring 235 yellows for 47 passengers! The Dolphin also did well in the afternoon with 33 'peeps' catching 121 yellowtail.
Ensenada
Report from Louie on the Its 4 Reels
Decent yellowtail and bonito fishing continues throughout the bay. Spots where we have been catching them are Punta Banda out by the outcroppings, and the areas from 180- to 250-feet deep. These last two areas consist of a series of reefs and pinnacles and you will need a good fish finder. Locate bait, drop down a jig (6x Jrs, 7x Jrs, med. candy bars, etc.) and wind fast.
The Punta Banda area is also holding a few decent ling cod and reds, and whitefish are around in the deeper water as well. Bonito are nice size and the yellows are ranging in size from 4 to 30 pounds with the average being 7- to 12-pounds.
FYI: the bait barge is closed for the season but mackerel can be made at different areas within Ensenada Harbor or anywhere outside that you see birds working. Bring squid if you want bottom fish…fishdope.com
Colonet
140 Miles – SW of Colonet – The Bumps
On a line towards Guadalupe Island there are some nice 30- to 60-pound bluefin busting on bait this morning. The center of this is a 4 to 5 mile square.
Most are in the 30- to 40-pound class with a number of them up in the 50-to 60-pound class range, but it's reported that they are seeing some of the larger 100- to 200-pounders rolling around also.
These bluefin were not very line shy. They chewed to 40-pound fluoro just fine.
San Quintin

Capt Christian Catian, grinding his way to a solid 'Mex Limit' on quality grade yellowtail.
Northern Sea of Cortez Sector
After spending New Years at San Felipe, John and Laura Fitzgerald with Matt and Kaylee spent three days fishing at Gonzaga Bay while the weather was crisp, but the bite slow. One day they were joined by Pat Butler. Overall fishing was fair-to-good as the weather cooperated with windless and warm Baja days.
Bahia Asunción

Starting off 2018 with corvina from the shore and some brute yellows from the pangas…Shari and Juan Arce
Loreto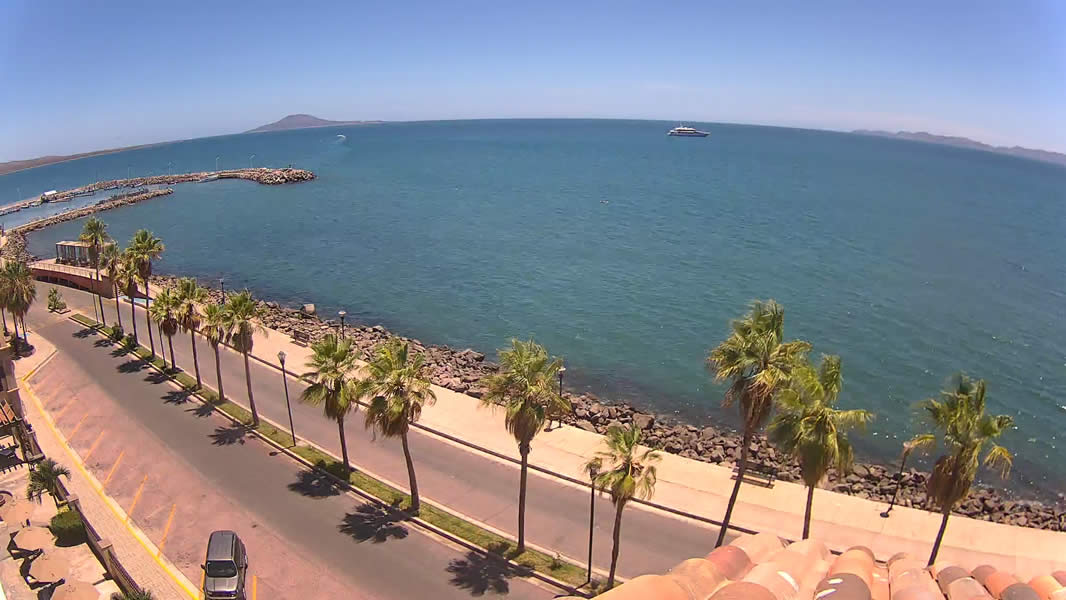 Pretty much a copy of last week's action at the north side of Coronado. Huge schools of firecracker yellowtail at the high spots with some cabrilla mixed in to keep it interesting.
The boats that hit north to Pulpito and Almeja came back with sad stories along with the boats that went south. The water is turning green with a few patches of red mixed in. We spotted a blue whale spout way down south near Agua Verde a few days ago so things are looking up for the next two months…Rick Hill
La Paz
Still some pesky winds but mostly nice enough to fish at Muertos Bay/Las Arenas areas where the fish are closer to shore and it's more protected.
In addition to species normally caught, like barred pargo, yellow snapper and cabrilla, there were also some nice schools of jack crevalle to bend the rods and put on great fights; although not such good eating — still lots of fun.
Plus, bonito, yellowfin tuna and dorado around the bay as well…Jonathan and Jill
East Cape
Winter has been settling in as air temps bounce between a low of 59 and a high of 81 degrees, along with about the same 70+- degree sea temp. along with light winds, it underscores what Baja winters are like.
Few fishing, however, those who are report an early yellowtail snap on the bumps outside the entrance to La Ribera Marina along with a few other bottom fish.
Puerto Los Cabos


Yellowfin tuna, dorado and wahoo were off Palmilla, Punta Gorda and to La Fortuna, all within a couple miles of shore. Sardina are being netted in the surf zones, from Palmilla to Cabo Real; these are the best bait for yellowfin tuna, as well as dorado, though caballito, mackerel and sardineta work as well.
Yellowfin are biting best while drift fishing bait, though at times they are seen feeding and seem to be finicky. Lots of boat pressure this past week, but with patience many nice tuna in the 10- to 25-pound range were being landed.
Best chances for dorado were where the tuna were found, running in smaller-sized schools, also biting sardina and the larger bait. Slow-trolling was the best technique for the dorado which ranged in size from 5 to 20 pounds. Nice late season bonus. For the past month, we have seen better dorado action than during the previous fall months.
Wahoo action rebounded again this past week. However, these fish are especially susceptible to becoming more finicky when there are larger crowds of boats. For anglers who specifically targeted the wahoo while slow-trolling larger baitfish either off of Punta Gorda or Palmilla, they did well, landing as many as two, three, four or five wahoo per morning, with other strikes lost. Handful of these fish also hit on cast yo-yo jigs or higher speed trolled lures, but by far the best chance was on larger bait such as caballito, mackerel, sardineta or chihuil.
There were many wahoo coming in that weighed from 10 to 45 pounds. We expect the wahoo action to continue through the month, as long as we do not get blasted too much from frigid north winds. Water conditions are ideal now, as clean blue water is found within one mile of shore. Also, an abundance of baitfish is in the area; these factors contribute to making the wahoo even more active.
Bottom action was spotty, even though winds were moderate, there was still strong currents running. Best action was found off the shallower rock reefs, using chunk bait in about 70 to 90 feet of water, a variety of snapper, pargo, cabrilla, triggerfish, bonito and a handful of amberjack, including one we saw in the 60-pound class.
Good numbers of juvenile roosterfish moved in off the hotel zone; remember to release these prized fighting gamefish. Only limited numbers of sierra are now being caught, and as water cools we should see an increase in the numbers…Eric Brictson, Gordo Banks Pangas
Cabo San Lucas

This is what Cabo looked like New Year's Eve. All of our yachts were rented to see the fireworks, which have a whole different perspective from the water. Pisces Yachts wishes you the best of everything in the upcoming year!
We are starting out the New Year with a bang. Fishing has just been super here in Cabo;
we are catching a large variety of fish — tuna, dorado, roosterfish, jacks, and sierra mackerel on both fly and light spin gear…Grant Hartman, Baja Anglers
Double-digit billfish releases along with a mix of dorado, tuna and wahoo continue to dominate offshore in the Pacific. If the temp remains stable in the Golden Gate Bank area and the mackerel remain in the area, anglers should remain confident of a sustained bite at the bank.
Cabo Climate: Daytime temps averaged 78.4 degrees and nights averaged 65.1 degrees. The humidity ratio averaged 64.4%. A mostly cloudy week with scattered showers here and there on Thursday, Friday and Saturday.
Sea Conditions: Water temps are cooling down on both sides of the peninsula, starting at the Finger Bank on the Pacific side and southerly across the Golden Gate Bank, down across the Jaime Banks, out across the 1,000 Fathom Curve, around the tip of Cabo San Lucas and out to the 95 Fathom Spot and up the Sea of Cortez side to the 1150 Fathom Spot and across the Gorda Banks, all at 77 to 78 degrees. Sea surface breezes flowing mostly from the westerly directions early in the week and changing to the southeast toward the end of the week and averaging about 6.4 mph over calm waters. Los Frailes and above is cooling off rapidly and is now at 74 to 75 degrees.
Best Fishing Areas: The Golden Gate Bank was the hottest spot for the billfish and we had good reports of lots of feeders on the bank and chasing the green mackerel. The Herradura, Pozo Cota and Los Arcos were all reporting a few billfish, too, but not nearly as good as the Golden Gate Bank area.
Best Bait/Lures: While lots of fish at the Golden Gate Bank, the marlin were very finicky biters and even changing to lighter leaders and mackerel for bait, it was still a stubborn bite and short biters that fall off quickly.
Live Bait Supply: Good caballito supply for the anglers at the $3.00 per bait rate and plenty of bait available on top of the Golden Gate Bank that worked best for the billfish there on the high spot…Larry Edwards, Cortez Charters